[WASHINGTON, D.C.] – In 2022, U.S. Senator Richard Blumenthal (D-CT) visited more than 120 towns and cities across Connecticut while helping Senate Democrats pass historic legislation to deliver benefits and healthcare to burn pit veterans, invest in gun violence prevention measures, lower prescription drug costs, boost domestic research and manufacturing, and aid our allies in Ukraine. Below is a look at Senator Blumenthal's 2022 year in review.
PROVIDING HEALTHCARE & BENEFITS TO TOXIC-EXPOSED VETERANS
— Blumenthal, a member of the Senate Veterans' Affairs Committee, helped pass comprehensive legislation to deliver healthcare and benefits to multiple generations of veterans exposed to dangerous toxins. The Sergeant First Class Heath Robinson Honoring Our Promise to Address Comprehensive Toxics (PACT) Act provides relief to post-9/11 veterans exposed to burn pits and corrects the nearly 80 percent rejection rate faced by burn pit veterans seeking claims. The legislation also includes provisions championed by Blumenthal to expand benefits, healthcare, and compensation to veteran populations that were not previously able to access services: veterans who responded to the nuclear disaster in Palomares, Spain, those who were deployed to the K2 Air Base, and veterans and families exposed to toxins in the water supply at Camp Lejeune in North Carolina.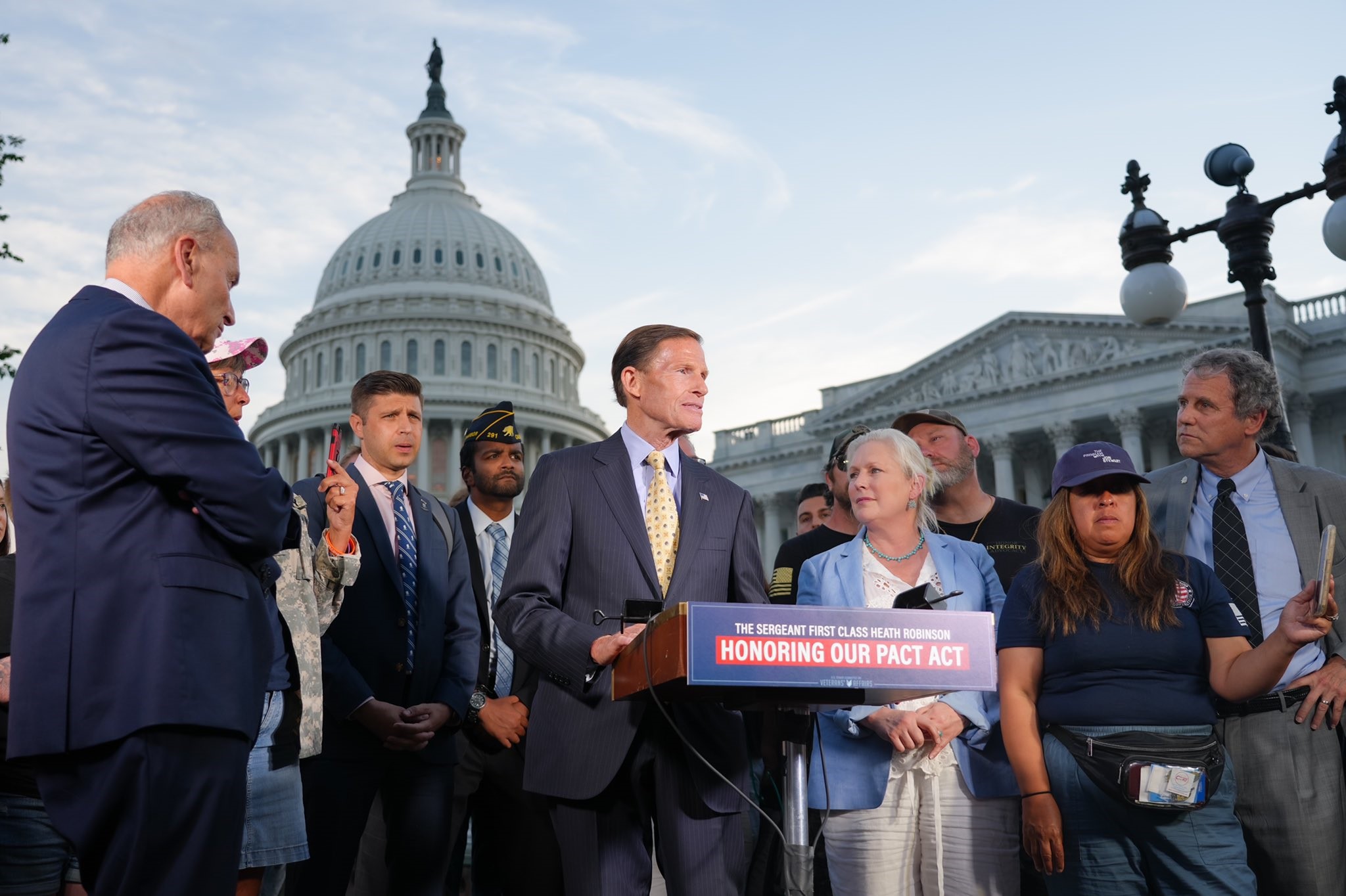 "This bill is a victory for veterans who served and sacrificed abroad and now suffer from insidious, horrific diseases caused by exposure to burn pits and toxic chemicals. This momentous bipartisan measure will bring well-deserved relief to our veterans and their families affected by toxic exposure. I'm proud to have focused for years on this legislation and that it includes provisions I fought for to ensure the fairest, broadest possible coverage," said Blumenthal. "We must focus on delivering this critical care to our veterans as soon as possible."
SUPPORTING OUR ALLIES IN UKRAINE
— Blumenthal, a member of the Senate Armed Services Committee, made multiple trips to Ukraine as the nation continues to defend itself against Russia's brutal invasion. During these visits, Blumenthal spoke with refugees, met with local officials, and presented President Zelenskyy with a copy of a resolution he introduced to designate Russia as a state sponsor of terrorism. Back in the U.S., Blumenthal frequently met with Connecticut's Ukrainian-American community and continually supported providing Ukraine with humanitarian and military aid it needs to protect its people.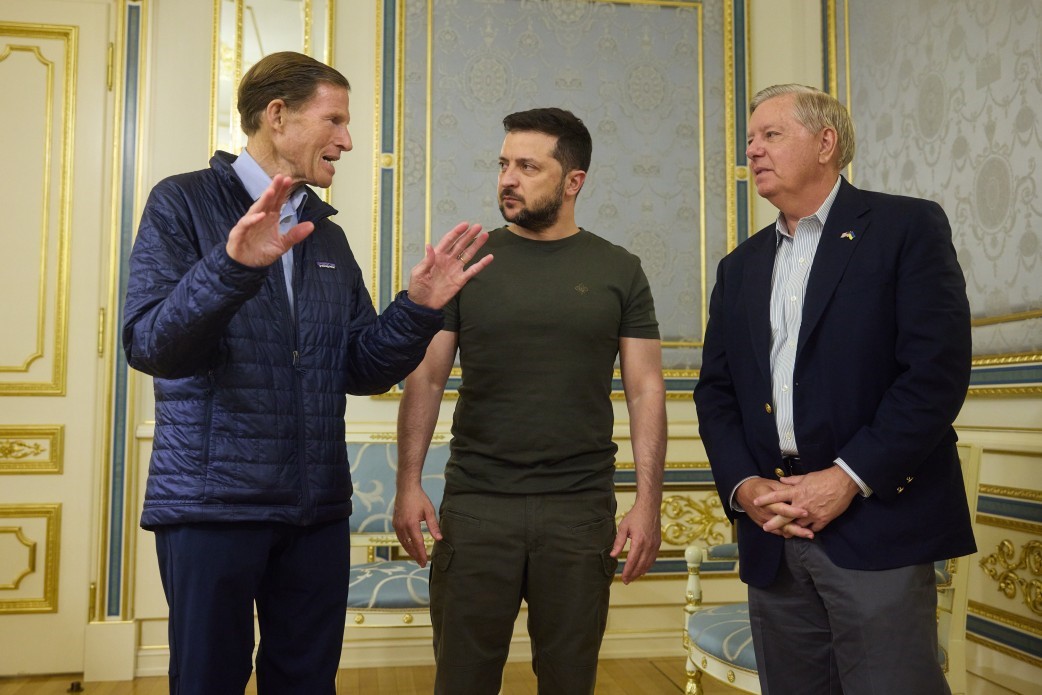 "America continues to stand for freedom and democracy. We cannot sit idly by while a democratic nation is trampled under the boot of an authoritarian dictator bent on remaking the international order in a way that threatens peace and prosperity for all."
ADDRESSING AMERICA'S GUN VIOLENCE EPIDEMIC
— For the first time in nearly three decades, Blumenthal and his Senate colleagues passed significant legislation to prevent gun violence and invest in mental health resources. Specifically, the Bipartisan Safer Communities Act supports state red flag laws, shrinks the boyfriend loophole, cuts down on trafficking and straw purchases, and supports community violence intervention programs. In addition to this historic legislation, Blumenthal helped the Senate confirm the first permanent Director of the Bureau of Alcohol, Tobacco, Firearms, and Explosives (ATF) in seven years, and announced millions of dollars in federal funding to support community violence intervention programs across Connecticut.
"After thirty years, hundreds of thousands of gun deaths and dozens of failed pieces of gun safety legislation, we have finally taken one step forward," said Blumenthal. "This is not the measure I fought for or would have written if I were acting alone, but it marks meaningful progress. It will save lives. If you wait for everything in the Senate, you'll get nothing – and progress is better than nothing. I am proud to have helped draft this legislation and I am proud to have voted for it."
HOLDING BIG TECH ACCOUNTABLE
— Blumenthal, Chair of the Senate Commerce, Science, and Transportation Subcommittee on Consumer Protection, Product Safety, and Data Security, led the charge to enhance children's safety online by introducing the Kids Online Safety Act. Introduction of the bipartisan legislation followed reporting and a series of five subcommittee hearings, spearheaded by Blumenthal and U.S. Senator Marsha Blackburn (R-TN), on the dangers kids face online and the repeated failures by tech giants to protect kids on their platforms.
Throughout the year, Blumenthal joined a roundtable with youth activists, attended a virtual rally hosted by advocates, and met with young people and grieving parents in an effort to pass the legislation and address social media's harms. 
"Big Tech has brazenly failed children and betrayed its trust, putting profits above safety," said Blumenthal. "Seared in my memory—and motivating my passion—are countless harrowing stories from Connecticut and across the country about heartbreaking loss, destructive emotional rabbit holes, and addictive dark places rampant on social media. The Kids Online Safety Act would finally give kids and their parents the tools and safeguards they need to protect against toxic content—and hold Big Tech accountable for deeply dangerous algorithms. Algorithms driven by eyeballs and dollars will no longer hold sway."
MODERNIZING CONNECTICUT'S INFRASTRUCTURE
— Blumenthal highlighted funding from federal grants and the Infrastructure Investment and Jobs Act that will bring major upgrades to Connecticut's aging infrastructure. In addition to billions of dollars to speed up travel times on the Northeast Corridor and $560 million to repair, upgrade, and replace the state's bridges, Blumenthal highlighted projects to further develop Bradley International Airport and Tweed New Haven Airport, renovate the Bissell Bridge in Windsor, construct the new Enfield Train Station, build New London's marine terminal, and construct the new Connecticut River Bridge.
"The Connecticut delegation is bringing home millions of dollars in transformative transportation funding. We will be investing in projects to repair & modernize our aging infrastructure while creating jobs, reducing pollution, & making our transit systems work better for the people of Connecticut."
PROTECTING REPRODUCTIVE RIGHTS
— Blumenthal, author and lead Senate sponsor of the Women's Health Protection Act (WHPA), helped lead the charge to protect reproductive rights as the Supreme Court overturned Roe v. Wade and eliminated the right to an abortion. While Senate Republicans blocked a procedural vote to consider WHPA, Blumenthal continued the fight by urging President Biden to take executive action, questioning witnesses at a hearing on Post-Roe America, visiting Planned Parenthood branches, and joining rallies across Connecticut.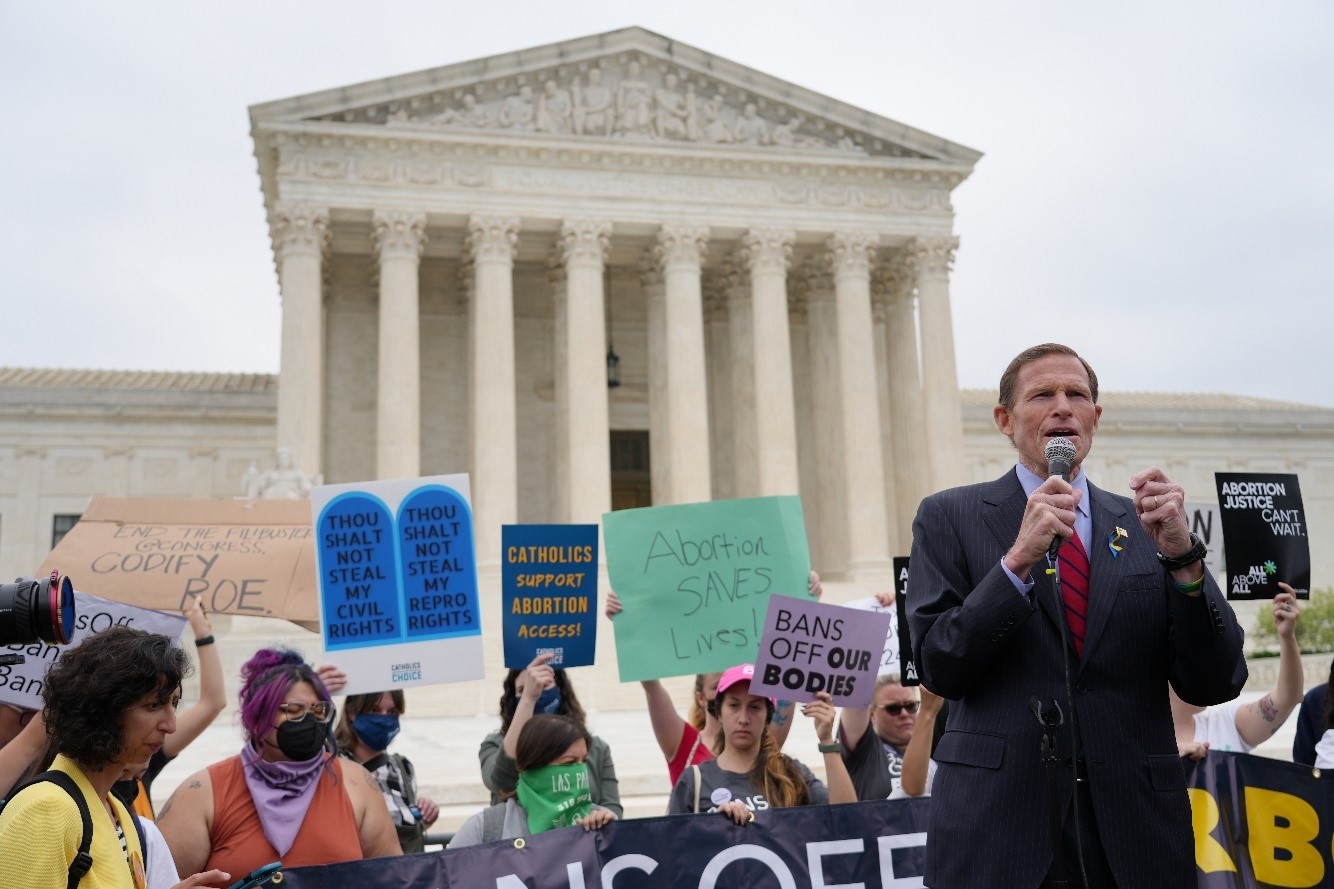 "I will never stop fighting for abortion access, reproductive justice, and the right for every person to make their own decisions about their bodies and their healthcare. We're going to take this issue back to the American people, and make them aware of the devastating even deadly consequences of the Supreme Court stripping away a woman's control over her own body. We are not backing down or going way," said Blumenthal.
"I've traveled around the state of Connecticut to clinics, visiting providers in Waterbury, New Haven, New London, Hartford, and as much as I have felt their aguish and anger, their fear about the future, I'm also impressed by their resilience and their resolve to continue providing these essential health care services."
CONFIRMING HISTORIC NOMINEES
— Blumenthal helped Senate Democrats confirm a historic, diverse slate of judicial and executive nominees. In addition to confirming Justice Ketanji Brown Jackson to the United States Supreme Court, Blumenthal advocated for Connecticut nominees, including helping confirm Vanessa Avery as United States Attorney for the District of Connecticut, Sarah Merriam to serve on the Court of Appeals for the Second Circuit, and Sara Bronin as Chair of the Advisory Council on Historic Preservation.
"Representation matters. It matters for the legitimacy and credibility of our whole judicial system. Judges are the voice and face of justice in America. Their credibility matters. They have no armies. They have no police forces. They have no power of the purse. The United States Supreme Court depends on its credibility and the trust of the American people that it will think like they do."
ADDRESSING INFLATION, INVESTING IN CLEAN ENERGY, & LOWERING PRESCRIPTION DRUG COSTS
— Blumenthal and Senate Democrats passed the Inflation Reduction Act, a historic measure to cut costs for consumers, lower drug prices, and invest in clean energy. During trips across the state, Blumenthal highlighted healthcare subsidies for small business and families, visited the East Windsor Solar One Project to discuss efforts supporting Connecticut's green energy manufacturers, and spoke with seniors in Meriden about provisions to allow Medicare to cap annual out-of-pocket costs and negotiate the price of prescription drugs.   
"The Inflation Reduction Act is history-making and record-setting. This bill will save money, it will save lives, and it will help save the planet. Our bill will cut costs for consumers. It will help families better afford groceries, gas, and utilities while billionaire tax cheats will finally have to pay their fair share. Democrats have fought for years to allow Medicare to negotiate drug prices which will result in huge savings for seniors. This bill is the largest investment and most important action to fight climate change in history. Every single American will benefit from this bill."
PROTECTING CONSUMERS
— As Chair of the Senate Commerce, Science, and Transportation Subcommittee on Consumer Protection, Product Safety, and Data Security, Blumenthal led multiple efforts to ensure consumer safety. The Blumenthal-led Reese's Law to strengthen safety standards for battery packaging and products with small batteries frequently found in everyday items was signed into law by President Biden in August. Blumenthal pressed Facebook Marketplace to stop resales of deadly recalled products like the Rock 'n Play sleeper, probed Fisher-Price over deadly infant rockers, and applauded the passage of legislation he co-sponsored, the Safe Sleep for Babies Act, to ban inclined infant sleeping products from the market. Blumenthal also scrutinized the infant formula recall and shortage following infant deaths, including calling for a federal investigation of previously unreported infant deaths.
Blumenthal led efforts to prevent child deaths due to frontover incidents, including introducing the STOP Frontovers Act which would require vehicles to come equipped with technology to improve drivers' front visibility and perception in front of vehicles and urging National Highway Traffic Safety Administration (NHTSA) action.
Blumenthal, a sponsor of the Forbidding Airlines from Imposing Ridiculous (FAIR) Fees Act and the Airline Passengers' Bill of Rights, fought to ensure fair treatment of airline passengers, including urging action to require more airline transparency and calling for adequate refunds for travelers amid complaints and flight disruptions.
Blumenthal responded to the Ticketmaster's disastrous handling of Taylor Swift ticket sales by urging the Department of Justice to hold the company accountable for anticompetitive behavior and calling on the Federal Trade Commission to discuss the use and operation of bots in the online ticket marketplace. Along with U.S. Senator Marsha Blackburn (R-TN), Blumenthal led antitrust efforts to promote app store competition. The Blumenthal-Blackburn Open App Markets Act was overwhelmingly passed by the Senate Judiciary Committee in February.
Blumenthal also demanded that Hertz fix its practices wrongly landing the company's customers in jail, and scrutinized Tesla's Autopilot and Full Self Driving systems after reports of dangerous braking flaws and amid several federal safety investigations.
ADDRESSING RISING GAS PRICES & HOME HEATING COSTS
— As Russia's invasion of Ukraine and global supply chain struggles drove up the cost of gas and oil, Blumenthal fought for multiple measures to help families with energy costs. Blumenthal introduced the bipartisan Making Pipelines Accountable to Consumers and Taxpayers (MPACT) Act to provide millions of dollars in refunds to consumers who have been overcharged for their energy costs, cosponsored the Big Oil Windfall Profits Tax to curb profiteering by oil companies and provide Americans relief at the gas pump, supported efforts by Governor Ned Lamont and President Biden to temporarily suspend the gas tax, and joined the Connecticut delegation in announcing Connecticut will receive $86.4 million in funding for the Low-Income Home Energy Assistance Program (LIHEAP) to help families pay for home heating costs this winter.
"Connecticut families should never have to choose between putting food on the table or heating their homes. This $86.4 million will be a lifeline for thousands of families in Connecticut and I thank HHS for releasing this critical funding to keep families safe and warm during the cold winter months," said Blumenthal.
STANDING WITH WORKERS
— Blumenthal stood with workers fighting for improved pay, benefits, working conditions, and the right to unionize. Blumenthal met with Starbucks employees, Windham Hospital workers, Yale graduate students, Senate Cafeteria workers, and airport employees from across the country.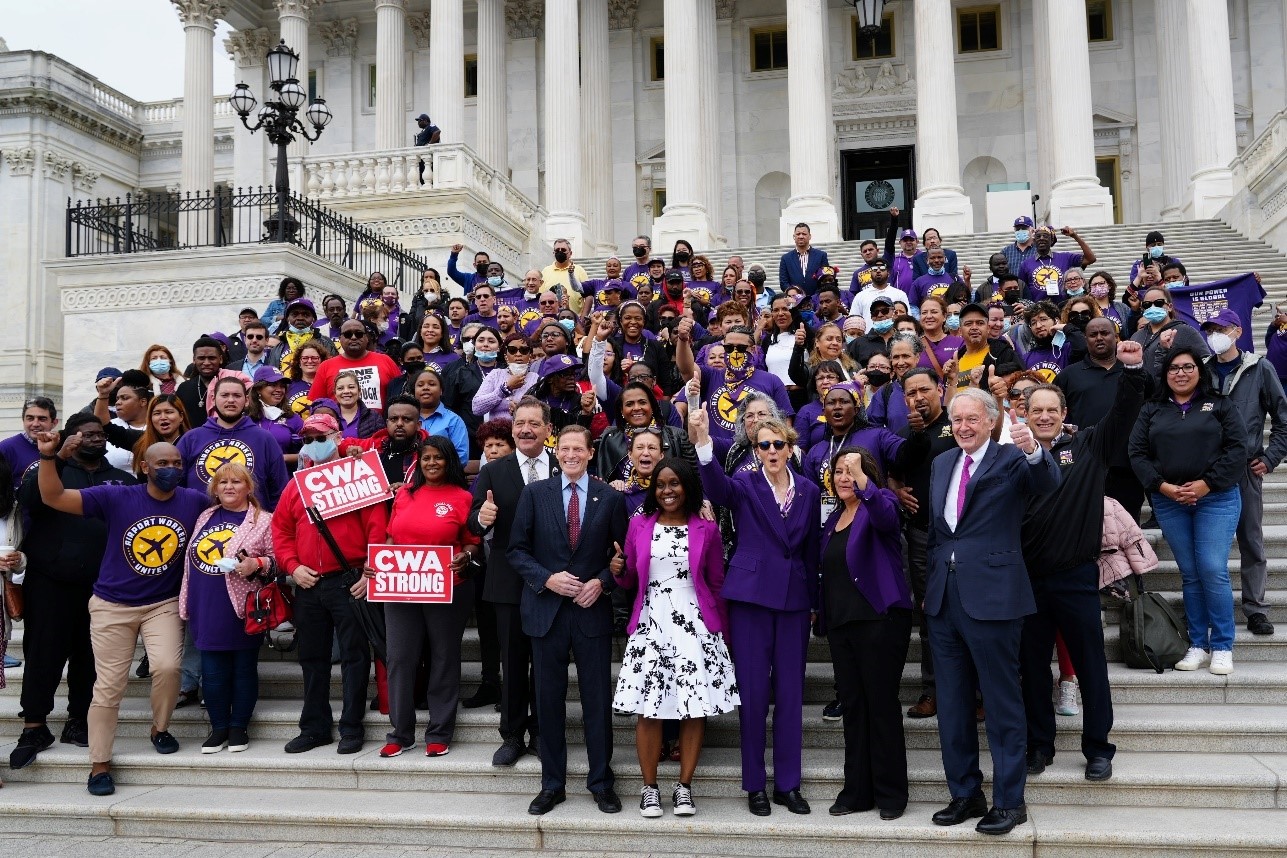 "Our country's workers & unions have fought tirelessly for workplace safety, fair wages & benefits, & more. We must continue to protect & expand workers' rights—providing all Americans with a fair chance at the American dream."
INVESTING IN AFFORDABLE, SAFE HOUSING
— Blumenthal highlighted major investments across Connecticut in expanding access to affordable, safe housing. Blumenthal attended the opening celebration of Hartford's Clover Gardens Housing Project, four affordable family homes by Neighborhood Housing Services of New Haven, and the New H.O.P.E. Homeless Shelter. Blumenthal also announced a $1.7 million grant to improve accessibility and mobility for residents at a New Milford affordable senior housing complex, a $500,000 grant for New Haven's Youth Continuum to create much-needed services for homeless youth, a $500,000 grant for the Windham Region No Freeze Project to provide temporary shelter and support services for individuals experiencing homelessness, a $250,000 grant for the Housing Authority of the City of Hartford (HACH) to install carbon monoxide detectors in several public housing developments, a $250,000 grant for the Housing Authority of the City of Danbury to install intercom systems and surveillance cameras at two senior housing complexes, and a $75,000 federal grant for the Annie C. Courtney Foundation to house young adults who were formerly in the foster care system.
Blumenthal also met with mobile home owners in Southington, Groton, and Killingworth to discuss concerns over unsafe conditions and increased rental fees.
FIGHTING FOOD INSECURITY
— Blumenthal highlighted efforts across Connecticut to expand access to affordable, healthy food. Blumenthal visited Connecticut Foodshare to announce Connecticut became the second state to sign the Local Food Purchase Assistance Cooperative Agreement to purchase food from local farmers for food banks, schools and organizations that reach underserved communities, applauded the critical extension of the child nutrition waivers that allowed schools to continue offering free meals for 220,000 Connecticut children through the summer, announced $320,000 in American Rescue Plan funding for the Brass City Regional Food Hub to significantly increase access to healthy food in Waterbury's underserved communities, attended the ribbon cutting ceremony for Goodwin University's newly expanded Ann B. Clark Co-op that provides free food and other essential goods to students at Goodwin and local magnet schools, and joined Connecticut Foodshare to highlight the urgent need for food donations and new federal legislation that would make it easier for grocery stores and restaurants to donate to individuals in need.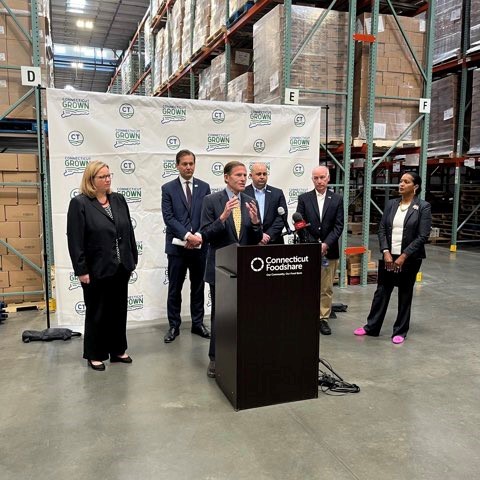 SUPPORTING FIRST RESPONDERS
— Blumenthal announced important measures to protect and aid first responders across Connecticut, including a $3.49 million grant to help replace a portion of Fairfield's emergency radio network system, a $1 million grant to construct Newington's new Emergency Operations Center (EOC) and establish a unified command center for police, fire, and town officials, a $269,000 grant to support the Bristol Fire Department with training, and a $120,000 grant for the Henry C. Lee Institute of Forensic Science at the University of New Haven to provide local police with the latest hands-on training for investigating hate crimes and shootings.
Blumenthal also led a bipartisan Senate resolution to recognize the important role that law enforcement, fire and rescue, emergency medical services, tow truck operators, and transportation workers play in transportation safety, called on Congress to reauthorize the firefighter cancer registry to track cancer rates and improve workplace safety, and held a private meeting with law enforcement officials to discuss the urgent need for more mental health support for first responders and the need for trained professionals to help police respond to mental health crisis and domestic violence calls.
INVESTING IN MENTAL HEALTH & ADDICTION RECOVERY SERVICES
— Blumenthal announced historic investments to help Connecticut support patients struggling with mental health and addiction, including $1.2 million for the Community Mental Health Affiliates of CT to build a new crisis respite program, $1 million for Bridge Healthcare, $900,000 for Waterbury's Warm Hand-Off Program to support opioid overdose survivors, $500,000 for New Haven's Youth Continuum, $461,000 for United Services CT, $370,000 for the Connecticut Council of Family Service Agencies, and $200,000 for the Southeastern Regional Action Council,
Blumenthal also introduced bipartisan legislation to help improve college students' mental health and incentivize higher education institutions to develop and implement comprehensive mental health and suicide prevention plans, and joined Health and Human Services Secretary Xavier Becerra at a roundtable highlighting critical investments in community health centers, behavioral health, and telehealth.
AROUND CONNECTICUT
— From parades and festivals to roundtables and business visits, Blumenthal attended events in more than 120 towns and cities across Connecticut.
-30-