[WASHINGTON, D.C.] – U.S. Senators Richard Blumenthal (D-CT) and Marsha Blackburn (R-TN), Chair and Ranking Member of the Senate Commerce, Science, and Transportation Subcommittee on Consumer Protection, Product Safety, and Data Security, met with parents of children who died or were harmed because of social media harms to discuss the urgent need for passage of the Kids Online Safety Act (KOSA). The parents are in Washington, D.C. to meet with lawmakers and encourage the passage of the legislation before the end of the year.
"These women have amazing stories that are so personal to them about their children," said Blackburn. "The adverse impact, the loss of life and their desire to see KOSA passed so that we can get some regulations in place on the books that will help to protect children and hold Big Tech responsible for the harm that takes place and on some of these platforms."
"These stories are real life tragedies. They've lived through them and they are still living with them," said Blumenthal. "And I can tell you, that grief is still raw and we've tried to tell this story in our hearings, but our colleagues are hearing it now directly from them. And they'll get us across the finish line."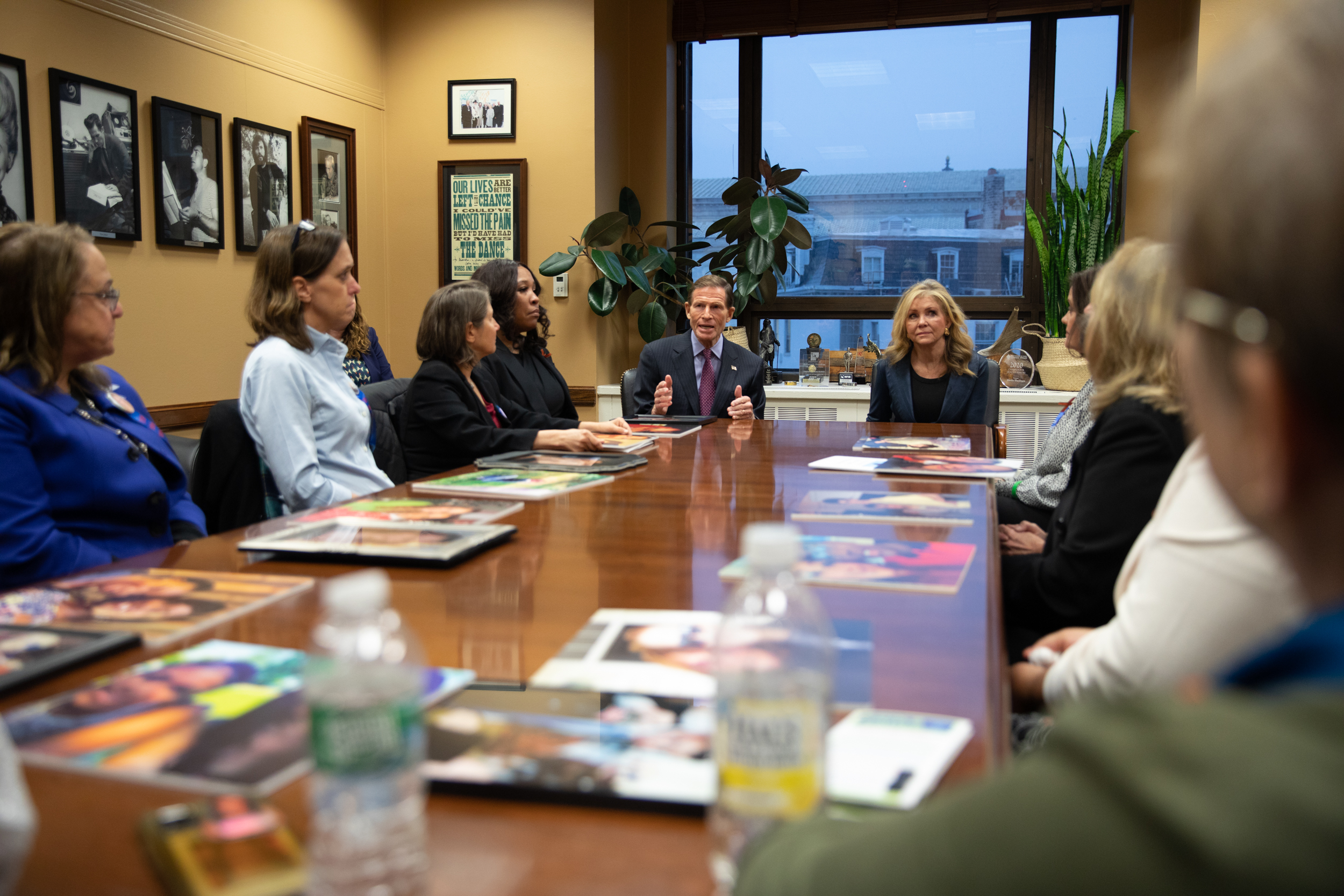 Stressing the need to get KOSA passed in this Congress, Blumenthal and Blackburn along with the parents emphasized its strong bipartisan support from lawmakers and advocates.
"This bill is my personal priority," said Blumenthal. "This bill is doable. Unanimous vote from the Commerce Committee. We need to do this bill."
"The priority for me is to get this signed into law because parents want this. So do teachers and principals and pediatricians and child psychologists. They need something that is going to give them an opportunity to fight back and protect their children," said Blackburn.
Asked what message not passing KOSA would send, one parent stated: "That Congress accepts children's deaths and they are okay with it… How many more children have to die before we make them a priority? Now is the time. Let's do it. Let's pass it."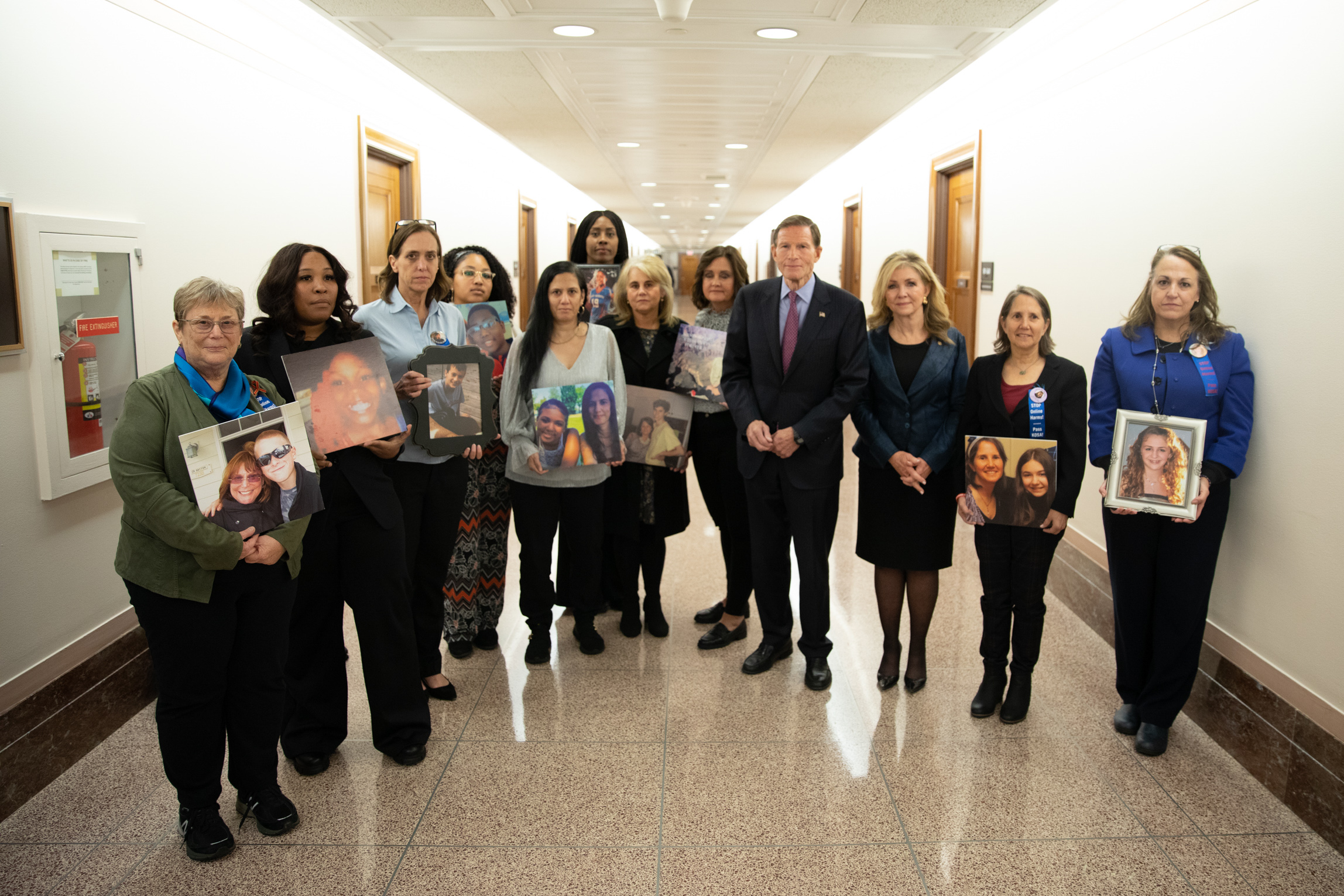 The introduction of KOSA earlier this year followed reporting and a series of subcommittee hearings spearheaded by Blumenthal and Blackburn with social media companies and advocates on the repeated failures by tech giants to protect kids on their platforms and about the dangers kids face online. KOSA awaits Senate Floor action after it passed the Senate Commerce Committee unanimously in July.
Discussing tech industry action, Blumenthal, Blackburn, and parents stressed the need to have real rules in place to hold Big Tech accountable.
"It was not just that we listened to the experts and parents and family members, but we also heard from the industry and many of them said, well we're in favor of this kind of sensible accountability," said Blumenthal. "Now we'll see whether in fact they are serious because we've seen this movie before and sometimes it ends well and sometimes they come in behind the scenes with their armies of lawyers and lobbyists and try to undermine it behind the scenes. But the point is we have advocates here who care today."
"I think the industry has shown it will not self-regulate, which has been a part of the frustration that we have dealt with, and it is one of the reasons for pushing forward and trying to get this passed into law," said Blackburn.
The legislation would provide kids and parents with tools, safeguards, and transparency they need to protect against threats to children's health and well-being online. It requires social media platforms to put the interests of children first, providing an environment that is safe by default and help prevent these destructive impacts. The legislation also requires independent audits and supports public scrutiny from experts and academic researchers to ensure that parents and policymakers know whether social media platforms are taking meaningful steps to address risks to kids. More information on the legislation can be found here.
Photos from Blumenthal and Blackburn's meeting can be found here and b-roll can be found here
The transcript from the media availability is available upon request.
-30-