SECURING WINS FOR CONNECTICUT IN THE OMNIBUS SPENDING BILL
— U.S. Senator Richard Blumenthal (D-CT) released the following statement after the Senate passed the Omnibus Appropriations bill for Fiscal Year 2023:
"This bipartisan package will make a real difference for people across Connecticut. Historic investments will strengthen Connecticut's skilled workforce, help families with food, housing, and energy costs, modernize our aging infrastructure, and ensure veterans exposed to dangerous toxins finally receive the health care and benefits they are owed through the PACT Act. I'm especially proud to have fought for measures that will address our veteran mental health crisis, support survivors of domestic violence, and improve reporting of hate crimes with double the funding for Jabara-Heyer NO HATE Act grants. Along with critical support for our allies in Ukraine, this comprehensive legislation will help our state address the challenges of tomorrow."
A full list of the Blumenthal-championed provisions included in the omnibus spending bill can be found here.
— Blumenthal and U.S. Senator Chris Murphy (D-CT) also announced the inclusion of more than $236 million in the fiscal year 2023 Omnibus Appropriations bill. The bill, once passed by the U.S. House of Representatives and signed into law by President Biden, will fund 99 congressionally directed spending projects requested by Blumenthal and Murphy.
"These targeted specific grants are a fantastic new year win for our state. Connecticut can now count on hundreds of millions of dollars for our most urgent needs—from reducing gun violence to increasing affordable housing to providing critical mental health services. This infusion of funds will be transformative for our state's economic growth and quality of life. Think of them as smart, strategic investments, producing major dividends in health, education, roads, bridges and more. These projects will undoubtedly strengthen our communities and I am proud to have worked alongside Senator Murphy to deliver these invaluable investments to Connecticut," said Blumenthal.
STANDING WITH OUR ALLIES IN UKRAINE
— Blumenthal, a member of the Senate Armed Services Committee, released the following statement in response to President of Ukraine Volodymyr Zelenskyy's remarks before a Joint Meeting of Congress:
"President Zelenskyy is a larger than life leader. Tonight's speech was an electric moment – a call to arms and to conscience that brought standing ovations and tears. President Zelenskyy's remarks were heroically exhilarating and should galvanize bipartisan support for military and humanitarian aid. Unfurling Ukraine's flag brought from the battlefield was a striking symbol of our unshakable bonds. Tonight, my colleagues in Congress and our entire nation saw what so deeply inspired me about President Zelenskyy during our meetings this year: incomparable courage and conviction and an unshakable determination to fight Putin's savage genocidal onslaught, no matter what it takes."
— Blumenthal also joined U.S. Senators Lindsey Graham (R-SC), Sheldon Whitehouse (D-RI), and Michael Bennet (D-CO) and U.S. Representatives Tom Malinowski (D-NJ), Joe Wilson (R-SC), and Steven Cohen (D-TN) in issuing the following statement after their provision to allow for the forfeiture and sale of assets seized from corrupt Russian kleptocrats profiting off their war of aggression against Ukraine was included in the omnibus. The sale of these assets will now benefit the Ukrainian people by assisting in the reconstruction efforts.
"This new law will enable proceeds from recovered Russian oligarch assets to be sent directly to Ukraine for defense, reconstruction, and reparation. It's a matter of basic justice that Russian criminals linked to Putin should pay for this brutal, illegal, and unprovoked war against Ukraine. Today, Congress has ensured that they will. Potential assets total in the billions. We encourage our friends and allies in the G-7 and in the European Union to follow suit. This law is the product of bipartisan collaboration that started with Russia's invasion of Ukraine and that will continue. Today is a good day for the long-suffering people of Ukraine and the American taxpayer, and a bad day for Russian oligarchs and Putin's thugs."
PUSHING FOR BIG TECH ACCOUNTABILITY
— Blumenthal posted the following Twitter thread after his bipartisan Big Tech accountability bills, the Kids Online Safety Act and the Open App Markets Act, were excluded from the omnibus:
"I am deeply disappointed & frustrated that Congress is poised to end the year without passing the Kids Online Safety Act & the Open App Markets Act."
"The Kids Online Safety Act is the culmination of months of hearings, collaboration with stakeholders, & powerful advocacy from parents & young people. These reforms are thoughtfully crafted & measured, with overwhelming support. People know the tech platforms they use are broken, toxic, & treacherous. Leaving them frustrated & teetering at the edge of dark rabbit holes—often careening into the abyss & destroying young lives. Young people, grieving parents, & fierce advocates & thought leaders have powerfully raised the alarm—bearing witness to the deep wounds & lasting scars."
"In our Subcommittee, Senator Blackburn & I held bipartisan hearings about protecting kids online with experts, whistleblowers, & Big Tech executives. The legislation we drafted in response, KOSA, received a unanimous Committee vote—no one would oppose us on the record. On our side were parents who have suffered the worst loss imaginable & turned that pain into powerful advocacy. One parent told me, 'How many more children have to die before we make them a priority? Now is the time. Let's do it. Let's pass it.'"
"Senators Schumer and Cantwell courageously had our back during the battle, as well as my close friend Senator Markey & his important push to update our children's privacy law COPPA. All steadfast allies fighting for the public interest. KOSA always had Senator Schumer's support & thanks to Senator Cantwell's leadership, change was at our fingertips. But Big Tech's behemoth sway stymied our efforts. With armies of lobbyists & vast troves of smear money, they flooded the field with misinformation & played both sides. Big Tech fueled a deluge of astroturfing & lobbying—millions of dollars spent on misinformation defending corporate greed."
"Big Tech similarly sabotaged antitrust efforts that I led with Senator Klobuchar, Representative Cicilline, & Senator Blackburn. Our Open App Markets Act received a 20-2 Committee vote. This plague will persist until Congress enforces accountability & cares more about kids than Big Tech. Young people are desperate."
"Make no mistake: I am steadfastly committed to continuing the fight for reforms, keeping kids safe online & ensuring marketplace fairness. Next Congress you can bet that I will be reintroducing these bills & redoubling the work with my partners."
CONFIRMING SARA BRONIN TO CHAIR THE ADVISORY COUNCIL ON HISTORIC PRESERVATION
— Blumenthal applauded the Senate's confirmation of Sara Bronin to chair the Advisory Council on Historic Preservation.
"Sara Bronin's extraordinary expertise and experience as a preservation advocate and steward will make her an outstanding chair of the Advisory Council on Historic Preservation. Her commitment to this vital cause is demonstrated convincingly by her championing vulnerable community assets across Connecticut. In this new role, she will take this work to a national level."
As chair of the Advisory Council on Historic Preservation, Bronin will lead the agency in addressing policy issues, directing program initiatives, and making recommendations regarding historic preservation, enhancement, and sustainable use of our nation's diverse historic resources to the President, Congress, and heads of other federal agencies.  
PROTECTING COASTAL COMMUNITIES
— Blumenthal and Norwalk Mayor Harry Rilling announced federal funding for the city to develop a flood resilience plan. The $211,800 grant will allow the city to create a flood resilience plan and will also provide a framework of nature-based solutions to enhance Norwalk's coastal habitats. The funding is part of $1.3 million in National Coastal Resilience Fund grants that Connecticut received from the National Oceanic and Atmospheric Administration.
ENDING CHILD EXPLOITATION
— Blumenthal released the following statement after the PROTECT Our Children Act, legislation he cosponsored with U.S. Senator John Cornyn (R-TX), was signed into law by President Biden. The legislation reauthorizes the Internet Crimes Against Children (ICAC) Task Force Program, a national network of 61 coordinated task forces that represent 3,500 federal, state, and local law enforcement and prosecutorial agencies engaged in reactive and proactive investigations across the country. The ICAC aids local and state law enforcement in the creation and implementation of effective responses to technology-facilitated child sexual exploitation and internet crimes against children..
"This significant measure very simply helps stop the scourge of child exploitation," said Blumenthal. "Supporting and equipping law enforcement with the tools to prevent and investigate these crimes is critical to holding predators accountable. I'm proud to have led the PROTECT Our Children Act with Senator Cornyn and applaud President Biden for signing this important measure into law." 
PROTECTING MILITARY FAMILIES FROM POOR HOUSING CONDITIONS
— Blumenthal joined U.S. Senators Elizabeth Warren (D-MA), Mazie Hirono (D-HI), Tim Kaine (D-VA) and Sherrod Brown (D-OH) in a letter to Secretary of Defense Lloyd Austin expressing concern over reports that military families are being forced to sign non-disclosure agreements (NDAs) with privatized military housing companies in order to receive compensation for poor housing conditions. In the letter, the lawmakers urge the Department of Defense (DoD) to put an end to these practices.
"The use of NDAs leaves tenants who were provided with unsafe or unhealthy housing conditions forced to choose between receiving compensation for those atrocious conditions and forever remaining silent about their experiences or telling their story and having to pay out of their own pockets for safe housing conditions. Furthermore, it allows the private housing companies to evade responsibility for their failures. These are unacceptable outcomes," the lawmakers wrote.
DECLARING RACISM A PUBLIC HEALTH CRISIS
— Blumenthal joined U.S. Senators Sherrod Brown (D-OH), Cory Booker (D-NJ), and Alex Padilla (D-CA) in introducing a Senate resolution declaring racism a public health crisis. The resolution acknowledges the history of racism and discrimination within health care and the systemic barriers that people of color continue to face when seeking care. The resolution also highlights the effects of systemic racism on the health and wellness of communities of color, resulting in shorter life expectancy, worsened health outcomes, and enhanced exposure to harmful or dangerous environments. This resolution encourages concrete action to address health disparities and inequity across all sectors in society.
AROUND CONNECTICUT
— Blumenthal reacted to reports that Eversource blocked some customers from switching to providers with lower rates.
"Eversource & UI should never keep a secret list of hardship customers without notifying them first. They owe them an apology & compensation for any harm. Consumers should study carefully any third-party electricity contract to make sure it will save money in the long run. Eversource should free consumers who seek better rates."
— Blumenthal visited the Y's Men of Westport.
"Wonderful visit with the Y's Men of Westport last Friday. Razor sharp questions about our democracy, & CT's promising future."
— Blumenthal joined Wreaths Across America for a ceremony at the Connecticut State Veterans Cemetery.
"Honored to join Wreaths Across America at the CT State Veterans Cemetery to Remember, Honor, Teach. A moving ceremony—with families from all over CT."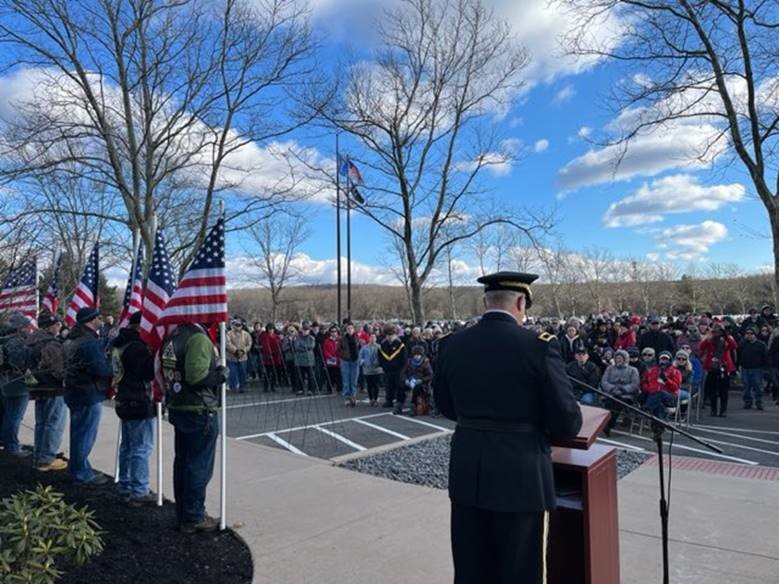 — Blumenthal joined the Town of Greenwich at a ceremony lighting their menorah. 
"Lighting the Town of Greenwich Menorah! A very Happy Hanukkah to all celebrating this first night! Light triumphs over darkness."
-30-