STANDING UP TO ANTISEMITISM & HATE CRIMES
— U.S. Senator Richard Blumenthal (D-CT) joined the Anti-Defamation League and Jewish Federation of Greater Hartford to stand up to hate after a report revealed an alarming 100 percent increase in antisemitic incidents in Connecticut. Blumenthal announced he is requesting $40 million for the Department of Justice's Community Relations Service, which provides facilitated dialogue, mediation, training, and consultation to assist communities facing discrimination-based conflict.
"Rising numbers of hate crimes, white supremacist  &anti-Semitic incidents are a call to action. I joined great community leaders in Bloomfield to urge more resources for DOJ's Community Relations Service, & law enforcement. Insidious efforts to intimidate & divide us must be fought."
INCREASING ACCESS TO AFFORDABLE OVER-THE-COUNTER NARCAN
— Blumenthal joined advocates to call on Emergent BioSolutions, the company that produces Narcan, to keep prices low in order to ensure that every American has access to the lifesaving opiate overdose reversal drug.
Last week, the Food and Drug Administration announced that Narcan would soon be made available over the counter. In a letter, Blumenthal urged Emergent BioSolutions to keep the price of the drug as low as possible so that every day individuals, businesses, law enforcement and many others can afford to keep it on hand.
"Unaffordable medicine is inaccessible medicine, whether it's offered by prescription or over-the-counter. As such, I urge Emergent BioSolutions to immediately reduce the list price of its OTC Narcan medication to a rate that makes it affordable for all individuals, particularly those who lack insurance coverage," Blumenthal wrote to the President and Chief Executive Officer of Emergent BioSolutions.  
The current reported wholesale price for Narcan can cost as much as $120 for two doses, depending on insurance coverage and location. Uninsured individuals, who make up about one fifth of people with opioid use disorder, would struggle to afford Narcan at these high rates.
In the letter, Blumenthal urges Emergent BioSolutions to work with public health experts, addiction specialists, and community activists to keep prices affordable for those who need it most.
"With FDA approval of your company's OTC Narcan medication, you and Emergent BioSolutions have the opportunity to save an untold number of lives. You have the ability to keep families whole, protect the public, and help put an end to the scourge of opioid addiction," Blumenthal wrote.
INVESTING IN NEW LONDON'S COMMUNITY RECREATION CENTER
— Blumenthal and U.S. Senator Chris Murphy (D-CT) joined New London Mayor Mike Passero to announce $2 million in federal funds for the construction of a new Community Recreation Center.
The center, which is also receiving $7 million from the state government, will provide access to recreation activities for New London's low- and moderate-income residents. The $2 million in CDS funding will cover equipment purchases for the new center's programming for low-income residents. This includes athletic supplies, audio/visual equipment, fitness equipment, teaching kitchen equipment, tables, and chairs to support recreational programs.
"Proud to be at the $2M grant announcement for the the New London Community Center. As this recreational area takes shape it is sure to be the beating heart of the community. Big round of applause for Mayor Passero & all the advocates who have worked to make this dream a reality."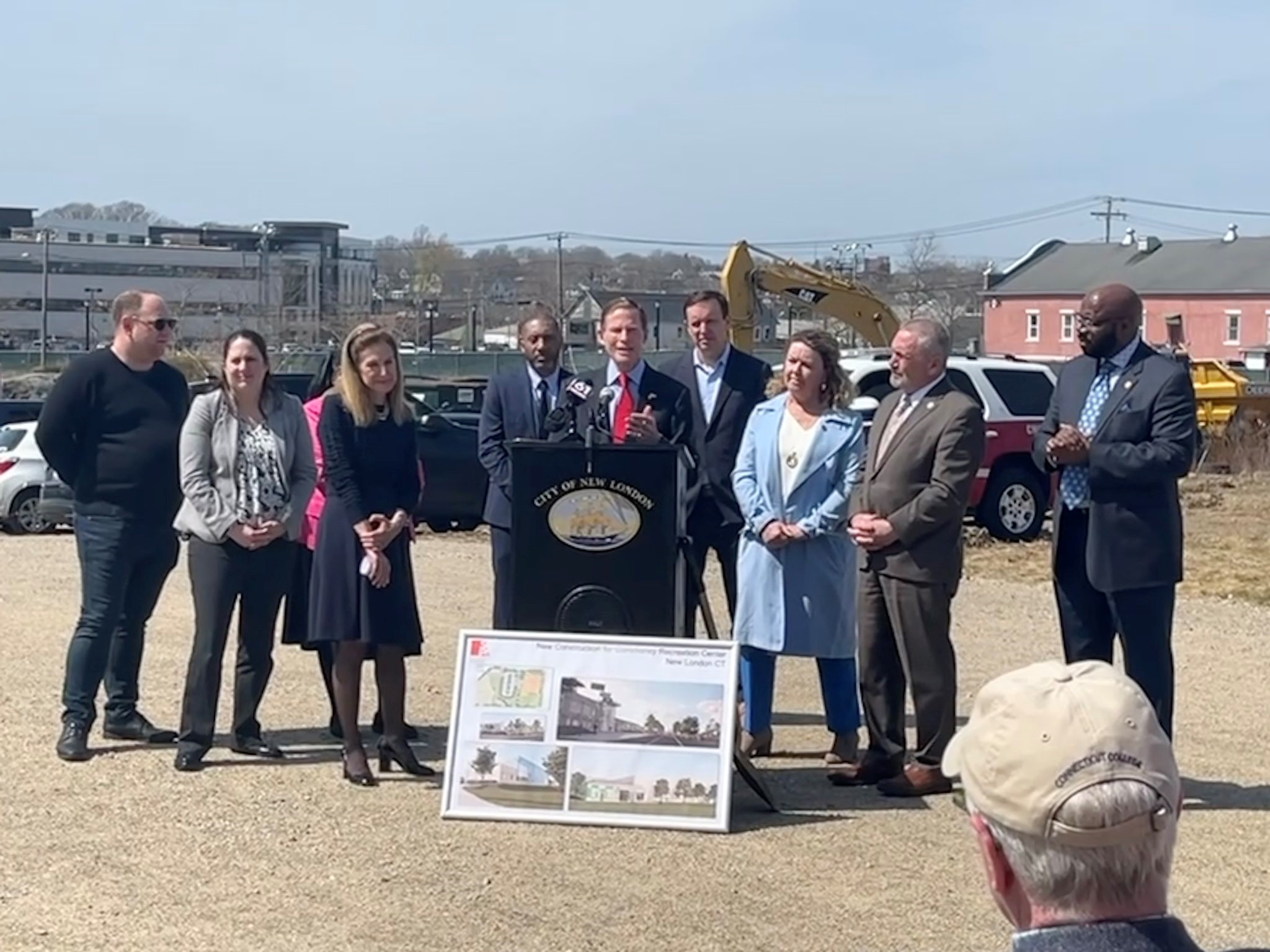 SUPPORTING K2 VETERANS IN THE FIGHT FOR CARE & BENEFITS
— Blumenthal joined the Stronghold Freedom Foundation, the Connecticut Veterans Legal Center and the Yale Veterans Legal Services to announce a lawsuit alleging that the Department of Defense has wrongfully withheld vital and medically relevant toxic exposure information from veterans stationed at the Karshi-Khanabad Air Base (K2) in Uzbekistan.
As many as 15,000 U.S. servicemembers deployed to K2 Air Base to support military operations into northern Afghanistan following the terrorist attacks of September 11, 2001. Reports indicate that K2 servicemembers were exposed to multiple cancer-causing toxic chemicals and radiological hazards during their deployments. These toxins include hazardous petrochemicals, volatile organic compounds (VOCs), depleted uranium, burn pits, and elevated levels of tetrachloroethylene.
"No excuse for DOD disregarding K2 veterans' care. They deserve vital information about exposure to toxins from DOD. I stand with the Stronghold Freedom Foundation, CT Veterans Legal Center, & the Yale Veterans Legal Services as they fight for necessary treatment, diagnoses, & justice."
CELEBRATING UCONN'S NATIONAL CHAMPIONSHIP
— Blumenthal and Murphy joined U.S. Representatives Joe Courtney, Rosa DeLauro, John B. Larson, Jim Himes, and Jahana Hayes in announcing resolutions congratulating the University of Connecticut men's basketball team for winning the 2023 NCAA Division I Championship. The resolutions commend the Huskies' dominant performance and defeat of every opponent by at least 13 points on their way to their fifth national title since 1999 – a feat no other college team has surpassed. They also recognize Adama Sanogo for being named the Most Outstanding Player of the tournament and honor UConn fans, students, and faculty for the incredible achievement.   
"Once again, the Huskies have inspired our state," the delegation said in a statement. "Five national championships don't happen by accident – they are the result of the coaches' and players' hard work and the unwavering support from everyone in the UConn community. The 'College Basketball Capital of the World' in Storrs has been reaffirmed. We're so proud of this team and program." 
FIGHTING ROADWAY FATALITIES
— Blumenthal announced $240,000 in federal funding for the Lower Connecticut River Valley Council of Governments (RiverCOG) to develop a comprehensive safety action plan to improve the safety of transportation facilities in the region. The funding is awarded through the Bipartisan Infrastructure Law's Safe Streets and Roads for All (SS4A) grant program, a new program established to prevent roadway deaths and serious injuries.
"Making our roads safer for all will save lives & prevent serious injuries. This $240,000 in federal funding for the Lower CT RiverCOG is absolutely critical to developing a comprehensive safety plan of action to reduce transportation accidents."
BOOSTING GUN VIOLENCE PREVENTION RESEARCH AT THE CDC
— Blumenthal and Murphy joined 23 of their Senate colleagues in reintroducing legislation that would fund research at the Centers for Disease Control and Prevention (CDC) to better understand and address the nation's ongoing gun violence epidemic, a public health crisis which in the past five years has taken the lives of more than 180,000 people across the United States. Specifically, the Gun Violence Prevention Research Act would authorize $50 million each fiscal year over the next five years to boost the CDC's firearms safety and gun violence prevention research – building upon already successful efforts to secure a total of $100 million for federal gun violence prevention research between fiscal years 2020 and 2023.
Currently, the CDC is supporting more than 20 individual research projects dedicated to the study of gun violence prevention – including research on understanding the unique harms posed to young people, mitigating gun violence in highest-risk communities, and stopping firearm suicides among military service members and veterans, and more.
"The more we know about gun violence, the more prepared we can be to prevent it. This research will tell us where gun violence is most prevalent and where we can act most effectively to prevent it. This fact finding has been long opposed and suppressed by the gun lobby and we are now playing catch up. Common sense reforms like an assault weapons ban and safe storage laws are vital, but we also need robust funding to study this epidemic. This week's shooting in Nashville took the lives of more innocent children and Congress should not look away and ignore the carnage in their own neighborhoods and states," said Blumenthal.
SUPPORTING CT'S SMALL BUSINESSES
— Blumenthal visited the site of the Chamber of Commerce of Eastern Connecticut's new regional Innovation Center. Once completed, the Innovation Center will serve as a coworking space and will support the development of startup businesses in New London and the surrounding region.
"The Chamber of Commerce of Eastern CT's new Innovation Center will provide hope & support to budding entrepreneurs. Start-up training, technical apprenticeships, & business development are absolutely critical to bolster new businesses in our state."
— Blumenthal visited Green Egg Design LLC, a Hartford company that designs and produces "beers bats" sold at Hartford Yard Goats games and Major League Baseball franchises.
"Beer Bats are a fun way to enjoy the game—thanks to the initiative & ingenuity of Sam McGee at Green Egg Design. You'll see them at Yard Goats' games & Major League parks nationwide. Drink responsibly!"
— Blumenthal attended the grand opening of BristolWorks!.
"Proud to celebrate the grand opening of BristolWorks! providing job training and spurring Bristol economic renaissance. BristolWorks! helps those entering the labor market or changing careers, but also assists Ukrainian refugees as they find jobs in CT."
ADDRESSING THE MATERNAL MORTALITY CRISIS
— Blumenthal joined women's health advocates to sound the alarm on the recent spike in maternal mortality rates. The attacks on reproductive freedoms across the country have impacted access to maternal care and broadened disparities among women. Blumenthal announced he is joining his colleagues in requesting $146 million for the Safe Motherhood and Infant Health Program to support state Maternal Mortality Review Committees (MMRCs), which provide imperative data collection to prevent maternal deaths. The push for funding follows a recent decision by a Texas federal judge, that struck down an Affordable Care Act (ACA) ruling covering preventive services, such as maternal care.
"With rates at the highest level they've been in decades, we are in the midst of a maternal mortality emergency—especially for Black & Brown mothers. This deadly disparity is disgraceful. I'm urging action to address this public health crisis."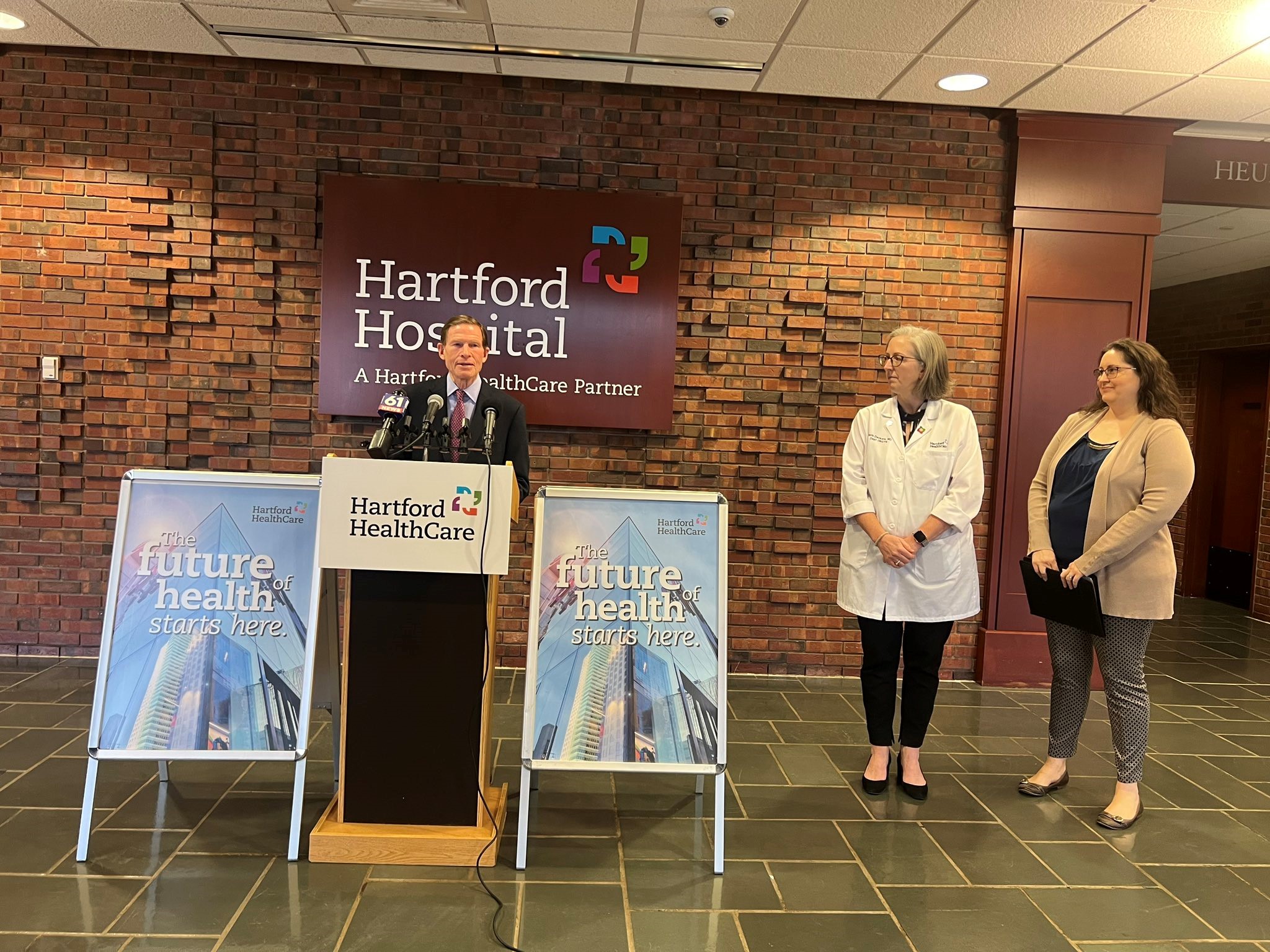 According to a new report from the Centers for Disease Control and Prevention (CDC), 1,205 women died from maternal causes in 2021, compared to 861 in 2020 and 754 in 2019.
Black women are more than three times as likely to die from pregnancy related complications as white women. Next week marks Black Maternal Health Week, recognized each year to bring attention to the maternal health disparities faced by Black women.
FUNDING ARTS EDUCATION SUMMER PROGRAMS
— Blumenthal announced $100,000 to support the Hartford Stage summer arts education programs. With the awarded funding, Hartford Stage will offer summer camp programming for multiple weeks with students ages 3-18, designed to encourage creativity, collaboration, and connection. The programs will serve over 200 students across the Hartford region.
"Thrilled to be at Hartford Stage to announce $100,000 in federal funds for summer arts programs. This funding will inspire students to dream big & have fun."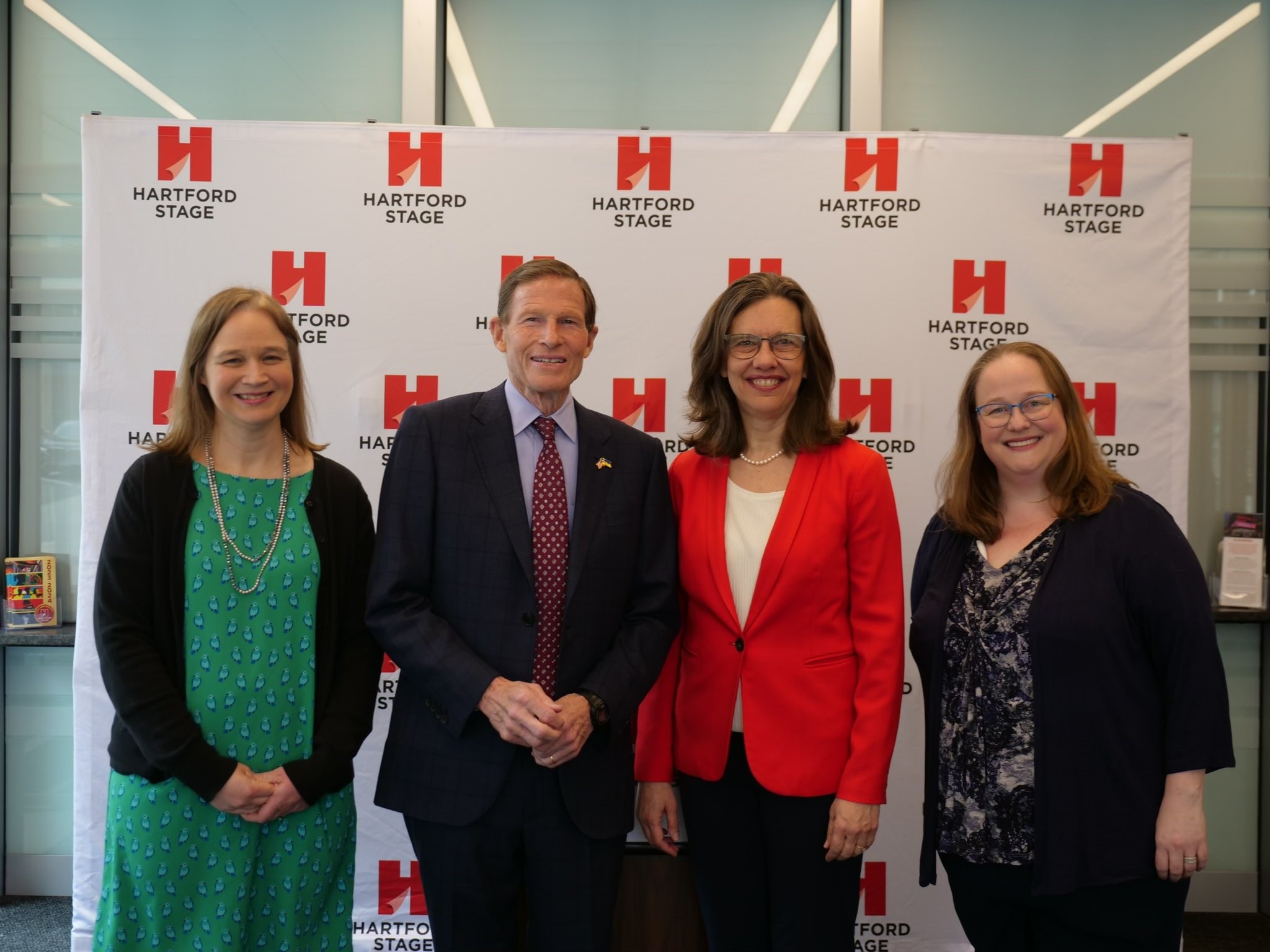 UPGRADING MANCHESTER'S WATER & SEWER SERVICE
— Blumenthal announced $1.8 million for the town of Manchester to upgrade drinking water services to two distressed neighborhoods and connect sewer lines to a new affordable housing development.
The $1.8 million will replace 50-100-year-old water pipes, some of which contain lead, in the Griswold, Roosevelt, Lilac, Church and Chestnut Street areas, as well as connect sewer services to a Habitat for Humanity affordable housing development at 21 and 27 South Street.
"Cleaner water & better sewage disposal are basic to health & safety in Manchester. A new $1.8 million grant will help make it possible. Delighted to join town leaders in announcing it."
STRENGTHENING ETHICS STANDARDS FOR SUPREME COURT JUSTICES
— Blumenthal reacted to a ProPublica report that Supreme Court Justice Clarence Thomas secretly accepted luxury gifts from a GOP megadonor.
"Justice Thomas' failure to disclose millions in gifts—the use of a billionaire's private jet, luxury yacht, & exclusive resort—is brazenly unethical."
"If the Justices have real respect for the law, they'll authorize an independent investigation—by an Inspector General-type official—after this eye-opening report. We need reforms that allow for enforcement against this contempt for the law & a new Supreme Court Code of Ethics."
HOLDING THE CRUISE INDUSTRY ACCOUNTABLE FOR PASSENGERS' WRONGFUL DEATHS
— Blumenthal and U.S. Senator Deb Fischer (R-NE) reintroduced Hammers' Law, legislation that would hold the cruise industry accountable for the wrongful deaths of passengers who do not have dependents or income — including children, students, and retirees. The bill is named for Larry and Christy Hammer, who tragically lost their lives in a fire in their cabin onboard a Peruvian river cruise on April 10th, 2016.
"This measure will enable families to hold cruise lines accountable for needless deaths and injuries. All too often, these corporate giants disregard imminent dangers that turn vacations into tragedies. Victims' loved ones deserve justice," said Blumenthal.
Hammers' Law would amend an over 100-year-old law, known as the Death on the High Seas Act (DOHSA). Today, the cruise industry uses DOHSA to avoid financial accountability for the wrongful deaths of passengers who do not have dependents or income. These passengers — including children, students, and retirees — account for a significant portion of the 12 million Americans who cruise each year.
CONTINUING MEDICARE COVERAGE OF AT-HOME COVID TESTS
— Blumenthal joined U.S. Senators Bob Casey (D-PA) and Ron Wyden (D-OR) in a letter to Department of Health and Human Services (HHS) Secretary Xavier Becerra urging HHS to continue providing Medicare coverage for rapid, at-home COVID-19 tests after the public health emergency expires on May 11. The Senators note that seniors and people with disabilities remain vulnerable to COVID-19 infection but could find themselves without critical public health tools. As the nation rebuilds its economy while recovering from the pandemic, continued access to and affordability of at-home testing is critical to ensuring older adults and people with disabilities can be included in rebuilding efforts as active members of the workforce.
"Easy access to testing with quick results has prevented the spread of COVID-19, reduced severe infection, and enabled many Americans to resume normal life…Ending Medicare coverage for at-home COVID-19 tests could undo much of this progress and make it harder for Medicare beneficiaries to obtain accurate and timely information about their health. For example, without coverage under Medicare, many older Americans will not be able to afford to pay out-of-pocket for these critical tests and simply won't test," the Senators wrote.
REAFFIRMING SUPPORT FOR THE GOOD FRIDAY AGREEMENT
— Blumenthal and Murphy joined U.S. Senators Bob Menendez (D-NJ), Susan Collins (R-ME) and 10 of their Senate colleagues in announcing the introduction of a resolution commemorating the 25th anniversary of the signing of the Good Friday Agreement (April 10). In addition to celebrating the historic compromise that marked the beginning of a new era of peaceful political engagement in Northern Ireland, the bipartisan resolution also affirms support for the full implementation of the Good Friday Agreement and subsequent agreements and arrangements—including the Windsor Framework—to advance peace on the island of Ireland.
The bipartisan resolution, introduced in the Senate last week, also urges continued attention and action to resolve injustices of past violence, reaffirms support for the right of all people on the island to self-determination, and encourages renewed efforts to preserve the rich language, literature, and arts of Northern Ireland. The resolution additionally underscores the great value the United States places on its relationship with both the United Kingdom and Ireland, and the United States' steadfast support for the peaceful resolution of any and all political challenges in Northern Ireland.
ADDRESSING DELAYS IN DELIVERING FEDERAL RETIREMENT BENEFITS
— Blumenthal joined U.S. Senators Dick Durbin (D-IL) and Tammy Duckworth (D-IL) and U.S. Representative Robin Kelly (D-IL) in sending a bicameral letter to the Office of Personnel Management (OPM) urging the agency to address the delay with processing and delivering federal retirement benefits to federal employees. OPM, which manages government employees' health insurance and retirement benefit programs, has a substantial retirement claim inventory backlog, resulting in federal retirees often waiting more than 90 days to receive their deserved benefits. With one in three federal employees eligible to retire this year, OPM will continue to face strains unless the agency takes concrete steps to improve its review process.
"We write to express our concern with the excessive delays federal retirees in our states are facing as they wait to obtain their hard-earned retirement benefits.  It has been reported that average retirement processing times have been far above the agency's stated goal of 60 days—instead often exceeding 90 days.  We are aware of at least one case that has been in processing for fifteen months," the lawmakers wrote.
"Our nation's federal retirees are dedicated public servants who often have provided decades of essential work that is vital in keeping our government running, despite being subjected to uncertainty due to hiring freezes, continuing resolutions, and other budget constraints.  We are aware that OPM is working to implement the changes needed to better serve federal retirees," the lawmakers continued.
OPM's backlog is attributed to the agency's reliance on the manual processing of paper-based applications, insufficient staffing, and submissions of incomplete applications.  As the backlog has grown over time, the Government Accountability Office (GAO) called on OPM last June to modernize the application review.
STRENGTHENING ENTREPENEURIAL DEVELOPMENT PROGRAMS
— Blumenthal joined U.S. Senator Maggie Hassan (D-NH) and a group of colleagues in a letter calling for robust funding for entrepreneurial development programs at the Small Business Administration (SBA) in this year's government funding bill. Specifically, the Senators are pushing for funding for programs administrated by the Office of Entrepreneurial Development and the Office of Entrepreneurship Education, which provide critical support and resources to small businesses and entrepreneurs. 
"The [Office of Entrepreneurial Development and the Office of Entrepreneurship Education] together play a vital role in supporting and promoting small businesses across the country. These offices provide small businesses with advising, mentoring, and training assistance by leveraging the resource partner network of Small Business Development Centers, Women's Business Centers, and the non-profit association SCORE (Service Corps of Retired Executives), as well as the Regional Innovation Clusters, Entrepreneurship Education, SBA Learning Center, and Emerging Leaders programs," wrote the Senators.
The Senators continued, "SBA entrepreneurial development programs are now more important than ever, helping to promote small businesses and provide critical support to entrepreneurs. America's 33 million small businesses support approximately 61 million jobs, and provide employment opportunities in rural and urban communities alike. When American small businesses are strong, they help grow our economy while strengthening the communities that they serve."
AROUND CONNECTICUT
— Blumenthal attended the annual Chiefs' Cup hockey game.
"With great spirit & good fellowship, New Haven's firefighters & police squared off on the ice yesterday. The Chiefs' Cup is always a hockey match to remember—& to thank & honor the brave men & women who face a lot more than stick & pucks to keep us safe."
— Blumenthal announced a federal grant to aid the Greenwich Harbor dredging project.
"Dredging harbor grants are vital to shoreline towns like Greenwich that depend on them for public safety, recreation, & local business. The Greenwich grant will help test sediment so removal can be done without environmental harm." 
— Blumenthal attended the Kids in Crisis Gala.
"Kids In Crisis directly helped 4,590 children last year alone, & more than 165,000 since beginning in 1978. A deep debt of gratitude is owed to staff, volunteers, board members, & most especially, longstanding leader Shari Shapiro. No wonder last night's gala was sold out."
— Blumenthal joined the 180th anniversary celebration for Beth El Synagogue.
"Proud to join Beth El's wonderful congregation in celebrating the synagogue's 180 years of wisdom, faith, community leadership & tikkun olam. Inspiring & uplifting program last night."
— Blumenthal joined Habitat for Humanity's annual celebration.
"Habitat for Humanity does more than just put roofs over heads—it builds & bolsters real homes, families & neighborhoods. It spreads a spirit of caring & community. That spirit was compelling this weekend at the annual celebration of its staff, board, volunteers & new homeowners."
— Blumenthal mourned the passing of Larrye deBear and John Mordasky.
"Larrye deBear was a gifted wordsmith, dedicated public servant, tireless reporter, & insightful advisor. He was also a mensch—with a big heart & great humor. I'm grateful to have known him. My sympathies go to his family."
"Everybody loved John—as I saw sitting near him in the state House—a farmer legislator who showed up after milking his cows, a decorated WW II vet, devoted to his family & country. A big man, with a big heart, & great humor. Nobody like him then, none again."
— Blumenthal attended the ribbon cutting for the Igor Tulchinsky Chabad Center For Jewish Life.
"Proud to join this weekend in a wonderful historic celebration in Greenwich—the Grand Opening & Ribbon Cutting of the Igor Tulchinsky Chabad Center For Jewish Life. A beautiful, moving ceremony with deep gratitude & Mazel Tov to Rabbi Yossi Deren & all who made it possible."
— Blumenthal joined a Ramadan celebration in Newtown.
"Moving, joyful Ramadan celebration in Newtown's Town Hall last weekend, with hundreds coming together for wonderful fellowship & food as well as faith. A truly diverse community gathering—different faiths & backgrounds. An American tableau."
-30-