PROVIDING STUDENT LOAN DEBT RELIEF
— U.S. Senators Richard Blumenthal (D-CT) and Chris Murphy (D-CT) joined Connecticut nurses to highlight how President Biden's promise to relieve up to $10,000 in student debt and $20,000 for Pell Grant recipients will impact Connecticut's middle class and low-income workers.
Federal student loan debt is $1.6 trillion and rising for more than 45 million borrowers — a significant strain on America's low-income and middle class borrowers. According to the National Student Nurses' Association, the average Registered Nurse graduates with between $20,000 and $47,000 in debt.
At the press conference, Blumenthal and Murphy were joined by nurses working in Connecticut who will benefit from the $10,000 in student debt cancellation and represent frontline and essential workers who welcome this debt relief. 
"President Biden's debt cancellation plan will be truly transformative—providing overdue relief to individual borrowers & their families. Today I joined nurses from UConn Health & Backus Hospital to celebrate this important 1st step toward making higher education more affordable," said Blumenthal.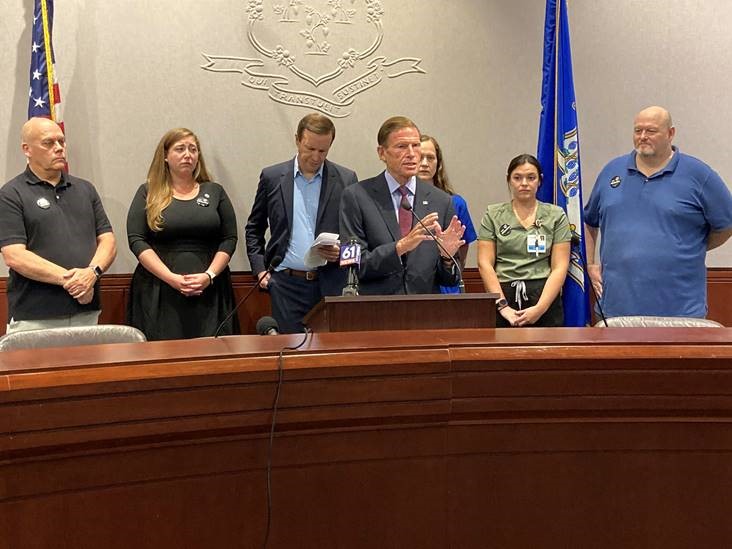 SUPPORTING LABOR RIGHTS
— Blumenthal marked the observance of Labor Day:
"On #LaborDay we celebrate our country's workers & unions who have fought tirelessly for workplace safety, fair wages & benefits, & more. We must continue to protect & expand workers' rights—providing all Americans with a fair chance at the American dream."
— Blumenthal joined Starbucks employees and AFL-CIO representatives at the Corbin's Corner Starbucks store location to call out Starbucks for its failure to extend wage and benefit increases to union workers. The National Labor Relations Board (NLRB) filed a complaint last month, citing these failures as a violation of the National Labor Relations Act, which protects union workers from interference or retaliation. The NLRB is demanding that Starbucks repay the affected workers.
The complaint comes as a surge of more than 200 locations nationwide have unionized to establish fair compensation and improved working conditions. The Corbin's Corner and Vernon Starbucks store locations are the first to vote to unionize in Connecticut.
"Proud to stand with Starbucks workers as they seek fair pay, benefits, hours, & more on this Labor Day weekend—for themselves & others. Employees at this West Hartford store voted to unionize, because unions give workers strength."
— Blumenthal joined U.S. Senator Elizabeth Warren (D-MA) and U.S. Representative Brad Sherman (D-CA) in reintroducing the Nationwide Right to Unionize Act, legislation that would support the right to unionize by prohibiting states from banning union security agreements through "right-to-work" laws. Twenty-seven states have enacted "right-to-work" laws that prevent unions from collecting dues from non-union members who are covered under a union-negotiated contract. These laws make it more difficult for workers to form unions and fight for higher wages and better working conditions in the states that adopt them, resulting in a 5% decrease in unionization rates and a decrease in average wages for all full-time workers of 3.1%, according to a study by the Economic Policy Institute.
— Blumenthal reacted to news that the Major League Baseball Players Association asked MLB to voluntarily accept the union as the bargaining agent for minor leaguers.
"MLB must now come to the bargaining table in good faith. Minor league players deserve to have their voices heard & respected as they pursue fair pay & better playing conditions. Players need & deserve a union."
MODERNIZING COAST GUARD RESCUE VESSELS
— Blumenthal, a member of the U.S. Senate Committee on Commerce, Science, and Transportation, attended the ribbon cutting ceremony for the Birdon Group USA manufacturing facility in Portland, Connecticut. Birdon contracts with the U.S. Department of Defense and the U.S. Department of Homeland Security to manufacture and refurbish military vessels and vehicles.
The Portland facility is the third Birdon location in the United States and the first on the East Coast. The new location will support the U.S. Coast Guard by modernizing the 47-foot Motor Lifeboat (MLB) rescue vessels that operate along the eastern shoreline.
SUPPORTING OUR ALLIES IN UKRAINE
— Blumenthal joined U.S. Senators John Cornyn (R-TX) and Jeanne Shaheen (D-NH) in a bipartisan group of senators introducing the Securing American Acquisitions, Readiness, and Military Stockpiles Act (Securing American ARMS Act). The legislation would give the Department of Defense (DoD) enhanced procurement authorities to quickly refill American defense stockpiles after the President provides aid to an ally or partner attacked by a foreign adversary, including replenishing America's stockpiles after lethal aid was sent to Ukraine for defense against Russia.
— Blumenthal reacted to reports that Russia is buying millions of artillery shells and rockets from North Korea.
"Russia buying lethal weapons, drones & artillery, from pariah state sponsors of terrorism Iran & North Korea—showing why it richly deserves that same status, as the Senate unanimously supported. The Admin should move forward with naming Russia a state sponsor of terrorism."
LOWERING ENERGY COSTS
— Blumenthal and Murphy joined all New England senators in a bipartisan letter, calling on the Biden Administration to take action to lower energy costs for New Englanders as the winter season approaches and Americans continue to face high energy costs.
"As winter approaches, we are calling for federal action to help bring down heating costs for households in our region, including releasing stockpiles from the Northeast Home Heating Oil Reserve," the senators wrote. "With lower inventories of crude oil, propane, and natural gas and the continued global disruption caused by the Russian invasion of Ukraine contributing to a sharp rise in residential energy costs, we urge the administration to closely monitor the energy needs of the Northeast and release stock from the Northeast Home Heating Oil Reserve."
PROTECTING CONSUMERS ON PEER-TO-PEER PAYMENT APPS
— Blumenthal joined U.S. Senators Bob Casey (D-PA), Elizabeth Warren (D-MA), Kirsten Gillibrand (D-NY) and Catherine Cortez Masto (D-NV) in a letter to the Consumer Financial Protection Bureau (CFPB), pushing the agency to better protect users of peer-to-peer payment applications (P2P apps) from scams. As P2P apps like Venmo, Cash App, PayPal or Zelle have become more popular, scammers are increasingly targeting older adults on P2P platforms. Currently, banks are only required to compensate consumers who lost money to a scam for payments they didn't authorize, making it difficult for many seniors who authorized a payment to a scammer posing as their bank.
"The Wall Street Journal recently reported that the Consumer Financial Protection Bureau is considering guidance to better protect users of peer-to-peer payment applications (P2P apps) such as Venmo, Cash App, PayPal and Zelle. Last year, the Senate Special Committee on Aging convened a hearing in which it received testimony about the rise of P2P apps being used as vehicles for fraud against older adults," the senators wrote.
"Witnesses testified that there are too few common-sense consumer protections available to older adults using P2P apps and that scams involving these platforms appear to disproportionately affect communities of color. Particularly for older adults with lower incomes, losing even a few hundred dollars can be devastating," the senators continued. "Given the increased prevalence of P2P fraud against older adults, we encourage the CFPB to move forward in issuing this guidance to provide better tools to protect themselves and their families."
SAFEGUARDING DEMOCRACY IN BRAZIL
— Blumenthal joined U.S. Senators Tim Kaine (D-VA), Jeff Merkley (D-OR), Bernie Sanders (I-VT), Patrick Leahy (D-VT) and Elizabeth Warren (D-MA) in introducing a resolution supporting democratic institutions in Brazil. The introduction came on the Independence Day of Brazil and amid efforts by Brazilian President Jair Bolsonaro to preemptively reject Brazil's national election results and sow mistrust and spread misinformation regarding next month's presidential election in the country, where current polls project he will lose re-election.
"This resolution recognizes the importance of strengthening democracy in Brazil. Our measure is a call to action to preserve Brazil's democratic institutions," said Blumenthal.  
PREVENTING TOBACCO HARMS
— Blumenthal reacted to e-cigarette maker Juul's tentative $438.5 million settlement with nearly three dozen states over marketing and sales practices aimed at youth:
"A truly historic step toward stopping the deception & disease spawned by Juul, but the fight must continue against e-cig manufacturers & marketers who profit from nicotine addiction & an ongoing vaping epidemic. I'll be working to pass the PROTECT Act to help end this scourge."
HONORING QUEEN ELIZABETH II
— Blumenthal reacted to the passing of Queen Elizabeth II.
"A momentous life & era have ended—providing an enduring model for perseverance & devotion to duty & service. The Queen's personal example of caring & courage as well as her dedication to freedom & democracy will always inspire us."
SUPPORTING OUR VETERANS
— Blumenthal joined U.S. Senators Jeanne Shaheen (D-NH) and Tom Cotton (R-AR) in introducing a resolution this week designating a "National Warrior Call Day" encouraging community members to reach out to veterans to foster a social connection and in support of mental health wellbeing. The resolution would designate Sunday, November 13th as National Warrior Call Day, which follows Veterans Day in an effort to bolster action from community members in support of veterans.
AROUND CONNECTICUT
— Blumenthal attended the Odyssey Festival and the Goshen, Woodstock and Haddam Neck Fairs.
"The Odyssey Festival at St. Barbara Greek Orthodox Church was back with magnificent food, dancing, & fun. This community consistently comes together with incomparable caring & generosity, reflecting a great Greek American heritage & people."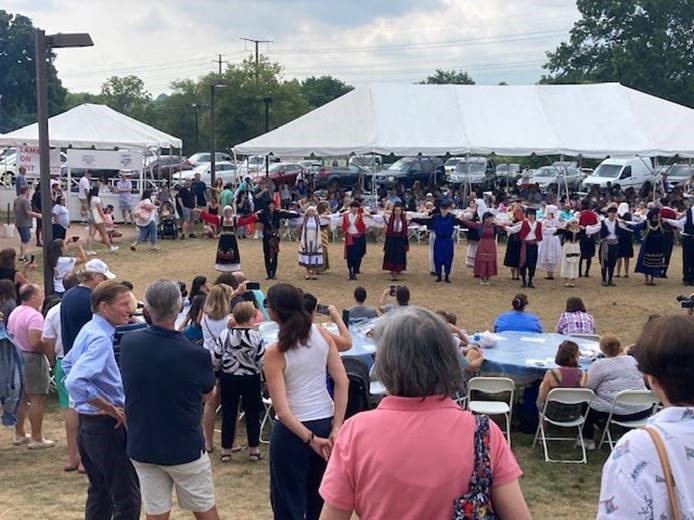 "Happy crowds from across CT enjoying the Goshen Fair—including good friends State Reps. Horn, Cook, & Scanlon. This fair is one of the greats! Thanks all."
"Folks came in droves to the Woodstock Fair—for traditional end of summer fun, food, farm produce, & much more. All plentiful on a sun filled perfect day. Thanks to all who worked so hard."
"Packing the Haddam Neck Fair, families enjoyed this major agricultural event, as it's officially recognized, plus great rides & repast. A long 4 days for workers & volunteers—thanks to all who made it happen."
— Blumenthal marched in the Newtown Labor Day and Bridgewater Tractor Parades.
"Honoring American workers, their families, & values—the Newtown Labor Day parade drew droves. Diverse & determined, marchers marked this truly American holiday with huge energy & enthusiasm. A wonderful CT tradition—thank you Newtown!"
"Riding in the Bridgewater Tractor Parade is always a highlight. This unique celebration of community really brings people together. Thanks Bill Stuart, Anne Marie Wagner & others for your magnificent work."
"At the head of the Bridgewater Tractor Parade, spectacular music from the North County Band led the way. Right behind them on my tractor I could see how the crowds loved them."
— Blumenthal attended the investiture ceremony for U.S. District Judge Omar Williams. Judge Omar Williams served as a Judge on the Connecticut Superior Court from 2014 to 2021. After first gaining experience defending indigent clients while participating in a criminal trial clinic as a law student, Judge Williams spent eleven years working as a public defender in New Haven.
-30-