EXPANDING MENTAL & BEHAVIORAL HEALTH RESOURCES
— U.S. Senator Richard Blumenthal (D-CT) joined Community Mental Health Affiliates, Inc. (CMHA) to announce $1.2 million in federal funding for construction of a crisis respite program at their new mental health facility.
Providers like CMHA are on the frontlines of providing community mental, behavioral and substance use disorder care in Connecticut. While emergency rooms are often inundated with patients awaiting a bed in a long-term care facility, temporary respite care, like the one CMHA will build, can help alleviate the pressure on emergency rooms and free up the limited space in hospitals.
"CMHA staff are on the frontlines, providing care & caring to those with substance abuse disorders. On #OverdoseAwarenessDay, I'm honored to join their team to announce $1.2M in federal funding for construction of a crisis respite program at their new mental health facility."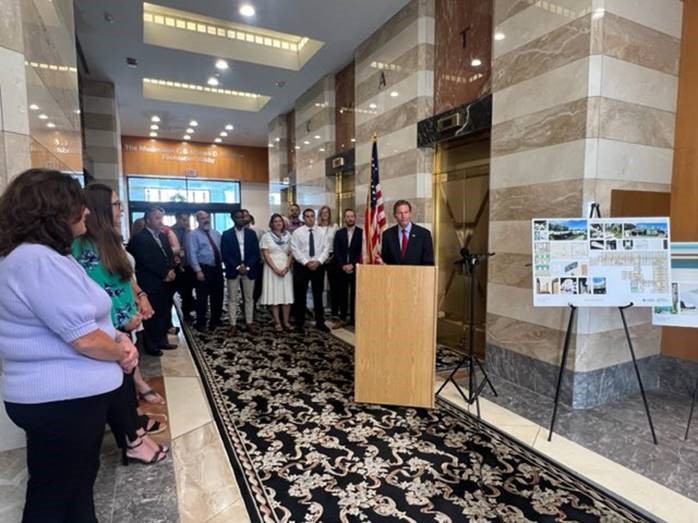 — Blumenthal also joined the Department of Mental Health & Addiction Services (DMHAS) on International Overdose Awareness Day for a remembrance ceremony in honor of the lives lost to overdose in Connecticut.
Drug overdose deaths increased by 11 percent between 2020 and 2021 and are now the leading cause of unintentional death for Connecticut residents. In 2021, 93% of overdose deaths in Connecticut involved an opioid with 86% involving Fentanyl, a synthetic opioid causing deaths in record numbers across the nation.
"1,513. That's the number of CT overdose deaths last year—needless & senseless. We mourned them on #OverdoseAwarenessDay with speeches & white flags, but we must honor them with action."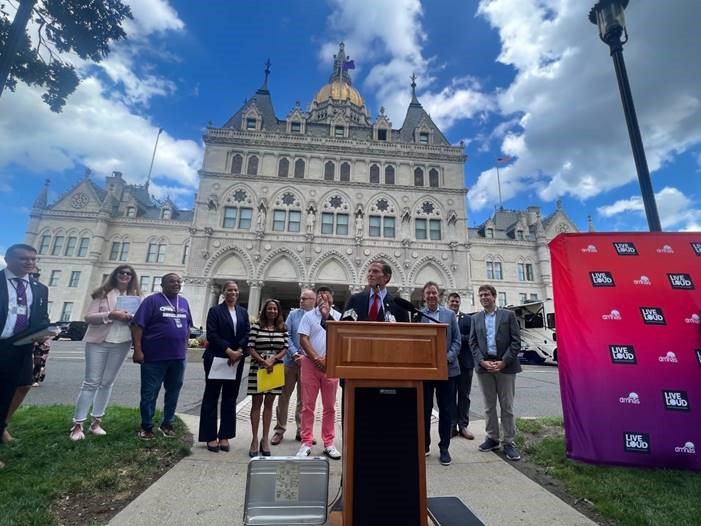 LOWERING ENERGY COSTS
— Amid higher home energy prices, Blumenthal called for emergency supplemental federal funding for the Low-Income Home Energy Assistance Program (LIHEAP).
The cost of natural gas and heating oil is higher ahead of winter and prices are already double what they were in January. An estimated 20 million families are behind on their utility bills and without increased LIHEAP funding, household budgets will be further strained. Absent sufficient LIHEAP funding, many vulnerable families may have to make heartbreaking decisions between heating their homes, putting food on the table or purchasing the medications they need to survive.
"Heating oil & natural gas prices are surging & many households will be unable to afford to heat their homes. That is why I've asked for emergency supplemental funding for the Low Income Home Energy Assistance Program (LIHEAP) to meet the skyrocketing costs & support this lifeline."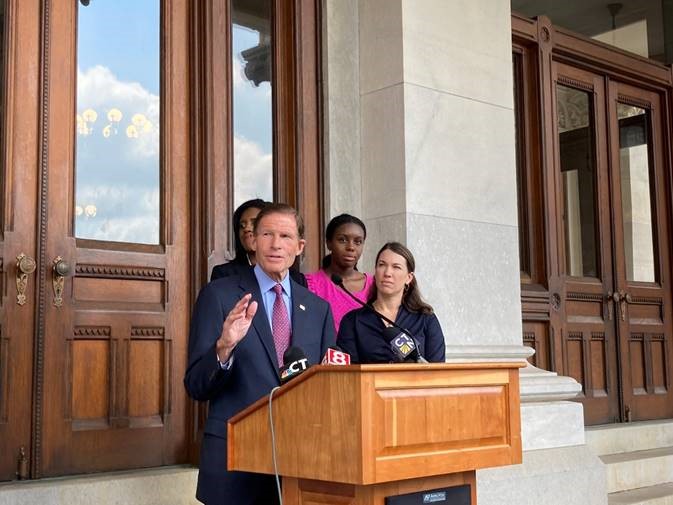 TRAINING FIREFIGHTERS & FIRST RESPONDERS
— Blumenthal joined Bristol Fire Chief Richard Hart to announce $269,458.68 in funding for firefighter training. The funding is an Assistance to Firefighters Grant (AFG) and will provide certification training for a pump operator and aerial operator, filling a gap in training since the department has experienced a number of retirements since July 1, 2022.
The primary goal of the AFG is to enhance the safety of the public and firefighters with respect to fire-related hazards by providing direct financial assistance to eligible fire departments, nonaffiliated Emergency Medical Services (EMS) organizations, and State Fire Training Academies (SFTA). According to FEMA, the AFG program has helped firefighters and other first responders to obtain critically needed equipment, protective gear, emergency vehicles, training, and other resources needed to protect the public and emergency personnel from fire and related hazards since 2001.
"Honored to be at the Bristol Fire Department to announce $269K in federal funding through the Assistance to Firefighters Grant. Providing certification training for pump & aerial operators is key to ensuring effective & efficient fire protection. Thanks Bristol Fire for all you do."
IMPROVING WATER INFRASTURCTURE
— Blumenthal visited the Southington Water Department as they seek support for various water infrastructure projects to ensure the town has safe and adequate drinking water for residents.
The Department is asking for additional American Rescue Plan Act (ARPA) funding for water treatment projects to remove manganese from the water supply and undergo other upgrades to improve water quality. The funding is needed to offset the costs for Southington residents
SUPPORTING OUR VETERANS
— Blumenthal, a member of the Senate Armed Services Committee, joined U.S. Small Business Administration leadership to highlight how federal funding allowed the American Legion Post 142 in Hartford's North End to stay afloat and continue offering services to veterans and the community during the COVID-19 pandemic.
During the height of the COVID-19 pandemic, Post 142, an institution in Hartford's North End, was closed and unable to generate income through hall rentals for community and family celebrations. The Post was threatened with foreclosure and turned the U.S. Small Business Administration for assistance. The SBA awarded Post 142 $400,000 in Paycheck Protection Program and Economic Injury Disaster Loan funds — allowing them to remain open and serving veterans.
"During pandemic hardships, SBA helped make sure Hartford's North End American Legion was able to survive as a center of community leadership & service. As exemplified by Post 142, the American Legion is an inspiring source of support to vets, small businesses, & many others."
— Blumenthal also attended the Department of Veterans Affairs (DVA) ribbon cutting for their newly renovated building and the Veteran Owned Business Resource Fair and Expo. The newly renovated Building 50 now houses the Veterans Support Center and includes office spaces for the Veteran Service Organizations, veteran owned small business support resources, and other DVA offices related to IT, donations, advocacy and assistance and staff training. The Veteran Owned Business Resource Fair and Expo will connect veterans with resources to start, grow and sustain their businesses.
EXPANDING BROADBAND IN UNDERSERVED AREAS
— Blumenthal and U.S. Senator Chris Murphy (D-CT), U.S. Representative Rosa DeLauro (D-CT) and Governor Ned Lamont announced Connecticut will receive $42.9 million in American Rescue Plan funding to launch a program that will construct and deploy the necessary infrastructure to expand broadband internet service in underserved areas of Connecticut. The program will aim to expand or improve broadband access for 10,000 households and businesses statewide.
"The pandemic was a teaching moment about the necessity of affordable, reliable, fast internet—which now 10,000 more CT households will have with $41 million in federal funds. More must be done to close the digital divide & homework gap, because thousands remain unconnected," said Blumenthal.
"Without internet connectivity—high speed, low cost resilient internet—students can't learn, businesses can't reach suppliers & customers, & telehealth patients can't be treated. The federal government is putting money where it's mouth is with major investments."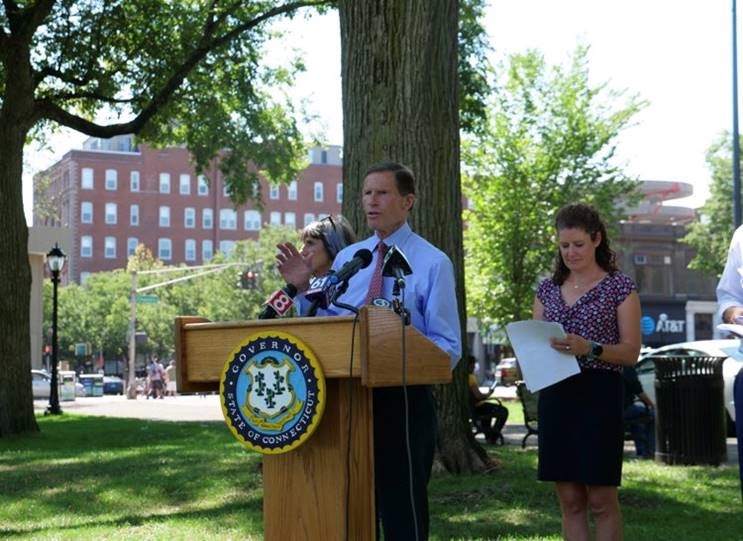 IMPROVING ROUTE 34 & ALLEVIATING TRAFFIC IN DERBY
— Blumenthal announced a $5 million federal grant for roadway capacity improvements on Route 34 through downtown Derby. Through this funding, the Connecticut Department of Transportation (CTDOT) will alleviate traffic congestion, improve driver safety, and preserve the downtown atmosphere in Derby. 
An average daily traffic volume of approximately 20,000 vehicles has put a great strain on this section of Route 34 and poses an alarming safety hazard for drivers and pedestrians. The addition of travel and turn lanes, medians, on-street parking, and streetscape features will help to decongest the roads and slow down traffic in the downtown area. Project construction began in the spring of 2022 and expected completion is 2024.
FUNDING FINANCIAL LITERACY PROGRAMS FOR IMMIGRANT COMMUNITIES
— Blumenthal announced a $487,853 federal grant for the Hartford Public Library to implement a financial literacy program for immigrant communities.
The program is a partnership between the Hartford Public Library, Liberty Bank, the Connecticut Association for Human Services and the Cities for Financial Empowerment Fund, and is designed to teach smart financial habits to communities that don't always have access to banking services or financial resources.
Participants will sign an agreement to deposit $50 a month into a savings account with Liberty Bank that will be administered by the library. When the participant is able to save $250, the money will be transferred to an individual account in their name and they will receive an additional $250. Program participants will meet during this five-month period for financial education discussions and networking opportunities.
STRENGTHENING SEMICONDUCTOR MANUFACTURING & RESEARCH
— Blumenthal visited Microboard Processing Inc., a woman-owned electronic manufacturing company, to highlight the federal investments in manufacturing and technology made through the CHIPS and Science Act. The recently passed legislation provides $52 billion in grants for semiconductor manufacturing and research, and will create well-paying manufacturing and technology jobs in Connecticut.
Microboard is an electronics manufacturer of circuit card assembly, system integration and test services. They produce essential electronic systems for the defense, medical, aerospace and telecommunications market sectors.
PROTECTING MEDICAID BENEFITS FOR LOW-INCOME, DISABLED, & OLDER AMERICANS
— Blumenthal joined disability rights advocates to call on the federal government to repeal a Trump Administration rule that terminated Medicaid coverage for thousands of Connecticut residents and continues to harm low-income, disabled and older adults. The Trump Administration rule requires states to trim their Medicaid rolls as a condition of receiving funds to combat the COVID-19 pandemic. As a result, 6,600 Connecticut residents lost access to Medicaid services during the most dire public health emergency in recent history.
In a Blumenthal-led letter, the Connecticut Congressional delegation urged the Centers for Medicare and Medicaid Services to repeal this rule and restore Medicaid coverage to ensure Connecticut residents and others across the country do not lose the lifesaving services offered by the Medicaid program.
In early August, three Connecticut residents who lost their Medicaid benefits under this rule filed a lawsuit against the U.S. Department of Health and Human Services and just last week filed a request with the court seeking class action status.
"I joined disability advocates to call on the Biden Admin to reverse a Trump era rule that cruelly & senselessly revoked 6,600+ CT residents' Medicaid benefits during the pandemic. People in our state & across the nation deserve access to the lifesaving health care Medicaid provides."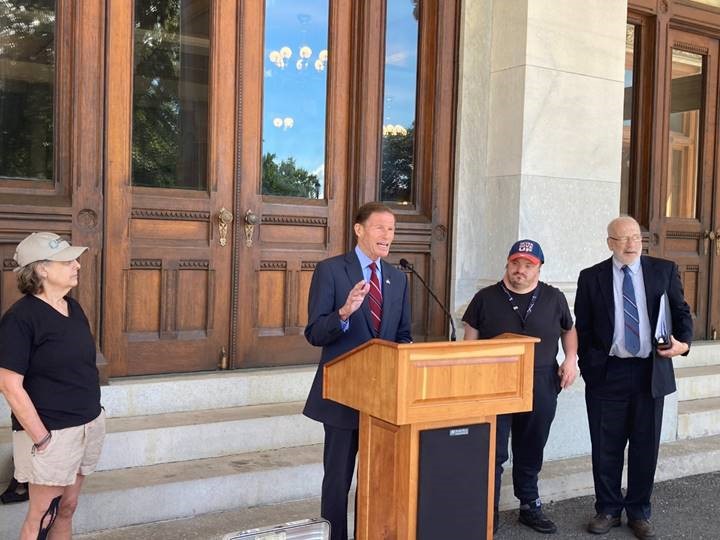 PREVENTING HEARTBREAKING FRONTOVER DEATHS
— Blumenthal urged swift steps by the federal government to address child deaths due to frontover crashes, including new legislation that will require front visibility standards for vehicles to help prevent these senseless tragedies. Recent demonstrations by investigative reporters have shown blind zones in front of some cars as large as 16 feet, obscuring children from view and putting them at risk of being run over.
In early August, Blumenthal wrote a letter to the National Highway Traffic Administration (NHTSA) calling on the agency to take swift action to prevent these deaths. Last week, in a response to the letter, NHTSA said they are starting a review of the size and scope of frontover crashes.
SAVING DEER LAKE
— Blumenthal released the following statement today on the sale of the Deer Lake Boy Scout camp in Killingworth to local non-profit Pathfinders.
"Today is a momentous day for the preservation and protection of one of our state's most beautiful parcels of undeveloped land. Deer Lake is a pristine and precious area that is of incalculable value for fishing, camping, hiking and just appreciation of the outdoors. I am absolutely thrilled that Pathfinders Inc. was able to secure the purchase of the property and preserve it so that generations to come can enjoy its natural beauty. Protecting open space is critically important for our environment – once it is lost there's no way to get it back," Blumenthal said.
PERMANENTLY PROTECTING PLUM ISLAND
— Blumenthal called for action by President Joe Biden to permanently protect Plum Island. Calling the island an, "environmental, cultural, and scientific treasure," Blumenthal highlighted the need for strong conservation and preservation efforts to, "ensure its lasting legacy for generations to come." Last week, Blumenthal stood with environmental advocates to discuss the need to protect the island from development.
"Plum Island is a national treasure that deeply deserves permanent protection," wrote Blumenthal in the letter to President Biden. "Therefore, I urge the White House to prioritize Plum Island and work with the Interior Department on an expedited process for permanent conservation of this great resource."
Situated in Long Island Sound, Plum Island is home to several endangered and vulnerable species, as well as two locations on the National Register of Historic Places. In April, Blumenthal also joined U.S. Senators Chris Murphy (D-CT), Kirsten Gillibrand (D-NY) and Majority Leader Chuck Schumer (D-NY) in a letter calling on the U.S. Department of the Interior to support any action that permanently protects the island.  
"The most readily available means to assure preservation would be to designate Plum Island as a national monument. Such action would be highly appropriate for this valuable, threatened national treasure, so it could be managed with environmental interests as a priority," Blumenthal continued. "There may well be other options which should be considered – the main point is urgent action is needed to assure preservation." 
The full text of the letter can be found here.
CONTINUING TO SUPPORT OUR AFGHAN ALLIES
— Blumenthal issued the following statement marking the one-year anniversary of the United States completing its withdrawal from Afghanistan.
"The images and stories of men, women and children pleading for help and desperately seeking to escape the Taliban still haunt me one year after our nation's withdrawal from Afghanistan. In the days and weeks following the withdrawal, my office joined countless veterans, service members, non-profit volunteers, and reporters who became evacuation experts overnight and saved thousands of lives. Many were saved by these efforts and the evacuation was the largest in history, but so many more remain left behind. As long as our allies and their families remain in Afghanistan, or in danger elsewhere, the United States has a moral obligation to continue its evacuation and resettlement efforts."
"Our allies face an increasingly desperate situation and our work remains unfinished. More must be done to ensure these Afghans have a future of safety and stability. The Administration must expand Operation Allies Welcome and the Senate must pass the bipartisan Afghan Adjustment Act, essential legislation to provide a path to citizenship for at-risk Afghans and expand eligibility for the SIV program to members of the Afghan Special Forces, including the Female Tactical Platoons and others critical to our twenty year mission in Afghanistan."
"The work to evacuate and resettle Afghan refugees continues. In their time of great peril, we owe them our assistance now. To do any less would be a stain on our nation's honor – and something I will not accept."
Since the U.S. withdrawal, Blumenthal has been heavily involved in efforts to help Americans and Afghan allies leave Afghanistan. Working with a coalition of volunteers, veterans, journalists, and advocates, last October Blumenthal and his office provided critical assistance in helping secure safe passage from Mazar-e Sharif for two planes carrying American citizens, Legal Permanent Residents, interpreters and other vulnerable Afghans, and their families.
Earlier this month, Blumenthal joined a bipartisan, bicameral group of lawmakers in introducing the Afghan Adjustment Act, which would improve newly arrived Afghan allies' legal status as they build new lives in the United States. Currently, Afghans who were admitted on temporary humanitarian status can only achieve permanent legal status through the asylum process or the Special Immigrant Visa process, which face severe backlogs and long processing times. The measure includes Blumenthal-authored provisions to improve and expand the Special Immigrant Visa process by broadening SIV eligibility to include groups that worked alongside American forces such as the Afghan National Army Special Operations Command, including the Female Tactical Platoons of Afghanistan and others critical to our twenty-year mission in Afghanistan.
MANDATING LIFESAVING AEDs FOR CRUISE SHIPS
— Blumenthal visited Defibtech, a Connecticut manufacturer of automated external defibrillators (AED), to call for the federal government to swiftly adopt a rule requiring AEDs on cruise ships.
AEDs are a crucial lifesaving device during sudden cardiac health events. Tragically, there have been incidents on cruise ships where the lack of an accessible AED was a factor in death. The U.S. Department of Homeland Security, in consultation with the U.S. Department of Health and Human Services, was supposed to issue a rule requiring AEDs on cruise ships earlier this year, but have yet to do so.
HELPING DROUGHT-AFFECTED FARMERS IN EASTERN CONNECTICUT
— Blumenthal joined U.S. Representative Joe Courtney (D-CT) and Connecticut Department of Agriculture Commissioner Bryan Hurlburt to visit Provider Farm in Salem to hear how stage three drought conditions are affecting farmers in the Eastern part of Connecticut.
As of August 23, parts of Eastern Connecticut were classified by the U.S. Drought Monitor as experiencing "extreme drought." These conditions have the potential to cause crop loss and have already created burdens for farmers — including increased labor costs and the need to purchase more water for their fields.
"A staggeringly severe drought poses an existential threat to farms like Hannah's. Fortunately, the federal Declaration of Emergency for two CT counties will offer some financial relief to Provider Farm & others.  All over CT farms desperately need the same financial help—& rain," said Blumenthal.
RESTORING GREAT MEADOWS MARSH
— Blumenthal joined Audubon Connecticut to cut the ribbon on the Great Meadows Marsh restoration project, which will help preserve 34 acres of salt marsh and other important coastal habitat. The marsh, part of the Stewart B. McKinney National Wildlife Refuge, is home to many threatened plants and animals. Over 155,000 native coastal plants and shrubs were added to the site and a new creek restored the natural flow of salt water in and out with the tides. Grassy mounds were also created to provide an elevated nesting home for Saltmarsh Sparrows.
"Fantastic to attend the ribbon cutting for the Great Meadows Marsh restoration. With the help of federal funding this spectacular, special ecosystem—that encourages birding & hiking, while enhancing climate change resiliency—will be enjoyed for generations to come."
AROUND CONNECTICUT
— Blumenthal and U.S. Representative Jahana Hayes (D-CT) joined United Way of Western Connecticut in celebrating their $1.2 million grant to support working families.
"Congrats United Way of Western CT on receiving a $1.2M federal grant to expand their digital marketplace—Prosperi-Key—statewide. This innovative program is an economic driver & cost saver, helping struggling working families connect with community small businesses & support services," said Blumenthal.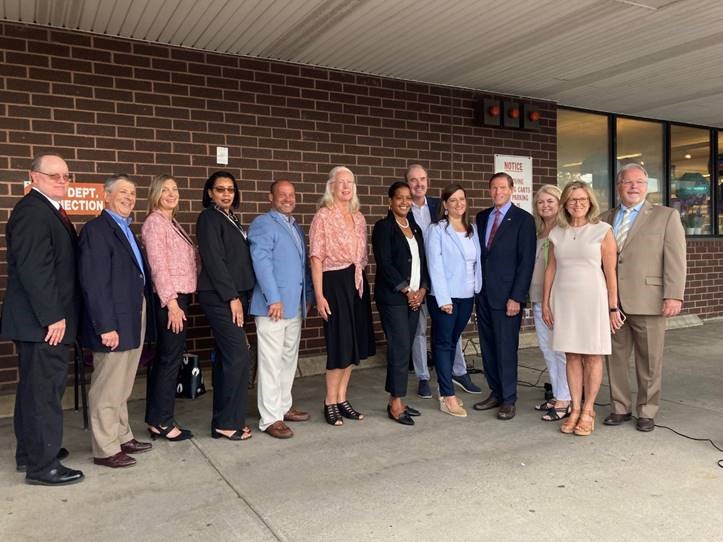 — Blumenthal joined a Ukrainian flag raising ceremony in Bridgeport.
"Ukrainian flag raising in Bridgeport was a proud, determined gathering of community, clergy, & others marking 31 years of independence with unyielding dedication to sustain it. America must be unstinting in aiding Ukraine's brave fight against Putin's brutal, genocidal invasion."
— Blumenthal visited Ward Leonard, a Connecticut defense manufacturer. For more than 120 years, Ward Leonard has provided the main diesel engines for the U.S. Navy's ship and submarine programs and the U.S. Coast Guard. Ward Leonard has over 5,000 motor and controller products available to support mission critical applications.
— Blumenthal addressed teachers at the Derby Public Schools Convocation to kick off the 2022-2021 school year.
— Blumenthal joined the Golden Anniversary Celebration hosted by the International Association of Professional Black Firefighters.
"Great leaders & public servants, members of the International Association of Professional Black Firefighters gathered in Hartford with inspiring spirit & camaraderie. Proud to join their Golden Anniversary celebration."
— Blumenthal attended the Brooklyn, Chester, and Terryville Lions County fairs.
"Brooklyn's fair was bursting with great summer spirit—music, food, & family fun. Thanks to all for your hard work—& to State Representative Pat Boyd for walking with me. Beautiful day!"
"A perfect day for the Chester Fair with Governor Lamont & thousands of happy visitors from all around CT. Something for everyone here. Thank you!"
"Visiting the Terryville Lions Country Fair is a yearly tradition for me & countless others across CT. Lots of fun in any weather. Thank you Lions!"
— Blumenthal attended the Ukrainian Festival at Castle Hill Farms in Newtown.
"Thousands joining in support for Ukraine at Castle Hill Farms—a Ukrainian festival celebrating a beautiful country, wonderful culture, & fiercely brave fighters for freedom & independence. Proud to be with you!"
— Blumenthal attended the Spirit of Katherine Hepburn Award ceremony at The Kate.
"What a magic, magnificent evening—the Spirit of Katherine Hepburn Award presented to Martina Navratilova at The Kate. Two iconic stars of grace, courage, skill, & strength, who raised the level of the game each played."
— Blumenthal visited the Jewish Federation of Western CT to thank them for their work in support of an Afghan refugee.
"So honored to meet Nilab, a young Afghan woman—a refugee helped by the Jewish Federation of Western CT. I visited them today to express thanks for all their great work on so many good causes."
-30-