TAKING THE OATH OF OFFICE FOR A THIRD TERM
— U.S. Senator Richard Blumenthal (D-CT) was sworn-in to serve a third term in the United States Senate. Vice President Kamala Harris administered the Oath of Office.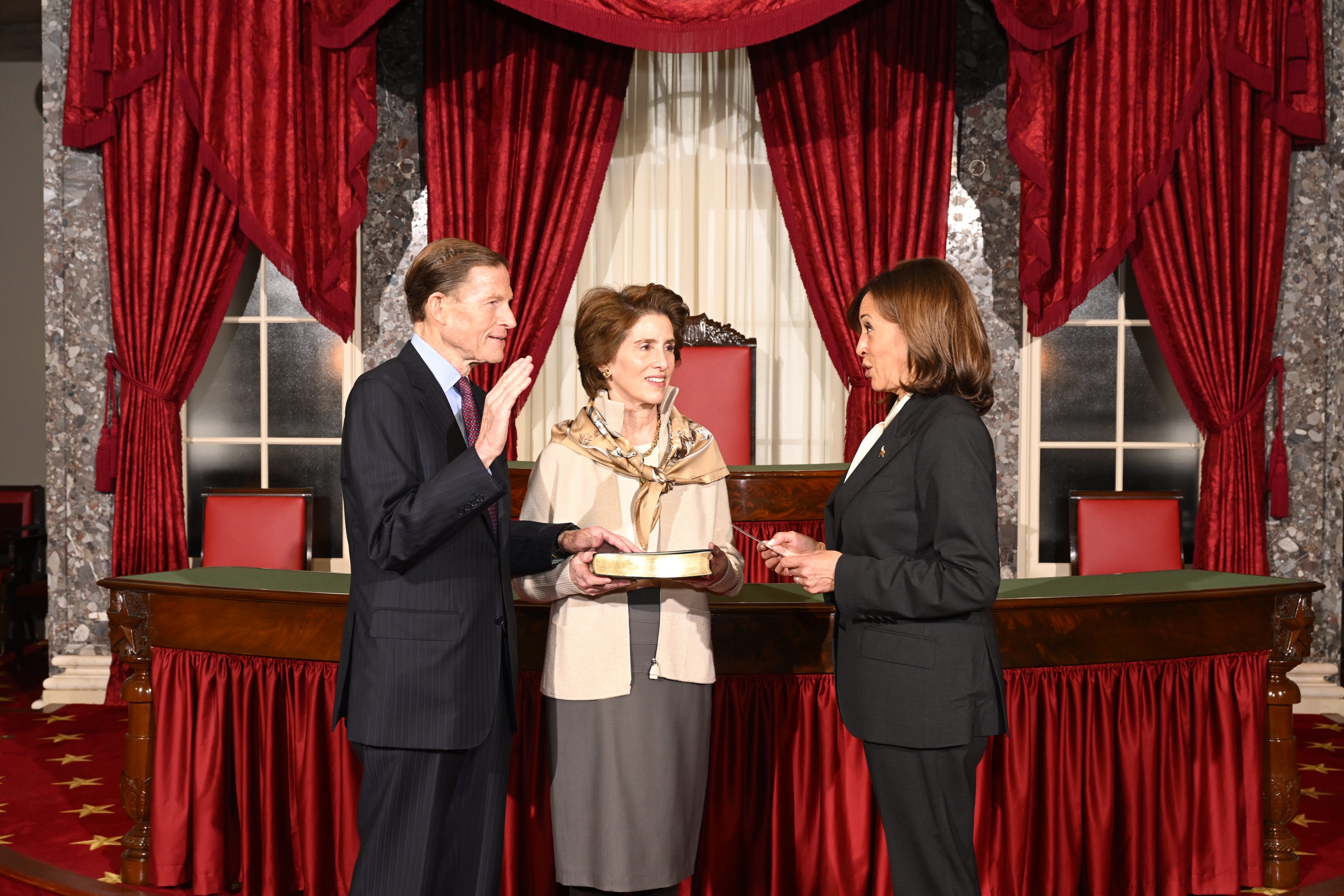 "I am deeply honored to continue serving the people of Connecticut for a third term in the United States Senate," Blumenthal said. "In this Congress, we will build on our past accomplishments and continue to help all Americans to thrive in safe, affordable communities; protect the environment; strengthen our national defense; and provide more economic opportunity for all. With a split Congress, progress will be more difficult to achieve, but that only means we will work harder and seek common ground while fighting for our values."
REBUILDING THE GOLD STAR MEMORIAL BRIDGE
— Blumenthal joined U.S. Senator Chris Murphy (D-CT), Governor Ned Lamont, and U.S. Department of Transportation Secretary Pete Buttigieg to celebrate a $158 million federal grant to accelerate repairs to the Gold Star Memorial Bridge, a major link on the I-95 corridor.
The Gold Star is one of four bridge projects across the country receiving funding from the first round of a highly competitive grant program in President Biden's Bipartisan Infrastructure Law. The bridges in this round were chosen for their importance to local communities and regional economies, and for the essential role they play in moving goods in our national supply chain. This competitive grant funding comes on top of billions of dollars in formula funding that states have already received from the infrastructure law to help fix tens of thousands of bridges, large and small.
"A banner day for CT as Secretary Buttigieg visits to announce $158 million in federal funding to continue rebuilding the Gold Star Memorial Bridge, a vital linchpin. It's a tribute to CT workers—like building trades, iron workers, truck drivers—& unions that represent & train them," said Blumenthal.
"Rebuilding this bridge is a matter of national security—allowing Electric Boat employees to get to work & helping our trucks transport supplies. Thanks to U.S. DOT for their leadership."
PROTECTING AIRLINE PASSENGERS' RIGHTS
— Following Southwest Airlines disastrous meltdown over the holiday weekend, Blumenthal urged Congress and the U.S. Department of Transportation to adopt stronger protections for airline customers. Blumenthal specifically called for passage of the Airline Passengers Bill of Rights, which would ensure that airlines provide passengers with fair compensation, refunds, and recourse in the event of airline-caused flight delays and cancellations, require airlines to pay at least $1,350 to passengers denied boarding as a result of an oversold flight, and mandate airlines to immediately refund bag fees for damaged or lost bags.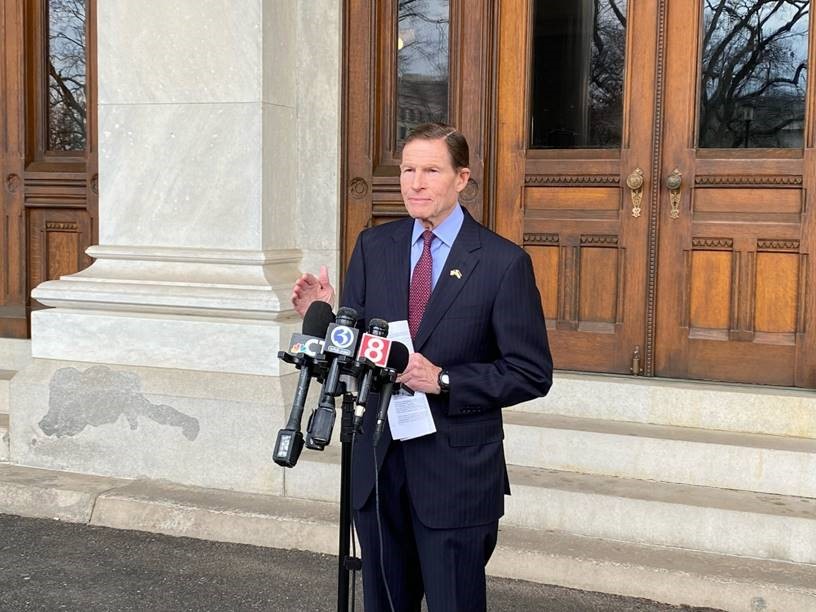 Blumenthal also urged the Department of Transportation to strengthen and expeditiously finalize the proposed rule to ensure that consumers are fairly compensated when an airline cancels or significantly delays their flight – including secondary costs incurred from hotels, meals, and transportation in the event of a cancellation or significant delay due to a problem within the airline's control. This long overdue rule is urgently needed following months of travel disruptions, with airlines cancelling nearly 3% of flights during the first eight months of this year — a 63% increase over pre-pandemic figures — and delaying an additional 21% of flights.
"The Southwest Airlines meltdown shows again why travelers need protection—an Airline Passengers Bill of Rights with ironclad, fully enforceable remedies for rampant failings. Airline passengers deserve complete compensation for all delayed or cancelled flights, full refunds for expenses, no more nickel & dime charges & fees, & other basic rights. Under my Airline Passenger Bill of Rights, Airline travel reliability wouldn't be up in the air. Passengers need access to courts & class actions—enforcement is essential."
MARKING THE TWO-YEAR ANNIVERSARY OF THE JANUARY 6 INSURRECTION
— Blumenthal marked the two-year anniversary of the January 6th insurrection by urging Congress to take stronger steps to protect Democracy, adding to the newly passed reforms to the Electoral Count Act.
The reforms, passed by Congress two weeks ago, ensure that the votes tallied by Congress reflect the election results of each state's popular vote for president. Blumenthal also called for strong federal investments to upgrade critical election infrastructure. These much needed investments will help protect the integrity of elections and ensure every American can safely cast their ballot.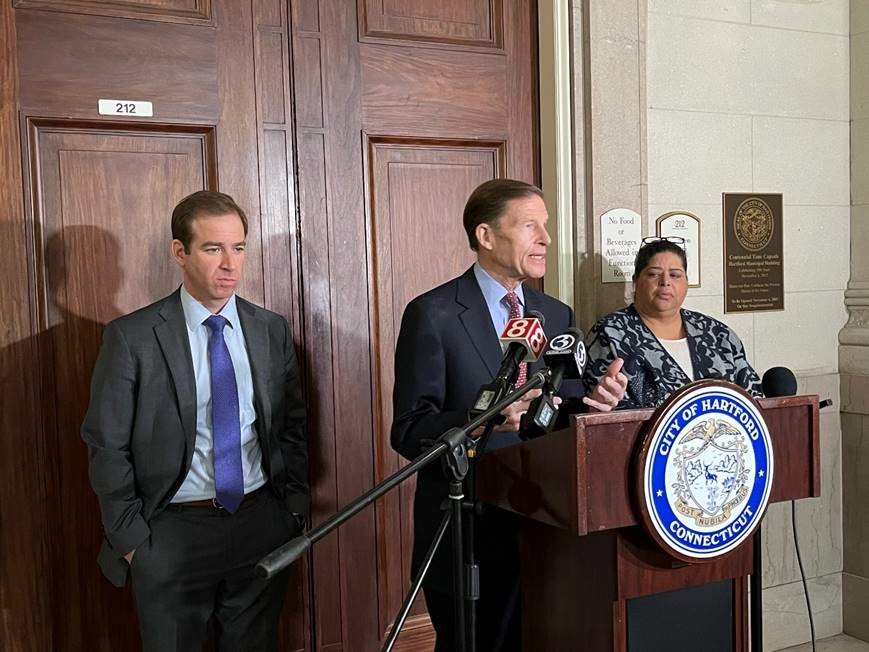 "Today we relive the horror, tragedy, & trauma of January 6th. I remember the evacuation from the Senate Floor, the sounds of the attack, & the sight of the mob through the windows."
"Today's a reminder of how fragile our democracy really is. We almost lost our democracy two years ago but for the bravery & courage of Capitol Police, DC Metro Police, the National Guard, & all who came to the rescue that day."
"Recent passage of the Electoral Count Reform Act by Congress was a major step forward, but more must be done to improve election infrastructure, safeguard voting, protect poll workers from threats & violence, & hold those wrongdoers accountable."
FIGHTING FOOD INSECURITY
— Blumenthal and former U.S. Senator Pat Toomey (R-PA) applauded President Joe Biden's signing into law of the bipartisan Food Donation Improvement Act. Blumenthal and Toomey introduced the legislation in the Senate in November 2021 to expand food donation efforts across the country. The legislation was approved by the Senate and House in December during the 117th Congress.
"Stopping hunger should be a national priority—as this new bipartisan measure recognizes," said Blumenthal. "Incredibly and unconscionably, as Americans across the country go hungry every day, nearly 40 percent of America's food goes to waste, but much of it can be saved and donated instead of discarded. This new law will promote more food donations by restaurants, supermarkets and others by removing legal roadblocks."
With millions of Americans facing food insecurity, ambiguous, outdated, and limited liability protections often prevent many businesses and organizations from donating food. The Food Donation Improvement Act will encourage food donation efforts by extending liability protections to food donors when food is either given directly to a person in need or when a recipient pays a deeply reduced cost.
APPLAUDING GIGI SOHN'S NOMINATION TO THE FTC
— Blumenthal applauded President Biden's re-nomination of Gigi Sohn to serve as a Commissioner of the Federal Communications Commission (FCC):
"Gigi Sohn will be a strong, effective voice and vote for the public interest, and a key to breaking the FCC's current deadlock. She is indisputably qualified, and unstintingly dedicated, winning her support across the political spectrum. As we know in CT and nationwide, the challenges of connectivity and broadband access cannot be delayed. Nor should her confirmation."
PROMOTING TRAFFIC SAFETY & ADDRESSING ROADSIDE DANGERS
— AAA Northeast honored Blumenthal and Cindy Iodice, founder of the national Flagman Project, as the 2022 Traffic Safety Leadership 'Heroes'.
Blumenthal introduced the bipartisan Slow Down, Move Over resolution (S.Res.734) in August 2022. The resolution was inspired by Corey Iodice, a tow truck operator who was tragically struck and killed on the Merritt Parkway in Connecticut in 2020 while assisting a driver. The resolution raises awareness of Slow Down, Move Over state laws to reduce struck-by-vehicle injuries and fatalities, and recognizes the important role law enforcement, fire and rescue, emergency medical services, tow truck operators, and transportation workers play in road safety. 
Cindy Iodice, Corey's sister, launched the Flagman Project, a non-profit organization to raise awareness and educate drivers on roadside dangers faced by first responders and highway workers in memory of her late brother.
DEMANDING ACCOUNTABILITY FOR THE DEATH OF A CONNECTICUT U.S. NAVY SAILOR
— Following the Navy's recent report on the April 2022 suicides of three crew members of the USS George Washington, including Connecticut's Master of Arms Seaman Recruit Xavier Mitchell-Sandor, Blumenthal and Murphy sent a letter to Secretary of the Navy Carlos Del Toro, calling on the Navy to go further than the recommendations in the investigation report and reform requirements governing the shipyard lives of sailors.
"Master of Arms Seaman Recruit Xavier Mitchell-Sandor's decision to take his own life was not the result of a single failure, but a cascading series of events that forced a young man to believe he had no way out. His death is a tragedy, but there were multiple mistakes made by the USS George Washington's leadership and warnings that could and should have prevented it," the senators wrote.
In their letter, Murphy and Blumenthal detailed the uninhabitable conditions aboard the USS George Washington during its Refueling and Complex Overhaul, which included 24/7 shipyard operations, frequent interruptions of electrical power, heating, air conditioning, and hot water for weeks at a time, and no access to welfare and recreation services.
"It is completely intolerable for the Navy to place sailors onboard a ship with these conditions and tremendous barriers to accessing care and support. The Navy must immediately reform regulations to establish unwaivable requirements for manning, screening, and access to mental health care during long periods of shipyard maintenance," the senators continued.
REACTING TO THE SUPREME COURT'S ANNUAL YEAR-END REPORT
— Blumenthal, a member of the Senate Judiciary Committee, reacted to the U.S. Supreme Court's annual year-end report.
"The Chief Justice's 'hear no evil, see no evil' Annual Report is a huge missed opportunity—ducking key institutional problems at SCOTUS like glaring conflicts of interest, leaked draft opinions, & inappropriate speeches. Failure to address these problems, coupled w/extremist, activist opinions, will lead to continued declines in the Court's credibility. Congress must pass financial disclosure requirements for SCOTUS & help prevent conflicts of interest that he ignores. There's bipartisan support."
"This Court repeatedly & cavalierly upends settled law to rip away cherished & long-held constitutional rights & freedoms. After recent Court decisions, women live in fear of getting pregnant & dying because they can't receive medical care. Citizens are terrified of being shot while grocery shopping or attending church. Parents worry about raising children who won't be able to breathe clean air or drink clean water."
PROTECTING CONSUMERS FROM DANGEROUS PRODUCTS
— Blumenthal, Chair of the Senate Commerce, Science, and Transportation Subcommittee on Consumer Protection, Product Safety, and Data Security, applauded the U.S. Consumer Product Safety Commission's $19 million fine against Peloton for failing to alert federal safety regulators to problems with its treadmills that were tied to the death of a 6-year-old and at least a dozen injuries.
"CPSC's $19 million fine against Peloton—after their obstruction & delays on warnings about deadly risks of their treadmills, including the death of a child—is an important step, but also an urgent call to empower & embolden our consumer protection agencies."
"Peloton & other companies must not be allowed to cover up injuries & deaths—we must remove constraints on the CPSC's ability to warn consumers through my Sunshine in Product Safety Act & raise the penalties for corporate misconduct."
AROUND CONNECTICUT
— Blumenthal visited Fire Equipment Headquarters in Torrington to celebrate their 50th anniversary.
"Thrilled to join the 50th anniversary celebration of Fire Equipment Headquarters in Torrington—a wonderful family-owned & operated small business at the forefront of preventing & fighting fires. Their incredible staff & services are saving lives."
— Blumenthal attended the calling hours for the late Matthias Wirtz of the North Haven Fire Department.
"Calling hours for Matthias Wirtz, heroic North Haven firefighter, brought out mourners from all over CT, as well as professional brothers & sisters. Their love & respect is deeply inspiring."
— Blumenthal attended the swearing in for New haven Probate Court Judge Americo Carchia. 
"Congratulations to new New Haven Probate Court Judge Americo Carchia whose swearing-in I attended proudly yesterday. In this profoundly important & powerful position of trust he'll be helping people when they need it most with humanity & justice."
— Blumenthal attended the inaugural ceremonies for the CT House of Representatives and Governor Lamont.
"Exciting, energetic start to the state legislative session today—proud & delighted to see old & new friends, who give so much to CT."
"Swearing-in of Governor Lamont & his team—a wonderful celebration of democracy & peaceful transition of power in "The Land of Steady Habits." I wish DC were more like it."
— Blumenthal mourned the loss of State Representative Quentin "Q" Williams.
"A truly tragic loss for the Williams family & for our state. A young, bright life gone too early. My deepest condolences to Q's friends, family, & loved ones."
-30-