HONORING THE SANDY HOOK VICTIMS, FAMILIES, & SURVIVORS
— U.S. Senator Richard Blumenthal (D-CT) issued the following statement on the tenth anniversary of the Sandy Hook shooting:
"We awake on December 14th with heavy hearts and painful memories of this day ten years ago," said Blumenthal. "The world changed horribly and lastingly leaving us with heartache and grief that remains so real that we can almost touch it. We resolved then and repeat now that we will never forget those brave, beautiful lives and always support their loved ones. And we promised as well that we would redouble our efforts to honor them with action."
Blumenthal also joined U.S. Senator Chris Murphy (D-CT) on the Senate Floor to praise the strength and courage shown by survivors, families, first responders, and the greater community in the wake of the tragedy. Blumenthal and Murphy called on Congress to build on the progress made with the Bipartisan Safer Communities Act by taking further steps to address America's gun violence epidemic.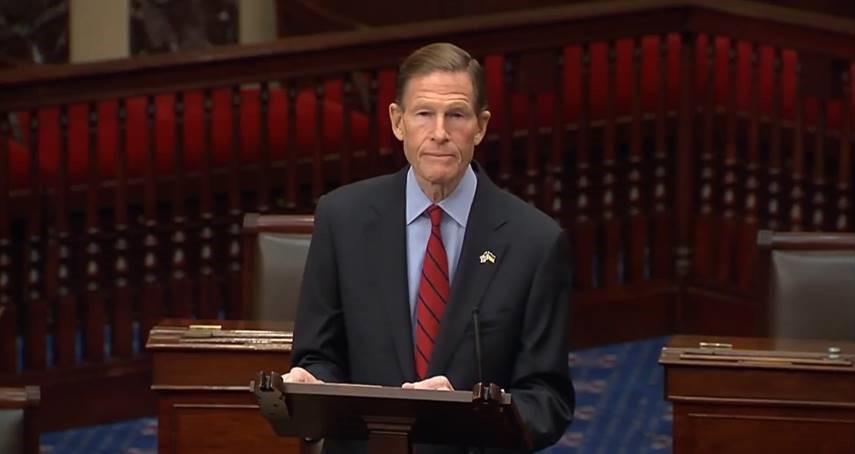 "Many of us in Connecticut and throughout the nation awoke today with a heavy heart. With grief still so raw that we can almost touch it. I wish I could tell you that ten years ago to this day was a blur. I wish I could tell you that the memory of that day has dimmed. I wish I could tell you that the knife-like sorrow and pain has subsided. But the fact is it is still raw and real for so many of us," said Blumenthal. "As I recall very vividly at one of the wakes, I approached a mom who had just lost her child and said, 'When you're ready, I'd like to talk about what we can do to stop this kind of gun violence.' And she looked at me through her tears and said, 'I'm ready. I'm ready now.'"
"Survivors and the loved ones have become the difference makers, and they have been joined by law enforcement and parents, teachers, medical professionals, activists, and advocates who have said to us enough is enough," Blumenthal continued. "Sandy Hook is the story not only of social change and legal and legislative reform. It is also an intensely personal story about grace and grit, about courage and strength, and about a personal dedication to making good come of that unimaginable horror and evil on that day."  
REMOVING THE KINNEYTOWN DAM
— Blumenthal and Murphy joined U.S. Representatives Rosa DeLauro (D-CT), Jim Himes (D-CT), and Jahana Hayes (D-CT) in announcing that the National Oceanic and Atmospheric Administration is expected to award the Naugatuck Valley Council of Governments up to $15 million to remove the Kinneytown Dam.
The recommended funding will allow NVCOG and its partners to finally achieve a longstanding environmental goal of restoring abundant fish passage from Long Island Sound up the Naugatuck River — improving the sound's ecological diversity and fish stock. To receive the funding NVCOG must demonstrate compliance with certain program conditions.
The removal will open 29 miles of river for blueback herring, American shad, and alewife, as well as 28 tributary miles for American eel. The restoration of a free-flowing Naugatuck River will also be a boon to the economies of the Naugatuck River Valley towns and allow for the natural flow of sediment to Long Island Sound to resume, which would greatly benefit Connecticut's thriving shellfish industry.
"This grant is a great win for Connecticut's environment and a major victory for the Naugatuck Valley. All the Kinneytown Dam has done for years is prevent fish from getting up river — hampering ecological diversity and hamstringing the health of the Naugatuck River. Removing this dam means fish passage will be restored and the benefits will ripple all the way down to Long Island Sound," said Blumenthal. "I'm thrilled that after so many years of fighting alongside our coalition of advocates and environmental groups, we delivered this major benefit to the Naugatuck Valley."
SUPPORTING MENTAL HEALTH CARE & ADDICTION SERVICES IN MILFORD
— Blumenthal announced three federal grants totaling $1,029,000 for Bridges Healthcare, Inc., which will be used for necessary structural improvements to their facility. The funding, awarded through the Health Resources and Services Administration (HRSA), will support the installation of a new roof and upgraded HVAC systems, as well as improvements to their telecommunications and IT security.
"Thank you to all at Bridges Healthcare. You're at the tip of the spear in supporting the community's mental health & addiction recovery. I'm excited to see how this $1M in federal funding will help to modernize your facility & help expand outreach to underserved communities."
Bridges Healthcare offers recovery-focused services to support individuals with severe and prolonged mental illness and addiction problems, with locations in Milford, Orange, and West Haven. In September, Bridges was awarded a $1,000,000 grant from the U.S. Department of Health and Human Services to fund "Project Engage," an initiative to increase community engagement and expand the use of the Bridges' 'Wellness on Wheels' mobile unit.
INVESTING IN CONNECTICUT THROUGH THE NATIONAL DEFENSE AUTHORIZATION ACT
— Blumenthal, a member of the Senate Armed Services Committee, released the following statement after the Senate approved the National Defense Authorization Act (NDAA) for Fiscal Year 2023. The defense authorization includes a number of significant Blumenthal-championed provisions to invest in Connecticut's defense manufacturing workforce and enhance national security. The bill passed the Senate by a vote of 83-11 and now heads to President's Joe Biden's desk for his signature.
"The historic investments in this legislation will bolster Connecticut's workforce and ensure our state remains at the forefront of defense manufacturing," said Blumenthal. "I'm proud to have fought for measures that will strengthen our state's economy, aid our allies in Ukraine, increase pay for servicemembers, and provide important protection to survivors of military sexual assault. I look forward to President Biden's signature as we continue to address national security challenges at home and abroad."
Specifically, the NDAA includes major investments for Connecticut's submarine industrial base, supports the production of cutting-edge helicopters, provides assistance to our allies in Ukraine, makes historic reforms to support survivors of military sexual assault, protects servicemembers and their families from toxic PFAS chemicals, and increases pay and allowances for servicemembers and their families.
BANNING PRIVATE OWNERSHIP OF BIG CATS
— Blumenthal joined animal rights advocates to celebrate Senate passage of the Big Cat Public Safety Act, bipartisan legislation prohibiting the ownership of big cats like lions and tigers and outlaws public contact with cubs. While the legislation has been in the works for over a decade, the issue drew tremendous support following Netflix's 'Tiger King' documentary that aired in 2020.
The House passed the legislation earlier this year and it now awaits President Biden's signature. 
"Prevent abuse, protect the public, & make sure that big cats are given the proper care—that's the goal of my recently passed Big Cat Public Safety Act. These powerful, beautiful predators deserve to live in the wild, not people's homes or backyard zoos."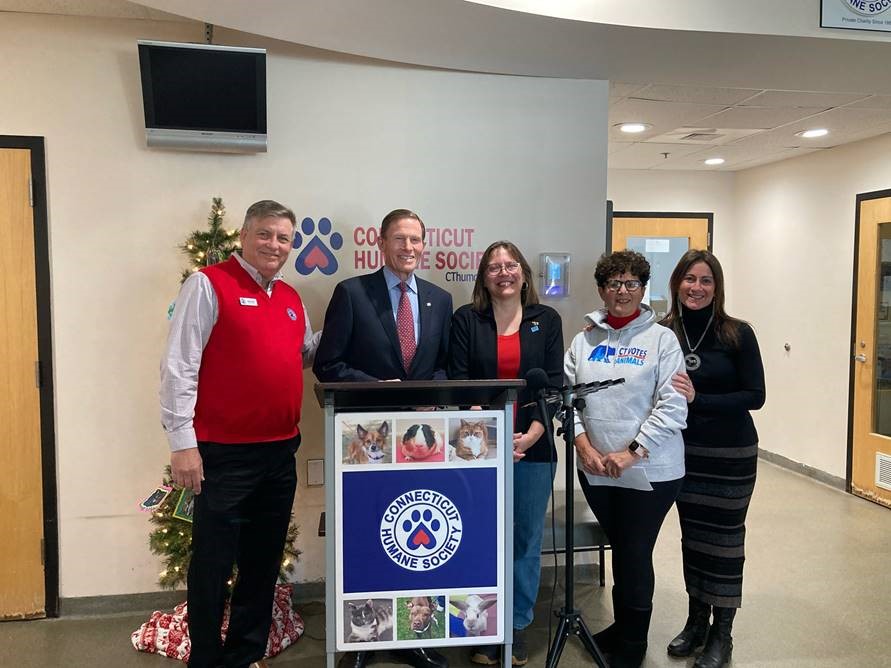 SUPPORTING WORKFORCE DEVELOPMENT PROGRAMS IN WATERBURY
— Blumenthal and Murphy announced more than $1 million in federal funding for workforce development and training programs in Waterbury. The funding includes $650,000 in congressionally directed spending they helped secure for the Northwest Regional Workforce Investment Board to support its workforce development program. The program provides job training, credentialing, and placement to individuals looking to secure employment in in-demand industries such as manufacturing, construction, commercial driving, and health care.
The senators also announced a $500,000 grant from the Environmental Protection Agency (EPA) as part of its Brownfields Jobs Training program, funded by the Bipartisan Infrastructure Law. The NRWIB will use the grant to train students to work in environmental remediation. 
EXPANDING ACCESS TO AFFORDABLE INTERNET ACROSS CONNECTICUT
— Blumenthal and Hayes joined Governor Ned Lamont and the Department of Commerce's National Telecommunications and Information Administration (NTIA) in announcing that Connecticut received its first "Internet for All" grants for deploying high-speed Internet networks and developing digital skills training programs under the Biden-Harris Administration's Internet for All initiative. Connecticut is receiving $5,736,568.10 in funding from the Bipartisan Infrastructure Law, signed by President Biden, to plan for the deployment and adoption of affordable, equitable, and reliable high-speed Internet service throughout the state. 
"Universal access to affordable, high-speed Internet is a critical component of life in the 21st century," said Blumenthal. "While we have made significant strides through the Bipartisan Infrastructure Law to close gaps in internet access across Connecticut, these new planning grants are a significant commitment to closing the digital divide. These funds will allow state and local leaders to continue that important work and ensure that every person in our state has access to affordable and reliable broadband."
PROMOTING YOUTH VIOLENCE INTERVENTION PROGRAMS
— Blumenthal joined Hartford Mayor Luke Bronin and local advocates in announcing a $1.4 million Department of Justice grant to promote youth violence intervention.
"This $1.4 million DOJ grant for the City of Hartford will be a force multiplier for youth violence intervention. Building a system of constructive community partnerships will help connect young people to resources—giving them the tools to thrive on a new path," said Blumenthal.
STRENGTHENING PROTECTIONS FOR VICTIMS OF DOMESTIC VIOLENCE
— Blumenthal, a member of the Senate Judiciary Committee, called for more protections for victims of domestic violence during a Senate Judiciary Committee hearing. During the nominations hearing, Blumenthal questioned the nominee to serve as Director of the Office on Violence Against Women at the U.S. Department of Justice, Rosemarie Hidalgo, about how the office would respond to the need for more enforcement of protective orders and more protections for victims and survivors of domestic violence.
In the exchange, Blumenthal cited the recent murder of Milford mother Julie Minogue at the hands of her ex-partner as an example of why there needs to be more resources, support and recourse for victims of domestic violence.
"Yet we still have this scourge of domestic violence. Most recently and most publicly, the death of a young woman, Julie Minogue, in Milford, Connecticut. I went to the vigil for her just last Sunday, [she was] killed by an intimate partner who was under a protective order at various points. She literally pleaded for help to the police department. Unfortunately for whatever reason, the warrant was not reissued and her death happened. I guess my question to you is, how do we respond to the need for more enforcement of orders and protections when there is that moment of crisis and rage and threat and danger to someone like Julie Minogue?" Blumenthal said.
— Blumenthal also attended a vigil to honor the memory of Julie Minogue.
"Moving vigil yesterday in Milford for Julie Minogue, tragically killed despite desperate pleas for help, should be a call to action. Domestic violence is a scourge that must be fought with stronger laws, more resources, & increased support for survivors, agencies, & law enforcement."
EVALUATING REBUILDING PLANS FOR PUERTO RICO'S ARECIBO OBSERVATORY
— Blumenthal joined U.S. Senators Bob Menendez (D-NJ) and Elizabeth Warren (D-MA) in a letter to the National Science Foundation (NSF), the current owner of the Arecibo Observatory, and the National Aeronautics and Space Administration (NASA) raising concerns about the existing plans for the Arecibo Observatory, including the lack of plans to consider rebuilding a telescope at the site. The Arecibo telescope, in Barrio Esperanza, Arecibo, Puerto Rico, was completed in 1963 and was the world's largest single-aperture telescope for more than five decades. It collapsed in December 2020.
"We share your commitment to STEM education and research and want to ensure that the path forward for the Arecibo Observatory encapsulates the rich scientific, education, and economic benefits of its 305-meter telescope," wrote the senators.
The lawmakers acknowledged NSF's plans to establish a STEM education center and ensure continuity for ongoing programs and NSF-funded activities at the Arecibo Observatory, but urged more work to ensure the observatory's full research capabilities are realized, including through operational support for current scientific infrastructure and consideration of instrument restoration.
"Without active, on-site scientific research, including that done by the instruments currently in operation, we worry the impact of the center may not be as successful as programs at the Arecibo Observatory historically have been," continued the senators. "We are also concerned that NSF's proposal does not fully account for the vital scientific advancements of the Arecibo Observatory."
HONORING THE LIFE & LEGACY OF FORMER DEFENSE SECRETARY ASH CARTER
— Blumenthal and U.S. Senator Joni Ernst (R-IA), members of the Senate Armed Services Committee, applauded Senate passage of their bipartisan resolution honoring the life and legacy of former U.S Secretary of Defense Ashton Carter. Carter, who died in October, had a decades-long career in public service as a national security expert, professor, and author. The resolution recognizes Carter's important contributions to modernizing the Department of Defense through prioritizing integration of new technologies, as well as his efforts guiding U.S. policy on denuclearization, terrorist threats abroad, strategic competition with China, and promoting gender equity throughout the military. 
"Secretary Carter's selfless service helped build a stronger, safer America," said Blumenthal. "His leadership at the Pentagon opened doors to countless women and transgender service members, and his expertise in global affairs prepared our nation to respond to challenges and threats around the world. Our bipartisan resolution honors Secretary Carter for the incredible impact he had on our armed services and our nation."  
Secretary Carter began his career in public service in 1981 in the Department of Defense's Program Analysis and Evaluation Office and went on to serve in the Clinton Administration as Assistant Secretary of Defense for both Nuclear Security and Counterproliferation, as well as International Security Policy. Secretary Carter continued his service under the Obama Administration as Under Secretary of Defense for Acquisition, Technology, and Logistics, Deputy Secretary of Defense, and eventually Secretary of Defense. 
Under Secretary Carter's leadership, the Department of Defense navigated challenges from China, increased its focus on security in the Asia-Pacific region, and responded to threats from the Islamic State of Iraq and the Levant. The Pentagon also took steps to open all military roles to women, increase paid military maternity leave, and permit transgender service members to join and serve openly. 
GROWING SUPPORT FOR THE KIDS ONLINE SAFETY ACT
— Advocacy groups sent letters to Members of Congress advocating for the Kids Online Safety Act (KOSA) in a year-end push to pass the legislation. KOSA, led in the Senate by Blumenthal and U.S. Senator Marsha Blackburn (R-TN), Chair and Ranking Member of the Senate Commerce, Science, and Transportation Subcommittee on Consumer Protection, Product Safety, and Data Security, would provide kids and parents with online safeguards and ensure Big Tech accountability.
On Monday, a coalition of more than 230 groups sent a letter to House and Senate leadership, calling for the inclusion of KOSA in an end-of-year legislative package.
"Through your leadership, you both have the power to contribute to tackling this growing issue through advancing the Kids Online Safety Act and strong privacy protections for kids and teens online, as the wellbeing of future generations depend on it," the groups, including the American Academy of Pediatrics, the American Psychological Association, and Fairplay, wrote in a letter to Senate Majority Leader Chuck Schumer (D-NY), Senate Minority Leader Mitch McConnell (R-KY), House Speaker Nancy Pelosi (D-CA), and House Minority Leader Kevin McCarthy (R-CA). The full text of the groups' letter is available here.
On Tuesday, a group of more than 130 teens and young adults, along with a coalition of advocacy groups representing young people, sent a letter to Members of Congress to urge passage of KOSA before the end of this Congress. The letter also appeared as an advertisement in the New York Times.
"KOSA will help protect young and vulnerable online users from many of the psychological dangers engineered into social media and other internet platforms," wrote the young people. "Legislation like this is particularly important because Big Tech companies have made clear that they will put profit before young people's wellbeing."
SUPPORTING SURVIVORS OF MILITARY SEXUAL TRAUMA
— Blumenthal joined U.S. Senators Catherine Cortez Masto (D-NV) and John Boozman (R-AR) in announcing the Senate passed their bipartisan legislation to ensure that veterans who have survived military sexual trauma (MST) have access to trained peer support specialists within the Department of Veterans Affairs (VA). Currently, veterans who file disability claims with the VA for benefits due to the physical and mental effects of MST have no formal mental or emotional health support. This legislation will provide veterans with trained support to help them navigate the complicated and often re-traumatizing process of documenting their assaults. The bill now goes to the president's desk for signature.
"Survivors of military sexual trauma deserve a strong, comprehensive support system," said Blumenthal. "Our bill allows peer support specialists to stand by impacted veterans bravely sharing their personal stories. I'm thrilled the Senate has passed this critical measure for survivors and look forward to President Biden's signature."
PROTECTING THE RIGHT TO PRIVACY & LIBERTY
— Blumenthal joined U.S. Representatives Mark Takano (D-CA), Sylvia Garcia (D-TX), Chris Pappas (D-NH), Mondaire Jones (D-NY), Katie Porter (D-CA), and Dwight Evans (D-PA), and U.S. Senators Brian Schatz (D-HI) and Mazie Hirono (D-HI) in introducing the Right to Private Conduct Act, a bill to protect the rights to privacy and liberty granted by the Supreme Court decision Lawrence v. Texas. This legislation would prevent any person acting under color of State law from inhibiting an individual's right to engage in private, non-commercial, consensual sexual conduct between adults.
"This measure will counter the Supreme Court's ongoing attacks on privacy and personal freedom. As extreme justices and judges attempt to roll-back the ability of Americans to make their own decisions about their bodies and their futures, I'm proud to join my colleagues in introducing the Right to Private Conduct Act," said Blumenthal. "This legislation will protect all Americans, including the LGBTQ+ community, from invasive government overreach in Americans' most personal, intimate decisions."      
SUPPORTING LGBTQ+ RIGHTS AT THE WORLD CUP
— Blumenthal joined 30 lawmakers in a bicameral letter to FIFA President, Gianni Infantino, expressing outrage over the association's decision to censor support for LGBTQ+ rights by fans and players at the 2022 World Cup.
"We write today with concern regarding FIFA's decision to penalize players in the 2022 World Cup for wearing 'OneLove' armbands in support of the LGBTQ+ community, as well as reports that spectators wearing clothing in support of the LGBTQ+ community faced confrontation from officials at events," wrote the lawmakers.
"[T]hese actions stand in stark contrast to FIFA's own commitments. FIFA has promoted its own 'No Discrimination' campaign, featuring different captains' armbands, and released a statement indicating that, 'FIFA is an inclusive organization and supports all legitimate causes, such as 'One Love','" the lawmakers continued. "If FIFA believes itself to be an inclusive organization that supports causes like the OneLove movement, then its erasure of the movement's armbands and other LGBTQ+ symbols and apparel in support of its own campaign runs counter to its public attestations about the values it espouses."
SUPPORTING MENTAL HEALTH CARE FOR COMMUNITIES IMPACTED BY CLIMATE CHANGE
— With communities facing extreme weather events, worsening epidemics, and rising temperatures, Blumenthal joined U.S. Senators Edward J. Markey (D-MA) and Jeff Merkley (D-OR) in introducing the Community Mental Wellness and Resilience Act, legislation to establish a first-of-its-kind $30 million pilot grant program through the Centers for Disease Control (CDC) to provide funding to community-based mental wellness and resilience programs designed to address the compounding systemic mental health issues faced by communities bearing the brunt of the climate crisis.
"This legislation provides important mental health resources to those on the frontlines of climate change," said Blumenthal. "Impacted Americans dealing with the aftermath of droughts, superstorms, and increasingly frequent catastrophic events deserve our support. The public health investments made today will ensure healthier, stronger communities tomorrow."
RESTORING KEY PROTECTIONS FOR WORKERS & INDEPENDENT CONTRACTORS
— Blumenthal joined U.S. Senator Patty Murray (D-WA) and 10 of their colleagues in sending a comment letter applauding the Biden Administration's proposed employee and independent contractor classification rule, which reinstates the Department of Labor's (DOL) longstanding economic realities test to restore protections for all workers covered by the Fair Labor Standards Act (FLSA) and ensure employers don't misclassify them and deny them workplace rights.
"By restoring and codifying the longstanding economic realities test, this rule will protect workers against misclassification and even the playing field for businesses that properly classify their workers," wrote the senators. "Accordingly, we strongly support the DOL's proposed rule and urge the Department to finalize it."
PROTECTING TAXPAYERS' PRIVATE INFORMATION
— Blumenthal joined U.S. Senators Elizabeth Warren (D-MA) and Ron Wyden (D-OR) and U.S. Representatives Brad Sherman (D-CA) and Katie Porter (D-CA) in sending letters to tax preparation companies H&R Block, TaxAct, and TaxSlayer, plus big tech firms Meta, and Google, amid reports that the tax preparation companies have been secretly transmitting individual taxpayers' sensitive financial information to Meta and Google. The information, gathered as Americans file their taxes online, reportedly included data on users' income, filing status, and refund amounts.
"These shocking reports of breaches of taxpayer privacy by tax preparation companies underscores the need for the IRS to provide its own free tax filing software," wrote the lawmakers. "American taxpayers should have the option of preparing and filing their taxes directly with the federal government instead of being forced to share private information with third parties that have a long record of abusive behavior, now potentially including turning over that data to Big Tech firms."
HONORING OUR COMMITMENT TO OUR AFGHAN ALLIES
— Blumenthal called on Congress to pass the Afghan Adjustment Act before the end of the year.
"It's a moral imperative—keeping America's promise to at-risk Afghan allies who put their lives on the line for our troops & partners. Congress must pass the #AfghanAdjustmentAct before year's end."
AROUND CONNECTICUT
— Blumenthal attended NCNW's Luncheon in New Haven.
"A beautiful sun filled day on the New Haven harbor shore for the NCNW luncheon today, with spectacular honorees from our great state. They are leading by example—thank you for all you do!"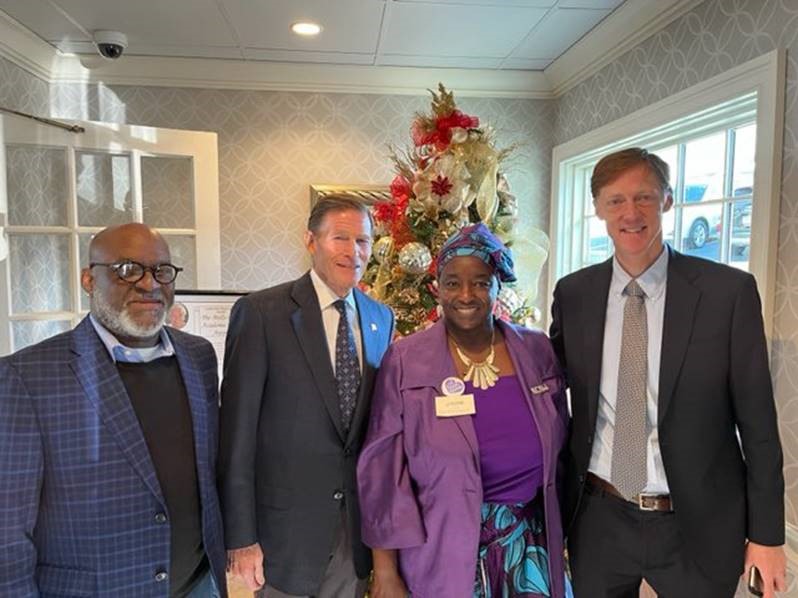 — Blumenthal attended the dedication ceremony for Norwalk's Purple Heart Monument.
"Stirring dedication of Norwalk's Purple Heart Monument today—a patriotic tribute that hopefully others will follow. Thanks to all the veterans & Norwalk leaders who made it possible."
— Blumenthal attended birthday celebrations for John Cyrulik and John Tenn.
"'Work hard'—that's the secret to living long, says John Cyrulik, celebrating his 104th birthday today at the Middletown Fire Station, its driveway named in his honor. John is the warmest, nicest guy you'll ever meet—a WWII vet & 29 year firefighter. Happy Birthday!"
"Surrounded by family & friends in Bridgeport, John Tenn turns 100, sharp as a tack, generous & caring. Really grateful to know him & his loved ones. Happy Birthday, John!"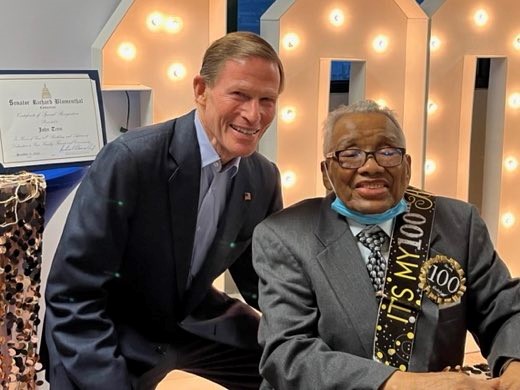 — Blumenthal attended the Southern CT Black Chamber of Commerce Gala.
"Impressive energy & vision among entrepreneurs & leaders attending the Southern CT Black Chamber of Commerce gala last night. They're job creators & role models!"
— Blumenthal visited the Mystic shoreline to survey the damage caused by a recent fire.
"In Mystic yesterday to see shoreline site of horrendous fire that recently tore through boats & structures. Speaking to owners, Mystic Chamber of Commerce, & others, my hope is that rebuilding will start soon."
— Blumenthal congratulated Collins Aerospace for being chosen to develop spacesuits for NASA.
"Thrilled that Collins Aerospace in Windsor Locks has been tapped to develop the next-gen spacesuits for NASA. CT's aerospace alley—& the fantastic people that work there—continues to lead the nation to infinity & beyond with the latest & greatest technological innovations."
-30-