HONORING VICTIMS OF GUN VIOLENCE TEN YEARS AFTER SANDY HOOK
— U.S. Senator Richard Blumenthal (D-CT) joined members of the Newtown Action Alliance, survivors, advocates, and families of gun violence victims at a press conference marking the tenth anniversary of the shooting at Sandy Hook Elementary School.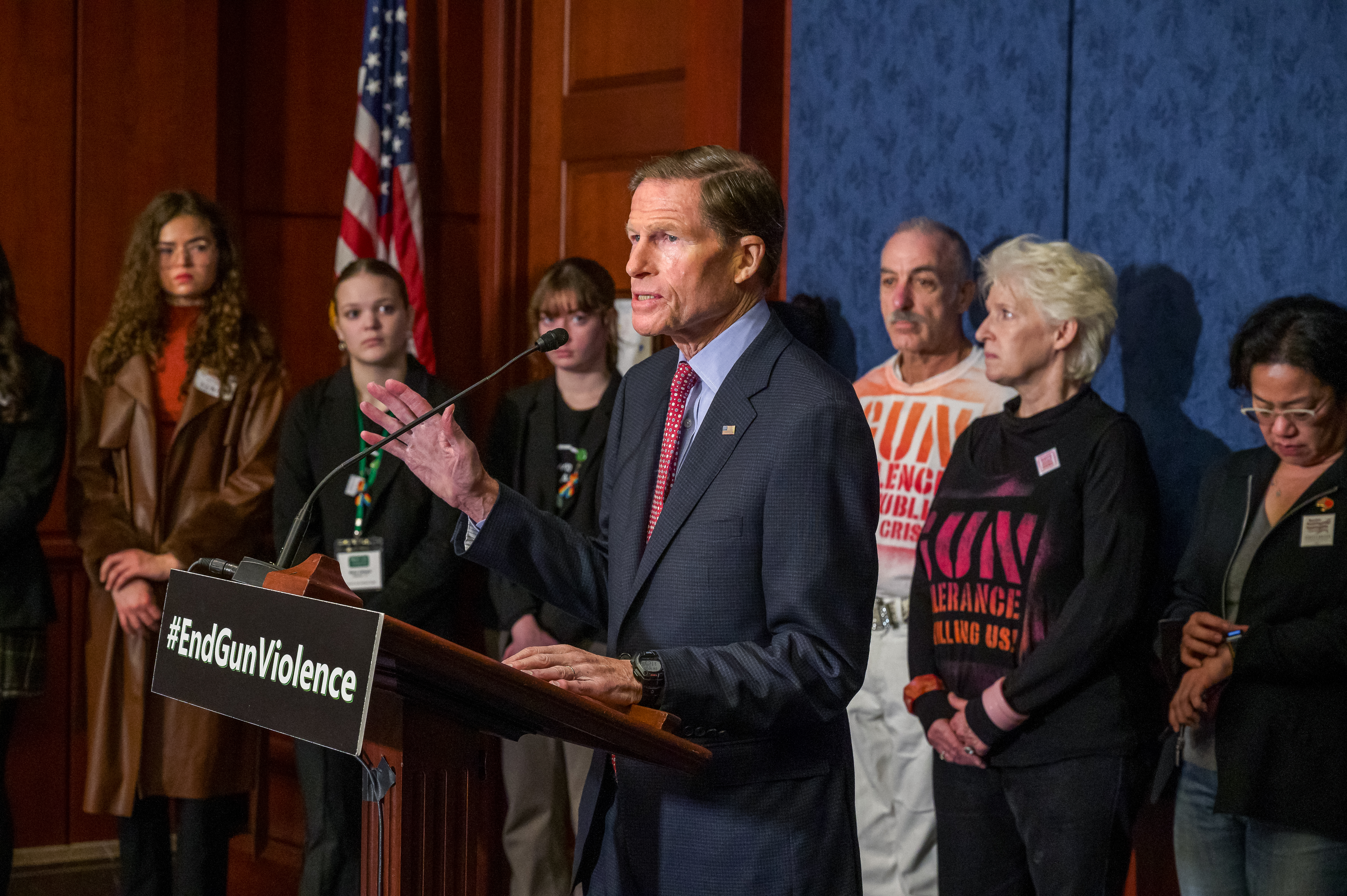 "We have seen in Connecticut firsthand the tragedy of Sandy Hook and other shootings day after day. And that's why we have some of the strongest gun violence prevention laws in the country," said Blumenthal. "But we know that no state is protected unless all are protected, because guns have no respect for state borders. They come across state lines, and that's why Congress needs to do its job."
Joining Blumenthal at the event were U.S. Senator Chris Murphy (D-CT) and U.S. Representatives Rosa DeLauro (D-CT), John B. Larson (D-CT), and Jim Himes (D-CT). After hearing touching stories from the gun violence survivors and families of lost loved ones, Blumenthal praised the advocates for their courage and activism.   
"You are here to tell us to do our job. And I'm grateful to every one of you, everyone one of you who is here, everyone who is here in spirit because you are making a difference," said Blumenthal. "The reason why we were able to pass the Safer Communities Act, the Bipartisan Safer Communities Act, is because of you. Your activism, your advocacy is what is driving gun violence prevention. And it is enabling us to break the grip of the NRA and the gun lobby and the gun industry on the Congress."
The event followed the annual National Vigil for All Victims of Gun Violence honoring the more than one million American victims and survivors of gun violence since December 2012.
"Deeply moving vigil last night marking the Sandy Hook tragedy's 10th anniversary, with powerful remarks by President Biden & Speaker Pelosi—but most beautifully & heartbreaking by brave survivors. Thank you to Newtown Action Alliance," said Blumenthal.
— Blumenthal also attended a rally hosted by March Fourth, a group of physicians from across the country, to declare that mass shootings are a public health crisis and require a public health solution.
"Deeply grateful to the March Fourth Coalition doctors who are bringing their life experience, courage, & conviction to the Capitol—calling for an assault weapons ban. Each day communities are torn apart by gun violence. This scourge must stop."
CURBING RAMPANT FRADULENT REVIEWS ON AMAZON
— Blumenthal wrote to Amazon demanding the company take immediate steps to curb rampant fake reviews by aggressively holding both scam reviewers and sellers who inflate their reviews accountable.
According to Fakespot, a fraudulent review detection service, about 42% of reviews on Amazon are fake. Some reviews are produced by bots in order to influence a product rating and others are manipulated by sellers who offer consumers cash or a free gift in exchange for a favorable review.
"With the holiday season coming up, consumers rely on reviews of products in order to make informed purchases. Therefore, it is crucial that reviews of products are accurate and honest. While Amazon has taken some steps to curb these false reviews, it is abundantly clear that the company is not doing enough to end this dishonest practice that harms consumers. The practice of leaving false or misleading reviews has been common on Amazon for a number of years. However, as a result of the COVID-19 pandemic and increased reliance on ecommerce as opposed to in-person retail, the practice has become ever more rampant," Blumenthal wrote.
The letter calls on Amazon to increase their efforts to identify scam reviewers and sellers that are purchasing fake reviews and to aggressively hold them accountable. Blumenthal also called on the company to inform consumers about the risk of fake reviews and provide a clear reporting mechanism for consumers to use if they receive an offer to leave a positive review in exchange for a payment.
HEARING FROM YOUNG PEOPLE & GRIEVING PARENTS ABOUT THE KIDS ONLINE SAFETY ACT
— Blumenthal and U.S. Senator Marsha Blackburn (R-TN), Chair and Ranking Member of the Senate Commerce, Science, and Transportation Subcommittee on Consumer Protection, Product Safety, and Data Security, met with young people and parents of children who died or were harmed because of social media harms to discuss the urgent need for passage of the Kids Online Safety Act (KOSA). The advocates were in Washington, D.C. to meet with lawmakers and encourage the passage of the legislation before the end of the year. Some of the parents were on Capitol Hill in November to push for the legislation, returning to continue their advocacy. 
"We're just so grateful. Thank you," said Blackburn to the advocates sharing their personal stories.
"You are the face and voice of the generation that has been most affected by it," said Blumenthal. "We are so grateful to many of you who have come back again, because I know every time you do it's painful."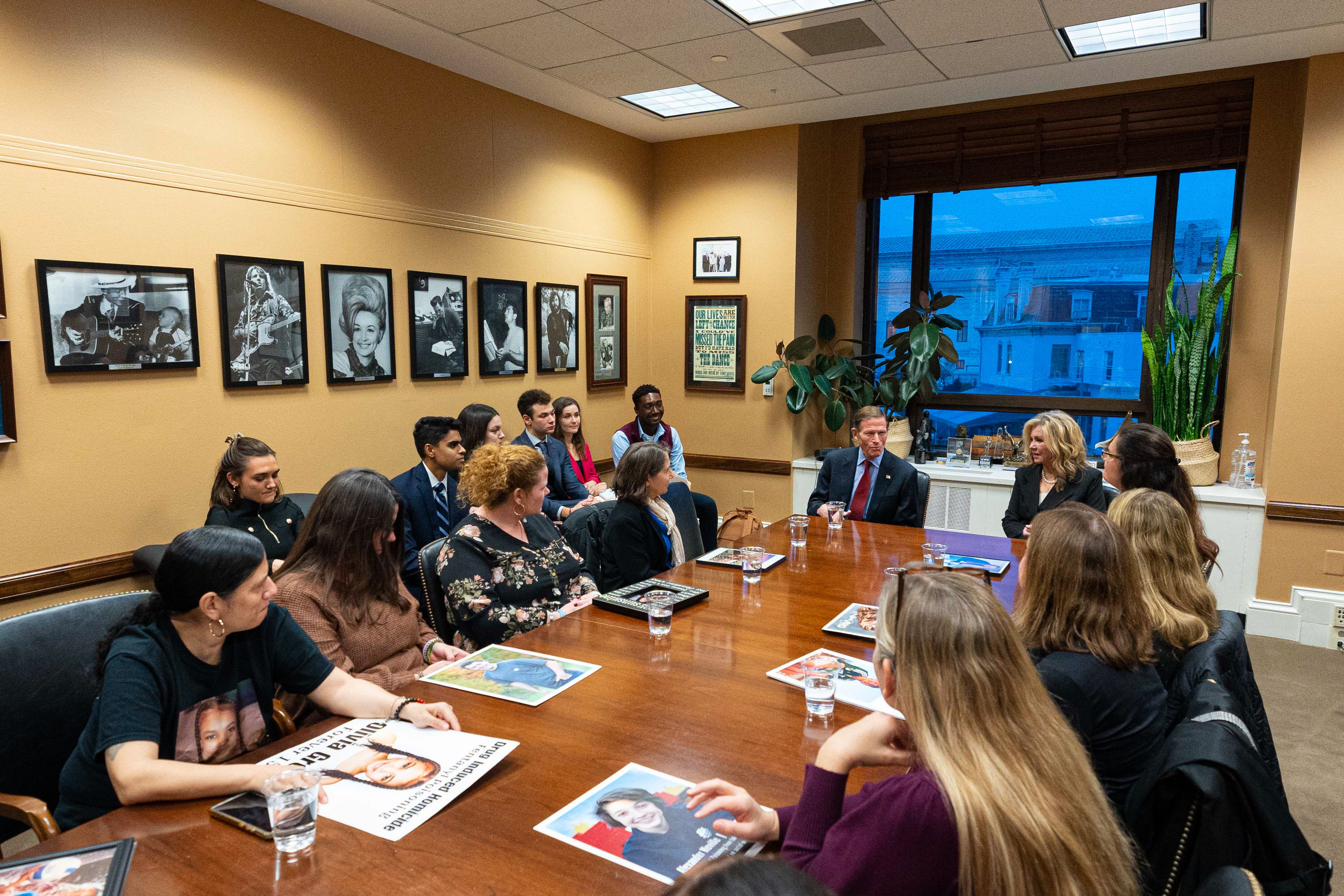 BANNING PRIVATE OWNERSHIP OF BIG CATS
— Blumenthal issued the following statement after the Senate passed the Big Cat Public Safety Act, bipartisan legislation prohibiting the ownership of big cats like lions and tigers and outlaws public contact with cubs. The House passed the legislation earlier this year and it now awaits President Joe Biden's signature. 
"The Big Cat Public Safety Act will end the horrific exploitation of big cats and bolster public safety," said Blumenthal. "These beautiful but powerful predators deserve to live in the wild, not be kept in captivity for people's entertainment—even as cubs. I'm thrilled that, after a groundswell of public and bipartisan support, this bill I've long advocated for will become law."
EXPANDING SERVICES FOR INDIVIDUALS EXPERIENCING HOMELESSNESS IN WINDHAM
— Blumenthal announced a $500,000 federal grant for the Windham Region No Freeze Project, Inc., a non-profit organization that provides temporary shelter and support services for individuals experiencing homelessness. The funding awarded through the Department of Housing and Urban Development (HUD) will allow No Freeze to increase their capacity to offer essential services such as diversion, case management, and mental health support at their new location in Willimantic.
"This $500,000 grant for expanded service at Windham No Freeze is lifesaving. It's more than just shelter, it's a critical source of support. Thrilled to be with the team today to recognize their hard work & future success."
SUPPORTING AIRPORT SERVICE WORKERS WITH LIVING WAGES & BENEFITS
— As part of a national day of action by airport workers in more than 15 cities across the country, Blumenthal joined airport workers at a press conference urging Congress to pass the Good Jobs for Good Airports Act. The legislation would ensure airport service workers at major airports that receive federal funds are paid living wages and benefits.
"I stand with airport workers for the pay & working conditions they deserve—joining SEIU, Senator Markey, Senator Schumer, Representatives Garcia & Holmes Norton, & SEIU President Mary Kay Henry. Passing the Good Jobs for #GoodAirports Act is vital to both workers & travelers."
REAUTHORIZING THE TASK FORCE COMBATING CHILD EXPLOITATION
— Blumenthal released the following statement after the PROTECT Our Children Act, which would reauthorize the Internet Crimes Against Children (ICAC) Task Force Program to combat child exploitation across the country, passed the House and headed to the President's desk for signature: 
"The PROTECT Our Children Act supports law enforcement by helping identify online child exploitation and investigate abusers and predators," said Blumenthal. "Reauthorizing the Internet Crimes Against Children Task Force Program is critical to this important mission."
FUNDING CONNECTICUT'S COASTAL RESILIENCY PROJECTS
— Blumenthal joined U.S. Senator Chris Murphy (D-CT) and U.S. Representatives Rosa DeLauro (D-CT) and Jim Himes (D-CT) in announcing three costal resiliency projects in Connecticut have been selected to receive grants from the National Oceanic and Atmospheric Administration (NOAA) and the National Fish and Wildlife Foundation (NFWF), totaling more than $2 million. These grants were awarded through the National Coastal Resiliency Fund, which received $492 million in funding over five years from Congress through the Bipartisan Infrastructure Law passed in 2021.
"Connecticut's shoreline communities must be prepared and equipped to withstand extreme weather and the ever-growing threat of climate change. I am proud to have fought for these investments in the Bipartisan Infrastructure Law to preserve and enhance our state's coastal habitats and reduce the impacts of flooding and erosion. These critical projects will make our communities stronger and help protect them from the devastating impacts of climate change," said Blumenthal.
CRACKING DOWN ON E-CIGARETTE COMPANIES & CLOSING ADVERTISING TAX LOOPHOLES
— Blumenthal and U.S. Senator Jeanne Shaheen (D-NH) reintroduced the No Tax Subsidies for E-Cigarette and Tobacco Ads Act, legislation to crack down on e-cigarette companies and close a tax loophole that allows manufacturers to claim federal tax deductions for the cost of advertising for e-cigarettes and tobacco products.
In November 2022, the Food and Drug Administration and Centers for Disease Control and Prevention (CDC) released federal data showing that over 3 million middle and high school students had used a tobacco product during the past 30 days. Over 2.5 million middle and high school students, more than one in four, use e-cigarettes daily.
"Old regulatory loopholes are helping Big Tobacco addict more Americans to lethal products," said Blumenthal. "This bill will close a gaping tax loophole, putting an end to Big Tobacco's tax write-offs of dangerous ads and preventing young people from starting up a deadly addiction."
DISCLOSING POLITICAL SPENDING BY FEDERAL CONTRACTORS
— Blumenthal joined U.S. Senator Sheldon Whitehouse (D-RI) and 17 of their colleagues in a letter calling on President Biden to issue an executive order requiring federal contractors to disclose their political spending, including dark money expenditures, after they are awarded a federal government contract. An effective disclosure system would shine a light on special interest influence and help increase Americans' trust in government.
Federal contractors spend substantial sums in elections.  The top ten federal contractors received $213.8 billion in federal revenue in 2020, and their corporate PACs spent $24.8 million in that election cycle.  And in the years since the Supreme Court's disastrous Citizens United decision allowed unlimited dark money to pour into elections, contractors and big corporations have increasingly turned to clandestine electioneering. 
"It is paramount to shore up protections against dark money quid pro quo corruption and its appearance by requiring federal contractors to disclose whether and how much they have spent to support or oppose candidates who can influence the federal procurement process as lawmakers.  Such a requirement would also increase transparency and accountability in our elections, empowering citizens to discharge their responsibilities with accurate information," wrote the senators.
AROUND CONNECTICUT
— Blumenthal joined Habitat for Humanity in Bridgeport to welcome a family into their new home.
"Stephanie Torres & her family have a new home in Bridgeport thanks to Habitat for Humanity, celebrated today with supporters & friends. A wet, windy day but wonderfully warm with affection."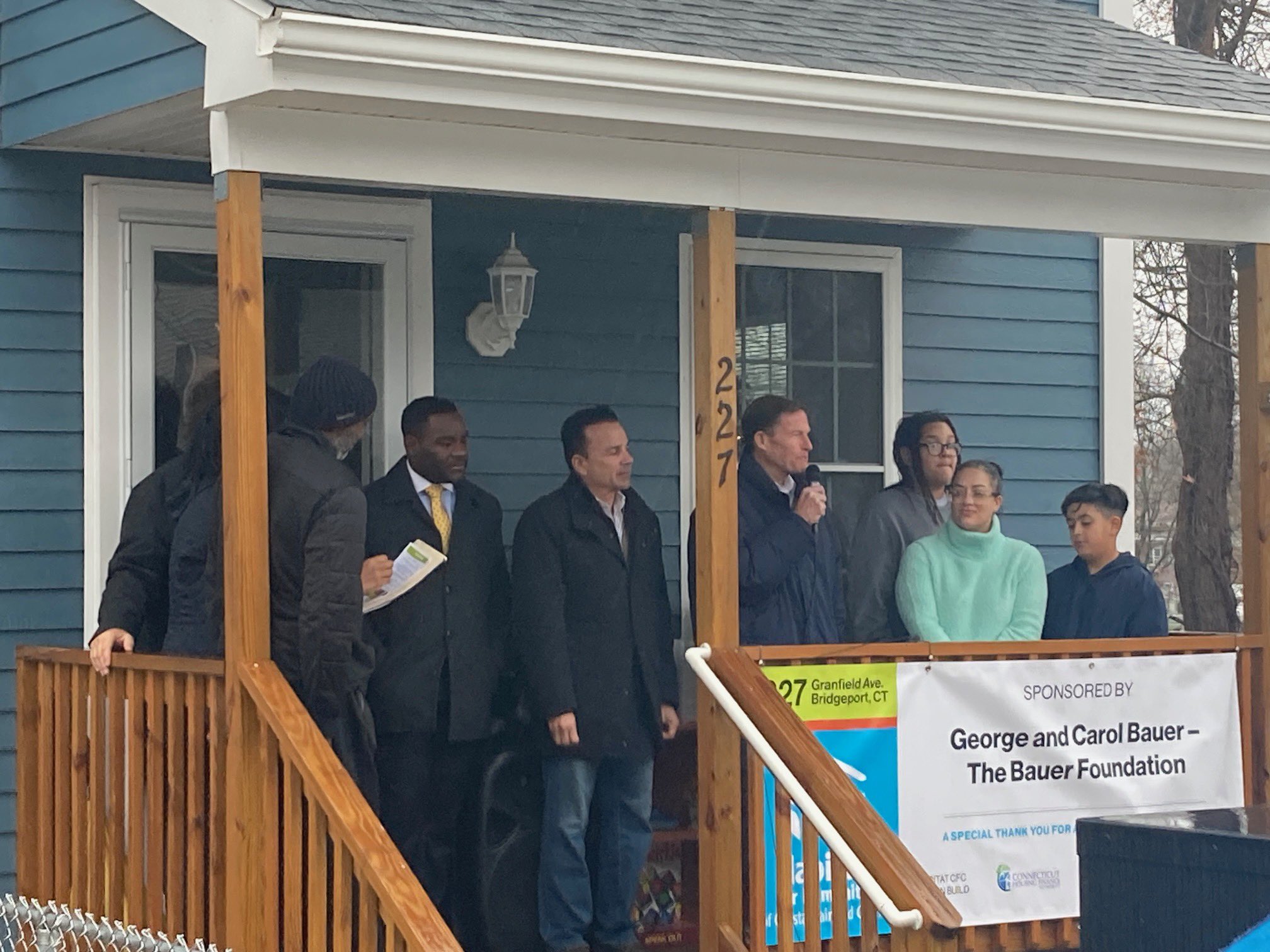 — Blumenthal attended a fundraiser along the Long Island Sound in Milford in support of the Bristol police heroes killed in October.
"Despite raw, rainy weather, Milford plunged (into the Sound) to benefit families of the Bristol police heroes killed in October. Thanks to 100's who attended & the Milford PD for this inspiring support for loved ones of Lt. DeMonte & Sgt Hamzy."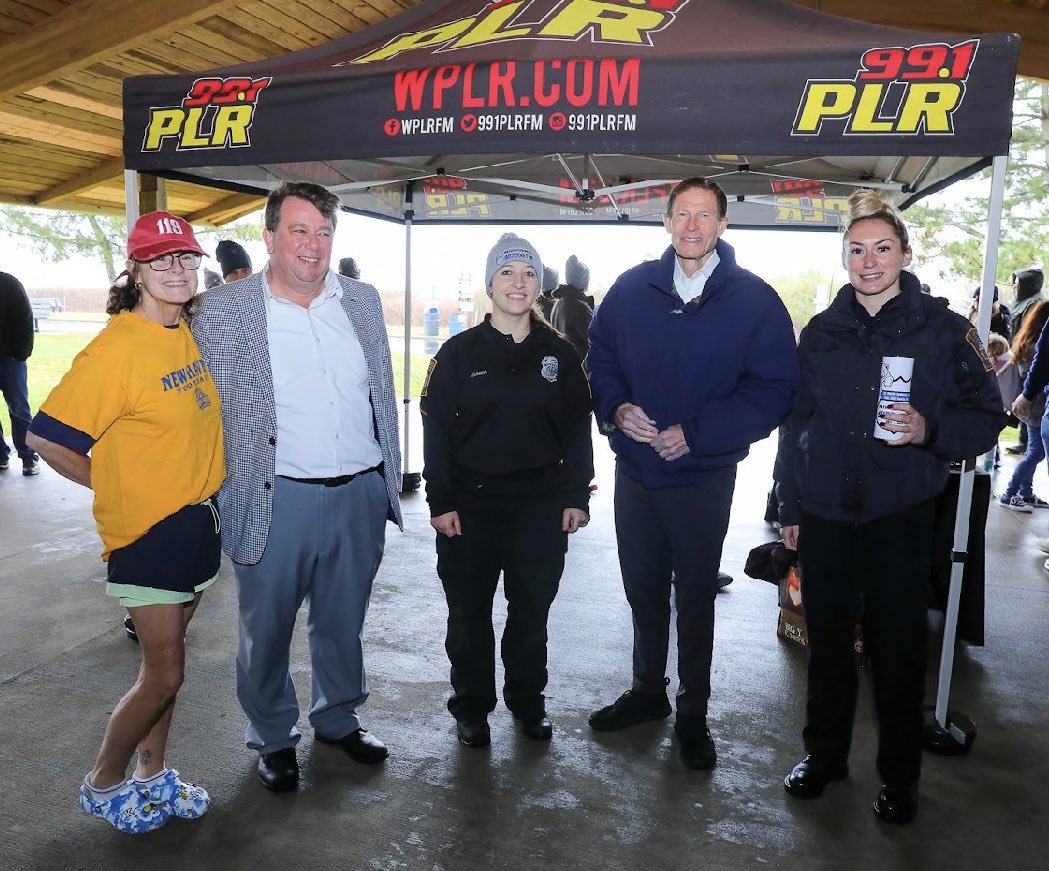 — Blumenthal attended Christopher Martin's Christmas Run for Children.
"Perfect brisk day for the annual Christopher Martin's Christmas Run For The Children today in New Haven. My thoughts were with John Bysiewicz, normally in charge, as he recovers from serious injuries. Thanks to all who raced to support NH kids."
— Blumenthal attended a ceremony honoring Patrick Clyne, owner of The Castle, Black Rock Restaurant & Pub.
"Proud to join friends & public officials honoring Patrick Clyne & his The Castle, Black Rock Restaurant & Pub for generously supporting so many community causes, most recently Sister Mary Ellen Burns of Apostle Immigrant Services."
— Blumenthal delivered the keynote address at the Maria Sanchez Awards Banquet hosted by CICD Puerto Rican Parade of Greater Hartford.
"Proud to serve as keynote speaker at the Maria Sanchez Awards Banquet led by the CICD Puerto Rican Parade of Greater Hartford, honoring extraordinary leaders & trailblazers. Maria's amazing legacy lives on in them, & the fight for justice here & for fellow Americans in Puerto Rico."
— Blumenthal attended the 50th Pilipino Association Anniversary Celebration in Cromwell.
"The 50th Pilipino Association Anniversary Celebration honored past Presidents with a stupendous gala in Cromwell. A wonderful community including many immigrants who are enriching our great nation with their tremendous skills, energy, work ethic & dedication to family & America."
— Blumenthal attended the annual Old Saybrook Heroes Tree Lighting.
"Old Saybrook's annual Heroes Tree Lighting was again spectacularly beautiful & moving—a community coming together to honor all who have served & sacrificed or are doing so now. A special tribute to Gold Star families."
-30-