HONORING OUR VETERANS
— In celebration of Veterans Day, U.S. Senator Richard Blumenthal (D-CT) joined the Waterbury Veterans Memorial Committee to present 99-year-old Lauretta Marinara with a commemorative medal case to honor her late husband's service during World War II.
William Marinara was born in Waterbury in 1919 and enlisted in the U.S. Army on September 8, 1941. He was assigned to the 9th Infantry Division and served in North Africa, Italy, France and Germany. Marinara was awarded 7 battle stars and the Presidential Unit Citation with Oak Leaf Cluster for his service.
"WWII vet William Marinara was a true hero—a son of Waterbury who fought in North Africa, Italy, Normandy & Germany, receiving 7 battle stars & numerous medals & the Presidential Unit Citation. I was proud to join Waterbury vets in presenting a medal case to his widow Lauretta."
— Blumenthal attended Veterans Day events across Connecticut hosted by the CT Veterans Legal Center, the National Veterans Council for Legal Redress, the Naugatuck Veterans Council, and Yale University.
"A good Veterans Day to all who've served & their loved ones. They deserve to be honored every day, not merely in word but deed—care & benefits they've earned. No veteran left behind."
"This year's CT Veterans Legal Center Saluting Service had special meaning yesterday on the eve of Veterans Day. I thanked this organization's supporters for all their advocacy, including for the recently passed PACT Act, providing care & benefits to vets exposed to toxic chemicals."
"Even in the rain, the National Veterans Council for Legal Redress drew a good crowd to Long Wharf in New Haven today for its awards ceremony. I was honored to receive one. Thanks to Conley & Garry Monk, this organization has aided countless veterans unjustly denied benefits."
"Veterans Day is always marked with deep respect & pride by the Naugatuck Veterans Council, including a moving ceremony this year recalling the town's heroes. Standing room only inside St. Michael's Parish Hall. Thank you to all who made it possible."
"Yale's tribute to vets today reminded us of the need to provide all with the benefits & care they need & deserve. Too often, our great nation has delayed addressing the invisible wounds of war—like chemical poisons from burn pits. Now thankfully, the PACT Act assures action."
— Blumenthal attended the headstone commemoration ceremony for Revolutionary War veteran Jesse Caples Sr.
"Poignant dedication of a headstone for Jesse Caples' grave, a Revolutionary War fighter who gained his freedom from slavery by helping achieve America's freedoms from Britain. Thanks to the perseverance of his descendant, Frank Reese, his resting place in Middletown is honored."
ENDING GUN VIOLENCE IN OUR COMMUNITIES
— Blumenthal visited gun buyback events across Connecticut which helped gun owners remove unwanted and unsecured firearms from their homes. The events were organized by the Newtown Action Alliance and hosted in coordination with local police departments.
"Strong support for the 2nd annual #KeepKidsSafe Gun BuyBack this weekend, initiated today by the Newtown Action Alliance. We recognize that more than half of all gun deaths are suicides & most veteran suicides are by guns. Buying back unwanted guns can save lives."
"Gun buybacks around the state today, like the one in Stamford I attended, drew hundreds of dangerous, unneeded, & unwanted firearms—including assault weapons & ghost guns. Thanks to police, Newtown Action Alliance, & other groups for organizing it."
— Blumenthal attended Project Longevity's Call In, an initiative that brings together law enforcement and community leaders to reduce gun violence.
"Project Longevity's "Call In" yesterday, involving law enforcement professionals & Hartford young people, showed dramatically the urgency of community violence intervention—outreach & engagement. Resources in the Bipartisan Safer Communities Act will help, but more are needed."
HONORING BRISTOL POLICE OFFICERS KILLED IN THE LINE OF DUTY
— Blumenthal attended the Bristol Police Department's vigil in honor of Officers Dustin DeMonte and Alex Hamzy.
"Deeply moving silent vigil in Bristol at Police Headquarters in continuing memory of Officers Dustin DeMonte & Alex Hamzy, brave heroes who were killed tragically last month. They & this great Bristol community will inspire us to do more in supporting our police & their families."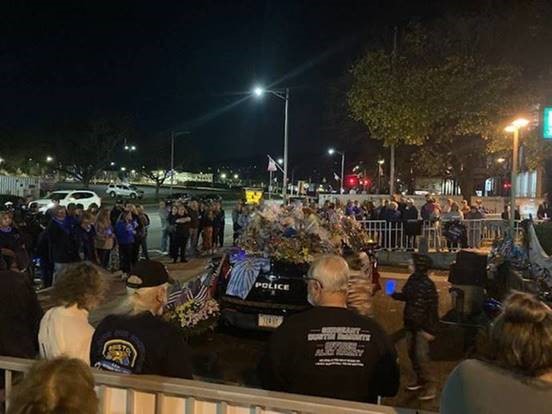 UPGRADING FIREFIGHTING & PUBLIC WORKS EQUIPMENT
— Blumenthal and U.S. Senator Chris Murphy (D-CT) announced $210,300 in federal funding for Connecticut fire departments and the Mashantucket Pequot Tribal Nation public works departments. The U.S. Department of Agricultural Rural Development grants will help Winchester, Thompson, and the Mashantucket Pequot Tribal Nation upgrade aging firefighting and public works equipment.
"These are well deserved awards to help protect first responders and our communities. Every day, firefighters risk their lives to protect ours and they deserve the best equipment available to do so. The same goes for our Public Works Departments that work tirelessly to keep our towns and cities running smoothly every day. We are pleased to see this funding delivered to Connecticut and will keep fighting for more of these resources for our state," Blumenthal and Murphy said.
PROTECTING COMMUNITIES FROM COVID-19 & THE FLU
— Blumenthal received his COVID-19 booster and annual flu shot.
"Getting my COVID booster & flu shots today at Charter Oak in Hartford—simple, painless, lifesaving. I hope everyone gets vaccinated, because serious illness from these diseases is now almost totally preventable."
EVENTS AROUND CONNECTICUT
— Blumenthal visited a STEM & advanced manufacturing expo in Waterbury.
"In Waterbury, a Great STEM/Advanced Manufacturing Expo with CT businesses telling students about exciting careers open right now. Thanks to the Waterbury Regional Chamber of Commerce, a very hands on demonstration by CT manufacturers."
— Blumenthal attended a Kristallnacht commemoration hosted by Sacred Heart University.
"Powerful, deeply emotional Kristallnacht commemoration at Sacred Heart University yesterday, with eloquent multi-faith participation. Thank you for this moving reminder that we must never forget, especially important at this moment."
— Blumenthal reacted to the passing of Greenwich Police Lieutenant Louis Pannone.
"We mourn the loss of a dedicated public servant & son of Greenwich—Lou Pannone—long admired & respected by fellow police & members of the community he safeguarded. Our hearts go out to his family & loved ones."
— Blumenthal attended galas hosted by the Indian Cultural Center, the Trinity Academy of Hartford, The Links, Incorporated Fairfield County Chapter, and the Kennedy Collective.
"Stunningly beautiful gala for the Indian Cultural Center last night, celebrating a wonderful community that contributes so much to our state & nation. Proud & grateful for your leadership & generosity."
"Delighted & grateful to join Trinity Academy of Hartford's annual gala—raising funds to expand its student body & make available its extraordinary educational opportunities to more underserved youngsters. Teachers, staff, board members, parents, & more all deserve thanks."
"One of the nation's oldest & largest volunteer service organizations, the Links, Incorporated Fairfield County Chapter had its Crystal Ball Gala last night—fully living up to its name. A beautiful evening, it will support the Chapter's wonderful service to its great community."
"The Kennedy Collective's 57th gala was a wonderful tribute to its inspiring mission—serving people with disabilities & their families. This year's honorees, my good friends Mickey & Deirdre Daly have devoted themselves tirelessly to this great organization, along with many others."
— Blumenthal attended celebrations for the Polish American Foundation's 25th anniversary and the Columbia Volunteer Fire Department's 75th anniversary.
"Over 25 years, the Polish American Foundation has tirelessly provided opportunities in training, careers, housing, & more in the New Britain community & beyond. I was honored to join their celebration & pay tribute to this extraordinary public service."
"Celebrating 75 years of brave & dedicated service, the Columbia Volunteer Fire Department is always there for the people of this magnificent town. Joining the event, I was honored to express gratitude & good wishes for many more years of excellent work."
-30-