SUPPORTING CONNECTICUT'S WORKFORCE & SMALL BUSINESSES
— U.S. Senator Richard Blumenthal (D-CT) joined U.S. Representative Jim Himes (D-CT) and local leaders at the ribbon cutting of Norwalk's Business Development Center. The new office will support small business owners and entrepreneurs with loan and grant applications, permits and licensing, and financial education.
"Congrats to Mayor Rilling & his team on ribbon cutting for the Norwalk Business Development Center, a dynamic catalyst for entrepreneurship. Combining federal ARPA funds with state & local resources, it's providing loans, technical advice, & much more to small business startups," said Blumenthal.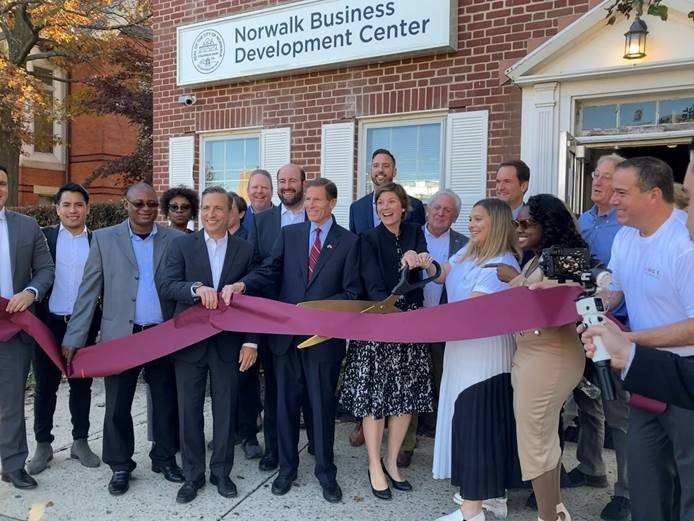 The opening of the Norwalk Business Development Center is part of a broader effort by the Office of Workforce Strategy to utilize a $23.9 million American Rescue Plan Good Jobs Challenge grant from the U.S. Department of Commerce to expand workforce development initiatives across Connecticut.
In partnership with Regional Sector Partnerships (RSPs), the Office of Workforce Strategy will train and place more than 2,000 people – particularly historically underserved populations – in quality, in-demand jobs in manufacturing, healthcare, information technology (IT), and bioscience.  
— Blumenthal shared remarks at the ACM Aerospace Industry Future Workforce Opportunities Fair and Tradeshow which was attended by over 1,000 middle school, high school, and college students. The event explored valuable career opportunities in modern manufacturing and aerospace and featured representatives from over 100 local aerospace firms.
"Aerospace alley was on powerful display at the Civic Center—with profoundly important suppliers & contractors showing their magnificently capable products & expertise.  For defense & commercial aircraft, CT is a world capitol of ingenuity, investment, & manufacturing."
— Blumenthal visited Ensign-Bickford Aerospace & Defense (EBAD) in Simsbury to explore their mission-proven defense technology and speak to leadership and staff about their goals and future projects.
Founded in 1836, EBAD provides energetic systems and related defense technology to support hypersonic, strategic, and tactical missile programs for the U.S. Department of Defense. For the past four consecutive years, EBAD has been voted a top place to work in Connecticut.
"Ensign-Bickford Aerospace & Defense produces cutting edge exciting technology & components vital to our national security. Its extraordinary workforce helps assure ground & air superiority, so our military never has a fair fight. Impressive new expansion plans!"
ADDRESSING THE INFANT FORMULA SHORTAGE
— Blumenthal visited The Diaper Bank of Connecticut to tour their facility and provide an update on easing the infant formula shortage.
"Immensely impressive work at CT's Diaper Bank by a truly dedicated team of staff & volunteers. They're meeting urgent needs for infant formula & diapers. Thank you for strengthening families & filling supply shortages."
In May of 2022, Blumenthal visited The Diaper Bank to demand swift and decisive action to resolve the baby formula shortage crisis. Since that visit, Congress passed the Access to Baby Formula Act of 2022 which gives the USDA permanent authority to respond in the event of a product recall or supply chain disruptions and provides WIC greater flexibilities in the event of shortages.
At the height of the crisis, Blumenthal and U.S. Representative Rosa DeLauro (D-CT) wrote a letter to the Food and Drug Administration (FDA) to demand concrete steps be taken to alleviate the shortage and to the Federal Trade Commission (FTC) calling on the agency to investigate and take action against scams and fraud targeting families in search of formula.
PREVENTING SHRINKING PLANE SEAT SIZES
— Blumenthal, along with U.S. Senate Majority Leader Chuck Schumer (D-NY) and U.S. Senators Dianne Feinstein (D-CA), Edward J. Markey (D-MA), Ron Wyden (D-OR), and Sheldon Whitehouse (D-RI), called on the Federal Aviation Administration (FAA) to act to prevent further shrinking of plane seat sizes and to comprehensively ensure passenger safety. Blumenthal championed a 2018 FAA Reauthorization Act provision that required the FAA to issue a rule on airplane seat size, which the agency is in the process of implementing.
"We urge the FAA to comprehensively review the safety factors impacting seat pitch, width, and length and ensure that such safety factors take into account the entirety of the American public – including children, senior citizens, individuals with disabilities, and others," wrote the senators in letter to FAA Acting Administrator Billy Nolen, FRAeS, as part of the FAA's public comment period which concluded on November 1. "To prevent further harm to travelers in the interim, the FAA should immediately issue a moratorium prohibiting additional reduction in seat size."
Airlines have been shrinking seat sizes since at least the 1990s—with seat pitch decreasing from 32 to 28 inches, and seat width decreasing from 19 to as little as 16 inches. "While there is some variability among airlines, the trend is clear – to the detriment of passengers. It cannot continue," the senators continued.
Citing a limited 2019/2020 study conducted by the FAA and its Civil Aerospace Medical Institute (CAMI), which concluded that seat width and pitch did not appear to impact passenger safety in case of an emergency evacuation, the lawmakers called on the agency to conduct a more comprehensive analysis representative of the population as the agency considers a rule that ensures reasonable minimum seat dimensions.
"One of the most glaring flaws of the FAA and CAMI's study is that it does not accurately account for the entirety of the flying public. All participants in the study ranged from 18- to 64-years-old and were able-bodied. This is simply not representative of the population," emphasized the senators. "Plane travelers comprise children, senior citizens, individuals with disabilities, and more who were not given the option to participate in the study. Without input from these critical communities, the FAA cannot be sure of the impact of seat size on egress during an emergency evacuation, much less on passenger health and safety."
The lawmakers also urged the FAA to take into account all impacts of seat size on flight safety as it works to finalize its rule, including preventing head and leg injuries in case of emergencies and avoiding blood clots on long haul flights. "Evacuations are a critical part of passenger safety – but no one safety factor should outweigh the rest," wrote the senators. "The FAA must carefully analyze and study the broad impacts of reduced seat sizes on passenger health and safety before issuing a rule."
HELPING FAMILIES WITH HOME HEATING COSTS
— Blumenthal and the Connecticut Congressional Delegation joined Governor Ned Lamont in announcing that the state will receive $86.4 million in funding for the Low-Income Home Energy Assistance Program (LIHEAP) to help families pay for home heating costs this winter.
The $4.5 billion funding, of which Connecticut will receive $86.4 million, is administered through the Administration for Children and Families at the U.S. Department of Health and Human Services (HHS) and comes at a time when Connecticut families are bracing for rising home heating costs ahead of winter. The funding will also help families make cost-effective home energy repairs to lower their heating and cooling bills.
"Connecticut families should never have to choose between putting food on the table or heating their homes. This $86.4 million will be a lifeline for thousands of families in Connecticut and I thank HHS for releasing this critical funding to keep families safe and warm during the cold winter months," Blumenthal said.
The $4.5 billion funding secured by Congress includes an additional $1 billion appropriated by Congress to address rising energy costs, as well as $100 million appropriated for 2023 from President Biden's Bipartisan Infrastructure Investment and Jobs Act. The additional $1 billion funding secured by Congress will provide even more home energy assistance to people in Connecticut.
PROTECTING PETS WHEN DISASTER STRIKES
— Blumenthal joined the Connecticut Humane Society to highlight the Planning for Animal Wellness (PAW) Act, a bipartisan measure recently signed into law to protect families and pets when natural disasters strike.
In weather emergencies, pet owners may refuse to evacuate, risking their safety, or are forced to abandon their pets. The PAW Act requires the Federal Emergency Management Agency (FEMA) to evaluate and improve federal guidance on best practices to protect animals in weather emergencies and assist families with disaster preparedness.
"Protecting pets must be a priority in natural disaster preparedness. Planning is key & action is vital—the newly enacted PAW Act will update FEMA best practices & better assist pet owners. Thank you to the CT Human Society for all your efforts to aid animals impacted by these disasters."
STOPPING PFAS POLLUTION
— Blumenthal joined clean water advocates to call on the U.S. Environmental Protection Agency to increase its efforts to stop dangerous per- and polyfluoroalkyl substances (PFAS) from contaminating water sources in Connecticut and across the United States.
"The prevalence of PFAS is growing with tiny amounts doing great harm. We need major commitment & focus from the federal government & EPA to curb its spread. Stronger enforcement & increased funding for remediation are a must."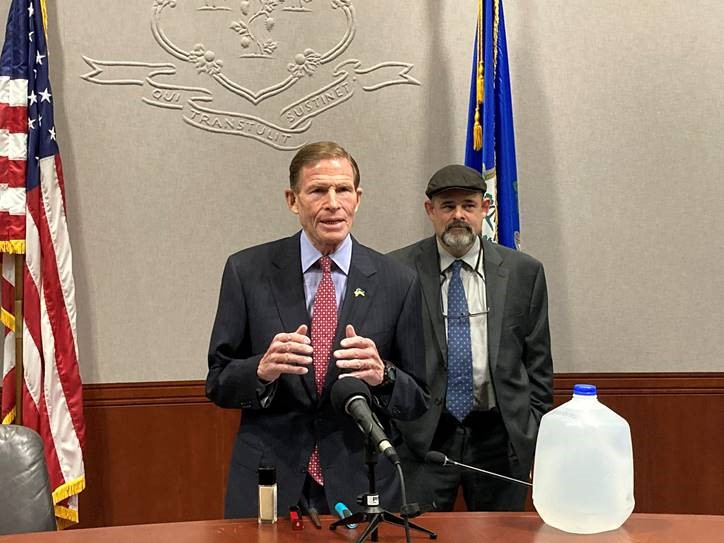 According to a study published last week by the Waterkeeper Alliance, 83 percent of 114 waterways tested across the U.S. showed shocking and dangerous levels of PFAS contamination—sometimes thousands to hundreds of thousands times greater than the EPA's health advisory levels. Long-term exposure to PFAS has been associated with several significant health issues, including cancer, developmental defects, and high blood pressure.
HONORING OUR VETERANS
— Blumenthal, a member of the Senate Veterans' Affairs Committee, joined U.S. Representative Rosa DeLauro (D-CT) in welcoming U.S. Department of Veterans Affairs Secretary Denis McDonough to the VA Connecticut HCS, West Haven campus.
The visit included a tour of the facility, meetings with leadership and frontline staff to discuss the passage of the PACT Act, and a roundtable with veteran family members and caregivers.
"Excellent visit by Secretary McDonough to the W. Haven facility—focusing on the need for physical upgrades, outreach to vets in need of screening, benefits, & care for toxic chemical/burn pit exposure. Great comments from the extraordinary VA caregivers & providers," said Blumenthal.
— Blumenthal joined the Waterbury Veterans Memorial Committee to present 99-year-old Lauretta Marinara with a commemorative medal case to honor her late husband's service during World War II. The late William Marinara was born in Waterbury in 1919 and enlisted in the U.S. Army on September 8, 1941. He was assigned to the 9th Infantry Division and served in North Africa, Italy, France and Germany. Marinara was awarded 7 battle stars and the Presidential Unit Citation with Oak Leaf Cluster for his service.
AROUND CONNECTICUT
— Blumenthal and U.S. Representative Joe Courtney (D-CT) joined local leaders to announce a grant for a new marine terminal in New London. The announcement is part of $17 million in grants from the MARAD FY22 Port Infrastructure Development Program (PIDP) for the City of New London Port Infrastructure Development Project and the Bridgeport Port Authority Project. The grants will support the design and construction of a wind port in Bridgeport, and fund projects aimed at improving and expanding the ports in both Bridgeport and New London.
"Wind energy is good for the environment and Connecticut's economy.  These Bipartisan Infrastructure Law funds will improve port facilities to accommodate wind energy. New London and Bridgeport will continue to lead on this critical economic sector.  I am proud to have fought for this funding to support our coastal economic hubs," said Blumenthal.
"Announcing a $7 million federal grant to build a game changing marine terminal serving New London & Mohawk Eastern RR. It means key connections from port to rail, many jobs, & more."
— Blumenthal joined a community Halloween celebration in New Britain.
"A grand Halloween community party in New Britain—close the streets, open the candy bags, & put on scary costumes. All the kids & parents had a ball."
— Blumenthal attended the naming ceremony for the University of St. Joseph's Jim Calhoun Gymnasium.
"Stirring tributes & heartfelt gratitude for Coach Jim Calhoun as the University of St. Joseph named its new gym in his honor. A hero for all seasons, not just basketball, he embodies the American dream—touching & lifting up so many lives as he rose to championship heights."
— Blumenthal attended Interval House CT's annual Breakfast of Champions.
"Police were honored movingly at Interval House CT's annual Breakfast of Champions. I was proud to join tributes to their heroism, perseverance, & compassion in helping domestic abuse survivors seek safety at places like Interval House."      
"Thanks also to leaders who've joined me in Men Make A Difference, Men Against Domestic Violence."
-30-