STOPPING U.S. ARMS SALES TO SAUDI ARABIA
— U.S. Senator Richard Blumenthal (D-CT) and U.S. Representative Ro Khanna (D-CA) announced the introduction of bicameral legislation to stop U.S. arms sales to Saudi Arabia. The announced legislation comes after Saudi Arabia sided with Russia to cut oil production at last week's OPEC+ meeting, supporting Russia in its brutal war against Ukraine and undermining global oil supply.
"This simple yet urgent measure would halt U.S. arms sales to Saudi Arabia after their deeply offensive, destructive blunder: siding with Russia at this historic moment. Saudis must reverse their oil supply cuts, which aid and abet Russia's savage criminal invasion, endanger the world economy, and threaten higher gas prices at U.S. pumps. We cannot continue selling highly sensitive arms technology to a nation aligned with an abhorrent terrorist adversary," said Blumenthal. "I'm proud to sponsor this bicameral legislation to send a strong message to the Saudis as our country works to rebalance this one-sided relationship. I urge my colleagues to support this essential bill and will fight for its swift passage." 
— At a press conference announcing the legislation, Blumenthal underscored the threat of Saudi Arabia's cooperation with Putin to U.S. national security and the global economy.
"The Saudis need to come to their senses. They have committed a humongous blunder very much against their own economic and security interests as well as ours. The only apparent purpose of this cut in oil supplies is to help the Russians and harm Americans," said Blumenthal. "We hope that this legislation will provide an impetus for the Saudis to reconsider and reverse this action. There's still time."
Blumenthal was also encouraged by President Biden calling for there to be consequences for the Saudis hurting Americans at the pump.
"I'm hopeful that the President in his actions will prompt that kind of reconsideration and rebalancing by the Saudis. So, I think that the President is certainly moving in the right direction by saying that there will be consequences," said Blumenthal.
— Blumenthal and Khanna also joined Jeff Sonnenfeld in an op-ed urging the U.S. to pause the massive transfer of American warfare technology to Saudi Arabia.
"Simply put, America shouldn't be providing such unlimited control of strategic defense systems to an apparent ally of our greatest enemy — nuclear bomb extortionist Vladmir Putin," the group wrote.
HONORING BRISTOL POLICE OFFICERS KILLED & INJURED IN THE LINE OF DUTY
— Blumenthal released a statement following the news that two Bristol Police officers were killed and another was injured in the line of duty Wednesday night.
"The deaths of Sergeant Dustin Demonte and Officer Alex Hamzy break our hearts and reinforce our deep and significant support for law enforcement as they brave countless dangers to protect public safety. Today is a tragic day and we must honor the sacrifice of both officers, as well as Officer Alec Iurato, who was seriously injured in the line of duty. These police heroes answered the call, as do countless other officers every hour, every day, never knowing fully what they may face. Our prayers are with the officers and their families as they navigate this incredibly difficult time," Blumenthal said.
Blumenthal also attended a vigil for the fallen officers.
"Somber vigil tonight in Bristol for Sergeant DeMonte & Officer Hamzy. Amidst the grief, we must honor the sacrifice of these two officers, & the service of all who keep us safe, including Officer Alec Iurato."
SUPPORTING FRONTLINE HEROES AT WINDHAM HOSPITAL
— Blumenthal stood with nurses and healthcare professionals from Windham Community Memorial Hospital (WCMH) who have been protesting unfair labor conditions, including low pay, understaffed shifts, mandatory overtime and inadequate health care plans.
"Nurses & allied health professionals put their heart & soul into quality care & deserve to be treated fairly. I'm proud to stand with Windham Hospital nurses at this pivotal point in their negotiations. It's time for Hartford Healthcare to do right by this staff."
Over 100 nurses from Windham Hospital went on strike in late September over the unfair labor conditions. At the same time, members with their sister union, WCMH United Employees, held an informational picket and strike authorization vote.  The two unions and Hartford HealthCare (HHC), which owns the 130-bed acute care facility, have not yet come to an agreement to resolve the issues.
According to a pair of studies from Yale Medicine released last week, overcrowding of Connecticut hospitals is a serious problem. Increasing numbers of patients are waiting hours in Emergency Rooms to see a doctor and facing long delays when moved from emergency care to a hospital bed or another facility. These conditions and a shortage of nurses to staff shifts are among the unfair conditions at Windham Hospital.
REJECTING THE CLOSURE OF THE LABOR & DELIVERY UNIT AT SHARON HOSPITAL
— Blumenthal sent a letter to the Office of Health Strategy asking them to reject the application of Vassar Health Connecticut/Nuvance Health to close the labor and delivery unit at Sharon Hospital. Vassar Health Connecticut/Nuvance Health has applied for a termination of the Certificate of Need (CON) for labor and delivery services at Sharon Hospital—citing a declining demand for these services.
In the letter, Blumenthal writes that the health care system has an obligation to provide comprehensive health care services including critical labor and delivery services to people in Northwestern Connecticut.
"This fight is ongoing in other rural areas of Connecticut and across the nation.   Rural areas by their nature are not densely populated and therefore the delivery of health services may not be as lucrative as in urban centers. However, people must have safe and easily accessible health care no matter where they live," Blumenthal wrote.
According to a 2021 study by the American Journal of Obstetrics and Gynecology, people in rural counties are two to three times as likely to die of complications related to pregnancy than their counterparts in urban areas. This is in part because of a lack of hospital obstetric services to provide emergency services, as well as prenatal and maternal care prior to delivery.
"OHS must stop these health care moves that are based on economic interests rather than health care needs. OHS must reject the proposed termination of Sharon Hospital's CON for labor and delivery needs," Blumenthal wrote.
FIGHTING HUNGER WITH LEMONADE FOR A CAUSE
— Blumenthal met with the co-founders of Gorilla Lemonade, a locally-owned beverage brand started by two community leaders that benefits anti-hunger initiatives in the Greater New Haven area.
"Gorilla Lemonade is a delicious drink—good for your health & your conscience. An impressive 50% of each bottle's proceeds goes to the Eat Up Foundation providing food to people in need. A great taste of CT!"
Brian Burkett-Thompson and Kristen Threatt are the founders of Eat Up Foundation, a New Haven non-profit organization to help feed those in need. Their newly launched Gorilla Lemonade beverage company donates 50 percent of proceeds to support the Eat Up initiates, including holiday toy drives and food drives.
REVITALIZING CONTAMINATED PROPERTIES IN VERNON
— Blumenthal joined the U.S. Environmental Protection Agency and local leaders to highlight a $650,000 investment for the town of Vernon to clean up the former Daniels Mill site. The funding, from the Bipartisan Infrastructure Law, will allow the town to clean up the contaminated site and revitalize the property for economic redevelopment.
ENSURING CLEAN AIR IN SCHOOLS FOR TEACHERS & STUDENTS
— Blumenthal joined Connecticut educators and experts to highlight significant federal funding to upgrade school heating, ventilation and air conditioning (HVAC) systems and improve air quality at schools.
According to the Connecticut Department of Administrative Services' report on school facilities, 53% of Connecticut schools are using HVAC systems and boilers that have exceeded the predicted lifespan of the equipment.
Outdated HVAC equipment increase the chance of mold, viruses and other hazardous substances infiltrating the air at schools — posing a huge risk to student and employee health. Quinnipiac Real World Math STEM School in New Haven closed in January 2021 because of such outdated ventilation systems.
SUPPORTING YALE GRADUATE STUDENT WORKERS
— Blumenthal joined graduate student workers and community leaders at a rally in support of Local 33, a grassroots campaign to form a graduate student workers union at Yale University. 
Following the 2016 National Labor Relations Board decision that ruled graduate student workers at private universities are covered by federal labor laws, a wave of graduate workers have successfully negotiated union contacts at institutions across the country.  Local 33 has renewed their push for unionization to achieve higher wages, expanded healthcare benefits, and improved working conditions.
OPENING A NEW FEDERAL COURTHOUSE IN HARTFORD
— Blumenthal and U.S. Representative John B. Larson released a statement following a report from the U.S. General Services Administration that identifies three sites as potential locations for a new federal courthouse in Hartford.
"We are pleased that the much needed replacement of the old and obsolete U.S. District Courthouse in Hartford is moving forward.  We have strongly supported a new courthouse to provide public access to justice in a building designed for today's criminal and civil judicial operations. We will continue to work closely with GSA and the City of Hartford to ensure that the final site selection is consistent with the city's economic development needs," Blumenthal and Larson said.
EXPANDING ELECTRIC VEHICLE CHARGING STATIONS
— Blumenthal visited Gyre9, a manufacturer of electrical vehicle (EV) charging stations, to highlight recent federal investments to expand EV infrastructure and incentivize consumers to purchase EVs.
Signed into law in August, the Inflation Reduction Act will provide billions in direct consumer rebates and tax credits for consumers who purchase electric vehicles. Under federal investments in the Bipartisan Infrastructure Law, Connecticut is slated to receive $52 million in federal funding to expand EV charging infrastructure across the state, more than $18 million of which has already been released, greatly supporting manufacturing companies like Gyre9.  
PROMOTING OFFSHORE WIND & RENEWABLE ENERGY
— Blumenthal visited Burns & McDonnell, a Wallingford employee-owned architecture, engineering and construction firm that provides services for the clean energy, aviation and power delivery sectors.
Burns & McDonnell was founded in 1898 and is currently managing the onshore portion of Ørsted and Eversource's joint off shore wind farm— Revolution Wind, South Fork Wind and Sunrise Wind. Their clients also include the U.S. Department of Defense and the U.S. Department of Energy.
ADDRESSING TOXIC PFAS POLLUTION
— Blumenthal joined U.S. Senator Kirsten Gillibrand (D-NY) and twelve of their colleagues in a letter calling for the United States Environmental Protection Agency (EPA) to increase its efforts to stop the flow of per- and polyfluoroalkyl substances (PFAS) into our communities. Ahead of the EPA's upcoming guidance to state permitting authorities on how to address PFAS in National Pollutant Discharge Elimination System (NPDES) permits, the senators are urging Administrator Michael S. Regan to take further steps to limit industrial PFAS discharges.
"Efforts to contain and remediate PFAS contamination are not only challenging and costly, they are also inequitable and inefficient. Across the country, ratepayers and drinking water providers are spending or expecting to spend hundreds of millions of dollars to try to address PFAS contamination, and the federal government recently announced an additional $10 billion in funding to assist states and water utilities with remediation," wrote the senators. "Specifically, we urge the EPA to include three important safeguards in the upcoming guidance. Fortunately, the Clean Water Act and EPA's existing regulations already provide the tools needed to stop the flow of PFAS pollution into our nation's waters and ensure that manufacturers bear the costs of preventing and controlling PFAS contamination."
SUPPORTING OUR ALLIES IN UKRAINE
— Blumenthal reacted to Russia's bombing of civilian infrastructure across Ukraine.
"Putin's massive bombing of Ukrainian civilians—savage, criminal terrorism—requires a robust response, beginning with major shipments of more air defense systems, designating Russia a state sponsor of terrorism, & additional ammunition, arms, & humanitarian aid."
"This indiscriminate bombing—Putin's standard fallback—constitutes crimes against humanity. His brutal barbarity seems boundless. He boasts of it. We must redouble our aid to the brave, fierce Ukrainian people."
Blumenthal also called for the U.S. and other nations to send more defensive missile systems to Ukraine.
"Advanced air defense systems like NASAMS are imperative. Further delay is intolerable. I've been urging this step for months, since my visit to Kyiv in July. Don't delay by debating on details about who or how they're provided. Deliver them now."
SUPPORTING THE SANDY HOOK FAMILIES
— Blumenthal reacted to a jury's decision in a defamation case against conspiracy theorist Alex Jones.
"No amount of money will ever bring back the beautiful lives lost that tragic day, but this decision is resounding, long-awaited justice for the Sandy Hook families. In the face of unbridled cruelty, harm, & harassment these survivors have been a profile in courage & perseverance."
ESTABLISHING A PUERTO RICO RECOVERY TASK FORCE
— Blumenthal joined U.S. Senate Majority Leader Chuck Schumer (D-NY), U.S. Representative Nydia Velázquez (D-NY), and fifteen of their colleagues in a bicameral letter calling on the Biden Administration to establish a Recovery Task Force for Puerto Rico. The task force would be modeled after the successful Hurricane Sandy Rebuilding Task Force created by the Obama Administration in the aftermath of Hurricane Sandy and would provide a roadmap for the island's long-term recovery by ensuring greater interagency cooperation. Five years after Hurricane Maria and as the island continues to deal with the devastating impacts of Hurricane Fiona, the group is also urging the Biden Administration to continue to expeditiously send resources and increase coordination to ensure Puerto Rico's swift, equitable, and full recovery.
"In this stage of the recovery, federal efforts must focus on addressing coordination challenges and facilitating the effective disbursement of funds rather than creating additional obstacles. To that end, we request the creation of a Recovery Task Force and at minimum the coordination of all relevant federal agencies as well as engagement with a broad coalition of local stakeholders in planning the recovery—including Puerto Rico's central government, municipalities, non-profits, academic, and the private and civic sectors," the members wrote in their letter to President Biden.
"After five years of bottlenecks, the Biden Administration must continue to act with urgency to establish the necessary mechanisms for a comprehensive, effective, and forward-looking recovery for Puerto Rico. We believe an increased interagency coordination and oversight are crucial first steps for ensuring a better, more resilient future for the island and we look forward to working together with your Administration," the members concluded.
AROUND CONNECTICUT
— Blumenthal attended a rally for reproductive rights in New Milford.
"Rallying on New Milford's Green, steadfast advocates send a powerful message—we trust women to make decisions about their health care, & we'll fight for their freedom. Thank you all!"
— Blumenthal also visited the New Milford Farmers Market.
"New Milford's farmers market—on a beautiful fall day—with plentiful produce & spectacular treats. One of CT's best."
— Blumenthal attended the Main Street USA Festival in New Britain.
"A rousing Main Street USA Festival in New Britain drew throngs on a pitch perfect fall day—with great food, community booths, & much more."
— Blumenthal visited the Southington Apple Fest.
"The Southington Apple Fest was awash in apples—actually, people enjoying apple fritters from the Zion Church, & delights like apple crisp, apple cider slushies, & more. Also Alex's Lemonade, raising $$ for pediatric cancer research. All good!"
— Blumenthal attended the 68th anniversary celebration for the Cuban Lyceum.
"Cuban Lyceum celebrated 68 years of great community service, wonderful heritage & tradition. Proud to join in this festive, inspiring occasion."
— Blumenthal visited Norwalk's annual Walk to End Alzheimer's.
"The Walk To End Alzheimer's in Norwalk brought together hundreds committed to research & treatment that will conquer this brutally cruel disease. My thanks to all—your advocacy, voices, & faces, inspire me & so many others."
— Blumenthal participated in East Haven and Bridgeport's parades celebrating the Italian American community.
"Spectacular parades in both East Haven & Bridgeport highlighted our state's great Italian American community—their immense contributions, wonderful families, & magnificent heritage. I was deeply proud to march with friends in both, enjoying a sun filled day."
"Honored to welcome the 2nd Marine Aircraft Wing Band to the annual concert presented by the Council of Italian American Societies of Greater Bridgeport. Thank you!"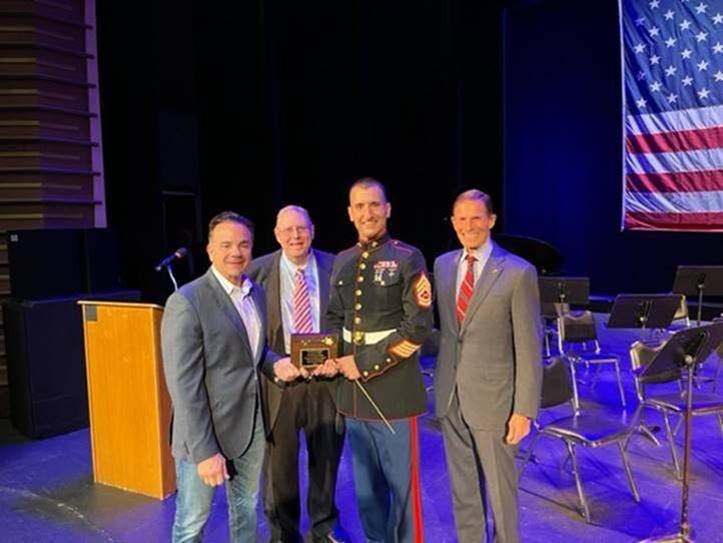 — Blumenthal attended the 10th anniversary celebration for Greenwich Wine + Food.
"Congrats to Suni Unger, founder of Greenwich Wine + Food on a spectacular 10th anniversary celebration, honoring two iconic CT culinary leaders known worldwide, Jacques Pépin & Michel Nischan, & the great skill training & nutrition activism they support."
-30-