IMPROVING ABYSMAL CONDITIONS AT MILITARY BARRACKS
— U.S. Senator Richard Blumenthal (D-CT) and U.S. Representatives Jimmy Panetta (D-CA) and Jen Kiggans (R-VA) led a bipartisan, bicameral group of Members of Congress calling on the U.S. Department of Defense (DOD) to immediately improve conditions at barracks facilities at ten installations. A recent Government Accountability Office (GAO) report found that due to DOD's failures to provide proper oversight and care of the facilities, thousands of junior servicemembers live in unsafe and unhealthy conditions.
"We write to express our profound concern and disappointment regarding the conditions that thousands of junior enlisted Service members are experiencing in barracks across the country," wrote the lawmakers to DOD Secretary Lloyd J. Austin III. "This is a failure of leadership that cannot be ignored."
The GAO report found that junior servicemembers are living in rooms overrun with mold, with doors that do not lock, without air conditioning or heat, without access to clean drinking water, and a lack of functioning plumbing. In some instances, the GAO report revealed additional serious safety and health concerns, including squatters moving into the living spaces and requirements that servicemembers be responsible for "cleaning biological waste that may remain in a barracks room after a suicide."
"This is reprehensible, and we expect you to take expeditious and appropriate action to hold those personnel accountable and ensure Service members are receiving the support they might require after that experience," continued the lawmakers. "It is clear that there are failures at all levels. Across the enterprise, personnel are shirking their responsibilities to provide Service members with safe, habitable living spaces."
The Members of Congress pressed DOD to swiftly adopt the recommendations of the GAO report and to submit updated DOD habitability guidelines before the FY25 budget request to ensure improved living standards.
"The people who choose to serve in the enlisted ranks do so selflessly with little expectation of reward. They are the soul of the military and of the Nation, and they deserve better," wrote the lawmakers. "We trust that you will move decisively to ensure each junior enlisted member of the Armed Forces has a safe, habitable room to return to when the duty day ends."
Blumenthal, Panetta, and Kiggans were joined in sending the letter by U.S. Senators Elizabeth Warren (D-MA), Tim Kaine (D-VA), Raphael Warnock (D-GA), Kirsten Gillibrand (D-NY), and Bernie Sanders (I-VT), and U.S. Representatives Doug Lamborn (R-CO), Nick LaLota (R-NY), Robert Wittman (R-VA), Elise Stefanik (R-NY), Matt Gaetz (R-FL), Sara Jacobs (D-CA), Derrick Van Orden (R-WI), Nancy Mace (R-SC), and Mark Alford (R-MO).
PROTECTING CONSUMERS FROM PREDATORY TICKET SELLERS & FEES
— Blumenthal joined U.S. Senators Mazie Hirono (D-MA) and Edward J. Markey (D-MA) in introducing the BOSS and SWIFT Act, legislation to protect consumers from unfair and deceptive practices in the primary and secondary ticket marketplaces. Named after Bruce Springsteen, Taylor Swift, and fans of other artists and teams who have faced outrageous prices, long wait times, site crashes, and other disruptions, the legislation would require sellers to be transparent about base prices, added fees, the distribution of tickets, and refund policies.
"This measure will be a major step toward stopping all the hidden fees and exorbitant prices that have plagued concertgoers for far too long," said Blumenthal. "Ticket buyers now face sky-high junk charges or shut outs by scalpers and secondary sellers. These standards bring fairness and transparency to fans, artists, and venues who power this industry."
HONORING THE LEGACY OF SENATOR FEINSTEIN
— Blumenthal released the following statement on the death of U.S. Senator Dianne Feinstein (D-CA):
"I will always remember Senator Feinstein with deep admiration and affection as a smart, strong leader and legislator as well as a thoughtful, sweet friend. I was proud to work with Senator Feinstein on issues that she championed tirelessly over decades, like gun violence prevention and civil liberties protection – she never backed down. She was always full of encouragement and warmth no matter how difficult the cause or challenge, and her smiling, steadfast courage and strength will always inspire me. My thoughts are with her family, friends, and colleagues who will miss her dearly."
REMOVING DANGEROUS WATER BEAD TOYS FROM THE MARKET
— Blumenthal called on the U.S. Consumer Product Safety Commission (CPSC) to swiftly remove dangerous water bead toys from the market amid thousands of injuries and at least one death.
"I urge the [CPSC] to take steps to remove these dangerous products from the market—especially those that are sold as toys for children," wrote Blumenthal in a letter to CPSC Chair Alexander Hoehn-Saric.
Water beads, often marketed to parents as safe and educational toys for children, can look like candy and expand up to the size of a tennis ball if swallowed, leading to life-threatening intestinal blockages, lifelong injuries, and even death. When dry, they can be the size of a pinhead, making them nearly undetectable if dropped on the floor or spilled in a playroom. Water beads are estimated to have led to 7,800 hospitalizations between 2016 and 2022, and the death of at least one child. The CPSC recently recalled one water bead toy, but many others remain on the market, with little to no safety warnings to parents and caregivers, putting children at risk.
"Given the continued widespread marketing of these products and the potential life-threatening injuries to children, it is imperative that the CPSC take the necessary steps to remove these products from the reach of children and unsuspecting parents," Blumenthal continued, asking a series of questions regarding the scope of the issue and authorities CPSC requires to most effectively ensure consumer safety.
PROTECTING AGAINST COVID-19 & THE FLU
— Blumenthal received a new COVID-19 vaccine and a flu shot while encouraging others to get vaccinated ahead of the winter and holiday season.
The updated COVID vaccine, approved by the FDA on September 14, helps combat the XBB.1.5 variant which is currently causing the majority of COVID cases. Health experts expect COVID cases in Connecticut will continue to rise throughout the fall and winter seasons.
"Yesterday I got my COVID & flu shots at CVS. Protect yourself as well as others from the needless & preventable pain & suffering of these diseases with safe & effective vaccines."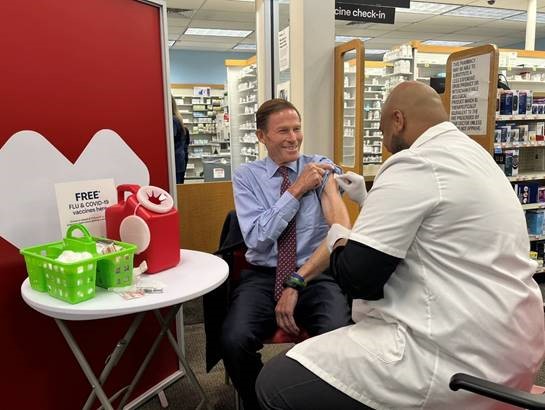 INVESTING IN THE NORTHEAST CORRIDOR
— Blumenthal applauded Amtrak's announcement of grants for the Northeast Corridor (NEC) Fencing and Workforce Development Apprenticeship Training Programs. The grants will fund a programmatic study and survey to inform future fence installation at sites vulnerable to and at high risk for unauthorized access along the NEC and support the development of a comprehensive training and apprenticeship program for new track foremen and inspector employees.
"This critical funding for Amtrak will help revitalize rail for Connecticut riders. These grants—made possible by the transformative Infrastructure Investment and Jobs Act—will bolster safety along the Northeast Corridor and beyond, and help train future generations of rail workers. I was proud to fight for this funding, and I am thrilled to see it put into action."
CREATING A DEDICATED PROCESS FOR SCHOOL ACCOUNT VERIFICATION
— Blumenthal and U.S. Senator Marsha Blackburn (R-TN) sent letters to six major social media companies about the lack of dedicated account verification and reporting processes for K-12 schools, which has led to difficulty reporting online harassment and fraudulent accounts.
"Survey research indicates that schools face difficulties in verifying their identities with your platform because of the use of automated approval and rejection processes, minimum follower requirements, and verify-by-phone processes that don't account for phone number extensions," the senators wrote.
"It is clear that your platform could do more to facilitate these processes for schools and districts and establishing dedicated account verification and reporting practices would be a good initial step towards addressing these issues."
The letters were sent to Meta, X (formerly Twitter), YouTube, Snapchat, TikTok, and LinkedIn.
PROTECTING STUDENT LOAN BORROWERS
— Blumenthal joined U.S. Senators Elizabeth Warren (D-MA), Edward J. Markey (D-MA), and Chris Van Hollen (D-MD) in sending a letter to four federal loan servicers – MOHELA, Nelnet, EdFinancial, and Maximus Federal Services Inc. – requesting updated information about their readiness to serve borrowers amid recent reports of servicing problems, and pushing back on their claims that budget shortfalls could limit their ability to help borrowers since servicers received billions in federal funding throughout the pandemic.
"The responses, in addition to troubling reports from individual borrowers that are having problems with their servicers, leave us deeply worried about your preparedness for this unprecedented return to repayment," wrote the lawmakers. "We write to seek an update about the current borrower experience and efforts to reduce harm to borrowers."
"This is deeply troubling: borrowers who cannot get ahold of their student loan servicer ahead of repayment may not know their payment amount, and they cannot learn the various payment plans to determine the best one for their specific circumstances or determine their eligibility for various forms of loan relief," wrote the lawmakers.   
TACKLING HOMELESSNESS & SUBSTANCE ABUSE DISORDER
— Blumenthal joined U.S. Senators Edward J. Markey (D-MA), Alex Padilla (D-CA), and Cory Booker (D-NJ) in introducing the Housing Alignment and Coordination of Critical and Effective Supportive Health Services (ACCESS) Act, legislation to tackle the intersecting crises of homelessness, mental health, and substance use disorder by increasing support for millions of low-income Americans on Medicaid. The bill directs the Secretaries of Health and Human Services (HHS), Housing and Urban Development (HUD), and Treasury Department to issue joint guidance to state Medicaid agencies on how to connect Medicaid beneficiaries to housing-related services and require HHS to conduct a study on the national cost of housing-related services and supports.
ADDRESSING VIOLENCE IN NAGORNO-KARABAKH
— Blumenthal and U.S. Senator Chris Murphy (D-CT) joined a bipartisan, bicameral letter to the Departments of State and Treasury calling for sanctions on individuals in the government of Azerbaijan that are responsible for or participated in the military attacks against and brutal blockade of Nagorno-Karabakh. The lawmakers cited the discretionary authority of the leaders of both agencies under the Global Magnitsky Human Rights Accountability Act to hold the perpetrators of the ongoing human rights crisis in Nagorno-Karabakh accountable.
"Azerbaijan has blocked the Lachin Corridor, the only route connecting Armenia with Nagorno-Karabakh, depriving some 120,000 Armenians of freedom of movement and access to food, medication, hygiene products, and other commercial goods. The blockade's effects are particularly acute for at-risk groups, such as children, elderly people, people with disabilities and chronic health conditions, whose access to healthcare services is severely limited or disrupted," wrote the lawmakers.
"After over nine months of trying to starve out the ethnic Armenian population in Nagorno-Karabakh, the Azerbaijani military launched a full-scale assault on the region on September 19, resulting in a ceasefire and the capitulation of the local government on September 20," added the lawmakers. "This attack has exacerbated concerns about the worsening of the humanitarian crisis, and statements from the government of Azerbaijan about 're-integration' raise the specter of ethnic cleansing and cultural genocide."
"America is a world leader on international human rights and must continue to serve as a mediating force and supporter of peace in the region," they concluded.
AROUND CONNECTICUT
— Blumenthal attended the opening of a new high school in New Fairfield.
"A new High School in New Fairfield—alive with natural light & air, but designed to promote solid education basics. Thanks for the great model of a community coming together—getting results on time, within budget."
— Blumenthal attended a ceremony celebrating Top Dog's last day of service.
"On their last day at Top Dog, Andrea & Alan Spaulding were serving long lines of devoted fans of all ages with famous hot dogs & topping. Bittersweet moment as they turn the counter over to Marissa Puida."
— Blumenthal congratulated Nancy DiNardo for being honored as the Grand Marshall of Bridgeport's Columbus Day Parade.
"Congratulations to Nancy DiNardo—Grand Marshal of Bridgeport's Columbus Day Parade—honored this weekend for her tireless public service."
— Blumenthal attended a ceremony honoring former State Supreme Court Justice Lubbie Harper.
"Honoring former state Supreme Court Justice Lubbie Harper yesterday in Stratford at the Ruby & Calvin Fletcher African American History Museum is a huge privilege. He has a powerful mind, a big heart, & a passion for justice."
— Blumenthal was honored with the Silver Eagle Award by the Scottish Rite Freemasons.
"Deeply honored to receive the Silver Eagle Award from Scottish Rite Freemasons at Annual Dinner in Wallingford. Masons are a paragon of good fellowship & good works."
-30-