SUPPORTING OUR ALLIES IN UKRAINE
— U.S. Senator Richard Blumenthal (D-CT) joined an all-senators briefing with Ukrainian President Volodymyr Zelenskyy.
"President Zelenskyy's powerful, heartfelt message: We are strong & unified, you must be too. We are deeply thankful. 'You gave money, we gave lives.'"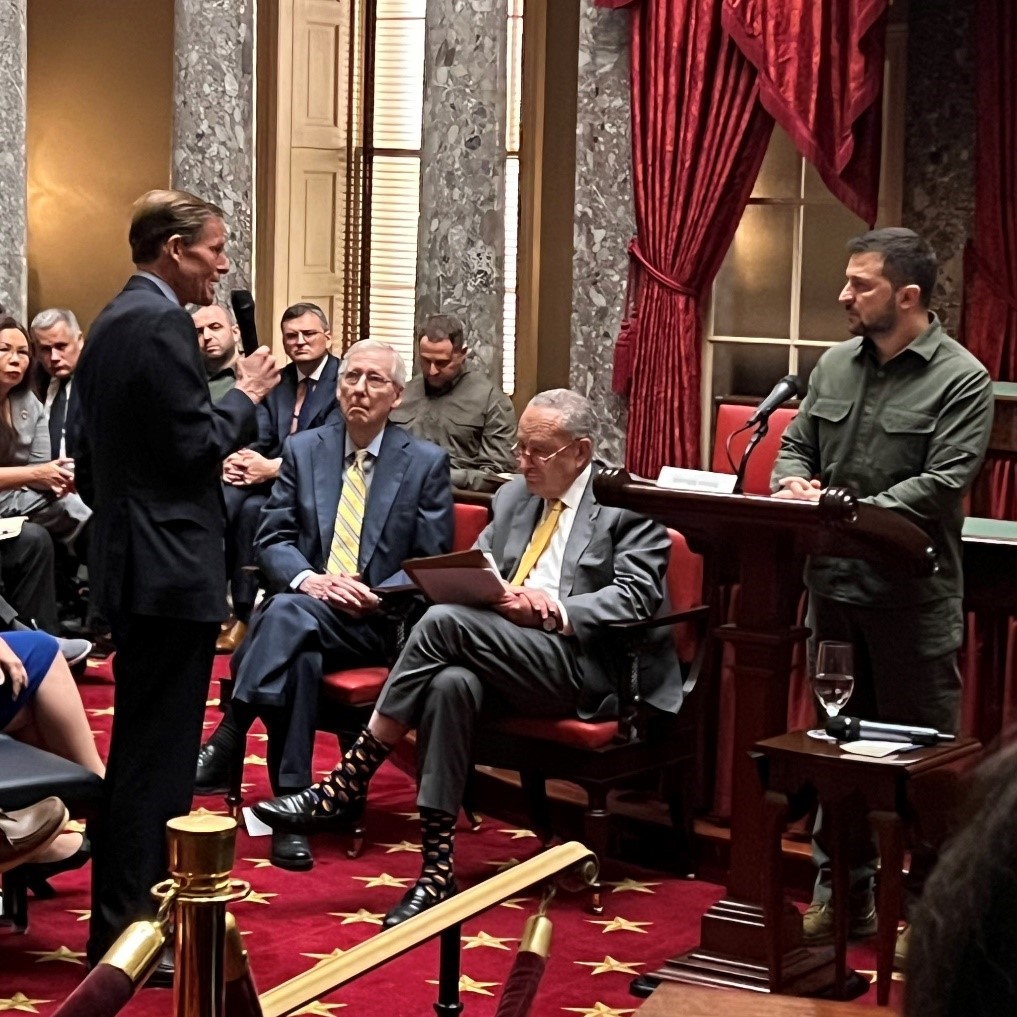 — Blumenthal delivered remarks at the World Affairs Council of CT 2023 Global Security Forum. Blumenthal has traveled to Ukraine four times to demonstrate strong bipartisan support from Congress in the face of Russia's brutal and illegal invasion. During his latest visit to Kyiv in August, Blumenthal met with the Ministry of Defense, Deputy Prime Minister Oleksankdr Kubrakov, National Bank Governor Andriy Pyshnyy, and staff from the U.S. Embassy. During the visit, the bipartisan delegation discussed oversight of U.S. aid to eastern Europe and received updates on Ukraine's ongoing military efforts to defend itself from Russia.
ADDRESSING THE CHILD CARE CRISIS
— Blumenthal called on Congress to pass the Child Care Stabilization Act, new legislation to extend vital federal child care stabilization funding—which is set to expire at the end of this month—and ensure that child care providers can keep their doors open and continue serving children and families.
The Child Care Stabilization Act would prevent a potential crisis when funding expires at the end of the month by providing $16 billion in mandatory funding each year for the next five years to continue the successful Child Care Stabilization Grant program. This investment would ensure child care providers continue to receive a stable and reliable source of funding to help them deliver high-quality and affordable child care for working families across the country.
CELEBRATING THE RELEASE OF MORAD TAHBAZ
— Blumenthal released the following statement on the reported release of Morad Tahbaz, a Connecticut resident, who has been wrongfully detained in Iran for more than five years:
"I am relieved that Morad Tahbaz is now free after many long years of unspeakably cruel, inexcusable imprisonment. Morad's release is a testament to the courage and strength of his family and supporters, who never surrendered fighting for his freedom. I share their relief that his serious medical condition may now be treated, and his well-deserved liberty and rights have been restored."
CONFIRMING VERNON OLIVER TO THE CONNECTICUT DISTRICT COURT
— Blumenthal applauded the Senate's confirmation of Judge Vernon D. Oliver, President Biden's nominee to fill a vacancy on the United States District Court for the District of Connecticut. Judge Oliver was confirmed in a bipartisan 53-44 vote.
"Having worked with Vernon Oliver, I know firsthand that he has a strong mind, a big heart, and a passion for justice. He's exactly the kind of jurist and public servant we need on the federal bench. I commend President Biden and my colleagues for this eminently qualified nominee."
FIGHTING AMERICA'S GUN VIOLENCE EPIDEMIC
— Blumenthal released the following statement in reaction to President Joe Biden announcing the creation of an Office of Gun Violence Prevention:
"An Office of Gun Violence Prevention is a major step forward in our fight against this deadly epidemic. This new office will provide a central point of leadership to concentrate resources and bring together survivors, law enforcement, experts, and policymakers. My colleagues and I have pushed for the creation of this office through legislation, and executive action by President Biden shows his commitment to saving lives. Communities and families across the country have had enough – we must turn our pain into purpose and stem the tide of gun violence." 
In March, Blumenthal joined U.S. Senator Chris Murphy (D-CT) and U.S. Representative Maxwell Frost (D-FL) in introducing the Office of Gun Violence Prevention Act.
PROTECTING LONG ISLAND SOUND
— Blumenthal announced $6.5 million to support conservation and restoration of Long Island Sound and urged the reauthorization of an annual $65 million in federal funding for water quality and shore restoration programs.
Blumenthal also urged passage of the Long Island Sound Restoration and Stewardship Reauthorization Act, which is critical to protect the Sound. This legislation will reauthorize two important programs – the Long Island Sound Geographic Program and the Long Island Sound Stewardship Act which are set to expire in 2023, and authorizes an annual $65 million for water quality and shore restoration programs. 
Decades of high levels of pollution, dumping of dredged materials, and releases of untreated sewage have put the Sound's wildlife population, fisheries, water quality, and surrounding communities at risk. The economic viability of the Sound, which contributes around $9.4 billion annually to the regional economy, is dependent on activities, like sport and commercial fishing, boating, recreation, and tourism.
PRESERVING AFRICAN AMERICAN CIVIL RIGHTS HISTORY
— Blumenthal and U.S. Representative Jim Himes (D-CT) announced a $750,000 federal grant for The Mary and Eliza Freeman Center for History and Community to support historic preservation and restoration of the Eliza Freeman House. The funding is awarded through the National Park Service as part of the Historic Preservation Fund's African American Civil Rights grant program, which supports the preservation of sites and stories related to the struggle of African Americans to gain equal rights.
Mary and Eliza Freeman, sisters of African and Indigenous descent, were successful landowners despite facing significant obstacles as women of color in 19th century America. Their homes are the last remaining structures of Little Liberia, a Bridgeport neighborhood associated with the Underground Railroad and the Colored Convention Movement that was settled by free African and Native Americans in 1821 through the 1890s. This site is part of the National Register of Historic Places and Connecticut's Freedom Trail.
"The Freeman Houses are symbolic of Connecticut's civil rights history and the fight for freedom. Despite facing significant obstacles as Black women in 19th century America, Mary and Eliza Freeman were highly successful property owners that hold a lasting legacy in Bridgeport. This funding is critical to keep the storied legacy of the Freeman sisters alive and allow the Center to continue to serve the community," said Blumenthal.
ADDRESSING MOLD PROBLEMS AT BRANFORD MANOR
— In the wake of ongoing mold problems at Branford Manor Apartments in Groton, CT, Blumenthal joined U.S. Representatives Joe Courtney (D-CT) and Joyce Beatty (D-OH) in introducing bicameral legislation to improve the health, safety, and habitability of our country's federally-assisted housing.
The legislation comes after tenants at Branford Manor, a federally-assisted apartment complex in Groton, CT, cited dangerous and unlivable conditions due to mold. Although the U.S. Department of Housing and Urban Development's (HUD) new inspection regimen, published this year, has prioritized the potential dangers of mold, more federal action is needed to protect the public from mold and other environmental health hazards.
The Healthy at Home Act of 2023 would hold bad actors accountable, improve tenant education, provide financial support to building owners working to improve building safety, set standards to prevent and detect safety hazards like mold, and more.
"This important initiative— inspired by Connecticut's Branford Manor residents— will help make homes healthier throughout the nation. Our Healthy at Home Act requires strong standards for preventing, detecting and remediating indoor mold so that no one has to endure intolerable and unhealthy living conditions. An enforceable, effective standard is key to tenant health and safety," said Blumenthal.
ENSURING EQUITY IN OUR ARMED FORCES
— On the 12th anniversary of the repeal of "Don't Ask, Don't Tell," Blumenthal joined U.S. Representatives Mark Takano (D-CA) and Sara Jacobs (D-CA) in reintroducing the Commission?on Equity and Reconciliation in the Uniformed Services Act, a bill establishing a commission to investigate the historic and ongoing impacts of discriminatory military policies on LGBTQ servicemembers and veterans. 
Approximately 114,000 servicemembers were discharged on the basis of their sexual orientation between WWII and 2011, while an estimated 870,000 LGBTQ servicemembers have been impacted by hostility, harassment, assault, and law enforcement targeting due to the military policies in place. Still today, many veterans who were discharged on discriminatory grounds are unable to access their benefits, and those still serving face inconsistent protections that make them vulnerable to harassment and put their careers at risk.  
"For too long, LGBTQ+ servicemembers have been the target of discriminatory policies– resulting in harassment, involuntary discharge, and unreasonable barriers preventing them from accessing their rightly-earned benefits," said Blumenthal. "This commission would be an important step to understand the full scope of the harms caused by policies like Don't Ask, Don't Tell, and to ensure a more equitable future for all who serve our country in uniform." 
PROTECTING CONSUMERS USING GENERIC MEDICATIONS
— Blumenthal joined U.S. Senators Chris Van Hollen (D-MD), Sherrod Brown (D-OH), and Chris Coons (D-DE) in announcing the introduction of the Updated Drug Labeling for Patient Safety Act, legislation to allow all prescription drug manufacturers to revise medication labels to provide accurate, up-to-date warnings to consumers. Current federal law mandates that generic drug labels must match those approved by the Food and Drug Administration (FDA) for their brand-name equivalents. This bill will enable drug companies to update labels for generic medications independently – ensuring patients have the latest information about the potential side effects and risks associated with their prescriptions.
"Consumers deserve up-to-date warning labels on all of their prescriptions – name brand or generic," said Blumenthal. "Our common sense measure allows all manufacturers to revise labels so patients can be aware of potential side effects and other short and long-term risks. Giving Americans the transparency and information they need will help protect their health and wellbeing."
NEGOTIATING LOWER PRESCRIPTION DRUG PRICES
— Blumenthal joined U.S. Senators Amy Klobuchar (D-MN) and Peter Welch (D-VT) in filing an amicus brief in Merck & Co. v. Becerra in the District Court for the District of Columbia urging the federal court to uphold the constitutionality of Congress allowing Medicare to negotiate lower drug prices for consumers. 
RECOGNIZING SEPTEMBER AS NATIONAL VOTING RIGHTS MONTH
— Blumenthal joined U.S. Senator Ron Wyden (D-OR) and U.S. Representative Marc Veasey (D-TX) on National Voter  Registration Day in introducing a resolution recognizing September as "National Voting Rights Month." The resolution encourages voter registration in the month of September and pushes Congress to preserve the right to vote by restoring the Voting Rights Act of 1965.
AROUND CONNECTICUT
— Blumenthal joined the Connecticut Department of Transportation at a Rail Safety Week event in Wallingford.
"Wonderful to be at the Wallingford Station to kick off #RailSafetyWeek. Tremendous work has been done to improve our railways, but more must be done to stop catastrophes, derailments, & other serious injuries."
-30-