ADDRESSING UNSAFE CONDITIONS & INCREASED RENTAL FEES AT MOBILE HOMES
— U.S. Senator Richard Blumenthal (D-CT) met with residents of Three Gardens, Cedar Springs and Forest Hills mobile home communities in Southington to discuss concerns over unsafe conditions and increased rental fees.
The three mobile home communities in Southington are owned by Sun Communities, Inc., a Michigan company, that has been in the business of acquiring, operating, developing and expanding manufactured home communities since 1975. Residents of Sun Communities, Inc. properties have complained of improper maintenance to homes and common spaces. Residents have also complained about an increase in rental rates — a significant challenge for those living on a fixed income. The complaints follow a nationwide trend of investment companies buying mobile home communities and cutting services, raises rents and mistreating residents who speak out.
"A packed room of residents from Sun Communities Inc. mobile home facilities told me about rising rents, declining upkeep, broken promises, & other abject failures. Shining sunlight on Sun—a powerful disinfectant against abuses & impetus to action."
"I'll fight for basic protections—safeguards against unwarranted rent increases, maintenance failures, unfair evictions, & more. Residents deserve better from the corporate giants that buy properties in CT & nationwide."
Blumenthal previously visited the Beechwood Community in Killingworth, another Sun Communities, Inc. property. In August, Blumenthal joined 16 of his congressional colleagues in sending a bicameral letter to Federal Housing Finance Agency Director Sandra Thompson asking for the agency's help in finding ways to leverage their lending power to ensure tenants of Manufactured Home Communities are protected.
BREAKING GROUND ON AN EXPANDED SEMICONDUCTOR MANUFACTURING FACILITY
— Blumenthal attended the groundbreaking ceremony for the $200 million expansion of the ASML (Advanced Semiconductor Materials Lithography) facility in Wilton. ASML is the leading supplier of the global semiconductor industry, producing lithography system technology which is fundamental to chips production.
In May, U.S. Deputy Secretary of Commerce, Don Graves, and CEO and President of ASML, Peter Wennink, announced the expansion to the Wilton facility at ASML's Netherlands headquarters. This major investment in American semiconductor manufacturing comes after Congress passed the CHIPS and Science Act, which provides $52 billion in grants for semiconductor manufacturing and research, and will create well-paying manufacturing and technology jobs in Connecticut and across the country.
INVESTIGATING UNFAIR & DECEPTIVE ADVERTISING IN THE FIREARMS INDUSTRY
— Blumenthal joined Edward J. Markey (D-MA) and Chris Murphy (D-CT) in leading a group of twelve senators calling on the Federal Trade Commission (FTC) to "to undertake an investigation and consider regulation of the unfair and deceptive advertising practices used by the firearms industry." In a letter to FTC Chair Khan, the senators highlighted the firearms industry's efforts to mislead consumers about the safety of guns and the employment of advertising tactics that target children and teenagers – including using video games, popular musicians and television shows, and even Santa Claus to market its deadly products.  
"The industry regularly and routinely makes false and misleading representations about firearm safety and unfairly exploits children and teenagers through unfair and deceptive marketing practices, including targeting teenagers, particularly young men, with advertising for military-style weapons," the senators wrote. "Time and again, these practices have had deadly consequences."
The gun industry's advertising and marketing practices have received increased attention following the massacre at Robb Elementary School in Uvalde, Texas, where the mass shooter used an assault rifle manufactured by Daniel Defense. Daniel Defense's marketing materials highlight the company's military contracts and reference popular first-person shooter video games to target children and teenagers.
Earlier this year, the families of nine victims of the shooting at Sandy Hook Elementary School in Newtown, Connecticut secured a settlement of their claims against Remington Arms based on the company's advertising practices.
QUESTIONING THE TWITTER WHISTLEBLOWER
— Blumenthal questioned Peiter "Mudge" Zatko, the Twitter whistleblower, during a Senate Judiciary Committee hearing to examine the claims brought forward by Zatko regarding Twitter's data security practices, including potential breaches of a 2011 Federal Trade Commission (FTC) consent decree.
Blumenthal discussed with Zatko whether Twitter has put user information and national security at risk, who bears responsibility at the company, and what needs to be done to correct course.
Blumenthal: "Would you agree with me that Twitter has put its users' health and safety severely at risk?"
Zatko: "Yes, sir."
Blumenthal: "And it has put the national security severely at risk?"
Zatko: "Yes sir."
Blumenthal: "Its management has misled its own board of directors?"
Zatko: "Yes sir."
Blumenthal: "And in that event, the management ought to be certainly restructured, shifted, changed, correct?"
Zatko: "Yes, sir."
Blumenthal also questioned Zatko about Twitter's misrepresentation of facts to federal agencies and reforms necessary to improve enforcement. In August, Blumenthal sent a letter to the FTC regarding Zatko's allegations. The video of the exchange between Blumenthal and Zatko can be found here.
URGING CONGRESS TO PASS KIDS' ONLINE SAFETY LEGISLATION
— Blumenthal, Chair of the Senate Commerce, Science, and Transportation Subcommittee on Consumer Protection, Product Safety, and Data Security, joined a virtual rally with parent and youth advocates calling on Congress to pass kids online safety and privacy legislation, including Blumenthal's bipartisan Kids Online Safety Act. During the rally, hosted by Fairplay, Common Sense, Center for Digital Democracy, Public Citizen, and the Eating Disorders Coalition and also joined by U.S. Senator Edward J. Markey (D-MA), Blumenthal discussed the importance of his legislation which would provide kids and parents with tools, safeguards, and transparency they need to protect against threats to children's health and well-being online. The Kids Online Safety Act was unanimously passed by the Senate Commerce Committee earlier this year and awaits a Senate Floor vote.
"I've advocated this cause when I was attorney general of Connecticut and the reason is very simply stories like Kristin's that have broken my heart and been so compelling to me on a human level," Blumenthal said while speaking with Kristin Bride, the mother of Carson Bride who died of suicide at 16-years-old after experiencing cyberbullying on Snapchat. "I've also heard from other parents and many young people who want to take back control over their online lives. They feel that they've lost control, that there is something about the way these tech platforms drive content to them that is purposeful and strategic to addict them and take advantage of their vulnerability."
"That's what they purposefully do as we saw from the documents that Frances Haugen gave to us," Blumenthal continued. "And it was so revealing to America to see in black and white how the Big Tech companies, whether it's Facebook or Snapchat or any of them, see the revenue in the eyeballs of kids who are in effect attracted by this addictive quality and are harmed by it, whether it's eating disorders or bullying or even potential drug issues and others."
"Until social media companies are held accountable for their harmful products, they will always put profit over people," said Kristin Bride. "And kids like Carson and so many others are just collateral damage."
Specifically, the Kids Online Safety Act creates a responsibility for social media platforms to prevent and mitigate harms to minors. The legislation gives parents new controls to help support their children and identify harmful behaviors, requires platforms provide minors with options to protect their information, disable addictive product features, and opt out of algorithmic recommendations, and provides academic and public interest organizations with access to critical datasets from platforms to foster research regarding harms to the safety and well-being of minors.
"There is no controversy about the need for this bill. The families like Kristin's who have suffered this harm have been so convincing that the Commerce Committee passed this bill unanimously. Not a single vote against it, Republican or Democrat," said Blumenthal. "Our obstacles here are the Big Tech lobbyists…They want regulation that in effect gives them a pass or a tap on the wrist so that they can regard it as the cost of doing business and just continue doing business as usual."
"As powerful as they are, as wealthy as they are, we've got to stand up to them," Blumenthal concluded.
PREVENTING FRONTOVER TRAGEDIES
— Blumenthal issued the following statement after the National Highway Traffic Safety Administration (NHTSA) released new data on non-traffic incidents, which encompasses frontovers:
"This newly released data underscores the urgent need for action. I will be introducing a mandate for front facing devices like cameras or sensors. I am pleased that NHTSA has publicly released this much-needed data, as I urged, to help understand the full scope of tragic frontover deaths and injuries. The data makes it clear that frontovers will continue to senselessly and needlessly take innocent lives without action. I will continue to press for rapid remedies to bring an end to these tragedies."
In August, Blumenthal sent a letter to NHTSA, calling for the agency to publish the data and take action to address child deaths due to frontovers. Recent demonstrations by investigative reporters have shown blind zones in front of some cars to be as big as 16 feet, obstructing children from view and putting them at risk of being run over.
IMPROVING WATER RESCUE & BOLSTERING AMERICAN MADE DRONES IN THE COAST GUARD REAUTHORIZATION
— Blumenthal applauded the Senate Commerce, Science, and Transportation Committee's passage of the bipartisan Coast Guard Authorization Act today with several provisions he championed to improve water search and rescue efforts and prioritize American-made drones, and urged additional work to allow cruise ship workers to hold cruise lines accountable in U.S. court. 
"This bipartisan measure continues our national commitment to upgrading Coast Guard readiness—investments strengthening our maritime economy and coastal security so critical in Connecticut," said Blumenthal. "Interdicting drugs, saving lives offshore, aiding recovery from weather catastrophe—the Coast Guard is a force multiplier in meeting diverse challenges. Connecticut has a special bond with Coasties—including the Academy and soon a National Museum. I'm proud that provisions I championed were adopted as part of this bill. The Aqua Alert program will undoubtedly save lives by expanding public awareness of the Coast Guard's search and rescue efforts when people are lost offshore. Ensuring the Coast Guard purchases American-made drones instead of foreign-made ones will help secure our intelligence from adversaries. Still, significant work remains to improve cruise line safety, and I will continue fighting to hold cruise lines accountable—and for cruise ship workers to be able to seek the relief they deserve."
CONFIRMING JUDGE SARAH MERRIAM TO THE SECOND CIRCUIT
— Blumenthal applauded the Senate's confirmation of Judge Sarah Merriam to serve on the United States Court of Appeals for the Second Circuit. Merriam's nomination was approved in a bipartisan 53-44 vote. 
"Judge Merriam's commitment to justice and vast legal experience will greatly benefit the Second Circuit," said Blumenthal, a member of the Senate Judiciary Committee. "A widely respected jurist, her bipartisan confirmation is a ringing endorsement of her long history of public service. Our judicial system will be stronger because of her work. I'm proud to have championed her nomination and look forward to Judge Merriam's continued service on the federal bench."  
Consisting of thirteen judges, the Second Circuit is one of thirteen appeals courts across the country and exercises appellate jurisdiction within Connecticut, New York, and Vermont. Merriam was nominated for the position by President Biden in April.  
TRAINING DISADVANTAGED STUDENTS FOR IN-DEMAND TECH JOBS
— Blumenthal announced a $5 million grant for a consortium of Connecticut community colleges, including Capital Community College, to train students from historically underrepresented communities to enter Information Technology and other in-demand jobs.
The funding will allow Capital and other colleges to address equity and workforce gaps by connecting students from marginalized and underrepresented communities in Connecticut with the education and training they need to enter high-quality, good paying IT and technology jobs.
The Bureau of Labor Statistics recently found that college graduates earn twice as much as those with only a high school diploma, which underscores the economic disparities faced by those with access to quality career and technical education programs.
ASSISTING SMALL BUSINESSES IMPACTED BY SEVERE DROUGHT IN NEW LONDON & WINDHAM COUNTIES
— Blumenthal highlighted that U.S. Small Business Administration (SBA) federal Economic Injury Disaster Loans are available in New London and Windham Counties to support small businesses and nonprofits suffering from economic losses due to the severe drought conditions. The Eastern Connecticut Counties received Disaster Designation through the U.S. Secretary of Agriculture last month which is granted when 30 percent production loss of at least one crop has occurred.
The SBA loans are made available in conjunction with the disaster declaration to benefit small businesses, small agricultural cooperatives, small businesses engaged in aquaculture, and most private nonprofit organizations with economic losses due to drought. Apart from aquaculture enterprises, SBA cannot provide disaster loans to agricultural producers, farmers, and ranchers. Nurseries are eligible to apply for economic injury disaster loans for losses caused by drought conditions.   
Blumenthal has supported the disaster declaration for New London and Windham Countries and has called for the declaration to also include New Haven and Litchfield Counties where crop production has been greatly impacted and financial support is needed.
"Many small businesses and nonprofits desperately need immediate aid in the face of severe drought's rippling impact throughout the economy— even as farmers bear the brunt. The SBA's support will be critical. I'll continue fighting for resources that enable our agricultural industry— and all businesses— to survive and thrive," said Blumenthal.
Eligible small businesses and private nonprofit organizations can receive working capital loans of up to $2 million to pay fixed debts, payroll, accounts payable, and other bills that could have been payed if the disaster had not occurred.
SAVING DEER LAKE
— Blumenthal joined Pathfinders, Inc. and local officials to announce the purchase and preservation of Deer Lake Scout Reservation. The 300-acre property was purchased from the Connecticut Yankee Council of the Boy Scouts, by Pathfinders Inc., a local non-profit. Pathfinders will continue to operate the Deer Lake summer camp and Wilderness School.
PROMOTING CLEAN ENERGY PROJECTS IN CONNECTICUT
— Blumenthal announced $1.59 million in federal funds for Raytheon Technologies Corporation to improve the energy efficiency of hydrogen-fueled turbines that may one day be used in clean power plants.
Raytheon Technologies Corporation's Pratt & Whitney Division received $799,673 from the U.S. Department of Energy for a project on a water vapor resistant composite for hydrogen based turbines. Raytheon's Research Center in East Hartford also received $799,490 from DOE for a project on predictive modeling investigating steam-mediated degradation of environmental barrier coatings in hydrogen-fueled turbines.
The projects will focus on the research and development of ceramic matrix composite (CMC) components, which allow hydrogen turbines to operate at higher working temperatures, ultimately improving cycle efficiency. These improvements will lead to increased turbine efficiency, ultimately resulting in reduced electricity costs, as well as lower greenhouse gas emissions as clean hydrogen displaces natural gas as the turbine fuel. 
"The climate crisis is already upon us and this research will be transformative for the clean energy industry. Connecticut ingenuity has led the way for innovations from the humble Frisbee to this new technology that will increase turbine efficiency, lower the cost of electricity for consumers and reduce greenhouse gas emissions. I am thrilled to see Raytheon receive this support from the Department of Energy and I promise to keep fighting for more funds to bolster Connecticut's clean energy sector," Blumenthal said.
— Blumenthal joined U.S. Representative Jim Himes (D-CT) and Governor Ned Lamont in Westport to highlight the Inflation Reduction Act's provisions to fight climate change.
"We're at the cusp of critical action to combat the climate crisis. The Inflation Reduction Act's transformative investment in fighting climate change will lower energy costs & CO2 emissions. Proud to join CT leaders to highlight the impacts of this game changing legislation," said Blumenthal.
HONORING THE 9/11 VICTIMS & FAMILIES
— Blumenthal issued the following statement commemorating those tragically lost during the attacks on September 11, 2001.
"No matter how many years go by, the innocent victims and families of the September 11th attacks will always be in our hearts. The loss of countless loved ones from Connecticut and across the tri-state area shook us to our core, forever changing America and our way of life. In the face of evil and cowardice, the actions of heroic first responders, brave bystanders, and all who answered the call for help in the days after reminded us of our nation's strength and resolve. More than two decades later, we not only celebrate the lives of those lost, but continue to stand with the families who deserve accountability and justice. Even as we thank the first responders, we must remember that they suffer deeply serious continuing health effects from toxic chemicals at Ground Zero—and the failure to protect them. We can honor all the survivors with action. We will never forget."
"Saluting first responders on 9/11 requires more than words. They continue to suffer from hideous cancers & other horrific illnesses resulting from their exposure to toxic poisons at Ground Zero. The Fund providing care & compensation is running dry," Blumenthal continued. "Congress must replenish the Fund providing aid to these first responders who answered the call. They had no protection or warning against the poisonous chemicals in the air & ground. Many now are struggling. Pass the 9/11 Responder & Survivor Health Funding Correction Act—now."
— Blumenthal also attended events remembering the victims in Greenwich, Westport and Middletown.
"Emotional, evocative 9/11 ceremony in Greenwich this morning, with powerful remarks by Joe Kelly urging acts of service & kindness in the name of all who perished or suffered harm. Never forget."
"At the 9/11 United Ride, Fred Garrity & team organized more than a thousand motorcycle supporters, honoring all who were lost or hurt, or who have served—victims, survivors, first responders, firefighters police, & veterans. We thank you."
"Middletown's 9/11 remembrance ceremony hosted by the South Fire District was a showing of somber, unshakable resolve never to forget. Thanks to all who attended such significant events like this one all across CT yesterday."
DESIGNATING RUSSIA AS A STATE SPONSOR OF TERRORISM
— Blumenthal and U.S. Senator Lindsey Graham (R-SC) introduced the Russia is a State Sponsor of Terrorism Act, legislation that would designate the Russian Federation a State Sponsor of Terrorism. The legislation would drastically curtail defense and technology exports to Russia, significantly reduce foreign assistance, impose additional financial restrictions on Russia, eliminate Russia's sovereign immunity in the eyes of U.S. courts, and open Russia's government up to lawsuits and other civil claims from the families of victims of its state-sponsored terrorism.
"The events of these past days and weeks have shown more than ever that Russia should be designated as a state sponsor of terrorism," said Blumenthal. "What has been revealed in Ukraine's success on the battlefield is not only its military prowess and Russia's weakness, but also Putin's reliance on brutal atrocities, genocide, and war crimes against the people of Ukraine. Russia has more than earned the right to be among the club of pariah nations."
PROTECTING CHILDREN FROM ONLINE EXPLOITATION
— Blumenthal joined U.S. Representatives Debbie Wasserman Schultz (D-FL) Steve Chabot (R-OH), Ann Kuster (D-NH), Guy Reschenthaler (R-PA) and Senator John Cornyn (R-TX) in a measure to fight online child predators. The bipartisan Providing Resources, Officers, and Technology to Eradicate Cyber Threats to Our Children Act of 2022, or PROTECT Our Children Act, reauthorizes the National Internet Crimes Against Children (ICAC) Task Force Program and National ICAC Data System through 2024. This legislation supports the national network of 61 coordinated task forces that combat child exploitation across the country. By reauthorizing the National Strategy for Child Exploitation Prevention and Interdiction, it is a powerful law enforcement tool that keeps online predators away from children.
The original PROTECT Our Children Act that was passed in 2008 authorized the ICAC Task Force Program, a coordinated group of task forces representing 3,500 federal, state, and local law enforcement and prosecutorial agencies engaged in reactive and proactive investigations across the country. The ICAC task forces aid local and state law enforcement in the creation and implementation of effective responses to technology-facilitated child sexual exploitation by offering guidance on victim support, forensic and investigative components, training and technical assistance, and community education.
"This measure is vital to giving law enforcement tools to combat the scourge of online child exploitation. Reauthorizing the Internet Crimes Against Children Task Force Program will help law enforcement detect, investigate, and prosecute predators who perpetrate these hideous crimes. We must continue to protect victims and hold criminals accountable," said Blumenthal.
INCREASING DIGITAL EQUITY, INCLUSION & LITERACY
— Blumenthal joined U.S. Senators Ben Ray Luján (D-N.M.) Jeff Merkley (D-OR), Martin Heinrich (D-NM), Edward J Markey (D-MA) and Amy Klobuchar (D-MN) and U.S. Representative Doris Matsui (D-Calif.) in introducing the Digital Equity Foundation Act. The legislation would establish a nonprofit foundation to leverage public and private investments to make progress on closing the divide on digital equity, digital inclusion, and digital literacy.
The Foundation will supplement the National Telecommunications and Information Administration (NTIA) and the Federal Communication Commission's (FCC) work to award grants, support research, provide training and education, engage with stakeholders, collect data, and promote policies to improve digital equity outcomes. The Foundation will be run by a Board of experts specializing in the fields of digital equity, technology, and telecommunications, and will represent diverse communities throughout the U.S.
"This measure will help communities across the country bridge the digital divide and close the homework gap. Access to dependable, affordable broadband and online services is essential to ensuring students, businesses, and families have the tools to succeed. Our legislation is an important step in addressing our nation's disparities in broadband access and countering the connectivity gaps exacerbated by the pandemic," said Blumenthal.
PROTECTING ACCESS TO REPRODUCTIVE HEALTH CARE
— Blumenthal joined U.S. Senator Patty Murray (D-WA) and 28 of their colleagues in calling on the Department of Health and Human Services (HHS) to take immediate action to safeguard women's privacy and their ability to safely and confidentially get the health care they need. Specifically, the Senators urged the Biden Administration to strengthen federal privacy protections under the Health Information Portability and Accountability Act (HIPAA) to broadly restrict providers from sharing patients' reproductive health information without their explicit consent—particularly with law enforcement or in legal proceedings over accessing abortion care.
"Our nation faces a crisis in access to reproductive health services, and some states have already begun to investigate and punish women seeking abortion care. It is critical that HHS take all available action to fully protect women's privacy and their ability to safely and confidentially seek medical care," wrote the Senators.
— Blumenthal spoke on the Senate Floor against a national ban on abortion introduced by Republicans.
"Congressional Republicans are promising there will be a national ban on abortion. On the Senate floor today, I made clear I'll fight back to protect reproductive freedoms. I trust women, not politicians, to make personal health care decisions."
INVESTIGATING M&T BANK OVER PEOPLE'S UNITED CONVERSION
— Blumenthal called on the Federal Reserve and the Consumer Financial Protection Bureau (CFPB) to "review M&T Bank's handling of the conversion of People's United bank accounts to M&T accounts and take any necessary enforcement action against M&T Bank to ensure future compliance with all applicable laws and regulations." In a letter to Federal Reserve Chairman Powell and CFPB Director Chopra, Blumenthal highlighted concerns with M&T Bank's conversion, which has left individuals and businesses without access to their bank accounts.
"This past weekend, the conversion to M&T Bank took place and immediately led to chaos for far too many consumers and businesses. Individuals lost access to their bank accounts, endured hours long wait times only to see no resolution, saw delays in payments, and overall had little or no customer support or information." Blumenthal wrote. "To be clear, as a result of M&T Bank's mismanagement of this transition, people lost access to their own money."
The Federal Reserve approved M&T Bank's acquisition of Bridgeport-based People's United Financial, Inc. and People's United Bank in May of 2022. Under the terms of the acquisition, M&T committed to having 1,000 employees in Bridgeport. The failed management of the conversion and lack of access to customer support for consumers and businesses has led Blumenthal to call on the Federal Reserve and CFBP to investigate this issue.
ENSURING TRUCKERS ARE FAIRLY PAID FOR OVERTIME WORK
— Blumenthal joined U.S. Senators Alex Padilla (D-CA), Edward J. Markey (D-MA), Elizabeth Warren (D-MA) and Bernie Sanders (I-VT) in introducing legislation to ensure that truckers are compensated fairly for the hours that they are on the clock, including overtime. The Guaranteeing Overtime for Truckers Act would repeal the motor carrier provision of the Fair Labor Standards Act of 1938, which excludes many truckers from overtime protections enjoyed by other workers.
CELEBRATING HISPANIC HERITAGE MONTH
— Blumenthal joined U.S. Representative Tony Cárdenas (D-CA) and U.S. Senators Bob Menendez (D-NJ) and John Cornyn (R-TX) along with 109 of their colleagues in introducing a commemorative resolution recognizing September 15th through October 15th, 2022, as Hispanic Heritage Month. The resolution celebrates the heritage, culture and immense contributions of Latinos to the United States.
AROUND CONNECTICUT
— Blumenthal attended the opening of the Consolidated Early Learning Academy in New Britain.
"Excited & inspired to help cut the ribbon to open New Fairfield's just completed, truly beautiful, Consolidated Early Learning Academy. Thank you all in this wonderful community who came together to make it happen—on time & under budget. A national model."
— Blumenthal attended the annual Hartford Pride celebration.
"Hartford Pride rocked downtown Hartford this weekend—with magnificent spirit, music, & advocacy. I pledged to work for federal legislation protecting marriage equality—facing a SCOTUS seemingly ready to roll back LGBTQ+ rights. Thanks to all who organized & attended it."
— Blumenthal and U.S. Representative Rosa DeLauro (D-CT) joined firefighters in Stratford to announce a new AFG training grant.
"Wonderful to join Stratford firefighters to announce an AFG training grant, along with Rep. Rosa DeLauro. They answer the call & deserve strong support to keep us safe," said Blumenthal.
— Blumenthal attended an event welcoming the Nautilus back to Connecticut.
"Welcome back Nautilus! A technological marvel in its day, this great submarine—the first, nuclear powered, the first at the North Pole & many more firsts—needed some refurbishing. Proud to welcome home the boat & submariners."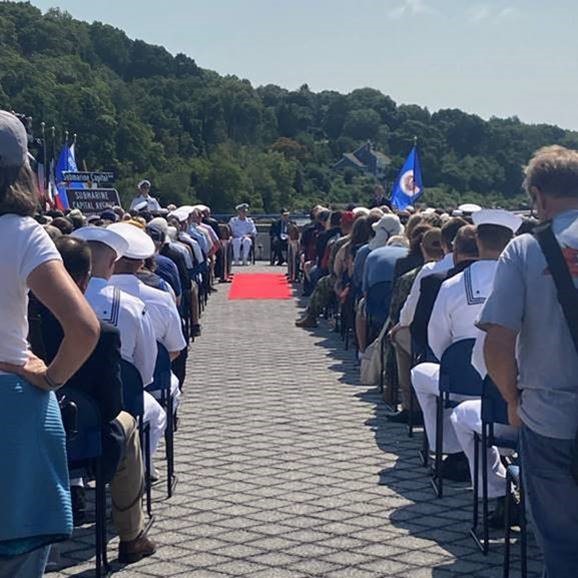 — Blumenthal attended the Stamford Ukrainian Day Festival.
"Absolutely amazing Ukrainian Day Festival in Stamford at St. Basil Seminary—standing with this fiercely brave country for its freedom & independence. We are all Ukrainian."
— Blumenthal attended the annual Bethlehem Fair.
"A few drizzles didn't discourage fairgoers in Bethlehem—enjoying this classic CT celebration in waning warm weather. Food was amazing, as usual, including fresh baked cookies."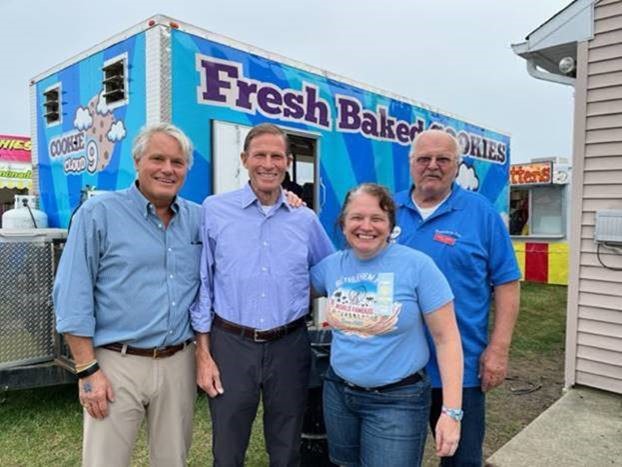 — Blumenthal celebrated Navratri in New Britain.
"Thousands joined in dancing & music to celebrate Navratri, a significant Hindu holiday, filling New Britain stadium. Thanks to Vallabhdham Parivar of CT for hosting."
-30-