SUPPORTING OUR ALLIES IN UKRAINE
— Following a meeting with President Volodymyr Zelenskyy in Kyiv last week, U.S. Senator Richard Blumenthal (D-CT) called for more weapons, military resources, and humanitarian aid to Ukraine.
"When I was in Kyiv, I told President Zelenskyy about some of Ukraine's staunchest & strongest supporters at home in Connecticut. Proud to stand with them today."
"Ukraine needs more arms, more aid and more support if they're going to win this war. Our bipartisan message is: we are committed to providing Ukraine with the tools needs to win this fight."
Blumenthal has traveled to Ukraine four times to demonstrate strong bipartisan support in the face of Russia's brutal and illegal invasion. During his latest visit to Kyiv, Blumenthal, and U.S. Senators Lindsey Graham (D-SC) and Elizabeth Warren (D-MA) also met with the Ministry of Defense, Deputy Prime Minister Oleksankdr Kubrakov, National Bank Governor Andriy Pyshnyy, and staff from the U.S. Embassy. During the visit, the bipartisan delegation discussed oversight of U.S. aid to eastern Europe and received updates on Ukraine's ongoing military efforts to defend itself from Russia.
COMBATTING HOMELESSNESS
— Blumenthal joined local housing advocates to sound the alarm on the rise in homelessness in Connecticut and call for an increase in emergency homelessness federal funding.
"Homelessness is careening toward a winter crisis—as housing shortages combine with an end to the eviction moratorium & COVID aid to create a perfect storm. I join colleagues in urging emergency relief in the President's supplemental proposal."
In response to the rise in homelessness, Blumenthal joined his colleagues in a letter urging the Biden Administration to include homeless assistance funding as part of any supplemental federal funding package. The request includes additional resources for Emergency Housing Vouchers (EHV) for families at risk of experiencing homelessness, Emergency Solutions Grant (ESG) programs to support emergency shelters and housing assistance programs, and National Housing Trust Fund (HTF) to develop and rehabilitate affordable housing units.
According to the annual Point-in-Time Count, homelessness in Connecticut has risen for the second straight year, after years of decline. It was reported that over 3,000 individuals were experiencing homelessness in January of 2023. 
— Blumenthal also announced a $98,000 federal grant for Community Renewal Team, Inc. to renovate their East Hartford Community Shelter. CRT's family shelter in East Hartford welcomes adults and their children and helps connect families to services in the community.
VISITING JOHNSON MEMORIAL HOSPITAL'S NEWLY EXPANDED CANCER CENTER
— Blumenthal visited Johnson Memorial Hospital's newly renovated Karen Davis Krzynowek Cancer Center. The expansion project brings all of Johnson Memorial Hospital's outpatient cancer services – Radiation Oncology, Medical Oncology, and physician offices – together under one roof, improving accessibility for patients. The renovation project also includes Medical Oncology infusion bays to improve patients' privacy and comfort. 
The new Karen Davis Krzynowek Cancer Center is part of a larger $40 million dollar expansion and renovation project designed to create a comprehensive "hub" for outpatient services on the hospital's Enfield campus. 
PROTECTING TICKET BUYERS
— Blumenthal and Connecticut Attorney General William Tong held a press conference to urge more protections for ticket buyers. Blumenthal and Tong highlighted a new state law that requires upfront pricing for tickets and called for Congress to pass Blumenthal's Junk Fees Prevention Act and the Unlock Ticketing Markets Act, which would reform the ticketing industry and implement strong protections for consumers.
ADDRESSING THE CHILD CARE CRISIS
— Blumenthal visited the New Heights Child Development Program to call for bolstered federal investment to solve the child care crisis in America, as emergency COVID funding ends and child care providers struggle to cover costs and retain staff.
"The New Heights Child Development Program is providing excellent, quality child care. Investing in child care is an investment in our kids' future, working parents, & the economy. I'll keep fighting for legislation to better support child care facilities & cap costs for families."
Last month, Blumenthal joined colleagues in sending a letter to President Biden urging a $16 billion investment to alleviate the child care crisis. Blumenthal also urged passage of the Childcare for Every Community Act and the Child Care for Working Families Act, two bills that would provide $25 billion in funding for child care over the next 10 years and cap child care costs for families in need at $10 a day. 
PREVENTING YOUTH DRUG USE
— Blumenthal joined advocates on Overdose Awareness Day to announce $625,000 federal grant for Griswold PRIDE to prevent youth substance use. The federal funding from the Drug-Free Communities Support Program will allow Griswold PRIDE to increase their efforts to reduce youth substance use, including misuse of prescription drugs, e-cigarettes and marijuana.
Griswold PRIDE was founded in 2015 in response to the growing opioid crisis in Connecticut and works to increase access to Naloxone, the lifesaving drug that reverses overdoses, as well as recovery resources, and is starting a post-overdose outreach program. Community Health Resources (CHR), the state's most comprehensive nonprofit behavioral healthcare agency, serves as the fiscal agent of the Drug Free Communities grant for Griswold PRIDE.
GROWING THE GREEN ENERGY SUPPLY CHAIN
— Blumenthal visited SPIROL International Corporation, a global manufacturer of engineered fastening components for clean energy technologies – including wind turbines, solar panels, lithium-ion batteries, and fuel cells – and the aerospace and military industries. The family-owned company, which originated with the invention of the Coiled Spring Pin in 1948, is celebrating 75 years in business.
STANDING UP TO ANTISEMITISM & HATE CRIMES
— Blumenthal joined the Anti-Defamation League and Jewish Federation of Greater Hartford to stand up to hate after a report revealed an alarming 100 percent increase in antisemitic incidents in Connecticut.
Blumenthal highlighted recently announced federal funding for Connecticut synagogues to bolster security measures and call for a $40 million investment for the Department of Justice's Community Relations Service, which provides facilitated dialogue, mediation, training, and consultation to assist communities facing discrimination-based conflict.
CLARIFYING THE DEFINITION OF FIREARMS DEALERS & CLOSING BACKGROUND CHECK LOOPHOLES
— Blumenthal released the following statement applauding a proposed rule by the Bureau of Alcohol, Tobacco, Firearms and Explosives (ATF) to clarify the definition of federally licensed firearms dealers. The rule follows the Bipartisan Safer Communities Act's expanded and updated definition of dealers who are "engaged in the business" of selling firearms.
"This rule is an important step to help close the online and gun show loopholes and crack down on unlicensed sellers. Anyone who makes money from the business of selling firearms should be subject to commonsense requirements that prevent guns from falling into the hands of anyone who is dangerous to themselves or others. Clarifying the definition of a federally licensed firearms dealer will strengthen our background check system and save lives."
PROTECTING WATERBURY EMS & FIREFIGHTERS
— Blumenthal announced $274,000 in federal funding for the Waterbury Fire Department to provide personal protective equipment (PPE) for Emergency Medical Services (EMS) workers. The funding is through the Assistance to Firefighter Grants (AFG) program at the Federal Emergency Management Agency (FEMA), which aims to enhance the safety of the public and firefighters with respect to fire-related hazards by providing direct financial assistance to eligible fire departments, non-affiliated EMS organizations, and State Fire Training Academies (SFTA).
According to FEMA, the AFG program has helped firefighters and other first responders to obtain critically needed equipment, protective gear, emergency vehicles, training, and other resources needed to protect the public and emergency personnel from fire and related hazards since 2001.
STOPPING THE SPREAD OF INVASIVE LANTERNFLIES
— Blumenthal called on Congress to pass the Spotted Lanternfly Research and Development Act, new legislation to stop the spread of the Spotted Lanternfly, an invasive species that poses a significant threat to the environment and our state's agricultural economy.
The Spotted Lanternfly Research and Development Act designates the Spotted Lanternfly as a high-priority research and extension initiative under the National Institute of Food and Agriculture. This designation authorizes the Secretary of Agriculture to make competitive grants available for research projects related to the mitigation of this invasive species to find creative solutions to stop the spread before Connecticut's crops and trees species are further decimated.
Spotted Lanternflies, which are native to Asia and were first found in Connecticut in 2018, have destroyed crops and trees in the Northeast — putting our local farmers, winemakers, and brewers at serious risk.
AROUND CONNECTICUT
— Blumenthal visited Beacon Industries, Inc., a women-owned small business that manufactures components for the aerospace industries. The company manufactures complex aero-engine rotating components and is a supplier for the U.S. Air Force. Blumenthal will visit the company to celebrate 75 years in business.
— Blumenthal visited Sharon Town Hall to call on Nuvance Health to keep Sharon Hospital's labor and delivery unit open.
"Sharon Hospital must continue labor & delivery service—as advocates have insisted & the Office of Health Strategy has now ruled. Nuvance should accept that decision, not appeal it, or put profits over patients, forcing long dangerous travel."
— Blumenthal visited the Chester Fair.
"Perfect day for the Chester Fair— the only "No Waste" fair in CT. Thanks to all who worked so hard to make this community event a spectacular success."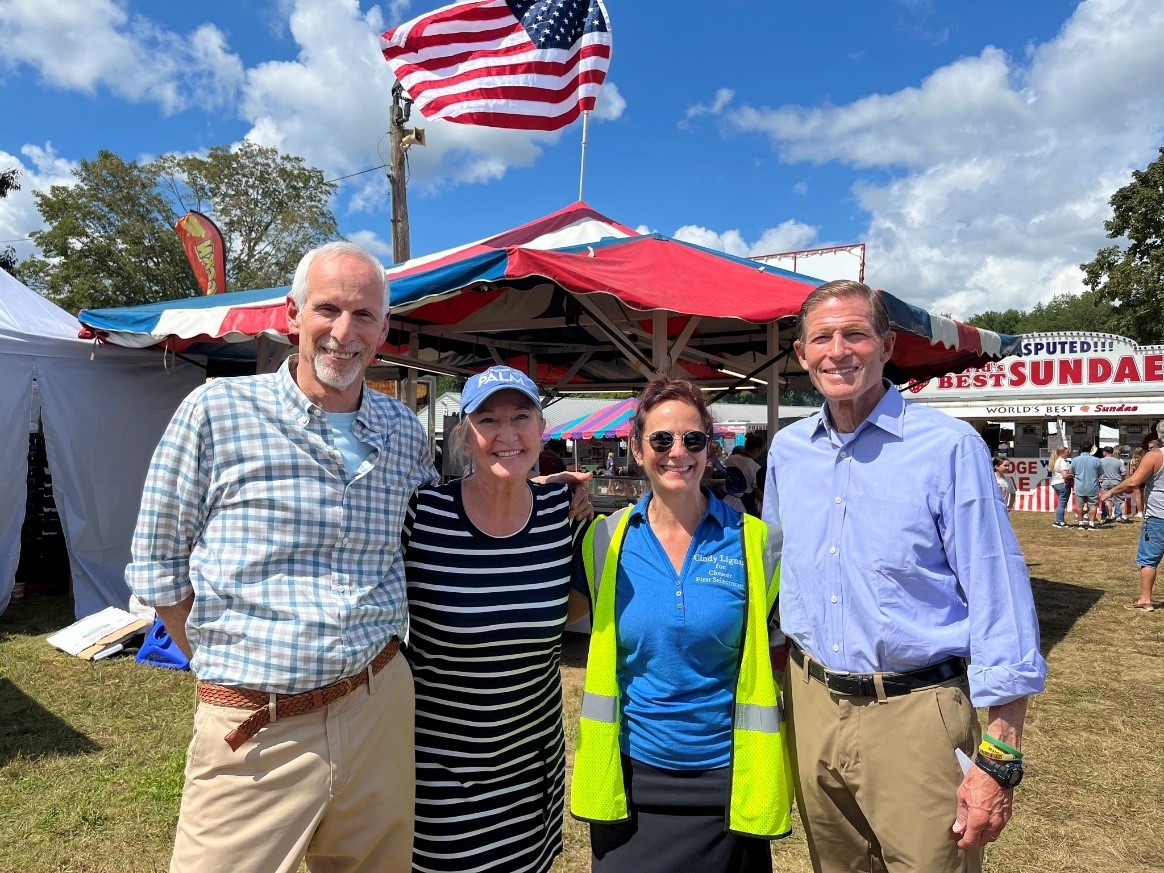 -30-