LOWERING THE COST OF PRESCRIPTION DRUGS
— Blumenthal, a member of the Senate Special Committee on Aging, met with Connecticut seniors and urged Senate passage of legislation that would lower the cost of lifesaving prescription medications.
Prescription drug prices have continued to rise and Americans pay as much as four times more for prescription drugs than consumers around the world. As a consequence, millions of Americans have reported rationing their medication, choosing not to fill their prescriptions, or going without food because of the high cost of their prescription drugs.
Legislation proposed in early July by Democratic Senators would lower drug prices by empowering Medicare to negotiate prescription drug prices, as well as by capping Medicare patients' out of pocket costs at $2,000 a year and expanding premium and co-pay assistance on prescription drugs for low-income people.
"Today I heard strong support from East Hartford seniors for proposals to cut the cost of prescription drugs  that I hope the Senate will soon approve—inflation rebates, out of pocket cost caps, Medicare price negotiation, & more. Highly significant, historic steps."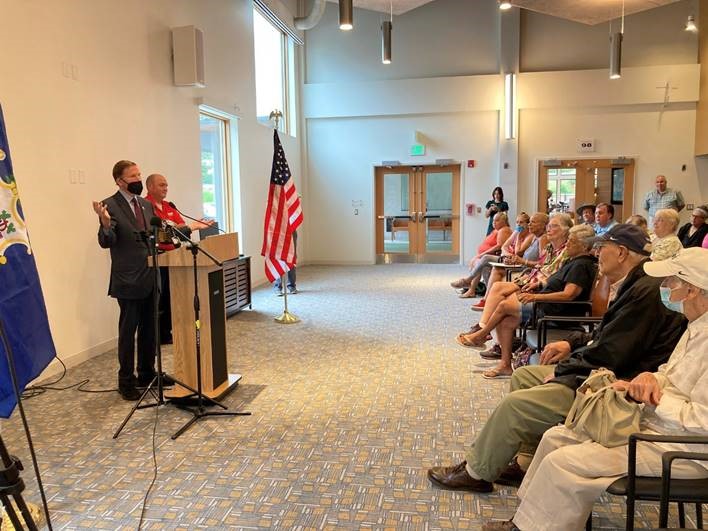 PROTECTING ACCESS TO BIRTH CONTROL & REPRODUCTIVE HEALTH CARE IN POST-ROE AMERICA
— U.S. Senators Richard Blumenthal (D-CT) and Chris Murphy (D-CT) joined a group of their Democratic colleagues in introducing the Expanding Access to Family Planning Act, a bill which would protect access to critical reproductive health care services—like birth control, cancer screenings and more—by providing a consistent and strong source of funding for the Title X Family Planning Program.
The Expanding Access to Family Planning Act would provide $500 million in mandatory funding for Title X services for each of the next 10 fiscal years. The legislation would also deliver $50 million in funding for clinic construction, reinstate regulations prohibiting discrimination of providers who deliver Title X services and require that pregnancy counseling include information about prenatal care and delivery, infant care, foster care, adoption, and abortion. 
The Title X Family Planning Program is the only federal program dedicated to providing comprehensive family planning and preventive health services. Millions of Americans receive family planning services through Title X, including more than 40,000 people in Connecticut.
"This critical legislation would boldly bolster federal Title X funding— supporting birth control, pregnancy counseling, cancer screening and other vital health care— which are more important now than ever. At this crucial moment, as health care rights stand in supreme danger — this step can be a lifeline for the millions of Americans that rely on Title X's Family Planning Program for reproductive health care," Blumenthal said. 
Blumenthal also joined U.S. Senator Patty Murray (D-WA) and a group of their Democratic colleagues in speaking on the Senate Floor calling for passage of the bill. Senate Republicans objected to the unanimous consent request, blocking the bill from advancing.
"Critical reproductive health care services are more necessary and are also more at risk than ever before," said Blumenthal. "That is why a consistent, strong source of funding for Title X Family Planning Programs [is] absolutely critical and urgent. That's the purpose of the Expanding Access to Family Planning Act."
In Connecticut, the Title X Family Planning Program has provided women with comprehensive health care services and has funded clinics across the state, including Planned Parenthood of Southern New England and the Cornell Scott-Hill Health Center.     
"What we're talking about here is not only family planning, but also testing and treatment for sexually transmitted diseases, lifesaving cancer screenings, other essential health services, and they are all now at risk. What they need is the strong and consistent source of funding that this measure would provide, doubling, literally almost doubling the number of dollars, but also guaranteeing over a ten-year period that clinics will receive this funding," Blumenthal said on the Senate Floor. "They have done absolutely extraordinary work in delivering health services, particularly to women who are uninsured, women who are of lower incomes, and women who are younger, under 30, and that is the primary patient pool that needs these services."
After last month's Supreme Court decision in Dobbs v. Jackson Women's Health Organization eliminated the right to an abortion and the freedom of women to make their own reproductive decisions, Blumenthal stressed the urgency of passing the legislation.
"We'll never stop fighting for a woman's right to choose when and whether to have children. We will never stop fighting to protect a woman's right to access health care that is vital to her own and her children's health. In the face of mounting attacks on women's health, now is the time to strengthen Title X, and that is why we need this legislation."
Before Senate Republicans blocked the measure, Blumenthal concluded by saying, "If my Republican colleagues are serious about supporting families, they ought to be eager to join us." 
PROMOTING KIDS ONLINE SAFETY
— Blumenthal and U.S. Senator Marsha Blackburn (R-TN) applauded the Senate Commerce Committee's announcement on the upcoming markup of their Kids Online Safety Act.
"The Commerce Committee's markup of the Kids Online Safety Act will bring us closer to holding Big Tech accountable for putting profits above kids' safety," said Blumenthal. "This critical step shows much-needed momentum and strong bipartisan support for empowering kids and parents with tools and safeguards they need to shield against toxic, harmful content. I will continue to fight for its swift passage alongside Senator Blackburn, my partner in this important effort."
The bill's introduction followed reporting and a series of subcommittee hearings spearheaded by Blumenthal and Blackburn with social media companies and advocates on the repeated failures by tech giants to protect kids on their platforms and about the dangers kids face online. The legislation would provide kids and parents with tools, safeguards, and transparency they need to protect against threats to children's health and well-being online. It requires social media platforms to put the interests of children first, providing an environment that is safe by default and help prevent these destructive impacts. The legislation also requires independent audits and supports public scrutiny from experts and academic researchers to ensure that parents and policymakers know whether social media platforms are taking meaningful steps to address risks to kids. More information on the legislation can be found here.
ANNOUNCING FUNDING FOR RE-ENTRY JOB TRAINING SERVICES
— Blumenthal visited the Goodwill of Southern New England training site in Hamden to announce $372,129 in funding for the organization to provide intensive job training and re-integration services for 200 formerly incarcerated people. 
The funding will cover the cost of staffing a full-time case manager and a full-time employment specialist, as well as a peer support advocate, a project researcher, and a job coach. With the federal funds, Goodwill will provide job training, as well as assist individuals with securing transportation, housing, clothing and other necessities, removing major barriers to successful reentry back into the community following incarceration.
SUPPORTING UNIONIZATION EFFORTS
— Blumenthal joined Starbucks employees and AFL-CIO representatives at the Vernon Starbucks store location to celebrate their 13-1 vote to unionize. The Vernon Starbucks is the second of 120 Connecticut locations to unionize.
The vote comes as more than 180 locations and 1,600 Starbucks employees nationwide have unionized to establish fair compensation and improved working conditions. The Vernon Starbucks announced their intent to form a union in May, citing increased demand and insufficient staffing as major drivers.
"Congrats to the leaders & staff who through their grit & determination have succeeded in unionizing at the Vernon Starbucks store. Starbucks needs to stop stonewalling & listen to their employees. They want fair wages, fair working conditions, & fair treatment."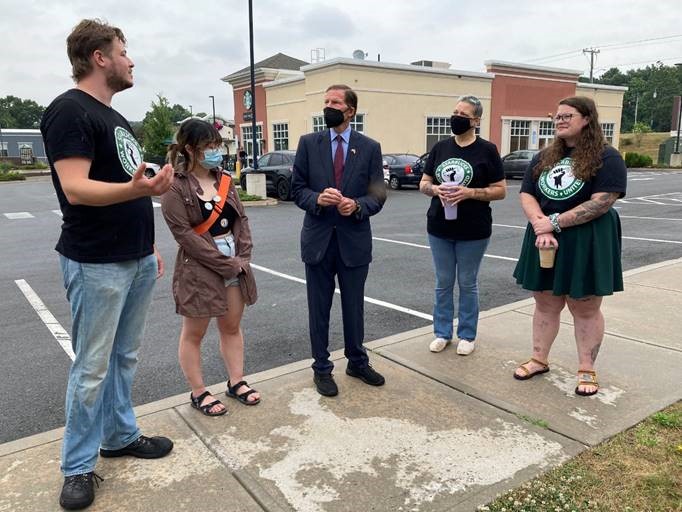 SUPPORTING OUR ALLIES IN UKRAINE
— Blumenthal joined U.S. Senators Dan Sullivan (R-AK), Tammy Duckworth (D-IIL), Roger Wicker (R-MS), Rob Portman (R-OH), and Lindsey Graham (R-SC) in a letter to Defense Secretary Lloyd Austin and Chairman of the Joint Chiefs of Staff General Mark Milley, asking them to immediately expedite shipments of military equipment to Ukraine as appropriated by Congress under the Additional Ukraine Supplemental Appropriations Act. Passed on May 19, the act provided nearly $20 billion for military aid to the Ukrainian military. Equipment recommended for immediate delivery includes medium- and long-range air defense systems, 155 mm Howitzers, High Mobility Artillery Rocket Systems (HIMARS), armored personnel carriers, larger and more capable unmanned aircraft systems (UAS) platforms, and Mi-17 helicopters.  
"While the medium- and long-range air defense capabilities and HIMARS included in the June 27, 2022 and July 8, 2022 aid packages are a good start, these systems must be delivered at a pace and in quantity sufficient to impact the outcome of the fighting in the Donbas, Kherson and other regions," the senators wrote. "We urge you to act expeditiously, while coordinating with NATO allies and partners, to get this equipment to the Ukrainian military immediately."
— Blumenthal joined U.S. Senators Jim Risch (R-ID), Ben Cardin (D-MD), Rob Portman (R-OH), Jeanne Shaheen (D-NH), Roger Wicker (R-MS) and Lindsey Graham (R-SC) in introducing a resolution recognizing Russia's actions in Ukraine, which include forced deportations to Russia and the purposeful killing of Ukrainian civilians in mass atrocities, as constituting a genocide against the people of Ukraine. The senators introduced the resolution shortly after Ukraine's first lady, Olena Zelenska, delivered an impassioned plea directly to Congress.
"This resolution rightly condemns Putin's systematic torture and murder of Ukrainian people as a genocide," said Blumenthal. "During my trip to Kyiv and Bucha, I saw the fields where hundreds of Ukrainian women and children were massacred, their hands tied behind their backs, simply because they were Ukrainian. These inhumane practices are genocide, ongoing in real-time. As Russian atrocities continue, the United States must stand up to these crimes against humanity and designate Russia a state sponsor of terrorism. The rule of law must prevail."
— Blumenthal attended Ukraine's First Lady Olena Zelenska's address to Congress.
"As I listened to First Lady Zelenska's address, I was deeply moved by her eloquent, emotional appeal. We must do more to combat Putin's atrocities—providing additional weaponry, designating Russia a state sponsor of terrorism, & imposing stronger sanctions."
INVESTIGATING DECEPTIVE AIRLINE BUSINESS PRACTICES
— Blumenthal joined U.S. Senators Kirsten Gillibrand (D-NY) and Alex Padilla (D-CA) in a letter to the Department of Transportation (DOT) and the Federal Trade Commission (FTC) urging the agencies to investigate whether airlines are engaging in unfair or deceptive business practices. During the pandemic, Congress authorized $54 billion in taxpayer-funded relief to help retain pilots and critical staff to keep airlines afloat and ready for the return to travel. Now, they are failing to fulfill flights promised to customers, and in some cases, allegedly scheduling flights that they know cannot be staffed.
"As airline travel chaos continues, federal agencies must investigate airline industry practices and protect consumers," said Blumenthal. "Travelers face frustrating flight delays, last minute cancellations, and lost luggage, while airlines deflect blame. This federal scrutiny is critical to help restore order to the skies."
PROTECTING APP-BASED DELIVERY WORKERS
— Blumenthal joined U.S. Senators Edward J. Markey (D-MA) and Elizabeth Warren (D-MA) and U.S. Representative Ayanna Pressley (D-MA) in a letter criticizing app-based delivery companies Uber, Lyft, DoorDash, Grubhub, and Instacart for their refusal to disclose additional data on workplace deaths or injuries, and their unwillingness to strengthen worker health and safety protections following calls from the lawmakers in June. 
In a letter last month, the lawmakers called on the app-based delivery companies to provide additional information on worker safety incidents and commit to implementing new policies to protect app-based workers and compensate them for on-the-job injuries or deaths. The lawmakers' push came in the wake of a recent report, published by advocacy group Gig Workers Rising, which found that at least 50 app-based workers have been killed on the job in the United States since 2017, and that 63 percent of the app-based workers killed in the last five years were people of color.
"Every one of these app-based delivery companies has demonstrated a blatant disregard for the health and safety of their workers," the lawmakers said. "While dozens of their workers have been killed on-the-job in the past five years, these companies still refuse to provide their workers with basic compensation and support to perform their jobs safely.
"In particular, DoorDash, Grubhub, and Instacart's refusal to provide data on workplace injuries and deaths is inexcusable. What do these companies have to hide? This information is essential to understanding the workplace dangers that app-based workers face every day," the lawmakers continued. "Uber, Lyft, and Grubhub clearly have the financial resources to offer free injury protection insurance to their workers. Their refusal to do so is another shameful example of app-based delivery companies prioritizing profit over worker safety." 
BANNING MENTHOL CIGARETTES & FLAVORED CIGARS
— Blumenthal and U.S. Senator Edward J. Markey (D-MA) joined 17 of their colleagues in sending a letter to the Food and Drug Administration (FDA) in support of FDA rules proposed earlier this year that would ban menthol in cigarettes and flavored cigars. Menthol numbs the throat and mitigates the harshness of tobacco smoke, making menthol cigarettes more appealing to youth and people beginning to smoke.
"By increasing youth smoking and making cessation more difficult, menthol cigarettes have magnified the public health harms of smoking. Between 1980 and 2018, menthol cigarettes were responsible for 10.1 million additional smokers and 378,000 premature deaths in the United States," wrote the Senators. "We applaud FDA for issuing these proposed rules and are pleased to see the agency using the regulatory authority that Congress gave it to reduce the death and disease caused by tobacco products."
"This careful approach is why a broad coalition, including prominent civil rights and public health groups, support FDA action to remove menthol tobacco products from the market," the Senators continued. "We urge you to move promptly to consider public comments, finalize the rule, and implement it so that these life-savings requirements can take effect as soon as possible."
EVENTS AROUND CONNECTICUT
— Blumenthal attended events around Connecticut, including East Hampton's Old Home Days Parade, the Lime Rock Grand Prix, the Celebrate East Lyme Festival, the Windham Latin Festival, and a rally for reproductive rights in Seymour.
"Deeply honored to join Red McKinney's spectacularly beautiful family for East Hampton's Old Home Days Parade—honoring him. We did "paint the town red" but really missed a special, wonderful friend."
"Honored & excited to start Lime Rock's IMSA Grand Prix—with the iconic, "Drivers, Start Your Engines" & Green Flag. Lime Rock is a CT gem! Thanks to Skip Barber, Dicky Riegel, & all their team."
"Celebrate East Lyme back—bigger & better—after a 2 year hiatus. People region-wide gathering on Main St, near the site of Amtrak's proposed new fence, which we're fighting because it would destroy unique views."
"Amazing music, incredible food, huge crowds at Windham's 1st annual Latin Multicultural Festival. Jillson Square was rocking. Big thanks to vendors, artists, the town, & Luna Productions/Latino Fest USA!"
"Steadfast pro-choice advocates rallied in Seymour—undeterred by showers. Their energy is inspiring!"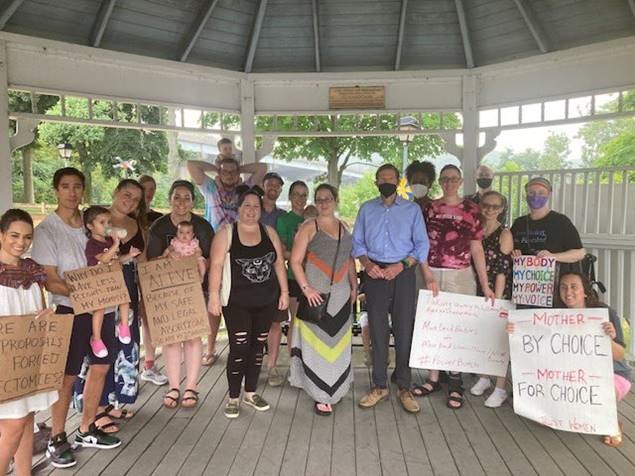 -30-