ADDRESSING AMERICA'S GUN VIOLENCE EPIDEMIC
— U.S. Senators Richard Blumenthal (D-CT) and Chris Murphy (D-CT) joined advocates to provide an update on the ongoing gun safety legislation negotiations.
"The bipartisan plan on gun violence is a breakthrough moment that wouldn't be possible without CT's amazing activists. Red flag laws, mental health support, school safety, & more—these measures will save lives," said Blumenthal.
"I won't stop fighting to get this framework over the finish line."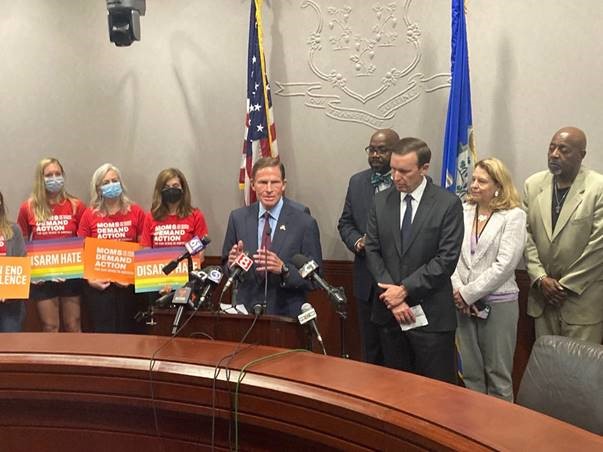 — Blumenthal joined local mental health care providers to call for an urgent investment in children's mental health funding to help curb the epidemic of gun violence in our nation. The meeting underscored the need for increased funding for children's mental health services, as Blumenthal and a bipartisan group of Senators work to draft commonsense legislation to protect children, keep schools safe and reduce the threat of gun violence in America.
While still being negotiated, the proposal includes a national expansion of the community behavioral health center model, major investments to increase mental health and suicide prevention programs and other support services including crisis and trauma intervention and recovery.
— Blumenthal attended March for Our Lives rallies in Hartford, Newtown, and Stamford.
"Amazing energy & passion in Hartford at March For Our Lives rally & march, organized by truly inspiring young leaders. Their powerful eloquence is making a historic difference & creating a movement. Thank you!"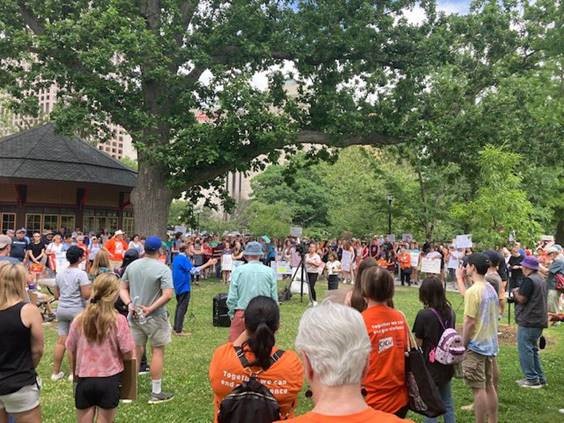 "The march & rally drew crowds in Newtown—with March For Our Lives leaders championing laws that can save lives by stopping gun violence. Enough is enough."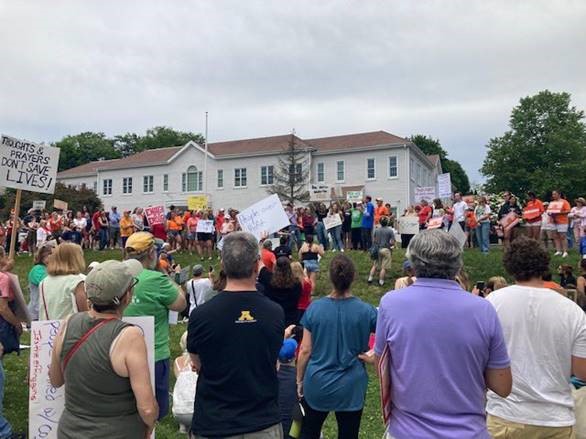 "Hundreds in Stamford at March For Our Lives rally demanding action for commonsense gun violence prevention. The rallying cry: Do your job."
FIGHTING GAS PRICE HIKES & BIG OIL PRICE GOUGING
— Blumenthal visited CITGO in Danbury to urge more federal action to lower gas prices for consumers and to stop profiteering by oil giants. As gas prices at the pump rise, Big Oil companies have pocketed billions in profits, with 25 top oil and gas companies announcing an astonishing $237 billion in profits in 2021 alone.
ENSURING AV SAFETY
— Blumenthal and U.S. Senator Edward J. Markey (D-MA), members of the Senate Commerce, Science, and Transportation Committee, called on the National Highway Traffic Safety Administration (NHTSA) to take aggressive investigative and enforcement action on vehicles with automated driving systems (ADS) and advanced driver assistance systems (ADAS) to ensure the safety of all road users. The senators' letter comes after NHTSA's release of new data, showing more than 500 crashes in vehicles with these technologies.
"We commend NHTSA for making this data public. Understanding the frequency and severity of crashes involving ADS and ADAS is the first step towards addressing the safety risks those systems pose. But publicizing the data alone is not enough," wrote Blumenthal and Markey in a letter to NHTSA Administrator Stephen Cliff. "We urge NHTSA to use all its investigative and regulatory authorities to shed needed light on this out-of-control industry and impose guardrails to prevent more deadly crashes."
Blumenthal also joined his Congressional colleagues and auto and bicycle safety advocates at a virtual press conference following the release of National Highway Traffic Safety Administration (NHTSA) data on crashes involving vehicles equipped with partial or fully automated driving technology.
Citing data showing 520 crashes of vehicles equipped with driving automation technology, nearly 400 of which occurred in vehicles with currently widely-available driver assistance technologies, Blumenthal said, "It is a ringing alarm bell affirming many of the warnings that we've made over the years…We need more investigation to determine exactly where the defects are, what the dangers may be, and what steps to take in protecting the public."
Joined by Markey, U.S. Representative Jan Schakowsky (D-IL), Advocates for Highway and Auto Safety, the League of American Bicyclists, and former NHTSA Administrator Joan Claybrook, Blumenthal called on NHTSA to take action to counter the industry's lackluster safety record.
"NHTSA's intervention is particularly important because of the denial and outright deception that we've seen. You know, it would be one thing if the industry were self-policing and self-investigating and disclosing fully to consumers what the dangers and perils are. Instead, they've been dismissive and in denial, and that is particularly a disservice to motorists, pedestrians, and everyone else in danger because it creates a false sense of security and safety," said Blumenthal. "NHTSA has to be particularly aggressive here to say no more businesses as usual."
"Should NHTSA find any technology to be unsafe, it ought to act promptly to ensure that that technology is forbidden, not actively put in any vehicles," Blumenthal concluded.
TACKLING AMERICA'S BABY FORMULA SHORTAGE
— Amid alarming reports that illnesses and deaths related to the infant formula recall were higher than originally disclosed, Blumenthal, Chair of the Senate Commerce, Science, and Transportation Subcommittee on Consumer Protection, Product Safety, and Data Security, called on the Department of Health and Human Services (HHS) Office of the Inspector General (OIG) to investigate previously unreported infant deaths as part of its ongoing review of the Food and Drug Administration's (FDA) actions related to the contamination and ongoing nationwide formula shortage.
"More information has come to light that necessitates a special review from the Office of the Inspector General," wrote Blumenthal to HHS Inspector General (IG) Christi Grimm, citing documents showing nine children have died, an increase over the two deaths that were originally reported. "I remain concerned about the FDA's failure to adequately track the illnesses and deaths linked to the formula, and failure to be transparent with the public. I would ask that throughout your investigation into the recall…you pay special attention to the circumstances that led to these additional infant deaths, and why they were not originally reported by the FDA."
Blumenthal raised additional concerns about possible health and safety implications that may arise from FDA efforts to allow increased and expedited imports, especially as the FDA's relevant office remains small and underfunded. In the letter, Blumenthal joined U.S. Representative Rosa DeLauro (D-CT) in calling for an additional investigation into how applications are reviewed and accepted.  
"I am concerned that with the pressure to restore stock and approve products, warning signs could be missed," wrote Blumenthal to Grimm. "It is essential that, while addressing this urgent crisis, we do not put more infants at risk…While we focus on getting formula on shelves, we must also focus on ensuring enforcement discretion is applied in an organized and safe manner with the health and safety of all infants and families at the forefront." 
At a Senate Judiciary Antitrust Subcommittee hearing titled, "Baby Formula and Beyond: The Impact of Consolidation on Families and Consumers," Blumenthal echoed these concerns, saying:
"What outrages me most here is in fact the Food and Drug Administration's delay in catching this problem," said Blumenthal. "We're just getting the truth and it's coming to us literally a year after, more than a year after the first whistleblower report in February 2021… The FDA failed to act. It betrayed its trust."
SUPPORTING OUR NATIONAL DEFENSE
— Blumenthal, a member of the Senate Armed Services Committee, released the following statement on the Committee's approval of the National Defense Authorization Act (NDAA) for Fiscal Year 2023, which includes a number of significant provisions he championed to invest in Connecticut's defense manufacturing workforce and enhance national security. The bill passed out of Committee by a vote of 23-3 and will now move to the full Senate for consideration.
"This bipartisan measure makes robust milestone investments in strategic defense to keep our country secure and our state's economy strong," said Blumenthal. "Particularly important is the solid, strong support for new submarines, and helicopters—made by the world's finest workforce here in Connecticut. They are at the core of our commitment to national defense in a deeply dangerous world. This measure also advances significant support to Ukraine, which I championed, providing arms to defend against Russia's brutal assault. I will push for swift passage by the full Congress."
As a member of the Committee tasked with crafting the National Defense Authorization Act (NDAA) for Fiscal Year 2023, Blumenthal championed provisions to boost jobs and support critical industries with defense contracts in Connecticut which can be found here.
HONORING & PROTECTING OUR VETERANS
— Blumenthal, a member of the Senate Veterans' Affairs Committee, applauded the Senate's bipartisan passage of comprehensive legislation to deliver multiple generations of veterans exposed to dangerous toxins access to healthcare and benefits under the Department of Veterans Affairs (VA) for the first time in the nation's history. The bill passed the Senate by a vote of 84-14 and now moves to the U.S. House of Representatives for consideration.
"I have been honored to champion this momentous measure for our nation's brave heroes and thrilled by its overwhelming bipartisan approval today," said Blumenthal. "It will deliver well-deserved relief and begin to right the nation's shameful inaction by helping veterans affected by toxic exposure, including illnesses and injuries caused by poisonous burn pits and other toxic chemicals. This milestone measure also shows that bipartisanship is alive and can produce meaningful results. I will continue fighting for its swift passage by the House so veterans can receive overdue, well-earned benefits and care as soon as possible." 
The Sergeant First Class Heath Robinson Honoring Our Promise to Address Comprehensive Toxics (PACT) Act includes legislation championed by Blumenthal to expand benefits, healthcare, and compensation to veteran populations that are not currently able to access services: veterans who responded to the nuclear disaster in Palomares, Spain, those who were deployed to the K2 Air Base, and veterans and families exposed to toxins in the water supply at Camp Lejeune in North Carolina. The legislation also prioritizes bringing relief to post-9/11 veterans exposed to burn pits for decades, primarily while serving overseas in Iraq and Afghanistan.  
— Blumenthal also attended a Connecticut State Department of Veterans Affairs military funeral for four veterans unclaimed cremated remains. The ceremony provided a formal burial with full military honors for four veterans: PFC Robert Benson, U.S. Marine Corps, CPL Loren Milton Cubbison Jr., U.S. Army, CPT David L. Groher, U.S. Army, and RD3 Morris Meyer, U.S. Navy.
PROTECTING INFANTS FROM DANGEROUS ROCKERS
— Blumenthal, Chair of the Senate Commerce, Science, and Transportation Subcommittee on Consumer Protection, Product Safety, and Data Security, released the following statement after the U.S. Consumer Product Safety Commission (CPSC) issued warnings about the hazards posed by Fisher-Price rockers linked to at least 13 infant deaths between 2009 and 2021 and a Kids2 rocker linked to at least one infant death in 2021:
"Fisher-Price and Kids2 must immediately cooperate with the CPSC and recall these deadly rockers. With more than a dozen infant deaths linked to these dangerous products, it is clear they should be swiftly removed from the market and from unsuspecting families' homes. It is unconscionable that it has taken more than a decade to notify the public about the dangers linked to these rockers after multiple kids' deaths and injuries. Congress must empower the CPSC to issue quicker recalls and warnings by passing the Sunshine in Product Safety Act."
SECURING FEDERAL SUPPORT FOR CONNECTICUT'S LIBRARIES
— Blumenthal joined the Connecticut Congressional Delegation in announcing that seven libraries across the state have been awarded federal funds to aid their economic recovery from the COVID-19 pandemic. The grant, funded by the American Rescue Plan and awarded by the National Endowment for the Humanities, will allow libraries in rural and or historically underserved communities to retain and rehire workers, reopen sites and facilities, and expand educational programs.   
"This federal grant is an important boost for libraries across Connecticut," said the Connecticut Congressional Delegation. "Serving as cornerstones of our communities, libraries are essential in providing internet connectivity and ensuring educational opportunities remain accessible to all. With these funds from the American Rescue Plan, these institutions and their hard-working staff will continue to emerge from the pandemic stronger than ever, ready to offer far-reaching learning, research, and educational resources."
Under the grant, E.C. Scranton Memorial Library in Madison, Griswold Middle School, Hotchkiss Library of Sharon, Oxford Public Library, Southington Public Library, Waterford Public Library, and West Haven Public Library will each receive $10,000 in recovery funds.
SUPPORTING JUDGE MERRIAM'S NOMINATION TO THE SECOND CIRCUIT  
— Blumenthal, a member of the Senate Judiciary Committee, applauded the Committee's approval of Judge Sarah Merriam, President Biden's nominee to fill a vacancy on the United States Court of Appeals for the Second Circuit. In a bipartisan 12-10 vote, the Committee advanced Merriam's nomination to be considered by the full Senate. 
"Judge Merriam reflects the tremendous experience, character, and intellect that is paramount to serving in our judicial system," Blumenthal said during today's Judiciary Committee meeting. "She has said before that she believes partisan politics have no place in judicial chambers, and I believe that she will carry this practice with her to the Court of Appeals just as she has followed it in the District Court. I am very proud to support her nomination. She is a judge's judge, and will be an extraordinary addition to the Second Circuit Court of Appeals."
Consisting of thirteen judges, the Second Circuit is one of thirteen appeals courts across the country and exercises appellate jurisdiction within Connecticut, New York, and Vermont. 
SUPPORTING AIRPORT WORKERS
— Blumenthal joined U.S. Senator Edward J. Markey (D-MA) and U.S. Representative Jesús G. "Chuy" García (D-IL) at a press conference with airport workers and union leaders to announce the introduction of the Good Jobs for Good Airports Act, legislation that would provide airport workers with the pay, benefits, and labor standards they deserve after serving on the frontlines of our nation's aviation system and keeping airports safe through a global pandemic, climate disasters, and peak travel seasons.
In the face of ongoing health risks, airport service workers – including cleaners, wheelchair agents, baggage handlers, concessionaires, and security personnel – continue to play an essential role in keeping Americans moving. This legislation would improve job quality for hundreds of thousands of airport service workers – a largely Black, Brown, and immigrant workforce – by setting minimum wage and benefits levels at all major airports that receive federal funding.  
"Frontline workers at our nation's airports deserve living wages and fair benefits. Their hard work and resilience kept transportation hubs running through the darkest days of the pandemic and continues to serve travelers as they return to the skies," said Blumenthal. "As essential employees, airport workers including security personnel, service vendors, and baggage handlers deserve adequate compensation and protections like those already provided to some of these workers in states like Connecticut. I'm proud to join this effort to support the backbone of our transportation network."
ADVOCATING FOR STRONGER ANTITRUST RULES & ENFORCEMENT
— Blumenthal delivered the keynote address at the American Antitrust Institute's (AAI) Annual Policy Conference. Blumenthal also received the Alfred Kahn Award for Antitrust Achievement, which honors "outstanding contributors to the field of antitrust." 
AAI President Diana Moss stated "We are delighted to grant this award to Senator Blumenthal. His career-long work and commitment to fair competition has had demonstrable, positive impact on our markets, consumers, and workers. The Senator is a model for how the legislative branch can play a vital role in shaping strong antitrust enforcement and coherent competition policy."
PROTECTING THE ELDERLY FROM ABUSE
— Blumenthal joined U.S. Senator Chuck Grassley (R-IA) in a resolution designating June as "Elder Abuse Awareness Month" and June 15 as "World Elder Abuse Awareness Day." This bipartisan resolution brings awareness to abuse, neglect and exploitation of the United States' growing population of seniors.
"Our nation's elders deserve to live free from unacceptable, unconscionable abuse. This measure recognizes the importance of their safety and security, and the much-needed efforts to protect older Americans from scammers and abusers. I'm proud to join my colleagues as we raise awareness for the importance of safeguarding our most-vulnerable elderly Americans," Blumenthal said.
ADDRESSING FOOD INSECURITY
— Blumenthal joined U.S. Senators Kirsten Gillibrand (D-NY), Chris Murphy (D-CT), and 31 of their colleagues in a push to extend child nutrition waivers ahead of their expiration and enact a robust set of child nutrition priorities in any upcoming legislative vehicles. As school summer break is already underway in many states, it is vital that Congress extends and expands these programs as low-income families are facing a steep benefits cliff when the waivers expire on June 30, 2022.
Specifically, in the letter, the members call to extend child nutrition waivers, create a nationwide Summer EBT program, and expand community eligibility (CEP), a flexible meal service option for school districts in low-income areas. These provisions are critical to fighting child hunger and food insecurity.
"The pandemic has highlighted the importance of the child nutrition programs and the role they play in keeping hunger at bay for millions of children across the country. As schools close for summer across the country, families will soon lose access to free school meals and be faced with the prospect of increased food insecurity, weight gain, and learning disruptions," said the senators. "As Congress develops legislation to support families impacted by high food costs, we must help ease the burden of these challenges and ensure that these child nutrition programs can fully meet children's nutritional needs while they are at school, afterschool and summer programs, and childcare."
SUPPORTING PEACE & STABILITY IN ISRAEL & THE WEST BANK
— Blumenthal joined U.S. Senators Jon Ossoff (D-GA), Lindsey Graham (R-SC), and 31 of their colleagues in a bipartisan push to protect a key U.S. military and diplomatic post in the Middle East. The members urged the Biden Administration to maintain the United States Security Coordinator (USSC) position at the three-star rank in the face of reported plans to downgrade it to a non-general or flag officer.
Based in Jerusalem, the USSC serves as a crucial liaison between Israel and the Palestinian Authority and leads international coalition efforts in support of peace and stability. The USSC is a joint, international, interagency office with Department of Defense service members assigned to the State Department.
"Given continued regional volatility, steadfast high-level U.S. leadership and engagement to support peace and stability in Israel and the West Bank remain in the national security interest of the United States," the group wrote. "Downgrading this position would undermine critical security programs and degrade communications between Israelis and Palestinians, which the USSC facilitates. Such a downgrade would also risk fracturing the U.S.-led international coalition committed to strengthening security and stability in Israel and the West Bank."
JANUARY 6TH COMMITTEE HEARINGS
— Blumenthal reacted to the ongoing hearings held by the Select Committee to Investigate the January 6th Attack on the United States Capitol.
"Jan. 6th will forever be seared into my memory. I was on the Senate floor when insurrectionists brutally attacked law enforcement to violently enter the Capitol & try to undermine the will of American voters. These hearings are fundamental to getting answers & accountability."
EVENTS AROUND CONNECTICUT
— Blumenthal visited Dom's Broad Street Eatery of Windsor, the host of a fundraiser in support of Ukraine.
"A great cause at a great place—this dinner for Moya Ukraine drew a wonderful crowd of very strong, satisfied supporters to Dom's Broad Street Eatery in Windsor. Thanks to Jason DiBella, all his family & team, for your boundless generosity. Dom's is a CT gem!"
— Blumenthal attended Bridgeport's Juneteenth celebration.
"Beautifully joyous, spirited Juneteenth celebration in Bridgeport, with rollicking concert & activities at Seaside Park after the parade. Great to see families enjoying this wonderful event & thank you to all who made it possible."
— Blumenthal attended Norwalk's Pride in the Park event.
"A spectacular Norwalk #PrideInThePark, thanks to the Triangle Community Center. Wonderful crowds, food, music, & more. Great event!"
— Blumenthal attended American Legion Post 45's Watch Fire Ceremony.
"American Legion Post 45 Watch Fire Ceremony retired worn, tattered, torn American flags with dignity & respect. A stirring patriotic celebration of American values, veterans, & service. Thank you for this inspiring tribute to our flag & all it represents."
— Blumenthal welcomed Team Connecticut back from the Special Olympics USA Games in Florida.
"Parents, coaches, fans, airport workers—all cheered with moist-eyed joy & pride for Team CT Special Olympic Athletes arriving home from the 2022 USA Games in Orlando. Awesome beyond words! Thanks to all who supported these brave, bold athletes." 
— Blumenthal attended the annual Black Rock Parade.
"Stupendous community spirit at the Black Rock Day 2022 Parade—with bands, floats, marchers, & more. Everyone cheering friends & neighbors, & enjoying Ellsworth Field festival afterward. Great to be back!"
— Blumenthal attended the rededication of Green's Farm Church in Westport.
"Honored to attend Green's Farm Church Rededication & thank a congregation that helps anchor the community & gives to it so generously. Its history & vital role, dating from 1711, are amazing."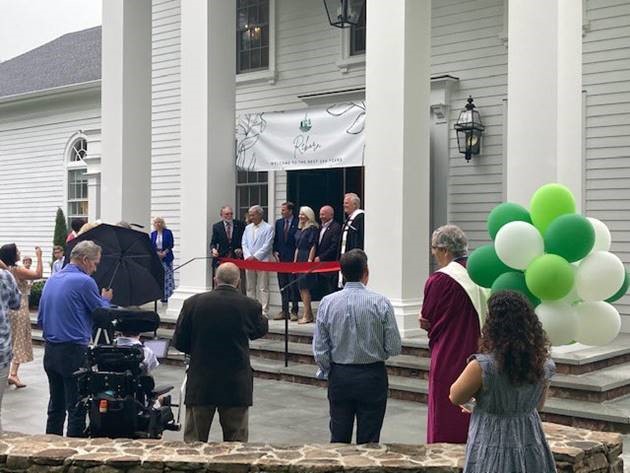 — Blumenthal reacted to the passing of Melody Currey and Jose G. "Joe" Pickard.
"Melody Currey was a dedicated & tireless public servant & mentor. She was a trailblazing leader—legislator, mayor, commissioner—whose remarkable service, kindness, & generosity touched many lives in CT. I offer my deepest condolences to the Currey family."
"Jose G. "Joe" Pickard, a CT Borinqueneer, was a true hero. I remember fondly when he joined fellow veterans of Puerto Rican heritage in DC to be awarded the Congressional Gold Medal for their service. I'm saddened to learn of his passing & my heart is with his loved ones."
-30-