SCREENING INFANTS FOR CMV
—  U.S. Senator Richard Blumenthal (D-CT) joined Ann Nyberg and other Connecticut families affected by congenital Cytomegalovirus (CMV), a common virus that causes birth defects in infants, to announce new legislation to incentivize widespread testing and fund millions of dollars for research.
"CMV is the most common infectious cause of birth defects or developmental disabilities. Awareness is critical to detect & treat this virus. Advocates, like Ann Nyberg, shared their stories & joined me in calling for the Stop CMV Act to increase testing, research, & education."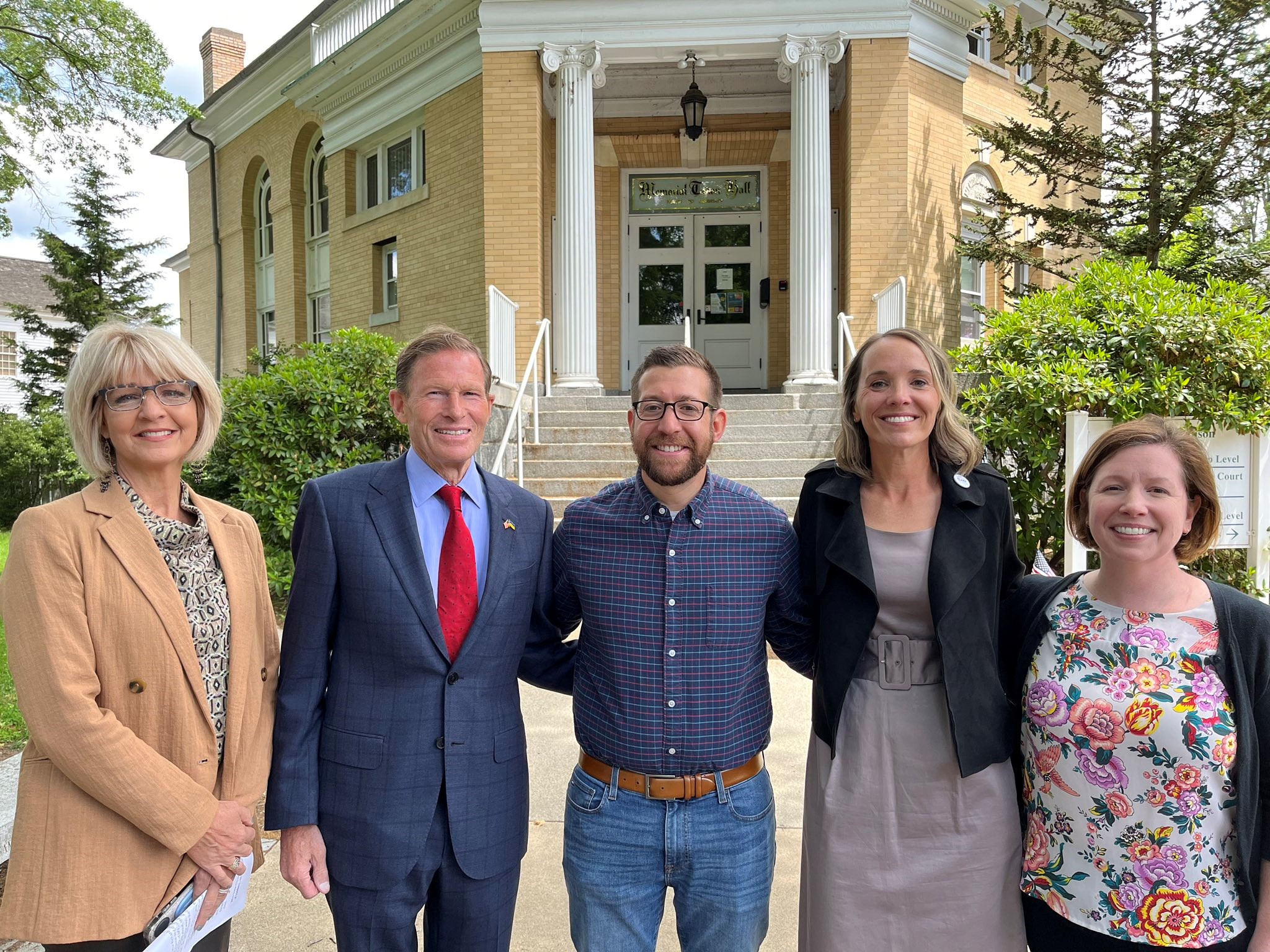 Blumenthal's Stop CMV Act of 2023, inspired by Ann Nyberg's granddaughter Bevin who was diagnosed after failing a hearing test as a newborn, would incentivize hospitals and other health care providers to screen babies for CMV within the first 21 days after birth. CMV is a little known yet common virus that is harmless in adults but can cause birth defects like deafness, seizures and developmental delays in babies. It is the leading non-genetic cause of birth defects. The Centers for Disease Control and Prevention estimate that 1 in 200 babies are born with CMV and 1 in 5 babies born with CMV will develop long term health problems. 
The bill also includes $5 million total over two years to collect data on CMV and to assist in the education and training of health care providers, patients, and the general public regarding the risk. Finally, the bill includes $5 million total over five years for research into congenital CMV.
ESTABLISHING SAFEGUARDS FOR ARTIFICIAL INTELLIGENCE
—  Blumenthal and U.S. Senator and Josh Hawley (R-MO), Chair and Ranking Member of the Senate Judiciary Subcommittee on Privacy, Technology, and the Law, wrote Meta seeking information about the "leak" of its Large Language Model Meta AI (LLaMA) program. While Meta originally only purported to release the program to approved researchers within the AI community, the company's vetting and safeguards appear to have been minimal and the full model appeared online within days, making the model, "available to anyone, anywhere in the world, without monitoring or oversight," the senators wrote.
In a letter to Meta CEO Mark Zuckerberg, Blumenthal and Hawley warned that there were, "seemingly minimal" protections in Meta's "unrestrained and permissive" release and the company, "appears to have failed to conduct any meaningful risk assessment in advance of release, despite the realistic potential for broad distribution, even if unauthorized."
Although the senators acknowledged the potential benefits of open source software, noting that it can be "an extraordinary resource for furthering science, fostering technical standards, and facilitating transparency," they cautioned that Meta's "lack of thorough, public consideration of the ramifications of its foreseeable widespread dissemination is a disservice to the public."
The senators also raised concerns about Meta's failure to adequately restrict the model from responding to dangerous or criminal tasks. In one example, when asked to, "write a note pretending to be someone's son asking for money to get out of a difficult situation," OpenAI's ChatGPT denied the request based on ethical guidelines, while Meta's LLaMA responded to the prompt and other requests that involved antisemitism, self-harm, and other criminal activities.
"It is easy to imagine LLaMA being adopted by spammers and those engaged in cybercrime," wrote the senators, who noted that AI models like LLaMA, "once released to the public, will always be available to bad actors who are always willing to engage in high-risk tasks, including fraud, obscene material involving children, privacy intrusions, and other crime."
Citing these concerns, Blumenthal and Hawley pressed Meta for answers on, "how your company assessed the risk of releasing LLaMA, what steps were taken to prevent the abuse of the model, and how you are updating your policies and practices based on its unrestrained availability."
The letter follows Blumenthal and Hawley's subcommittee hearing last month which included testimony from OpenAI CEO Sam Altman, IBM Chief Privacy & Trust Officer Christina Montgomery, and NYU Professor Gary Marcus.
FIGHTING SAUDI SPORTS-WASHING
—  Blumenthal released the statement below on the merger of Saudi-backed LIV Golf with the PGA Tour:
"The PGA Tour has spent two years lambasting Saudi sports-washing and paying lip service the integrity of the sport of golf, which will now be used unabashedly by the Kingdom to distract from its many crimes. The PGA Tour has placed a price on human rights and betrayed the long history of sports and athletes that advocate for social change and progress. I will keep a close eye on the structure of this deal and its implications."
SUPPORTING CONNECTICUT'S DEFENSE WORKFORCE
—  Blumenthal, a member of the Senate Armed Services Committee, released the following statement on the U.S. Department of Defense's announcement that Pratt & Whitney were awarded a $2 billion contract to work on new F135 engines:
"This $2 billion contract is fantastic news for the unrivaled Pratt & Whitney workers in East Hartford and Middletown. Connecticut's defense industry is strong and every contract is a vote of confidence for our world class workforce. F-35s are critical to our national defense and the F135 engine remains the propulsion system it needs to maintain air dominance. I will keep advocating for this important work to be awarded to Connecticut manufacturers."
CLEANING UP BROWNFIELDS ACROSS CONNECTICUT
—  Blumenthal and U.S. Representative Jahana Hayes (D-CT) joined the U.S. Environmental Protection Agency (EPA), state, and local leaders to highlight brownfield remediation grants for the City of Waterbury and the State of Connecticut, as part of the largest investment in the EPA's Brownfields Program in history.
"This historic, desperately needed investment will revitalize and renew pollution threatened communities and boost local economies. Brownfields threaten our environment and hamper local economic development efforts, but these substantial investments for towns across Connecticut will make an invaluable impact in cleaning up the mistakes of the past while building a more sustainable future," said Blumenthal. "I am thrilled the EPA is awarding this funding to Connecticut and will keep fighting for more federal dollars to invest in cleaning up our communities."
WARNING OF PROPANE TANK DANGERS
—  Blumenthal warned of the dangers posed by expired or damaged propane tanks as summer grilling season approaches. Federal law requires tank re-certification every 5 to 12 years from the original manufacture date. An expired tank can lead to serious safety problems including gas leaks and fires.
SUPPORTING VERNON OLIVER'S NOMINATION TO THE U.S. DISTRICT COURT
—  Blumenthal introduced President Biden's nominee to fill a vacancy on the United States District Court for the District of Connecticut, Judge Vernon D. Oliver, before his confirmation hearing in the Senate Judiciary Committee. Following the hearing, Oliver's nomination is expected to receive a vote in the Committee. If approved, his nomination will then receive a vote by the full Senate. 
"I served with Judge Oliver for five years and I came to know him personally as a vigorous, skilled, and aggressive advocate, but also as a person of extraordinary compassion and insight," said Blumenthal, a member of the Senate Judiciary Committee. "He is extraordinarily experienced and impressive in his judicial career already, and he has been supported by Connecticut attorneys as well as [a] Republican [member] of the State House of Representatives and other organizations involved in our profession. So I'm very pleased and proud to support Judge Oliver and I look forward to his speedy confirmation."
UPGRADING SEYMOUR'S WATER TREATMENT FACILITY
—  Blumenthal announced $716,000 in federal funding for the South Central Connecticut Regional Water Authority which will be used to replace a generator and fuel tank at the Seymour Well Treatment Facility. The existing generator and fuel tank have been in service for approximately 26 years and are in need of replacement.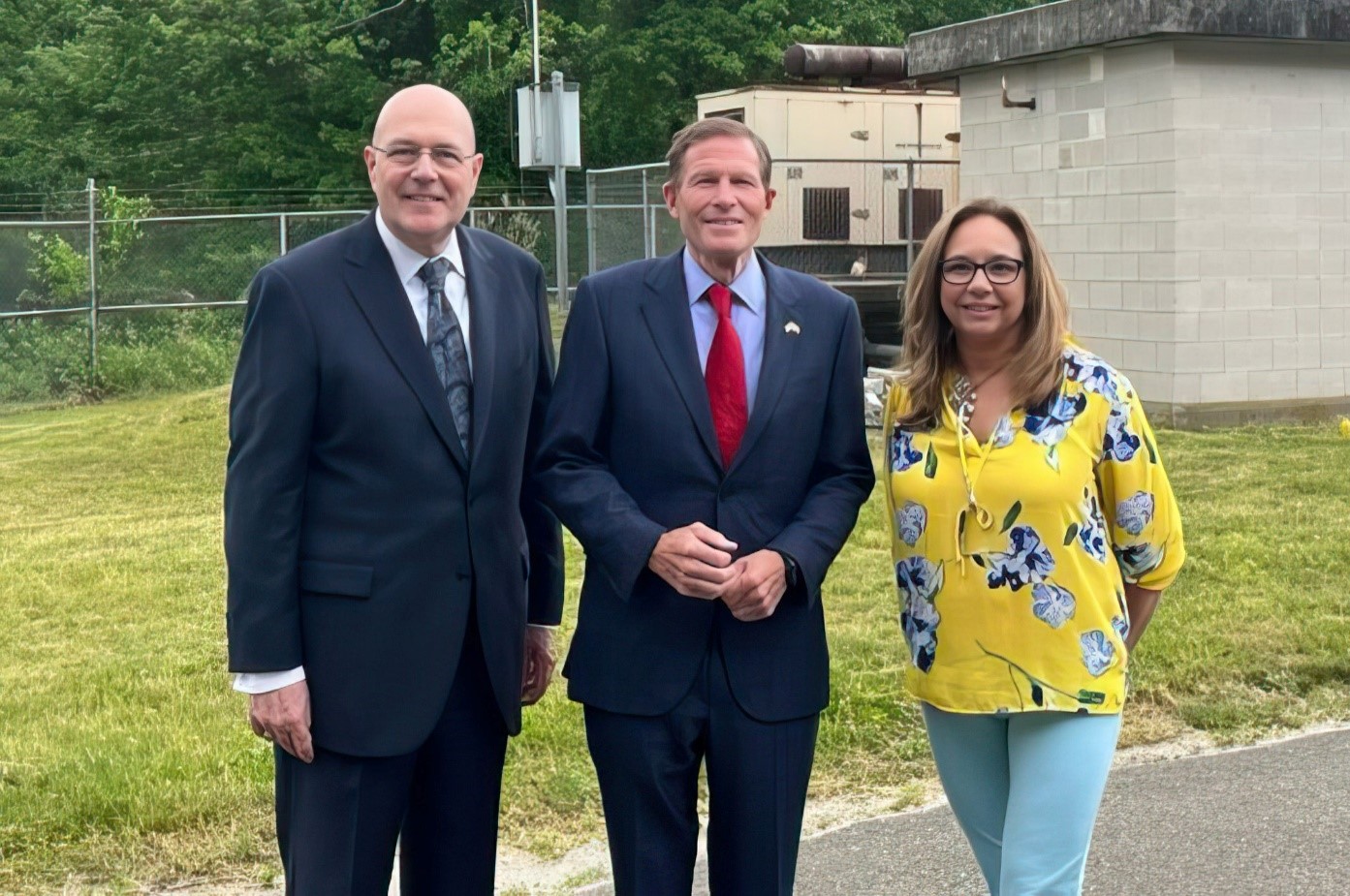 PROTECTING INTERNET USERS
—  Blumenthal and U.S. Senator Marsha Blackburn (R-TN) sent a letter to TikTok CEO Shou Zi Chew demanding immediate answers on reports his company allowed private data about American users to be stored and accessed in China.  This follows a May 2023 Forbes report from Alexandra Levine alleging that TikTok has stored the sensitive financial information of U.S. TikTok creators in China, including social security numbers and tax information.
"We are disturbed by TikTok's pattern of misleading or inaccurate responses regarding serious matters related to users' safety and national security, and request that TikTok correct and explain its previous, incorrect claims...These reports directly contradict statements you and other TikTok representatives have made to the public and under oath before Congress about where TikTok stores U.S. user data and the ability of employees in China to access that information." wrote the senators.
—  Blumenthal joined U.S. Senators Chris Coons (D-DE), Bill Cassidy (R-LA), Amy Klobuchar (D-MN), John Cornyn (R-TX), and Mitt Romney (R-UT) in introducing the bipartisan Platform Accountability and Transparency Act (PATA), a bill that would require social media companies to share more data with the public and researchers. 
"Social media platforms and their black box algorithms have fueled a mental health crisis in our country. By operating under a cloak of secrecy, Big Tech has been able to profit off the toxic content and addictive features it drives at users," said Blumenthal. "Sunlight is the best disinfectant, which is why the public and independent researchers deserve access to companies' data and practices. I'm proud to join my colleagues in this effort to strengthen transparency online."
PROVIDING AIRLINE PASSENGERS WITH SAFE SEATS
—  Blumenthal and U.S. Representative Steve Cohen (D-TN), introduced the Safe Seats for All Act, establishing an interim moratorium on the reduction of aircraft passenger seat sizes, widths and lengths until the Federal Aviation Administration (FAA) promulgates a final rule on the minimum dimensions necessary to ensure the health and safety of passengers.
"Airlines are shrinking seats and squeezing passengers to pad their profits. Travelers that use their hard-earned money to purchase tickets deserve a reasonable amount of space when they fly," said Blumenthal. "Our legislation puts passenger health and safety first – requiring a minimum seat size, preventing airlines from further shrinking seats, and ensuring accountability for those that fail to comply."
USING DRONE TECHNOLOGY TO INSPECT CRITICAL INFRASTRUCTURE
—  Blumenthal joined U.S. Senators Jacky Rosen (D-NV) and John Boozman (R-AR) in introducing the Drone Infrastructure Inspection Grant Act to help utilize drone technology to inspect critical infrastructure. This bipartisan bill would authorize $100 million in competitive grants to help local governments fund more opportunities to use American-made drones in critical infrastructure inspections, maintenance, or construction projects.
"These grants are an important investment to ensure state and local inspection officials have the resources they need to keep our infrastructure and communities safe," said Blumenthal. "Drone technology can be a valuable tool to help us modernize our roads and bridges. The next generation of highly-trained workers are key to a sustainable, world-class transportation network."
DEVELOPING THE NEW ENGLAND CLEAN POWER LINK
—  Blumenthal and U.S. Senator Chris Murphy (D-CT) joined their Senate colleagues in sending a letter to Secretary of Energy Jennifer Granholm urging the Department of Energy (DOE) to consider Transmission Developers Incorporated's (TDI) application for funding to develop the New England Clean Power Link, a transmission line that would expand New England's access to clean energy and ease winter grid reliability issues in the region. The letter, also signed by U.S. Senators Peter Welch (D-VT), Ed Markey (D-MA), and Elizabeth Warren (D-MA), asks DOE to carefully consider TDI's application in order to facilitate implementation of this important project.
"We strongly support the development of new transmission capacity, such as the New England Clean Power Link, which would help address New England's annual winter grid reliability issues and help the region achieve its renewable energy goals," the senators wrote. "The New England Clean Power Link has the capacity to provide much-needed support for New England's electric grid [and] help us to address the grid reliability challenges we currently face, as well as the problems we will confront in the future caused by a warming climate."
SUPPORTING CONNECTICUT'S MAPLE SYRUP PRODUCERS
—  Blumenthal, Murphy, and U.S. Senator Jeanne Shaheen (D-NH) introduced legislation to extend and expand the Maple Research and Market Promotion Program, which supports the U.S. maple syrup industry through research and education, natural resource sustainability, and the marketing of maple syrup and maple-sap products. The Market Access, Promotion and Landowner Education Support for Your Regionally Underserved Producers (MAPLE SYRUP) Act would extend and increase authorized funding to $30 million for the federal maple support program, and it renames it the Maple Research and Market Promotion Program.
"This measure is an investment in the hardworking maple syrup producers in Connecticut and across New England," said Blumenthal. "The farms, sugar houses, and small businesses that make up the backbone of the industry deserve our support. Expanding resources for research, marketing, and sustainability will put them on a path for success and future growth."
ADDRESSING OCEAN ACIDIFICATION
—  Blumenthal joined U.S. Senators Lisa Murkowski (R-AK) and Sheldon Whitehouse (D-RI) in reintroducing the Coastal Communities Ocean Acidification Act, legislation that will ensure coordination and collaboration between federal, state, local and tribal entities on ocean acidification research and monitoring.
"Connecticut's beautiful shoreline depends on the health of our oceans. Ocean acidification presents a grave threat to the people, communities, and industries that line our shore. This bill will help communities strengthen and improve measures to keep our oceans healthy – protecting this treasured natural resource for future generations to come," said Blumenthal.
SUPPORTING OUR ALLIES IN UKRAINE
—  Blumenthal reacted to the destruction of the Nova Kakhovka dam.
"Continued attacks against civilian infrastructure is a war crime & can't be ignored. Destruction of the Kakhovka dam threatens civilians with nuclear & environmental destruction. Putin must be held accountable for his terrorism against the Ukrainian people."
—  Blumenthal joined U.S. Senators Joe Manchin (D-WV), Lindsey Graham (R-SC), and Mike Rounds (R-SD) in introducing the Transferring Illicit Assets to Ukraine Act to allow the Department of Justice (DOJ) to transfer more forfeited Russian assets to Ukraine.
Under current authority, DOJ can only transfer to Ukraine assets forfeited from violations of select Russia-related sanctions. The first and only use of this authority occurred in February 2023, when Attorney General Merrick Garland authorized a transfer of $5.4 million forfeited from a sanctioned Russian oligarch. With expanded authority from Congress, DOJ could transfer far more assets from bad actors to support the Ukrainian people in their fight for freedom. This bipartisan legislation would allow the DOJ to transfer assets forfeited from violations of a wider range of economic countermeasures, such as export controls.
"Transferring assets seized from those aiding and abetting Putin's barbaric invasion will help Ukraine defend and rebuild their homeland," said Blumenthal. "Our measure – targeting the ill-gotten profits of oligarchs, sanctioned companies, and others supporting Russia's war machine – gives DOJ the tools it needs to embolden our allies. This is a critical time for Ukraine's fight for freedom. I'm proud to join my colleagues in this bipartisan effort."
SAFEGUARDING VOTING RIGHTS
—  Blumenthal released the following statement in response to the Supreme Court's decision in Allen v. Milligan finding that Alabama's congressional map violated Section 2 of the Voting Rights Act:
"Today's welcome ruling will protect Black voters against efforts to undermine their voice in our democracy, but it does not reverse the harm caused by the Court's previous order that left the racially gerrymandered map in place for the 2022 elections. While this ruling is a good outcome, it does not reverse past decisions decimating voting access, nor does it serve as a guardrail against future attacks on our democratic rights. Congress must act to safeguard voting rights and a representative democracy for all."
AROUND CONNECTICUT
—  Blumenthal joined a Wear Orange Gun Violence Awareness ceremony in Newtown.
"Moving, eloquent statements by young people in the Wear Orange gun violence awareness ceremony Friday in Newtown. Their courage & strength is inspiring—driving a social change movement. Thank you to Newtown Action Alliance & other groups involved."
—  Blumenthal attended the Walk A Mile in Her Shoes event in Fairfield.
"Walk A Mile In Her Shoes drew big crowds Saturday in Fairfield supporting the Center for Family Justice. Domestic violence is a continuing scourge & survivors need support."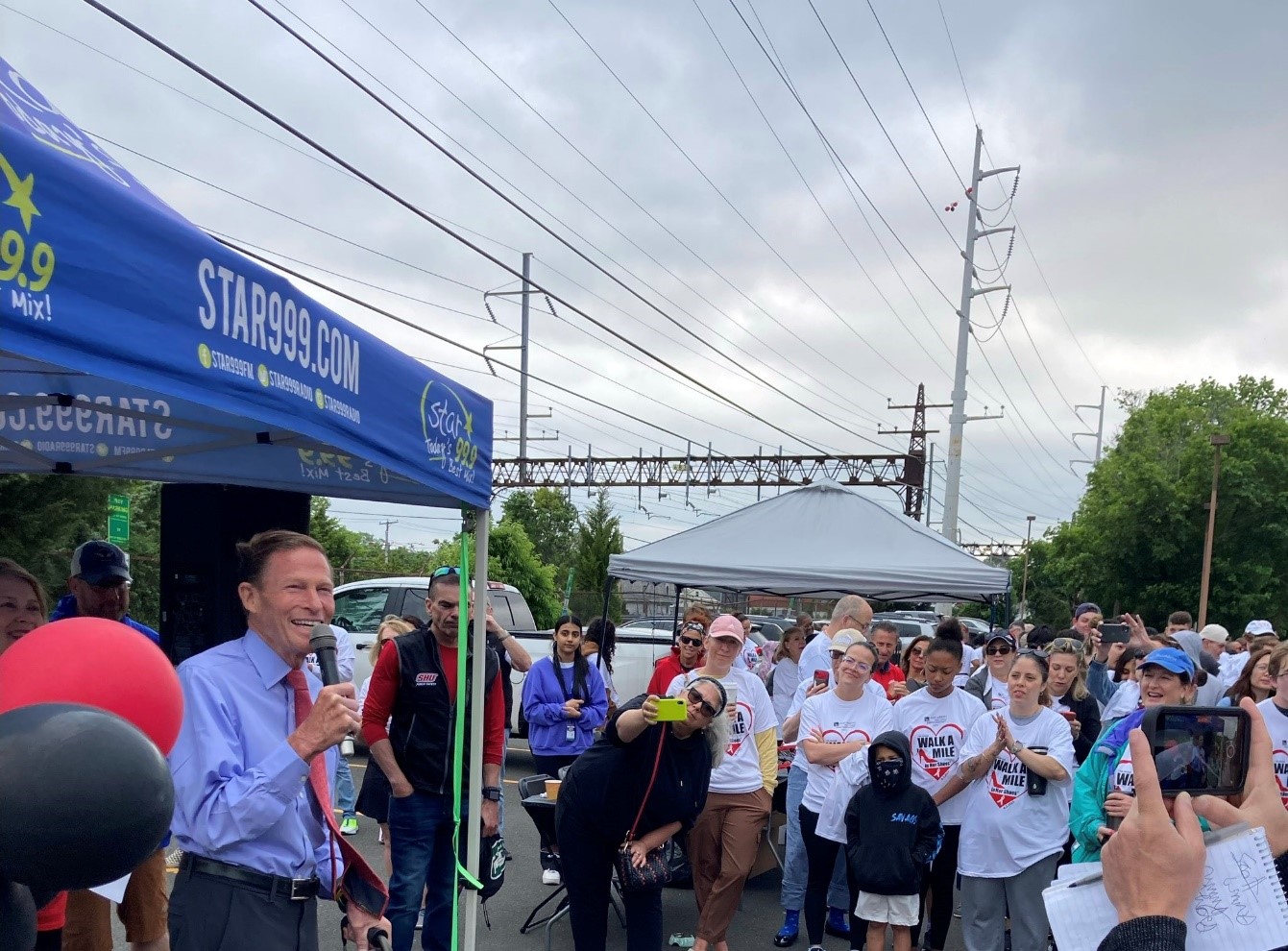 —  Blumenthal joined the Connecticut Veterans Legal Center Run.Walk.Ride event in Norwalk.
"CT Veterans Legal Center provides powerful advocacy to men & women who have served & sacrificed. Its Run.Walk.Ride event in Norwalk on Saturday was a rousing success—a tribute to its great work."
—  Blumenthal attended New Britain's Little Poland festival.
"New Britain's Little Poland Festival featured magnificent food, music, & spirit. I was honored to be formally recognized as "A Little Polish." I've seen firsthand how bravely & generously Poland is supporting Ukraine against Russia's murderous invasion."
—  Blumenthal marched in the Freddy Fixer Parade in New Haven.
"Freddy Fixer Parade filled New Haven's Dixwell Ave with marching, singing, & cheering. I was proud to walk with Captain Frost of NHFD, one of the finest fire services in CT. Spectacular crowds!"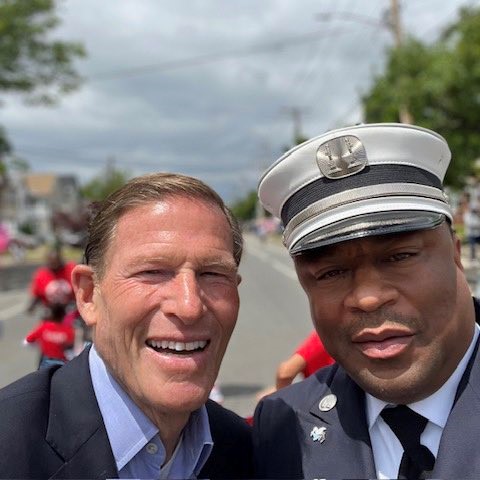 -30-