ADDRESSING CONNECTICUT'S NURSING SHORTAGE
— U.S. Senator Richard Blumenthal (D-CT) and U.S. Representative Rosa DeLauro (D-CT) announced $2,997,368 million in federal funding for The WorkPlace in Bridgeport to train nurses and create equitable opportunities for frontline healthcare professionals. The funding awarded through the U.S. Department of Labor's Nursing Expansion Grant Program will help address Connecticut's nursing shortage.
"We need 3,000 nurses every year in CT & right now only 1,900 are graduating & entering the profession. With this $2.9M federal grant the WorkPlace will help build a tremendous pipeline of talent to provide critical care at institutions like Griffin Hospital."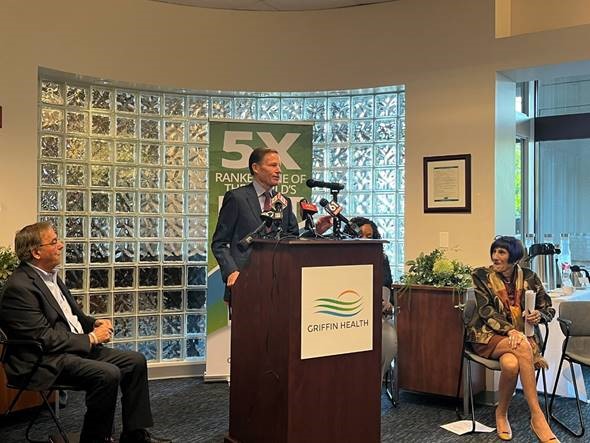 Over the next five years, The WorkPlace will train 200 entry-level nursing professionals through both classroom instruction and on-site experience. Participants can pursue either an Associate Degree in Nursing (ADN) or a Bachelor of Science in Nursing (BSN) and be eligible for a high-skilled nursing career upon completion of the program.
FIGHTING AI VOICE CLONING SCAMS
— Blumenthal joined State Senator James Maroney to warn the public about the prevalence of Artificial Intelligence speech software being used to perpetuate scams and create deep fake audio clips that could have devastating consequences on the privacy of individuals and the security of our society.
Increasingly, law enforcement, Federal Trade Commission, and press reports have raised alarms about fraud and scams using voice cloning software to deceive consumers and banks for impersonation schemes and theft. In a new letter to five AI speech software companies, Blumenthal urged them to take appropriate steps to deter abuse and implement safeguards to protect consumers from these scams.
Last week, Blumenthal chaired a Senate Judiciary Subcommittee on Privacy, Technology, and the Law hearing on Artificial Intelligence in which he questioned top industry leaders and experts on the need for regulations for this emerging technology.
STOPPING DANGEROUS GUN MARKETING
— Blumenthal and U.S. Senator Chris Murphy (D-CT) introduced legislation directing the Federal Trade Commission (FTC) to study the dangers posed by unfair and deceptive marketing and advertising practices conducted by the gun industry. The Responsible Firearms Marketing Act would require the Commission to study the actions of gun manufacturers, importers, and dealers, including those which might target individuals younger than 18 years of age, encourage illegal use of a firearm, or relate to the sale of semiautomatic assault weapons.
The Responsible Firearms Marketing Act would also direct the FTC to apply existing rules regarding unfair marketing practices to firearm distributors, which include punitive fines and payment of damages to consumers for each knowing violation of the rules.
"Deceptive firearms marketing exploits and fuels gun violence—and must be stopped. Our goal is to hold accountable gun manufacturers who prey on vulnerable consumers to fatten their profits. Turning a blind eye to these dishonest advertisements and promotional campaigns will continue to threaten public safety," said Blumenthal. "Wrongdoers must be held accountable. Our legislation—along with the FTC's enforcement—will prevent the industry from peddling these dangerous weapons of war by misleading buyers."
FUNDING WASTE MANAGEMENT JOB TRAINING
— Blumenthal announced $499,881 in federal funding for The Northwest Regional Workforce Investment Board in Waterbury to recruit and train unemployed and underemployed residents to safely conduct remediation work and facilitate placement at solid and hazardous waste-contaminates sites in the city. The funding awarded through the U.S. Environmental Protection Agency (EPA) is part of a national $1 million investment for Environmental Workforce Development and Job Training made possible by the Infrastructure Investment and Jobs Act.
"Waterbury is taking action by creating a cleaner environment through remediation. This nearly $500,000 federal grant will help recruit & train employees for this critical work—improving the quality of life for residents."
URGING RECALL OF THEFT-PRONE KIA & HYUNDAI VEHICLES
— Blumenthal called on the National Highway Traffic Safety Administration (NHTSA) to consider issuing a recall of Kia and Hyundai vehicles susceptible to theft. An estimated 8 million vehicles from model years 2011 to 2022 are impacted by the rising trend of thefts due to the companies' failure to install theft immobilizers in their vehicles, which are standard anti-theft devices other manufacturers install.
"Anti-theft locks are no substitute for action by Kia & Hyundai. They have to respond not just to the class action, but to the needs of consumers for standard anti-theft technology. I've written to NHTSA urging a recall of affected vehicles."
The rise in Kia and Hyundai thefts stems from a TikTok trend that demonstrated how to steal certain models using only a screwdriver and USB cable. The company attempted to combat the problem through a software update in February 2023, but rollout of the software has been slow and the problem persists. Blumenthal is calling for NHTSA to prompt Hyundai and Kia to more effectively alert owners of their vehicle's security flaw and its remedy.
In response to the rise in thefts, East Hartford Police Department and other local law enforcement agencies are distributing steering wheel locks to owners of Kia and Hyundai vehicles.
FIGHTING BRUSH FIRES
— Blumenthal joined Middlefield Fire Chief Peter Tyc to announce $214,714 in federal funding to support the purchase of a new brush truck, a vehicle designed for rough terrain to respond to a fire or rescue.
The funding is through the Assistance to Firefighter Grants (AFG) program at the Federal Emergency Management Agency (FEMA), which aims to enhance the safety of the public and firefighters with respect to fire-related hazards by providing direct financial assistance to eligible fire departments, non-affiliated Emergency Medical Services (EMS) organizations, and State Fire Training Academies (SFTA). According to FEMA, the AFG program has helped firefighters and other first responders to obtain critically needed equipment, protective gear, emergency vehicles, training, and other resources needed to protect the public and emergency personnel from fire and related hazards since 2001.
SUPPORTING CONNECTICUT'S DEFENSE WORKFORCE
— Blumenthal, a member of the Senate Armed Services Committee, released the following statement applauding the award of $1.07 billion for Electric Boat to build two additional Virginia Class Submarines.
"This step is a boon to both our national defense and our state's economy. Today's announcement is great news for our nation and the highly skilled Electric Boat workforce who build the world's best submarines. These additional submarines are vital to military preparedness—especially in a world more dangerous than ever," Blumenthal said.
DEMANDING FDA ACTION ON HARMFUL FOOD CHEMICALS
— Blumenthal called for $50 million for the Food and Drug Administration (FDA) to review potentially harmful food chemicals and additives used in cereals, pastries, tortillas, candy and other products.
Many food chemicals that are routinely used to make food last longer or taste better have not been meaningfully reviewed by the FDA for many decades. For example, a chemical used as preservatives in Pop-Tarts and Apple Jacks have not been reviewed since the 1970s and a color additive used in candy like Skittles or Starbursts have not been reviewed since the 1960s.
Many of the chemicals added to food have been linked to serious health problems, including cancer and harms to the reproductive and immune systems. Despite the risks they pose, the FDA does not periodically review the safety of these chemicals, even when new scientific concerns arise.
ADDRESSING THE MATERNAL MORTALITY CRISIS
— Blumenthal announced $2 million in federal funding for the Community Health Center Inc. to address the maternal mortality crisis. The funding, awarded by the U.S. Department of Health and Human Services (HHS), will be used by CHC New Britain to develop patient-centered models of care that address the clinical and health-related social needs of their patients at highest risk of maternal mortality.
EXTENDING HEALTH BENEFITS FOR SURVIVING FAMILIES OF NATIONAL GUARD & RESERVISTS
— Blumenthal joined the family of Sergeant First Class Michael Clark ahead of Memorial Day to announce new legislation to extend crucial health benefits to surviving families of National Guard members and Reservists.
"Sgt First Class Michael Clark sacrificed his life serving in the National Guard, but his Gold Star Family was denied benefits received by active duty families. I'm introducing legislation to correct this reprehensible wrong. Our measure would assure National Guard and Reserve families, who sacrifice just as much as active duty families, receive the same health benefits when a servicemember dies," Blumenthal said. "Our National Guard and Reserve families deserve better and I am proud to partner with Sen. Warren and Reps. Courtney and Kelly in the House to get this done."
The Sergeant First Class Clark Tricare Reserve Parity Act will be introduced by Blumenthal in the U.S. Senate. U.S. Representative Joe Courtney (D-CT) introduced the House bill in April.
Sergeant First Class Michael Clark, of Bolton, died during a training exercise in Georgia last year. Under current law, survivors and their families only retain their health benefits for six months following the death of a servicemember. The Sergeant First Class Clark Tricare Reserve Parity Act would amend the existing law to ensure three years of benefits, as is standard for active-duty military.
PROTECTING SOCIAL SECURITY
— Blumenthal joined U.S. Representative John B. Larson (D-CT) in announcing the Social Security 2100 Act to protect and enhance the program.
"Social Security 2100 will uphold our promise—ensuring our bedrock social insurance program continues to provide a quality standard of living to current and future generations. These reforms will guarantee that people who've paid into this lifeline insurance program will be sure of its benefits," said Blumenthal.
PROTECTING KIDS ONLINE
— Blumenthal, sponsor of the Kids Online Safety Act, reacted to the Surgeon General's new Advisory on Social Media and Youth Mental Health and the Biden Administration's announcement of actions to protect kids' privacy and safety online.
"Social media can be devastatingly harmful to children—so says the Surgeon General, stating what perceptive parents already know. That's why my bipartisan Kids Online Safety Act is urgently essential. Congress must take action—now."
"These executive actions will help ensure safer, healthier online environments for young people. But there is no substitute for legislation. Congress must pass the Kids Online Safety Act."
"Much needed collaboration is central to these new executive orders. Glad to see an interagency task-force coming together to work on this crisis, while federal action is bolstered by partnerships with local/state governments."
"For far too long tech companies have also been allowed to ignore child sexual abuse material on their platforms—refusing to use existing tools to take down this content. Promoting greater teamwork between DHS, DOJ, & NCMEC will reinforce the need to take CSAM seriously."
TAKING ACTION AGAINST ILLEGAL, UNREGULATED, & UNREPORTED FISHING
— Blumenthal joined U.S. Senator Jeff Merkley (D-OR) in a letter to U.S. Department of Commerce Secretary Gina Raimondo, Under Secretary of Commerce for Oceans and Atmosphere Richard Spinrad, and National Marine Fisheries Service Janet Coit pushing for a revised proposed rule to the Seafood Import Monitoring Plan (SIMP) current proposal to tackle Illegal, Unregulated, and Unreported (IUU) fishing.
"As the United States is the world's largest seafood-importing country, we have both the purchasing power and the responsibility to tackle illegal, unreported, and unregulated (IUU) fishing and human rights abuses in the fishing industry," wrote the lawmakers. "Quality, safety, or health implications of fraudulent seafood not only directly undercut the U.S.'s seafood offerings, but also can affect the reputation of legitimate fish and fish products, causing further indirect effects to the fish-based economic sector."
INVESTIGATING PAST INJUSTICES AGAINST INDIAN BOARDING SCHOOL POLICIES
— Blumenthal joined U.S. Senator Elizabeth Warren (D-MA) and 24 of their colleagues in reintroducing the Truth and Healing Commission on Indian Boarding School Policies in the United States Act, legislation that seeks healing for stolen Native children and their communities. The bill would establish a formal commission to investigate, document, and acknowledge past injustices of the federal government's Indian Boarding School Policies, including attempts to terminate Native cultures, religions, and languages; assimilation practices; and human rights violations. The commission would also develop recommendations for Congress to aid in healing of the historical and intergenerational trauma passed down in Native families and communities and provide a forum for victims to speak about personal experiences tied to these human rights violations.
AROUND CONNECTICUT
— Blumenthal joined the Danbury Police Department in a ceremony honoring officers lost in the line of duty.
"In a moving Memorial Ceremony, Danbury yesterday honored police who've died in the line of duty. Family members, fellow officers, & community leaders—all joined in this solemn tribute to their heroism & service."
— Blumenthal stopped by a Red Cross blood drive in New Haven.
"Warm, bright spirit at Red Cross blood drive in New Haven, despite drenching rain. Thanks to volunteers & staff for always being there for people who need help."
— Blumenthal joined an Eastern CT Chamber of Commerce event honoring Lynn Malerba.
"Excited to join the Eastern CT Chamber of Commerce in honoring a wonderful friend Lynn Malerba, Chief of the Mohegan Tribe & U.S. Treasurer as Citizen of the Year. Chief Many Hearts, as she's formally known, is a leader of many accomplishments & contributions—a star."
-30-