LEGISLATION, LETTERS, & STATEMENTS
— U.S. Senator Richard Blumenthal (D-CT) reacted to a reported draft Supreme Court opinion overturning Roe v. Wade and its fifty years of precedent protecting access to abortion. 
"I hope these reports are nightmarish imaginings.  If true, this decision would be a horrific moment inflicting a huge leap backward with incalculable costs & chaos for countless women & their families."
"Thanks to CT's legislature for anticipating this potential horror—SCOTUS overturning Roe & unleashing state laws like S.8 in TX. Our state will protect reproductive rights, & people who exercise them. Gov. Lamont should sign this bill—now."
"Countless women tonight are feeling scared & alone, but they should know that this fight is far from over. This draft is by no means final & states like CT are stepping up to protect them."
Blumenthal, author and lead Senate sponsor of the Women's Health Protection Act (WHPA), joined Senate Democrats at a press conference on the Capitol steps in demanding action to protect reproductive rights. WHPA guarantees a pregnant person's right to access an abortion—and the right of an abortion provider to deliver such abortion services—free from medically unnecessary restrictions that interfere with a patient's individual choice or the provider-patient relationship.
"This draft language is absolutely abhorrent," said Blumenthal. "They can change the language, they can dress it up, they can smooth the edges, but the fact is overturning Roe v. Wade would leave American women abandoned and alone."
"We need to vote to codify Roe v. Wade through the Women's Health Protection Act to stop all of the restrictions, the bans, the TRAP laws, all of the impediments to women having access to health care and going back to an age where literally women died seeking abortion."
"I hope that states will do what Connecticut did just last week and adopt measures that protect patients and providers," Blumenthal concluded.
Blumenthal also joined Senate Majority Leader Chuck Schumer (D-NY), Senate HELP Committee Chair Patty Murray (D-WA), and Senate Democratic Women in announcing a vote next week on legislation to protect reproductive freedom.
"To the men of America, you don't get to sit this one out," said Blumenthal. "Women's health care rights are human rights. Women's reproductive care affects everyone. Women are furious and you should be furious too."
"And most especially to people of color, the LGBT community, low-income women, people who will be most vulnerable, please know we are going to fight for you," Blumenthal continued. "You are not alone. And this fight is going to be now, it will be in weeks to come when these measures are voted on the Senate Floor again. Every Senator will be held accountable."
— U.S. Senator Richard Blumenthal (D-CT) chaired a Senate Commerce, Science, and Transportation Subcommittee on Consumer Protection, Product Safety, and Data Security hearing on the impact pharmacy benefit managers (PBMs) have on the prescription drug market. In his opening remarks, Blumenthal discussed PBMs' relative obscurity and the little transparency with which they operate, and how they are contributing to the broken prescription drug market, stating:
"PBMs' stated goal is to lower health care costs for consumers through this complex system. The problem is that patients rarely see or feel the benefits. Drug prices continue to rise, insurance costs continue to eat into incomes, and more and more often, the drugs patients need are not covered by their health care plan at all. In this way, PBMs are part of a broken drug supply chain that leads to increasing profits for drug companies, increasing profits for PBMs, and increasing drug costs for patients."
Recounting the story of April Flowers, a teen from Texas whose seizure medication was suddenly no longer covered by her plan, Blumenthal emphasized PBMs' increasing exclusions of drugs from health plans and the dire impact on patients' health, stating:
"April's situation is shocking and common. In fact, in recent years PBMs' refusal to cover certain drugs has skyrocketed. Now, hundreds of drugs are excluded by the biggest PBMs every year. Certain types of insulin, drugs to treat chronic conditions, and, in recent years, cancer drugs are all fair game."
Blumenthal stressed the need to reform the broken drug market to ensure Americans have access to the medications they need at an affordable price, saying:
"Let's be clear, PBMs are just part of a broken system. It is massively broken, it has left millions of Americans without a way to afford live saving medicine like insulin. Drug prices have skyrocketed and drug companies have made record profits while engaging in anti-competitive tactics that keep cheaper drugs off the market…The biggest and most important priority we have is to lower the cost of prescription drugs and that is a health care imperative."
— U.S. Senator Richard Blumenthal (D-CT), Chair of the Senate Commerce, Science, and Transportation Subcommittee on Consumer Protection, Product Safety, and Data Security, released the following statement after the U.S. Senate passed legislation he led in the Senate to ban the sale of inclined infant sleepers:
"I applaud Congress for passing legislation I have long championed to ban deadly infant inclined sleeper products. These highly dangerous products have no place on store shelves and in homes where they have already led to tragic loss for hundreds of families. I look forward to the President signing this important product safety measure into law to protect children and give parents the peace of mind they deserve."
Blumenthal was a lead sponsor of the Safe Sleep for Babies Act in the Senate. The U.S. House of Representatives passed the Safe Sleep for Babies Act in June 2021, which also included legislation Blumenthal cosponsored to make it unlawful to manufacture and import crib bumpers.
— At a Senate Commerce Committee hearing, U.S. Senator Richard Blumenthal (D-CT) questioned U.S. Department of Transportation (DOT) Secretary Pete Buttigieg about actions the Department is taking to bolster auto safety. Discussing the recently-passed provisions of his HOT CARS Act, Blumenthal emphasized the need for the National Highway Traffic Safety Administration (NHTSA) to swiftly issue a final rule on rear seat alerts and urged the Department to go further by requiring detection systems to prevent hot car deaths.
"This kind of technology is easy to implement. It would cost pennies if it is done on a mass scale. It has already been implemented by many manufacturers, at least by some," said Blumenthal. "[C]ould you update us as to the status of the rulemaking requiring backseat alerts and your view about the possibility of requiring backseat detection systems?"
Buttigieg agreed with the need to act on this important issue, stating: "We want to make sure we do everything we can to save lives. So NHTSA is hard at work at the rulemaking. We are aware of the interest in the safety community and other measures that could go further than the alert system and we will make sure to take all input on board during the rulemaking process."
Referencing Connecticut tow truck operator Corey Iodice's tragic death in 2020, Blumenthal questioned Buttigieg about NHTSA's authority to bolster "Slow Down, Move Over" laws to ensure maximum safety for motorists and emergency vehicles stopped on the road.
"Corey was just doing his job working for his family's business when he was killed by a driver who did not slow down or move over. His death could have been avoided. Connecticut like other states has a move over law that directs motorists to slow down and move over for stopped emergency and maintenance vehicles," said Blumenthal. "NHTSA partners with law enforcement and authorities to help raise awareness of slow down, move over laws. Can NHTSA play a more assertive or aggressive role in providing incentives or imposing requirements or raising and elevating this issue so that more people are aware of it?"
"I will have to investigate how NHTSA's authorities might overlap with or align with move over laws," replied Buttigieg. "I'm certainly aware of them and in the context of the National Roadway Safety Strategy, we want to make sure that we are contemplating those effects and meeting any responsibilities that we have in that direction."
— U.S. Senators Richard Blumenthal (D-CT) and John Cornyn (R-TX) joined ten of their colleagues in introducing the Ukraine Invasion War Crimes Deterrence and Accountability Act, bipartisan legislation to ensure the U.S. is undertaking coordinated efforts to collect and maintain evidence of war crimes and atrocities committed during the Russian invasion of Ukraine.
"This effort is an important step in exposing Putin's campaign of war crimes against innocent Ukrainians. Men, women, and children from Mariupol to Bucha have laid lifeless in the street, victims of unspeakable atrocities committed by Putin's barbaric invasion. Gathering and analyzing evidence will assist in prosecuting and holding accountable those complicit in these Russian atrocities. The full force of U.S. and international law must be brought to bear," said Blumenthal.
— U.S. Senators Richard Blumenthal (D-CT), Chris Murphy (D-CT), Jeff Merkley (D-OR), Elizabeth Warren (D-MA), Cory Booker (D-NJ), and Chris Van Hollen (D-MD) introduced a Senate Resolution condemning oil and gas companies profiteering off the ongoing Russian invasion of Ukraine and urging a swift transition to a clean energy economy as a core national security priority.
"Oil and gas companies have been profiteering from Russia's brutal war in Ukraine by reprehensibly raising prices on Americans while raking in record profits," said Blumenthal. "Volatility in oil and gas prices exacerbated by the war and Big Oil's greed only reinforce the need to invest in more reliable domestic green energy. A clean energy economy would ensure our energy independence while protecting the climate—and lower costs for the American people."
— U.S. Senators Richard Blumenthal (D-CT), Edward J. Markey (D-MA), and Chairwoman Maria Cantwell (D-WA), members of the Commerce, Science, and Transportation Committee, called on the Department of Transportation (DOT) to strengthen consumer protections for travelers who are eligible for airline ticket refunds. DOT previously stated that it would issue new consumer protections regarding airline refunds, in the wake of major disruptions for air travel caused by the COVID-19 pandemic. In 2020, DOT received 29,687 refund complaints against U.S. airlines, a 4,634 percent increase from 2019.
"As part of the Committee on Commerce, Science, and Transportation's ongoing oversight of the U.S. airline industry, we are writing to request that the Department of Transportation ("DOT") take further action to make the process for obtaining refunds more transparent and efficient for U.S. airline passengers, in response to the increase in passenger refund complaints during the COVID-19 pandemic," wrote the lawmakers in their letter to Secretary of Transportation Pete Buttigieg.
— U.S. Senators Richard Blumenthal (D-CT) and Cory Booker (D-NJ) and U.S. Representatives Jahana Hayes (D-CT), John Larson (D-CT), Adam Schiff (D-CA), and Mark Takano (D-CA) joined their colleagues in introducing legislation that would boost teacher compensation by putting tax money back in their pockets and help diversify the teaching workforce. The Respect, Advancement, and Increasing Support for Educators (RAISE) Act would provide educators with a minimum of $1000 in refundable tax credits and as much as $15,000. 
— U.S. Senators Richard Blumenthal (D-CT) and Rob Portman (R-OH) joined fourteen of their colleagues in a bipartisan letter urging Secretary of Commerce Gina Raimondo to reconsider Russia's status as a market economy within the meaning of the anti-dumping (AD) law of the Tariff Act of 1930. Although the Commerce Department classified Russia as a market economy in 2002, Russia has backslid in recent years towards less and less of a free market economy. Now after its invasion of Ukraine, Moscow has taken further steps to centralize control over the Russian economy. Classifying Russia as a non-market economy would likely increase the anti-dumping duties on Russia in future AD cases.
"Over the past two decades, Russia has regressed from a fledgling market economy to one without a free market. In its 2002 decision classifying Russia as a market economy, the Department of Commerce noted that economic decentralization was the "hallmark of market economies." Yet, under the leadership of Vladimir Putin, Russia has become marked by corruption, weak rule of law, worker exploitation, and human rights violations. When the facts of this backsliding are applied to the relevant statutory criteria, there is no doubt that Russia should be classified as a non-market economy country," the senators wrote.
— U.S. Senators Richard Blumenthal (D-CT), Chris Murphy (D-CT), Sherrod Brown (D-CT), and Susan Collins (R-ME) joined twenty-two of their colleagues in a bipartisan resolution honoring our nation's teachers and commemorating National Teacher Appreciation Week (May 2-6). The resolution recognizes the important work of teachers across the nation, thanks them for their efforts to prepare students for success, and acknowledges the additional challenges teachers faced during school reopening following closures due to the COVID-19 pandemic.
AROUND CONNECTICUT
— U.S. Senator Richard Blumenthal (D-CT) joined the Anti-Defamation League, the Jewish Federation of Greater Hartford, West Hartford Police, and local leaders in standing up to hate following a stunning report from the Anti-Defamation League that anti-Semitic incidents reached an all-time high in Connecticut last year, and recent news reports of hateful flyers being distributed across West Hartford by The New England Nationalist Social Club, a white supremacist group.
To combat hate in all its forms, Blumenthal announced $26 million in federal funding to combat hate crimes—including $5 million for states and municipalities from the Blumenthal led bipartisan Jabara-Heyer NO HATE Act to improve hate crime reporting systems, set up hate crimes hotlines to connect victims to local support services, and provide training and education to law enforcement on how to identify and investigate hate crimes.
An additional $21 million will be allocated to the Department of Justice's Community Relations Service, which provides facilitated dialogue, mediation, training, and consultation to assist communities facing discrimination-based conflict.
"Courage is contagious. We must stand up & condemn hate like the flyers distributed in West Hartford. Now that the Jabara-Heyer NO HATE Act is law, we need to make the resources really count & support education & enforcement to stop this scourge," said Blumenthal.
— U.S. Senator Richard Blumenthal (D-CT) announced $2.5 million for enhancements and renovations to the Milford Boys and Girls Club. The funding, which is for both the City of Milford and the Boys and Girls Club, will allow the Boys and Girls Club to expand their operations and facilities within Milford. With an expanded location, the Milford Boys and Girls Club will be able to increase membership from 500 to 1,000, increase average daily attendance from 180 youth to 350 youth, potentially expand into new communities, and allow for a significant increase in members aged 12 and older.
— U.S. Senator Richard Blumenthal (D-CT) announced $105,000 in funding for the United Way of Greater Waterbury. The funding, which was secured through the 2022 Omnibus Appropriations bill, will fund mindfulness workshops for eight Positive Youth Development after-school programs. These after-school programs primarily serve low-income children in the Waterbury area.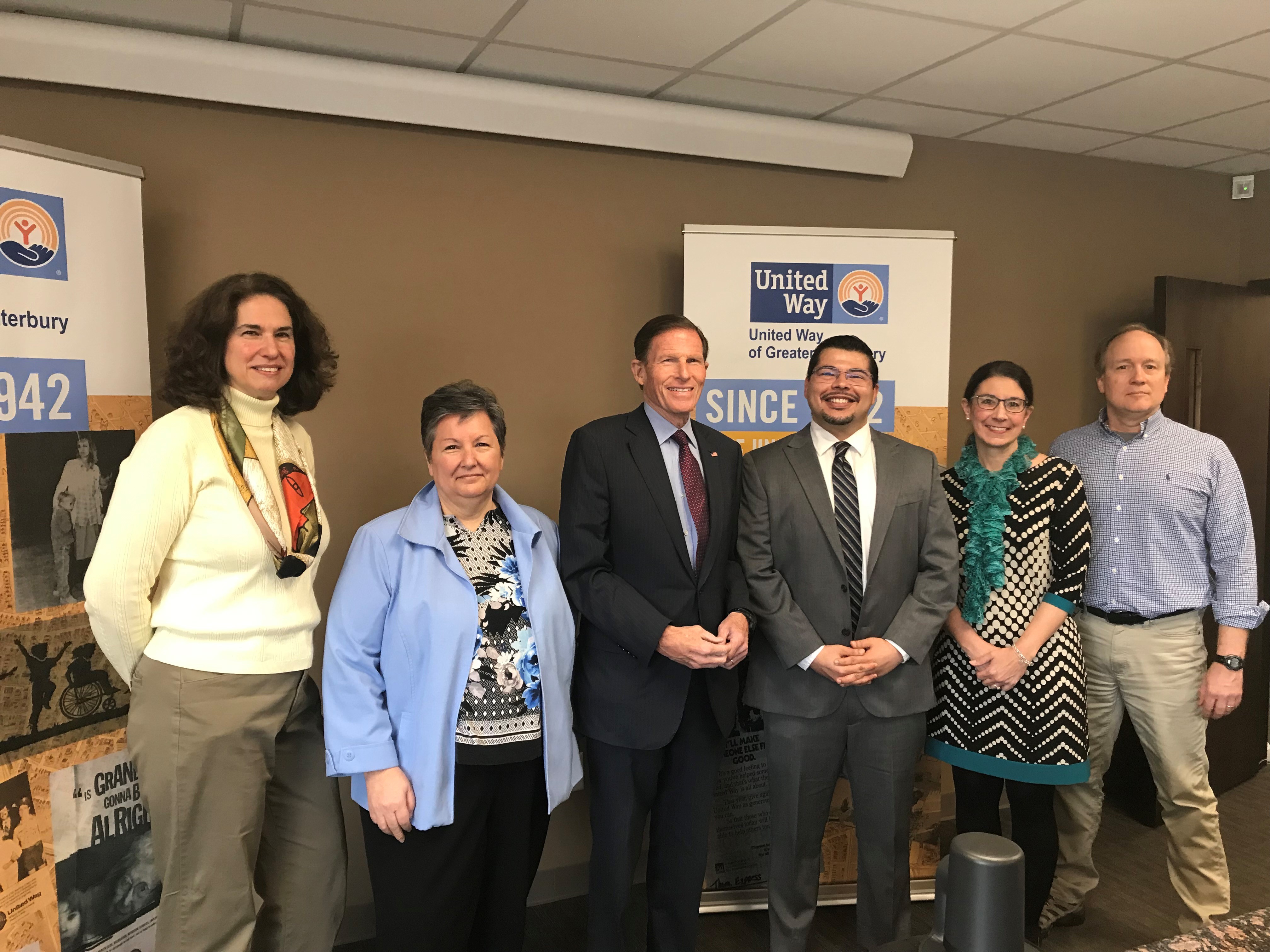 — U.S. Senator Richard Blumenthal (D-CT) announced $275,000 in funding for the Capitol Region Education Council (CREC) to train 60 new teachers from underrepresented and diverse backgrounds, as the state faces a troubling shortage of teachers.
Across Connecticut, school districts are reporting shortages of educators due to retirements, the COVID-19 pandemic and other factors. This funding will allow the Connecticut Teacher Residency Program to train 60 teachers and place them in 27 school districts across Connecticut. The Connecticut Teacher Residency Program is an alternative teacher certification program created in 2019 by CREC with approval from the Connecticut State Department of Education. It is the only residency program in Connecticut that has no cost to residents of the program and also provides hands-on training and mentorship.
— U.S. Senator Richard Blumenthal (D-CT) joined the Connecticut Early Childhood Alliance ahead of their "Day without Childcare" in urging Congress to advance measures and funding that would support childcare access, providers, and affordability. The cost of childcare is prohibitively expensive for many families in Connecticut, and the COVID-19 pandemic has exacerbated the problem with childcare center closures, loss of the workforce and ever rising costs.
In April 2022, Blumenthal joined a letter with more than 100 members of the House and Senate calling on President Biden to pass a package that includes universal pre-K and investments in childcare. Under this package, no family would spend more than 7 percent of their income on childcare.
— U.S. Senator Richard Blumenthal (D-CT) announced $200,000 in funding for the Southeastern Regional Action Council for three new staff member positions to provide much needed mental health and addiction services in Eastern Connecticut.
The funding, which was secured through the 2022 Omnibus Appropriations bill, will fund three staff member positions for 12 months to work across 13 towns in Eastern Connecticut and develop wellness teams with the mission of rebuilding community connectedness by re-engaging residents at risk for addiction or mental health challenges. Rural communities in Eastern Connecticut are experiencing a high level of risk for developing addictions, experiencing mental health crises, and suicide deaths due to the increase in isolation, social degradation, and low community connectedness.
"We are in the midst of a mental health crisis. This additional $200,000 in federal funding for the Southeastern Regional Action Council will be critical to providing much needed care & services in Eastern CT."
— U.S. Senator Richard Blumenthal (D-CT), a member of the Senate Armed Services and Veterans' Affairs Committees, attended the 100th annual convention of the Disabled American Veterans Department of Connecticut to hear veterans' concerns and discuss federal initiatives to help veterans.
— U.S. Senator Richard Blumenthal (D-CT) met with four Ukrainian refugee families at the St. Michael's Ukrainian Catholic Church Easter Luncheon in New Haven to provide updates on Congress's efforts to provide funding and support to Ukraine.
"I was honored to join the Ukrainian-American community at St. Michael's Church Easter Celebration. There I had the chance to meet Daria & Simon who recently fled Ukraine with critical help from my office & their immigration attorney, Dana Bucin."
"I spoke to the Ukrainian-American community about urgent work to match words with action—Congress approving $33 billion in aid, the President implementing Lend Lease & invoking the Defense Production Act, & the U.S. selling seized oligarch assets for funds to support Ukraine."
— U.S. Senator Richard Blumenthal (D-CT) attended a ceremony welcoming home members of the Connecticut National Guard's 1-169th Aviation Regiment.
"Proud to welcome home CT National Guard's 1-169th Aviation Regiment back from Kosovo serving with NATO forces. Thank you to the families too!"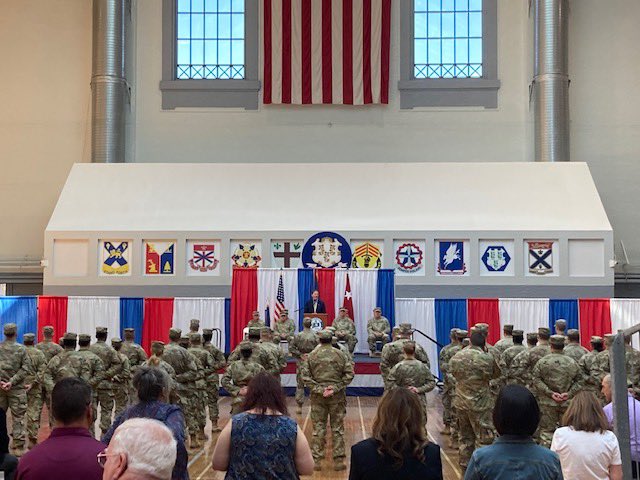 — U.S. Senator Richard Blumenthal (D-CT) attended Meriden's annual Daffodil Parade.
"A stunning Daffodil parade in Meriden—with great crowds, bands, school groups, & of course daffodils. All combined with a classic CT spring day, & Secretary Cardona as Grand Marshall."
— U.S. Senator Richard Blumenthal (D-CT) attended the Denise D'Ascenzo Foundation's Walk to Cure Rare Disease.
"A sun-filled beautiful spring day evoking Denise D'Ascenzo's exquisite spirit for today's Walk to Cure Rare Disease in her name. Thanks to the Foundation, especially Wayne Cooke, & so many others leading & walking yesterday."
"Rare diseases afflict so many—1 in 10 Americans, 30,000 in CT. I'm working for more federal funds supporting research, treatment, & education to conquer rare diseases. We must do more."
-30-