LEGISLATION, LETTERS, & STATEMENTS
—  U.S. Senators Richard Blumenthal (D-CT) and Jon Tester (D-MT) raised serious concerns about a proposed rule currently being considered by the U.S. Department of Veterans Affairs (VA), which would make it more difficult for veterans diagnosed with tinnitus to receive benefits and treatment for the condition, and urged the agency to refrain from adopting it.
"VA must not pencil-whip its way through a substantial proposal to transform its decades-long treatment of what is now its most commonly diagnosed service-connected disability," wrote the senators to VA Secretary Denis McDonough. "If the proposed change proceeds down this path, many veterans will be left without VA recognition for tinnitus and access to earned benefits and treatment options, namely the hearing aid technologies so many veterans rely upon."
Tinnitus—a high-pitched ringing caused by damage to the ears—is currently one of the most common service-connected disabilities recognized by VA, with an estimated 1.5 million veterans receiving VA benefits for the condition. VA has historically recognized tinnitus as a consequence of head injury, concussion, or acoustic trauma from loud sounds common in garrison or war zones. The proposed rule, which primarily relies on a single, outdated 1990 medical research report, would change the disability rating system for the condition, removing it as a stand-alone disability. Consequently, VA would stop compensating veterans for tinnitus by itself and impose a greater burden on veterans to prove their tinnitus is linked to another service-connected disability.
Although the proposed rule would not impact veterans currently covered for tinnitus, Blumenthal and Tester voiced concerns over the staggering impact the proposed change would have on veterans in the future and urged the agency to ensure veterans continue to receive coverage for the condition, writing:
"[T]innitus negatively impacts millions of veterans who otherwise would not suffer but for their sacrifices on behalf of our nation. We cannot deny veterans the health care and benefits for service-connected suffering on medical semantics alone."
The full text of the letter is available here.
—  U.S. Senator Richard Blumenthal (D-CT) applauded President Biden's nomination of Sarah Merriam to fill a vacancy on the United States Court of Appeals for the Second Circuit. Consisting of thirteen judges, the Second Circuit is one of thirteen appeals courts across the country and exercises appellate jurisdiction within Connecticut, New York, and Vermont. 
"Judge Merriam has demonstrated deep legal insight, unflinching fairness and fidelity to justice," said Blumenthal. "She's a great listener—taking seriously every legal claim, and following the facts and law with care and intellect. She will bring to the appellate court an unstinting commitment to the rule of law at a time when its importance is paramount. Her values emphasize equity, and equal opportunity. As a member of the Judiciary Committee, I look forward to championing her nomination, which I expect to receive the same bipartisan support as did her confirmation to the U.S. District Court."
—  U.S. Senator Richard Blumenthal (D-CT), a member of the Senate Judiciary Committee, applauded the Senate's approval of Vanessa Avery's nomination to serve as United States Attorney for the District of Connecticut.
"Vanessa Avery is a proven prosecutor, a thoughtful leader and a champion for Connecticut's people. She's fair and tough and will follow the facts and law to deter and punish wrongdoers. Vanessa is a dedicated and diligent public servant with broad experiences across the legal profession that will no doubt inform and inspire her work as U.S. Attorney," said Blumenthal. "Connecticut is lucky to have her leadership and I am proud to have recommended her nomination to the White House with Senator Murphy."
—  U.S. Senator Richard Blumenthal (D-CT) praised the Food and Drug Administration's (FDA) announcement of a proposed rule to ban menthol cigarettes and prohibit flavors in cigars:
"Banning menthol is a monumental step forward. It's long overdue but historic in saving millions from lifetimes of addiction and disease. No doubt the industry will mobilize its armies of lawyers and lobbyists, so the fight will continue. As a longtime advocate of stronger FDA action, I look forward to supporting continued measures to protect children and all Americans from the flavors, gimmicks, ads and clever tools that Big Tobacco tirelessly deploys."
Blumenthal also joined U.S. Senators Edward J. Markey (D-MA), Elizabeth Warren (D-MA), Dick Durbin (D-IL), Jeff Merkley (D-OR), and Ron Wyden (D-OR) in issuing a statement of support for the move. 
"For decades, the tobacco industry has heavily promoted menthol cigarettes, products that are more addictive, harder to quit, and often a gateway for young people to begin smoking," said the Senators. "We've known about the dangers of menthol products for years, and we applaud the Biden administration and the FDA for finally moving to ban them from the market. FDA should work through the rulemaking process expeditiously to ensure that these menthol cigarettes and flavored cigars are off the shelves in order to help protect public health and help save lives."
—  During a Senate Commerce Committee hearing, U.S. Department of Commerce Secretary Gina Raimondo expressed support for the Kids Online Safety Act when questioned by U.S. Senator Richard Blumenthal (D-CT). Blumenthal is leading the bipartisan legislation to enhance children's safety online with U.S. Senator Marsha Blackburn (R-TN).
"[W]e have bipartisan support for a measure that would give parents the tools and means they need to protect their children from the toxic content driven by black box algorithms to them," Blumenthal said about the Kids Online Safety Act. "Will you support it?"
"Yes, one hundred percent," answered Raimondo. "I would like to answer this first as a mother of two teenagers. I think this is long overdue legislation. The goals of your legislation are laudable and as a Commerce Secretary, I feel equally strongly about it. It's long overdue. We see the corrosive effects, so yes I'll help you in any way. Also in President Biden's unity agenda is very focused on mental health and increasing mental health services, particularly to young people. Much of the reason we have that need is because we have not done a good enough job regulating the content online, particularly as it relates to our kids. So I applaud you for the initiative."
—  U.S. Senator Richard Blumenthal (D-CT) joined U.S. Representative Jan Schakowsky (D-IL) and auto safety advocates to urge U.S. Department of Transportation and auto manufacturer action on alerts and technology to prevent hot car deaths ahead of National Heatstroke Prevention Day on May 1st. More than 1,000 children have died from heatstroke in hot cars since 1990, and at least 7,300 more survived with varying injuries.
"Cars can become death traps in a matter of minutes. Partial adoption of the HOT CARS Act in the bipartisan infrastructure law was a great first step, but these provisions must be enforced and implemented. We also need improved detection technology, not just alerts. Just as they did with seatbelts and airbags, manufacturers must do more to make cars safer for our children. The heart wrenching stories of parents scarred by tragic injuries or deaths of their children in hot cars must compel Congress and auto manufacturers to action," said Blumenthal.
—  U.S. Senators Richard Blumenthal (D-CT) and Edward J. Markey (D-MA) and U.S. Representatives Lori Trahan (D-MA) and Kathy Castor (D-FL) wrote to Meta CEO Mark Zuckerberg demanding answers regarding a new study on the proliferation of pro-eating disorder content on Instagram. The report provides new evidence that Meta targets children and teens based on their activity on Instagram and uses that information to algorithmically push content that can encourage dangerous eating behavior.
Researchers found that due to Instagram's algorithmic practices, pro-eating-disorder accounts gained young followers and spread unhealthy content, even when those pro-eating-disorder accounts were inactive. This research identified children as young as 9 and 10 potentially trapped in bubbles of eating disorder content. These accounts posted disturbing visual content that celebrated "thinspiration" or "bonespiration," terms used to promote eating disorders, including imagery of extremely underweight people as a dangerous body type to follow.
"Meta has an obligation to prioritize the wellbeing of its young users, and company representatives have stated before Congress that Meta is committed to the health and safety of the children and teens who use its platforms. Unfortunately, new research indicates that Meta is amplifying dangerous and unhealthy eating disorder content to users ages 9 to 18," wrote the lawmakers in their letter to Zuckerberg. "This report is particularly concerning given Meta's record of failure to protect young people. Independent reports have previously documented Meta's failure to stop ads for tobacco, alcohol, and eating disorders from targeting teens."
—  U.S. Senator Richard Blumenthal (D-CT) reacted to the news that victims of Larry Nassar's abuse are seeking $130 million from the FBI for their mishandling of the case.
"These young women, survivors of Larry Nassar's horrific abuse, deserve not just apologies, but action. That's why I've demanded accountability of the FBI agents who failed to take steps to stop Nassar, & why the survivors are seeking their own remedies."
—  U.S. Senator Richard Blumenthal (D-CT) urged the U.S. to utilize the Defense Production Act to increase the production and shipment of arms to Ukraine.
"Our latest surge of weapons to Ukraine marks a major challenge to manufacturers. America is rapidly depleting its inventories of key arms—needing urgent restocking. Utilize the Defense Production Act."
"U.S. has given 1/3 of our Javelin missiles to Ukraine—with many more needed. At current pace— unacceptably—a year is necessary to produce 1,000.  Proof that we need the Defense Production Act."
"Thankfully, America is sending Ukraine weapons like Howitzers, M113 Armored Personnel Carriers, Javelins & Stingers from our own supplies. Our cupboards will be bare—endangering our security—without the DPA. Manufacturers need a clear demand signal."
—  U.S. Senator Richard Blumenthal (D-CT) reacted to President Biden's nomination of Bridget Brink to serve as U.S. Ambassador to Ukraine.
"President Biden is making a smart choice. Ambassador Brink is a supremely skilled diplomat with years of experience that make her well qualified to lead the U.S. Embassy in Kyiv. I urge my colleagues in the Senate to move swiftly to confirm this critical nomination."
—  U.S. Senator Richard Blumenthal (D-CT) reacted to news that Attorney General Merrick Garland supports efforts to allow some proceeds from assets the Justice Department seizes from Russian oligarchs to go directly to Ukraine.
"Russian oligarchs are Putin's partners in conflict—profiting off his cruel war. Glad to see AG Garland agrees that we should seize their assets & use these funds to assist Ukrainian freedom fighters. Let's pass the Asset Seizure for Ukraine Reconstruction Act."
—  U.S. Senators Richard Blumenthal (D-CT), Elizabeth Warren (D-MA), and Raphael Warnock (D-GA) joined five of their colleagues in a letter to Secretary of Education Miguel Cardona asking the Department of Education (ED) for details about its plans to implement its plan to give a "fresh start" to student loan borrowers in default before loan payments resume after August 31, 2022. Their letter follows ED's recent announcement of the extension of the student loan payment pause through August 2022 and its plan to provide a "fresh start" to borrowers in default by eliminating the impact of delinquency and default and allowing these borrowers to enter repayment in good standing.
"More than 7 million federal student loan borrowers are currently in default on their federal student loans. A disproportionate number of these borrowers are low income, people of color, first generation college students, veterans, student parents, students with disabilities, and people who did not complete college. Removing these borrowers from default when student loan payments and collections resume means that millions will not be immediately subject to wage garnishment, tax refund withholding, and aggressive collections practices that threaten to undermine their economic security. It also makes these borrowers eligible to enroll in Income-Driven Repayment plans," wrote the senators.
—  U.S. Senators Richard Blumenthal (D-CT) and Brian Schatz (D-HI) joined eight of their colleagues in introducing a resolution to support the designation of April 2022 as "Preserving Local News Month." The resolution recognizes local news as a public good that serves an essential function in the democracy of the United States.
AROUND CONNECTICUT
—  U.S. Senator Richard Blumenthal (D-CT) praised the Connecticut legislature's passage of an agreement with Sikorsky, which will maintain more than 7,000 jobs and keep Sikorsky's headquarters in Connecticut through 2042.
"Broad bipartisan General Assembly support is a credit to Sikorsky's incredible new helicopter lines and world-class workforce. Our Congressional delegation commends Governor Lamont's leadership and the strong legislative partnership to grow one of our state's most important employers," said Blumenthal. "Connecticut stands strongly in united support of our defense manufacturers and their employees who are second to none in expertise and experience. I will continue to fight to bring defense work to our state, which tremendously benefits Connecticut and boosts our nation's security."
—  U.S. Senator Richard Blumenthal (D-CT), a member of the Senate Armed Services Committee, joined members of Connecticut's Ukrainian-American community to call on Congress to pass President Joseph R. Biden's request to provide $33 billion in funding to Ukraine for weapons, ammunition and other military assistance, as well as direct economic and humanitarian aid.
—  U.S. Senator Richard Blumenthal (D-CT) announced $200,000 in funding for the Southeastern Regional Action Council for three new staff member positions to provide much needed mental health and addiction services in Eastern Connecticut.
The funding, which was secured through the 2022 Omnibus Appropriations bill, will fund three staff member positions for 12 months to work across 13 towns in Eastern Connecticut and develop wellness teams with the mission of rebuilding community connectedness by re-engaging residents at risk for addiction or mental health challenges. Rural communities in Eastern Connecticut are experiencing a high level of risk for developing addictions, experiencing mental health crises, and suicide deaths due to the increase in isolation, social degradation, and low community connectedness.
—  U.S. Senator Richard Blumenthal (D-CT) released the following statement following news today of the death of Michael Zacchea, a decorated Marine Corps Veteran and Blumenthal's 2016 guest to the State of the Union address.
"Michael Zacchea was the model for public service — a heroic soldier and tireless advocate who helped countless veterans across Connecticut start, strengthen and expand their businesses," said Blumenthal. "He was a decorated officer who earned two Bronze Stars for Valor and a Purple Heart. After his service, Michael continued to give back by creating countless jobs and opportunities for other veterans. He was beloved by his fellow veterans and his legacy of unselfish and unfailing service and generosity will live on in the many lives he touched both here in Connecticut and across the nation."
—  U.S. Senator Richard Blumenthal (D-CT) joined Berlin Mayor Mark Kaczynski, Gold Star Mother Helen Keiser-Pedersen, and community members for a dedication ceremony and unveiling of the new Connecticut Gold Star Families Memorial Monument. The creation of the monument was strongly supported by the Woody Williams Foundation.
"Gold Star Families now have a beautiful & meaningful memorial in Berlin's Veterans Park. A dedication ceremony brought together families, leaders, like Helen Keiser-Pedersen, & Woody Williams Foundation in music, emotion & eloquent remarks. We must never forget their service & sacrifice," said Blumenthal.  
—  U.S. Senator Richard Blumenthal (D-CT) joined local elected and community leaders at the Founders Bridge Overpass for an unveiling of a new mural project to honor five East Hartford women for their great contributions to the community.
—  U.S. Senator Richard Blumenthal (D-CT) joined state and local elected leaders and community members for the 10th annual Walk a Mile in Her Shoes event in Fairfield.
"Hundreds marched in Fairfield yesterday—a Walk In Her Shoes—to stand with survivors & law enforcement against domestic violence in powerful, eloquent solidarity. We must break this vicious, insidious cycle of abuse. Thanks to the Center for Family Justice & Deb Greenwood!"
—  U.S. Senator Richard Blumenthal (D-CT) attended the Dr. Martin Luther King Jr. and Albert Owens Scholarship Brunch in Meriden to honor students who are winners of this year's MLK essay contest.
"Wonderful MLK brunch in Meriden yesterday—a great turnout to recognize very special young people & highlight keynote address from Secretary Cardona. Rescheduled from January, it had all the same spirit & energy. Thanks Rhudean Raye!"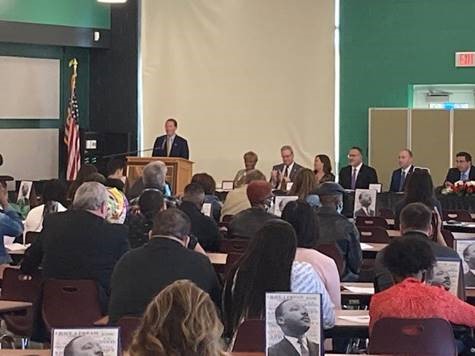 -30-