LEGISLATION, LETTERS, & STATEMENTS
— U.S. Senator Richard Blumenthal (D-CT), a member of the Senate Judiciary Committee, met with President Biden's nominee to serve on the Supreme Court, Judge Ketanji Brown Jackson. Judge Jackson currently serves on the United States Court of Appeals for the District of Columbia Circuit.
"I was so deeply impressed by Judge Jackson – not just by her intellect and expertise as a judge and a lawyer, but also her depth and warmth as a human being. Judge Jackson understands the real world impact of judicial decisions on individual people. Judges are the voice and face of justice. If Judge Jackson is confirmed, and I expect she will be after a thorough review, she'll be the only justice who has regularly represented people who couldn't afford a lawyer. What struck me is how that experience has informed her judgement about how to make decisions and about how to make those decisions understandable and fair – not just fair in fact but understood as fair by the people who come before her."
"So I was very impressed by her legal expertise, her intellect, her ability, but most importantly her personal depth and warmth, all of which I think is going to radiate in the Judiciary Committee hearings. I look forward to there being bipartisan support for her nomination."
— U.S. Senator Richard Blumenthal (D-CT) released the following statement applauding Senate passage of the bipartisan Omnibus Appropriations Agreement for Fiscal Year 2022:
"This comprehensive, bipartisan spending bill addresses some of the biggest challenges we face in Connecticut, across the country, and around the world. I'm proud to have fought for measures that will benefit our state – helping real people in real ways. Countless critical programs will receive essential funding from this bill, and billions of dollars will soon be headed Connecticut's way."
"The omnibus will invest in our skilled manufacturing workforce, bolster mental health and substance abuse resources, improve VA services for our nation's veterans, and support America's middle class and small businesses. As Chair of the Subcommittee on Consumer Protection and as author of the bipartisan Jabara-Heyer NO HATE Act, I fought for provisions to crack down on Big Tobacco's efforts to supply children with unregulated synthetic nicotine products and to combat hate crimes with new grant programs and funding."
"I'm also proud of this bill's historic effort to assist our allies and partners in Ukraine. This legislation will provide vital funding to strengthen security and humanitarian efforts as Vladimir Putin and Russia continue their unprovoked attack. This funding to support our security partners and relocate displaced refugees sends an unequivocal message that the United States is here to help." 
— U.S. Senator Richard Blumenthal (D-CT) joined Accountable Tech and youth activists to discuss social media's harms to young people's mental health and well-being, and ensure young people are at the forefront of conversations about reforms to make online platforms safer for kids. As Chair of the Senate Commerce, Science, and Transportation Subcommittee on Consumer Protection, Product Safety, and Data Security, Blumenthal has spearheaded a series of hearings on Big Tech's impacts on kids, culminating in the introduction of the bipartisan Kids Online Safety Act, which would empower kids and teens online and hold Big Tech accountable.
"I am just in awe – and I say that, really from the heart – in awe of your ability to articulate what I have been struggling to say and convey about your experiences. Not only should you have a seat at the table, but you ought to be directing what we're doing at the table because you are the experts," said Blumenthal to the youth activists at today's roundtable. "The self-awareness and information that you have developed is just so powerful and every one of you has similar kinds of insights that I think we ought to put before my colleagues in some way."
"We have the obligation and opportunity to use measures like the Kids Online Safety Act, to make it safer and open the black box algorithms, make them transparent," Blumenthal said. "Give parents tools and young people those tools because very often they feel powerless in the face of content about bullying, the social eating disorders, even suicide and substance abuse. So giving them more control or giving them back control over their lives is very, very important."
— U.S. Senators Richard Blumenthal (D-CT) and Chris Murphy (D-CT) applauded the Senate Energy and Natural Resources Committee's approval of Sara Bronin's nomination to chair the Advisory Council on Historic Preservation. In a bipartisan 12-8 vote, the committee advanced Bronin's nomination to be considered by the full Senate.
"Today's bipartisan vote highlights Sara Bronin's extraordinary expertise and experience as a preservation advocate and steward," said Blumenthal. "Her commitment to this vital cause is demonstrated convincingly by her championing vulnerable community assets across Connecticut. As chair of the Advisory Council on Historic Preservation, she can take this work to a national level."
If confirmed as chair of the Advisory Council on Historic Preservation, Bronin will lead the agency in addressing policy issues, directing program initiatives, and making recommendations regarding historic preservation, enhancement, and sustainable use of our nation's diverse historic resources to the President, Congress, and heads of other federal agencies.  
— With gas prices skyrocketing in recent days against a backdrop of continued Russian aggression in Eastern Europe, U.S. Senators Richard Blumenthal (D-CT) and Sheldon Whitehouse (D-RI) joined several of their Democratic Senate colleagues in introducing the Big Oil Windfall Profits Tax to curb profiteering by oil companies and provide Americans relief at the gas pump.
"We need to stop big oil companies from exploiting Russia's savage invasion to profiteer and rake in record profits—making consumers pay the price," said Blumenthal. "This bill will clamp down on big oil corporations' despicable price gouging with targeted taxes while ensuring consumers pay less."
The price of a gallon of gasoline is up well over a dollar from a year ago, and the price of a barrel of oil is double what it was before the pandemic. Russia's invasion of Ukraine has further disrupted an already volatile global oil market by reducing supply and leading governments to limit imports of Russian energy to help protect the Ukrainian people.
At the same time, big oil companies are reaping near-record profits. In 2021, ExxonMobil's profits jumped over 60 percent over pre-pandemic levels to more than $23 billion. Over that same time period, the price of a gallon of gasoline rose from an average of $2.69 to $3.41. It currently stands at over $4. This increase is not justified by increases in the cost of domestic production, but is driven by international markets controlled by fossil fuel cartels.
— U.S. Senators Richard Blumenthal (D-CT), Cory Booker (D-NJ), Bob Menendez (D-NJ), and Kirsten Gillibrand (D-NY) reintroduced legislation to provide parity for American seniors living in Puerto Rico and other U.S. Territories in Medicare Part D. The Territories Medicare Prescription Drug Assistance Equity Act would make Medicare beneficiaries across the U.S. territories eligible for the Medicare Part D Low Income Subsidy program. This program, also known as "Extra Help," provides federal subsidies to help low-income seniors with their monthly premiums and other out-of-pocket prescription drug costs.
"This legislation will cut prescription drug costs for low-income seniors across Puerto Rico and other U.S. territories," said Blumenthal. "While federal cost-saving subsidies should be available to all U.S. citizens regardless of where they live, current regulations exclude those living in territories – often resulting in skipped doses and higher out-of-pocket expenses. By expanding premium and cost-sharing assistance programs, this effort will improve health outcomes and put money back into the pockets of hundreds of thousands of Medicare beneficiaries."
— U.S. Senator Richard Blumenthal (D-CT) and other lawmakers joined a Zoom call with Ukrainian President Volodymyr Zelensky for an update on efforts to counter the Russian invasion.
"Deeply moving plea by President Zelensky on this morning's call for desperately needed American arms support & stronger economic sanctions. Zelensky has challenged us—a call for world support at this critical hour, because Ukraine is fighting for all our values not just their existence."
"No doubt after this call: Stronger sanctions are vital, including an embargo on Russian oil & gas. Boycott all Russian products & seize cronies' assets. Isolate as a pariah."
"For all on the call, this moment was deeply & uniquely moving & emotional. So eloquent, compelling, & composed—a profile in courage. A heroic, inspiring historic figure. Impersonal as Zoom may seem, President Zelensky's eloquent appeal to American values & security felt intensely personal—his passion & courage are palpable."
"Ukraine needs more aircraft for its pilots, more weapons & ammunition for its fighters, more humanitarian assistance for civilians under siege, more air defense to stop the bombs & missiles, & more. We should provide them all—now, with bipartisan action."
— U.S. Senators Richard Blumenthal (D-CT) and Sherrod Brown (D-OH) joined 20 of their colleagues in introducing the Arbitration Fairness for Consumers Act, legislation to prohibit banks and other financial institutions from using forced arbitration clauses against consumers who want to seek restitution and justice.
Financial institutions use arbitration clauses to take away consumers' constitutional right to pursue a trial by jury or to join a class action lawsuit. Consumers with disputes are forced into private, closed-door arbitration proceedings that are not only inconvenient and costly, but are also ones in which consumers rarely prevail. Such clauses are typically non-negotiable, and companies frequently hide them in agreements that are lengthy and dense.
AROUND CONNECTICUT
— U.S. Senator Richard Blumenthal (D-CT) spearheaded legislation to lower high gas prices by temporarily suspending the federal gas tax through the end of the year.  By suspending the 18.4 cents per gallon federal gas tax until January 1, 2023 and ensuring tax savings are delivered to Americans and not oil and gas companies, the Gas Prices Relief Act would bring much-needed economic relief to families across Connecticut and the country. The legislation also requires the Treasury Department to monitor and ensure oil and gas companies are passing along savings to drivers at the pumps.
— U.S. Senator Richard Blumenthal (D-CT) joined leaders of the Connecticut-Ukrainian community at the Ukrainian Self Reliance Federal Credit Union in Wethersfield to urge Congress to pass President Joe Biden's request for additional emergency humanitarian and defense aid for Ukraine. Blumenthal and the leaders suggested specific steps for how Americans can support Ukrainian refugees.
"Proud to stand with members of CT's Ukrainian-American community, including the Ukrainian Self Reliance Federal Credit Union to help support those in Ukraine & the refugees who have fled."
— U.S. Senator Richard Blumenthal (D-CT) and U.S. Representative Jim Himes (D-CT) visited Westport to stand with members of Connecticut's Ukrainian-American community at a rally in opposition to Russia's invasion of Ukraine. Blumenthal traveled to Ukraine earlier this year to meet with President Volodymyr Zelensky and other national leaders to reiterate the United States support for the people of Ukraine.
Blumenthal and U.S. Senator Chris Murphy (D-CT) also joined a rally in New Haven.
"In New Haven yesterday, the historic Green was filled with hundreds standing with Ukraine—singing, speaking out, & supporting stronger American action. Just as Americans were all Berliners almost 60 years ago, we are all Ukrainians today," said Blumenthal.
— U.S. Senator Richard Blumenthal (D-CT) attended fundraisers in support of Ukraine hosted by Belvedere Restaurant in New Britain and A.M. Bagel in Derby.
"In New Britain's Little Poland, thank you to the Belvedere Restaurant & owner Ela Konferowicz for an amazing event supporting Ukrainian freedom fighters & Maidan United. Wonderful people, spectacular food, & powerful spirit."
"Proud to visit A.M. Bagel in Derby, where Myron & Alexis Seniw are supporting the United Ukrainian American Relief Committee with sales from their delicious bagels. Lines around the block."
— U.S. Senator Richard Blumenthal (D-CT) visited Kinsmen Brewing in Southington to call for additional relief to Connecticut's craft beer industry. Prior to the pandemic, Connecticut's craft beer industry was booming, averaging almost 20 new breweries a year. Over the last year, Connecticut's craft brewery business has slowed – with several breweries around the state recently announcing their closure, including four since the beginning of 2022 alone. Blumenthal has been pushing for the replenishment of the Restaurant Revitalization Fund (RRF) to provide relief to breweries facing strains as a result of the pandemic.
"Through great ingenuity & sheer grit—& some federal COVID aid—Kinsmen Brewing has survived tough times. I'm fighting to replenish the Restaurant Revitalization program to support CT's incredible craft brewers."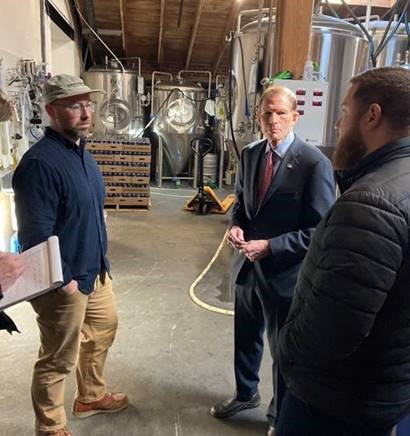 — U.S. Senator Richard Blumenthal (D-CT) attended the 10th Annual Roberto Clemente Life Commemoration Event.
"Thanks to the Hartford Yard Goats & SMSA for honoring the life & legacy of a legend of the game—Roberto Clemente. Students from SMSA will follow Clemente's commitment to public service by volunteering 21 hours to help their community."
— U.S. Senator Richard Blumenthal (D-CT) reacted to Tweed New Haven Airport's announcement that airlines will begin offering nonstop service to Chicago, Baltimore/Washington, and Raleigh-Durham.
"Great news for CT residents & businesses—Tweed & Avelo are adding additional destinations with non-stop flights to Chicago, Raleigh, & Baltimore/DC. This is a vote of confidence in Tweed & the future of our state."
— U.S. Senator Richard Blumenthal (D-CT) visited Saltwater Grille in Litchfield to discuss ongoing strains due to the pandemic.
"Great to meet with Brook Noel the owner of Salt 2.0 in Litchfield. She has found innovative & creative ways to keep her business going during this pandemic."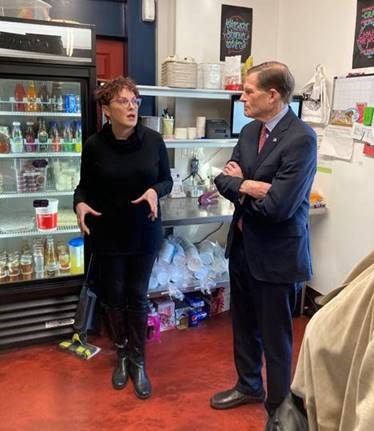 -30-