PROTECTING AIRLINE PASSENGERS & CREW FROM CONTAMINATED AIR ON BOARD
— U.S. Senator Richard Blumenthal (D-CT) and U.S. Representative John Garamendi (D-CA) reintroduced the bipartisan, bicameral Cabin Air Safety Act to protect airline pilots, flight attendants, and passengers from toxic cabin air. While planes pressurize and ventilate the cabin with outside air that flows through the engines, faulty seals and other malfunctions can lead to the circulation of engine oil, deicing fluids, insecticides, and other harmful fumes around the cabin. According to reports, exposures to these toxins have led to respiratory and neurological conditions such as breathing difficulties, headaches, and fatigue and have nearly incapacitated pilots while flying. The legislation would establish air quality standards and assist with the monitoring, reporting, and investigating of these "toxic fume" events.     
"Passengers and crew deserve to know the air they're breathing is safe and toxin-free," said Blumenthal. "Protecting fliers from harmful fumes that leak into the cabin is essential to safeguarding their health. Our legislation takes action where the FAA and airline industry haven't—requiring air detector and monitoring equipment, incident reporting, and investigations of these events to ensure a safer travel experience for all Americans."
PROTECTING TEENS ONLINE
— Blumenthal and U.S. Senator Edward J. Markey (D-MA) sent a letter to Meta CEO Mark Zuckerberg calling on the company to halt its reported plan to open Horizon Worlds, its landmark virtual reality environment platform in the metaverse, to teens aged 13 to 17. In their letter, the senators highlighted Meta's repeated failures to protect young teens from harmful interactions, advertising, and content on Facebook and Instagram, as well as Meta's own internal research which finds gaps in the company's understanding of user safety in social virtual reality experiences. 
"Meta's plan to target young people with offerings in the metaverse is particularly concerning in light of your consistent failures to protect young users," Blumenthal and Markey wrote in their letter to Zuckerberg. "With a documented track record of failure to protect children and teens, Meta has lost parents', pediatricians', policymakers', and the public's trust."
"As our constituents grow increasingly concerned about the effects of online platforms and social media apps on teens' well-being, your plans to imminently pull these young people into an under-researched, potentially dangerous virtual realm with consequences for their physical and mental health is unacceptable," they continued. "Any strategy to invite young users into a digital space rife with potential harms should not be driven by a goal to maximize profit. We call on you to immediately halt Meta's plan to bring teen users onto Horizon Worlds."
FIGHTING FOREVER CHEMICALS
— Blumenthal joined environmental advocates to highlight $18 million in funding and new federal guidance to combat dangerous per- and polyfluoroalkyl substances (PFAS) from contaminating water sources in Connecticut.
The Environmental Protection Agency recently awarded Connecticut $18 million to address PFAS in drinking water. Late last year, the EPA also released a new plan to address PFAS which includes a program to restrict discharge of PFAS at their sources and a program to obtain comprehensive information on PFAS discharges to better inform future policies to fight these forever chemicals. 
PFAS have been used in the United States for decades in household, commercial and industrial products and are linked to kidney and testicular cancer, increased cholesterol levels, immune system problems, as well as decreases in childhood growth and development. In Connecticut, PFAS has been detected in drinking water across the state, as well as in the Farmington and Hockanum Rivers. According to a 2022 study by the Northeastern University's PFAS Project Lab, 693 sites in Connecticut are contenders for PFAS contamination.
FUNDING CRITICAL PUBLIC UTILITY PROJECTS IN NORWICH
— Blumenthal and Norwich Public Utilities (NPU) will announce $1.6 million in federal funding for two critical infrastructure projects.
The $1.6 million in funding will go two towards two projects. One project will connect a 1,220-foot gap between the Groton and Norwich water systems to strengthen water resiliency in case of emergencies. The second project will reline sewer mains in the Greeneville section of Norwich that will help reduce overflows and improve water quality in the Shetucket and Thames Rivers.
SENDING VITAL RELIEF TO TÜRKIYE & SYRIA
— Blumenthal and the Turkish Ambassador to the United States Murat Mercan visited the Diyanet Mosque of New Haven to thank volunteers who have organized relief efforts for the victims of the earthquake in Türkiye.
With many people displaced from their homes in Türkiye and Syria, the need for supplies and aid is urgent. Diyanet Mosque is now accepting monetary donations after a week of collecting blankets, warm clothing and other items.
DISCUSSING TEEN DATING VIOLENCE
— Blumenthal hosted a roundtable with Conard High School students to discuss the effects of dating violence on young people. Students shared their experiences and asked questions about Blumenthal's efforts at the federal level to eliminate the scourge of domestic violence. According to the Centers for Disease Control and Prevention, 1 in 12 teens will experience dating violence, with significantly higher rates among LGBTQ youth.
"Thanks to the Conard High School students & staff who joined yesterday's discussion on teen dating violence. It's so important we have candid, honest conversations about what it means to be in a healthy relationship & the lasting harms of domestic violence."
FIGHTING FOR THE EQUAL RIGHTS AMENDMENT
— Blumenthal, a member of the Senate Judiciary Committee, asked Trinity College student Thursday Williams about the importance of the Equal Rights Amendment (ERA) during a Senate Judiciary Committee hearing entitled "The Equal Rights Amendment: How Congress Can Recognize Ratification and Enshrine Equality in Our Constitution."
The hearing provided witnesses like Williams the opportunity to testify on the necessity of enshrining sex-based equality into law and Congress' role in ERA ratification. The ERA is a proposed amendment that would make sex-based equality explicit in the U.S. Constitution for the first time. Connecticut ratified the ERA in 1973.
"The fact is generations have fought for the ERA. I've been proud to support the ERA for a long time. And now your generation is fighting for it. And whether it occurs in this Congress or not, I believe that your generation will finally accomplish the ERA if we don't. And I want to ask you what you would tell others in your generation about the importance of the ERA to them in their daily lives?" Blumenthal asked Williams.
EXAMINING THE FUTURE OF TECH'S LEGAL IMMUNITIES
— Blumenthal and U.S. Senator Josh Hawley (R-MO), Chair and Ranking Member of the Senate Judiciary Subcommittee on Privacy, Technology, and the Law, will convene their first hearing on Wednesday, March 8, 2023 at 2:00 PM titled "Platform Accountability: Gonzalez and Reform."
"Tech giants have long turned a blind eye to horrific harms and dangers rampant on their platforms, and Section 230 gives them broad legal immunity to continue doing so—demanding serious Congressional action," said Blumenthal. "This hearing will examine Big Tech's expansive legal immunities and opportunities for reform in light of the Supreme Court's deliberations in Gonzalez v. Google. I look forward to chairing this Subcommittee's first hearing in the new session to thoughtfully and carefully consider necessary tech liability shield reforms."
The Senate Judiciary Subcommittee on Privacy, Technology and the Law has jurisdiction over legal issues pertaining to technology and social media platforms, including online privacy and civil rights as well as the impacts of new or emerging technologies.
— Blumenthal also joined U.S. Senators Mark R. Warner (D-VA), Mazie Hirono (D-HI), Amy Klobuchar (D-MN), and Tim Kaine (D-VA) along with U.S. Representatives Kathy Castor (D-FL) and Mike Levin (D-CA) in reintroducing the Safeguarding Against Fraud, Exploitation, Threats, Extremism and Consumer Harms (SAFE TECH) Act to reform Section 230 and allow social media companies to be held accountable for enabling cyber-stalking, online harassment, and discrimination on social media platforms.
"Section 230's blanket immunity has prioritized Big Tech over Americans' civil rights and safety. Platforms' refusal to be held accountable for the dangerous and harmful content they host has real-life implications for users – leaving many vulnerable to threats like stalking, intimidation, and harassment, as well as discrimination," said Blumenthal. "Our legislation is needed to safeguard consumers and ensure social media giants aren't shielded from the legal consequences of failing to act. These common sense protections are essential in today's online world."
PROVIDING PASSENGERS WITH CASH REFUNDS FOR CANCELLED FLIGHTS
— As airlines continue to fail consumers, with refund complaints still 11,000 percent above pre-pandemic levels, Blumenthal and Markey joined U.S. Representatives Steve Cohen (D-TN) and Jamie Raskin (D-MD) in reintroducing their Cash Refunds for Flight Cancellations Act, legislation to provide consumers an enforceable right to a full cash refund when airlines cancel their flight. This legislation codifies the Department of Transportation's (DOT) authority to require major airlines to give passengers a cash refund if the airline cancels or significantly delays their flight, and creates a new right for consumers to receive a cash refund if the passenger cancels their flight up to 48 hours ahead of the flight's scheduled departure.
"Cash refunds for cancelled or significantly delayed flights are common sense. When passengers' flights are cancelled or they give the airline plenty of notice about a change in their plans, they deserve their money back in full – not a voucher or credit," said Blumenthal. "Our legislation is an important step in restoring fairness and accountability to Americans' air travel experiences. It's time to address the airline industry's unacceptable practices and put passengers before profits."
PROVIDING PUBLIC EMPLOYEES WITH FULL SOCIAL SECURITY BENEFITS
— Blumenthal joined U.S. Senators Sherrod Brown (D-OH) and Susan Collins (R-ME) in reintroducing bipartisan legislation that would ensure public sector workers and their families can receive full Social Security benefits after two previous statutes reduced them. The Social Security Fairness Act, would repeal the Windfall Elimination Provision (WEP) and the Government Pension Offset (GPO) from the Social Security Act. Both of those statutes significantly reduced benefits for nearly 3 million Americans.
BOOSTING THE HIRING OF MILITARY SPOUSES
— Blumenthal joined U.S. Senators Tim Kaine (D-VA) and John Boozman (R-AR) in introducing the Military Spouse Hiring Act, legislation to amend the tax code to incentivize businesses to hire military spouses. According to a survey by Blue Star Families, military spouse employment is the top issue impacting active-duty families, and the top contributor to financial stress among military families. Military spouses consistently experience unemployment rates substantially higher than the national rate, and two thirds of employed active duty military spouses report underemployment. Frequent moves often stall military spouses' upward career progression and force them to find new jobs. This hurts military families and military readiness.
This legislation would address the issue by expanding the Work Opportunity Tax Credit program—which incentivizes employers to hire individuals who experience unique employment barriers—to include military spouses.
PRESERVING & DISCLOSING FEDERAL GUN RECORDS
— Blumenthal and U.S. Senator Chris Murphy (D-CT) joined a bicameral coalition of lawmakers led by U.S. Senator Bob Menendez (D-NJ) and U.S. Representative Barbara Lee (D-CA) in a renewed legislative effort to enhance the ability of local law enforcement to investigate and solve gun crimes, crack down on gun trafficking and negligent gun dealers, and allow researchers to finally study gun violence and its impact on communities across the nation. The Gun Records Restoration and Preservation Act would require the Federal Bureau of Alcohol, Tobacco, Firearms and Explosives (ATF) and the Federal Bureau of Investigation (FBI) to collect, preserve, and disclose gun records and gun tracing data.
"We should not enable people who illegally traffic firearms or use guns to kill or injure innocent children and adults to escape prosecution.  This legislation will end once and for all current laws restricting disclosure of gun records to law enforcement and public officials seeking to reduce gun violence," said Blumenthal.
CLOSING THE DIVIDE ON DIGITAL EQUITY, INCLUSION, & LITERACY
— Blumenthal joined U.S. Senator Ben Ray Luján (D-NM) and U.S. Representative Doris Matsui (D-CA) in reintroducing the Digital Equity Foundation Act, legislation to establish a nonprofit foundation that would channel public and private investments into making progress in closing the divide on digital equity, digital inclusion, and digital literacy.
This Foundation will supplement the National Telecommunications and Information Administration (NTIA) and the Federal Communication Commission's (FCC) work to award grants, support research, provide training and education, engage with stakeholders, collect data, and promote policies to improve digital equity outcomes. The Foundation will be run by a Board of experts specializing in the fields of digital equity, technology, and telecommunications, and will represent diverse communities throughout the U.S.
"This measure will help communities across the country bridge the digital divide and close the homework gap. Access to dependable, affordable broadband and online services is essential to ensuring students, businesses, and families have the tools to succeed. Our legislation is an important step in addressing our nation's disparities in broadband access and countering the connectivity gaps exacerbated by the pandemic," said Blumenthal.
EXPOSING CORPORATE ABUSE OF TAX HAVENS & JOB OUTSOURCING INCENTIVES
— Blumenthal joined U.S. Senator Chris Van Hollen (D-MD) and nine of their colleagues in in introducing the Disclosure of Tax Havens and Offshoring Act, legislation to provide transparency around corporations' use of tax havens and incentives to offshore jobs. This bill would require public companies to disclose their financial reporting on a country-by-country basis. Ensuring public access to this information would both provide investors the tools they need to understand the tax structures and risks of the businesses in which they invest and the give Americans insight into the extent to which the tax system is incentivizing the outsourcing of American jobs or enabling corporations to dodge U.S. taxes. The senators' legislation and support from Democratic colleagues sends a strong signal ahead of the Financial Accounting Standards Board's anticipated rule-making on this issue.
AROUND CONNECTICUT
— Blumenthal attended events around Connecticut to mark the one-year-anniversary of Russia's invasion of Ukraine.
"Stirring vigils at Yale in New Haven & Ukrainian National Home in Hartford with young people leading prayers, songs, & speeches commemorating this first anniversary of Russia's savage, genocidal invasion & Ukraine's fierce, brave resistance. Proud, powerful voices."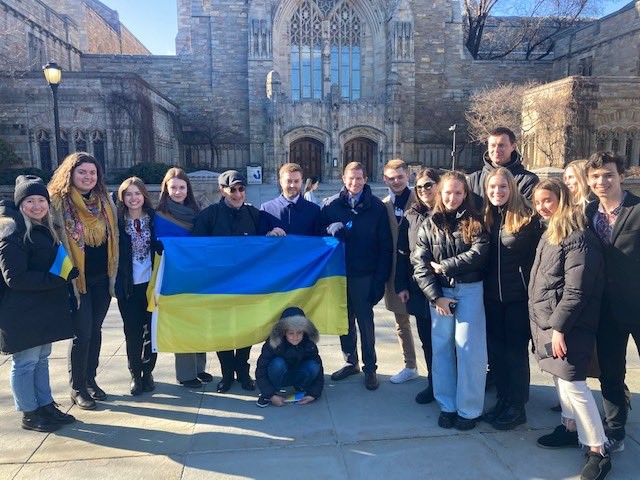 "Thank you to Anna Kobylarz & the City of Goodness for providing shelter to orphans, women with children, & seniors in Ukraine. Very impressive fundraiser at New Britain's Belvedere Restaurant tonight. You are saving lives."
— Blumenthal joined injury prevention experts from Connecticut Children's to call on Mattel, Inc., the parent company of Fisher-Price, to step up its recall efforts for the Rock 'n Play Sleeper — which was linked to eight more infant deaths since its recall in 2019.
"I'm demanding Fisher-Price get its deadly Rock'n Play Sleeper off the market&out of homes. Appallingly, it has caused at least 8 infant deaths since the 2019 recall&no accounting for 90% of the 4.8M still in use. One immediate step: Offer full refunds, not limited value vouchers."
The infant rocker has been linked to over 100 infant deaths, a tragic toll made worse by Fisher-Price and Mattel's efforts to stop the Consumer Product Safety Commission from warning the public of the risks. Despite the 2019 recall, as of 2020 fewer than one tenth of the 4.84 million infant rockers had been accounted for.
In a new letter to Mattel, Inc. Blumenthal and U.S. Representatives Jan Schakowsky (D-IL) and Tony Cárdenas (D-CA) led a group of Members of Congress in demanding the company take further action to ensure these dangerous products are off the market and out of consumers homes.
— Blumenthal attended Electric Boat's annual legislative briefing.
"Electric Boat's briefing yesterday showed their professional prowess & dedication—& the need for more skilled workers. Our entire defense industrial base is at risk without increased investment in training."
— Blumenthal visited FuelCell Energy, a Danbury-based company working with the U.S. State Department to help build energy security in Ukraine. FuelCell Energy is participating in a pilot project with the U.S. State Department to deploy their hydrogen fuel cells, which produce electricity, to Ukraine. Ukraine's energy security and reliability is of key importance to their ability to win the war.
"FuelCell Energy in Torrington will be providing key aid to Ukraine—helping rebuild its power system. As part of a U.S. State Dept. program, this company's cutting edge technology—solid oxide electrolysis—will enable environmentally sustainable electricity. Very exciting visit."
— Blumenthal joined an event honoring the Housing Collective & Havenly.
"Two impactful nonprofits honored today—the Housing Collective, & Havenly—w/Neighborhood Builder grants from Bank of America.  I was proud to join in celebrating their work—one in enabling homes, the other in providing skills  & education to women refugees. Energizing leadership!"
— Blumenthal met with entrepreneurs during Black Futures Week.
"Exciting meeting with entrepreneurs during Black Futures Week, part of Hartford's Black History Month. They're helping to create promising economic & job opportunities. Thanks to the SBA for bringing us together & encouraging these impressive young  businesses."
— Blumenthal joined a Books Across Stamford event.
"A love of reading will last a lifetime, which is why I'm proud to celebrate Books Across Stamford today. Reading is not only an academic skill—it helps children develop empathy, build strong relationships, & expand their imaginations to become creative problem solvers."
"I am proud to have helped secure the $250,000 in federal funding to provide 12,000 students with new books & will keep fighting to deliver more resources so that communities across CT can promote literacy & reading to all students."
— Blumenthal reacted to the news that West Hartford resident Elan Ganeles was killed in Israel.
"I am deeply saddened to learn that one of CT's own, Elan Ganeles, was killed in Israel last night. I strongly condemn this violence & hate—which only sows tragedy & grief. May Elan's memory be a blessing & a reminder that we must all work towards peace."
-30-