SUPPORTING OUR UKRAINIAN ALLIES
— Following last week's visit to Ukraine and meeting with President Volodymyr Zelenskyy, U.S. Senator Richard Blumenthal (D-CT) joined members of Connecticut's Ukrainian-American community in-person and at a virtual town hall to discuss the country's need for tanks, longer range artillery, patriot systems, and more. The war against Putin's barbaric genocidal invasion is at a critical turning point as one-year anniversary approaches. 
"Today I joined members of CT's Ukrainian community to discuss my recent bipartisan trip to Ukraine. This war is approaching a turning point. Ukraine must be given the tools it needs to defend itself against the impending assault & push back. Ukraine can & will win this fight against Putin's barbaric, genocidal invasion if it has the arms & artillery it needs. The time is now for unwavering, united support."
— Blumenthal also released the following statement in response to reports that the U.S. government will provide Abrams tanks to Ukraine:
"Immense relief – that's how I feel about the tank decision having just seen and heard during my Ukraine visit how much it will mean to both military strength and morale. Tanks have the firepower, mobility, defensive armor and other capabilities that will enable Ukrainians to successfully overcome an entrenched Russian force. This step is a great credit to our allies and the Administration staying unified and determined to give Ukraine the arms it needs to win against Putin's criminal, genocidal invasion. Americans should know that these tanks are protecting our own national security – an investment in Ukraine's fight against Putin's advancing aggression that will ultimately involve us more deeply if we fail to stop him now. The Ukrainians may be outmanned, but we cannot allow them to be outgunned."
— Blumenthal also discussed the trip at a press conference with U.S. Senators Lindsey Graham (R-SC) and Sheldon Whitehouse (D-RI).
PROTECTING CONSUMERS, ARTISTS & VENUES FROM THE TICKETING INDUSTRY
— Blumenthal, a member of the Senate Judiciary Committee, questioned Live Nation Entertainment President and Chief Financial Officer Joe Berchtold on Ticketmaster's control of America's ticketing market and its failure to protect consumers, artists, and venues. Titled, "That's the Ticket: Promoting Competition and Protecting Consumers in Live Entertainment," the Committee's hearing followed Ticketmaster's disastrous November launch of ticket sales for the Taylor Swift Eras Tour, where fans encountered site crashes, hours long wait times, fluctuating ticket prices, and other disruptions.  
"You have clear dominance, monopolistic control. This whole concert ticket system is a mess. It's a monopolistic mess," Blumenthal told Berchtold. "Ticketmaster had the temerity to imply that the debacle involved in pre-ticket sales was Taylor Swift's fault because she was failing to do too many concerts. And may I suggest respectfully that Ticketmaster ought to look in the mirror and say, 'I'm the problem. It's me.'"
"You are the ones ultimately responsible for the astronomically rising prices, the exorbitant hidden fees, the sold out shows, the bots and scalpers," Blumenthal continued. "And I think that consumers and artists and venues are all fed up with the system that exists right now."
Citing his work in introducing the BOSS Act to provide consumers with transparency about hidden fees and reports that the Department of Justice is taking steps to investigate Live Nation for possible antitrust violations, Blumenthal called for action to address these failures in the ticketing market.
"If you are angry and frustrated, you have the power to demand action, and we should act with new legislation," said Blumenthal. "If the Department of Justice establishes violation of the consent decree, unwinding the merger ought to be on the table. If the Department of Justice establishes facts that involve monopolist and predatory abuses, there ought to be structural remedies, such as breaking up the companies. We will see what the Department of Justice finds."
Blumenthal also discussed the Better Online Ticket Sales (BOTS) Act, legislation he cosponsored to prohibit ticket scalpers from using software to purchase high volumes of tickets. While the bill was signed into law by President Obama in 2016, Blumenthal urged the Federal Trade Commission to strengthen its enforcement and called on Live Nation to take action against predatory bots.
ADDRESSING AMERICA'S GUN VIOLENCE EPIDEMIC
— Blumenthal joined U.S. Senators Chris Murphy (D-CT) and Dianne Feinstein (D-CA) in introducing a pair of bills to protect communities from assault weapons. The Assault Weapons Ban would ban the sale, transfer, manufacture and importation of military-style assault weapons and high-capacity magazines and other high-capacity ammunition feeding devices. This includes the gun used by a shooter on January 22 to kill 11 people and injure 9 more at a Lunar New Year's celebration in Monterey Park, Calif. The Age 21 Act would raise the minimum age to purchase assault weapons from 18 to 21, the same requirement that currently exists in law for handguns.
"As used by the Lunar New Year's shooter only days ago in Monterey Park, assault weapons have only one practical purpose – to kill or injure human beings," said Blumenthal. "These military-style combat weapons – built for the battlefield and designed to maximize death and destruction – have brought bloodshed and carnage to our streets and continue to be the weapon of choice in countless mass shootings. Guns don't respect state boundaries, which is why we need a national solution to restricting the ownership and use of assault weapons. Now is the time to honor gun violence victims and survivors with this common sense action."
— Blumenthal and Murphy joined U.S. Senate Majority Leader Chuck Schumer (D-NY) and U.S Senators Dick Durbin (D-IL), Ed Markey (D-MA), Tammy Duckworth (D-IL), and Alex Padilla (D-CA) at a press conference urging the Federal Trade Commission to investigate Chicago-based WEE1 Tactical's marketing and advertising tactics related to a 'JR-15' assault-style weapon that is meant to be a children's version of the AR-15. The senators rebuked the company for using tactics and optics that could violate federal law, including implicit and explicit uses.
"The JR-15 may be a smaller version of an assault rifle, but there is nothing smaller about the damage that it can do," said Blumenthal. "This weapon and these ads are the Joe Camel of the arms industry today. The firearms industry has taken a page from Big Tobacco's book. And here is the lesson of Big Tobacco – we can win. All we need to do is enforce the law. To the FTC I say, use the tools. Use the law that you have right now."
— Blumenthal and Murphy joined U.S. Senator Chris Van Hollen (D-MD) and U.S. Representatives Jahana Hayes (D-CT) and Jamie Raskin (D-MD) in reintroducing the Handgun Permit to Purchase Act, legislation to incentivize state and local governments to implement permit-to-purchase laws that require individuals to obtain a license before purchasing a handgun.
"Requiring a license to purchase a handgun is a common sense measure proven to save lives," said Blumenthal. "As seen by Connecticut's drop in gun homicides following our 'permit-to-purchase' law, these standards are successful in keeping firearms out of the hands of dangerous individuals. This legislation is a public health investment – protecting communities shattered by our gun violence epidemic."
— Blumenthal reacted to the deadly shooting in Monterey Park, CA.
"Another community shattered & lives tragically cut short by gun violence— a shocking call to action for the new Congress. The Senate comes back to senseless, preventable carnage—that must be countered. My heart goes out to loved ones & survivors, but thoughts & prayers are not enough."
FIGHTING THE OPIOID EPIDEMIC
— Blumenthal announced two federal grants totaling $243,000 for The Connection, a statewide nonprofit organization providing mental health services and substance use prevention and treatment for adults and youth.
The awarded funding will support their Opioid and Mental Health Prevention and Response Project that will provide critical training to help front-line staff respond and treat mental health emergencies and incidents of opioid abuse. Additionally, the funding will provide much-needed renovations to Hallie House, a Connection residential substance use treatment center for pregnant and parenting women.
"Over $243,000 in federal grants for The Connection will help to support their comprehensive, prevention-orientated approach to address our state's opioid & mental health crises. Their work is truly a force multiplier for good in our community."
ADDRESSING LEGO'S RELOCATION ANNOUNCEMENT
— Blumenthal released the following statement in response to this week's announcement from the LEGO Group.
"I am deeply disappointed about LEGO's announced move from Enfield to Boston, but I remain confident in Connecticut's continuing economic strength and its status as a great place to do business. I have enjoyed many visits to LEGO over the years and will be monitoring this transition closely with state and local officials to make sure Connecticut workers are treated fairly."
PROTECTING REPRODUCTIVE RIGHTS
— Blumenthal joined Senate Democrats at a press conference with patients, providers, and reproductive rights leaders in the Senate Swamp to mark the 50th anniversary of Roe v. Wade. Blumenthal and his colleagues made clear they won't stop fighting for Americans' reproductive rights until Roe is restored—and will be a firewall against House Republicans' nonstop attacks on fundamental reproductive rights.
"We cannot stay silent as millions of women have their reproductive freedom ripped away. Senate Democrats will keep defending against Republicans' efforts to control, criminalize, & dehumanize women's personal decisions about their own bodies," said Blumenthal.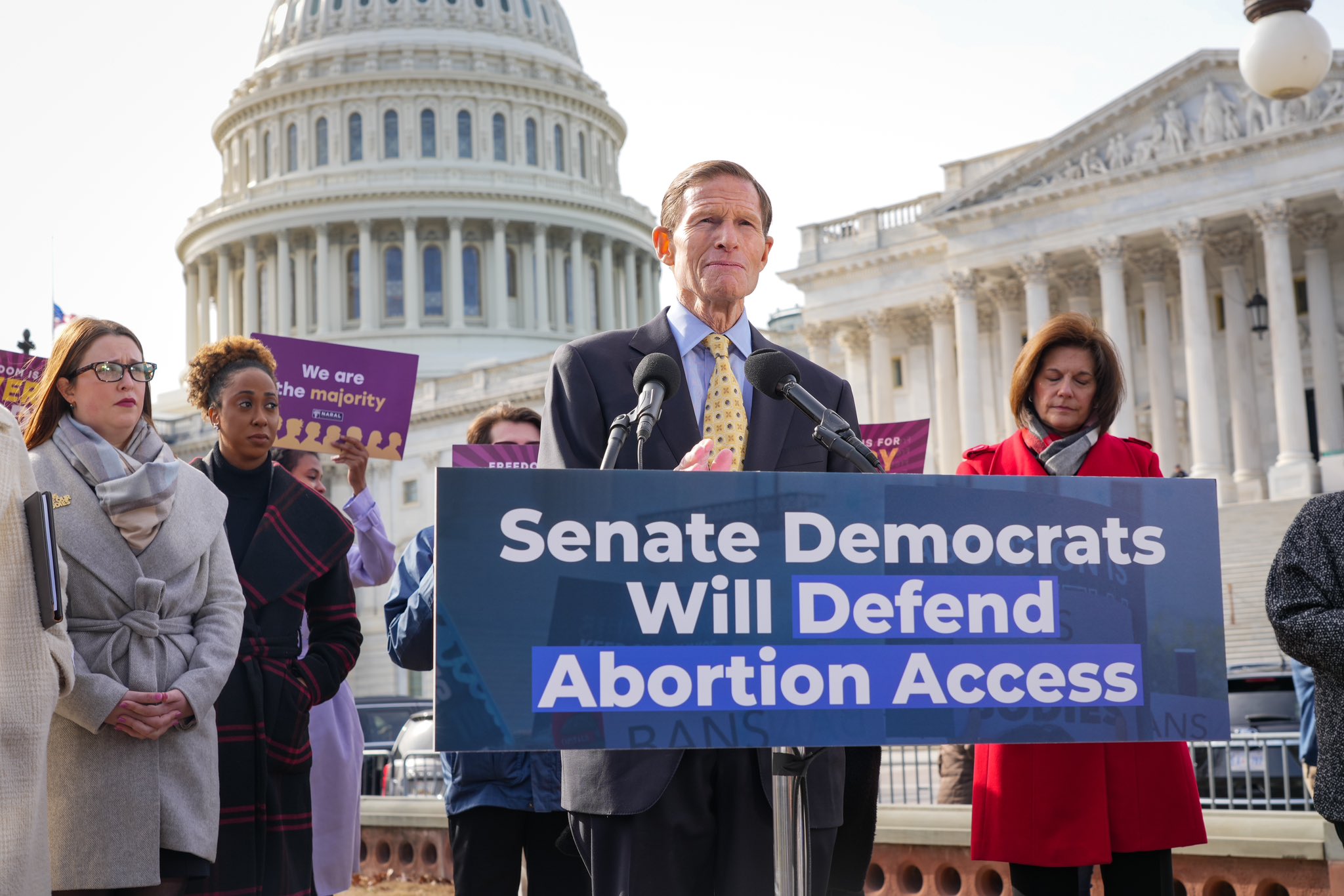 SUPPORTING OUR FIRST RESPONDERS
— Blumenthal joined a bipartisan group of senators in introducing legislation to help police, fire, emergency medical and 911 personnel cope with the stresses of responding to crisis situations. The Fighting Post-Traumatic Stress Disorder Act of 2023 would establish mental health programs for America's first responders who often face long-term effects from providing life-saving services in moments of crisis. 
"This measure will help expand critical mental health services for our heroic first responders. The stresses and trauma first responders face every day stays with them whether they're on or off the clock – highlighting the need for evidence-based and trauma-informed care and support. The Fighting PTSD Act is an important initial investment in the wellbeing of those answering the calls for help and keeping our communities safe," said Blumenthal.
ENSURING COMPETITION & TRANSPARENCY IN DIGITAL ADVERTISING
— Blumenthal and U.S Senators Mike Lee (R-UT), Amy Klobuchar (D-MN), and Ted Cruz (R-TX), original sponsors of the  Competition and Transparency in Digital Advertising Act, issued the following joint statement responding to news that U.S. Department of Justice has filed a civil antitrust lawsuit against Google.
"As senators concerned about the health of the online economy, we are encouraged by the Justice Department's efforts to protect competition in online advertising. Digital ads are the economic lifeblood for much online content, and a necessity for small businesses to efficiently reach consumers."
"Anticompetitive conduct in this market does enormous harm to the entire American economy. Because of this, we are committed to a legislative solution that goes beyond just one company to ensure that one monopolist isn't replaced by another and that all consumers benefit from competition and transparency." 
CORRECTING HISTORIC DISCRIMINATION AGAINST BLACK FARMERS
— Blumenthal joined U.S. Senators Cory Booker (D-NJ), Kirsten Gillibrand (D-NY), Tina Smith (D-MN), Reverend Raphael Warnock (D-GA), Elizabeth Warren (D-MA), and Bernie Sanders (I-VT) in reintroducing the Justice for Black Farmers Act, legislation that aims to address and correct historic discrimination within federal farm assistance and lending at the U.S. Department of Agriculture that has caused Black farmers to lose millions of acres of farmland and robbed Black farmers and their families of the hundreds of billions of dollars of inter-generational wealth that land represented. In 1920, there were nearly 1 million Black farmers in the United States. Today, due in large part to this history of discrimination, it is estimated that there are less than 50,000 remaining Black farmers.
"This legislation addresses decades of historic discrimination against Black farmers and ranchers," said Blumenthal. "The USDA's harmful practices have barred thousands of families from critical assistance and lending opportunities – leading to land loss and preventing farmers from making a meaningful living. By investing in future farmers, creating a new bank to administer grants, and investigating civil rights complaints, the Justice for Black Farmers Act will bring about critical reforms. The socially disadvantaged communities harmed by these antiquated policies deserve our support."
ADDRESSING THE SHORTAGE OF HEALTH CARE WORKERS
— Blumenthal joined health care workers at a press conference to discuss the importance of safe staffing levels.
"Safe staffing saves lives. Patients can only receive the best care possible when nurses are able to safely do their jobs. We need to treat our nurses & health care workers like the heroes they are by giving them the respect & decency they deserve."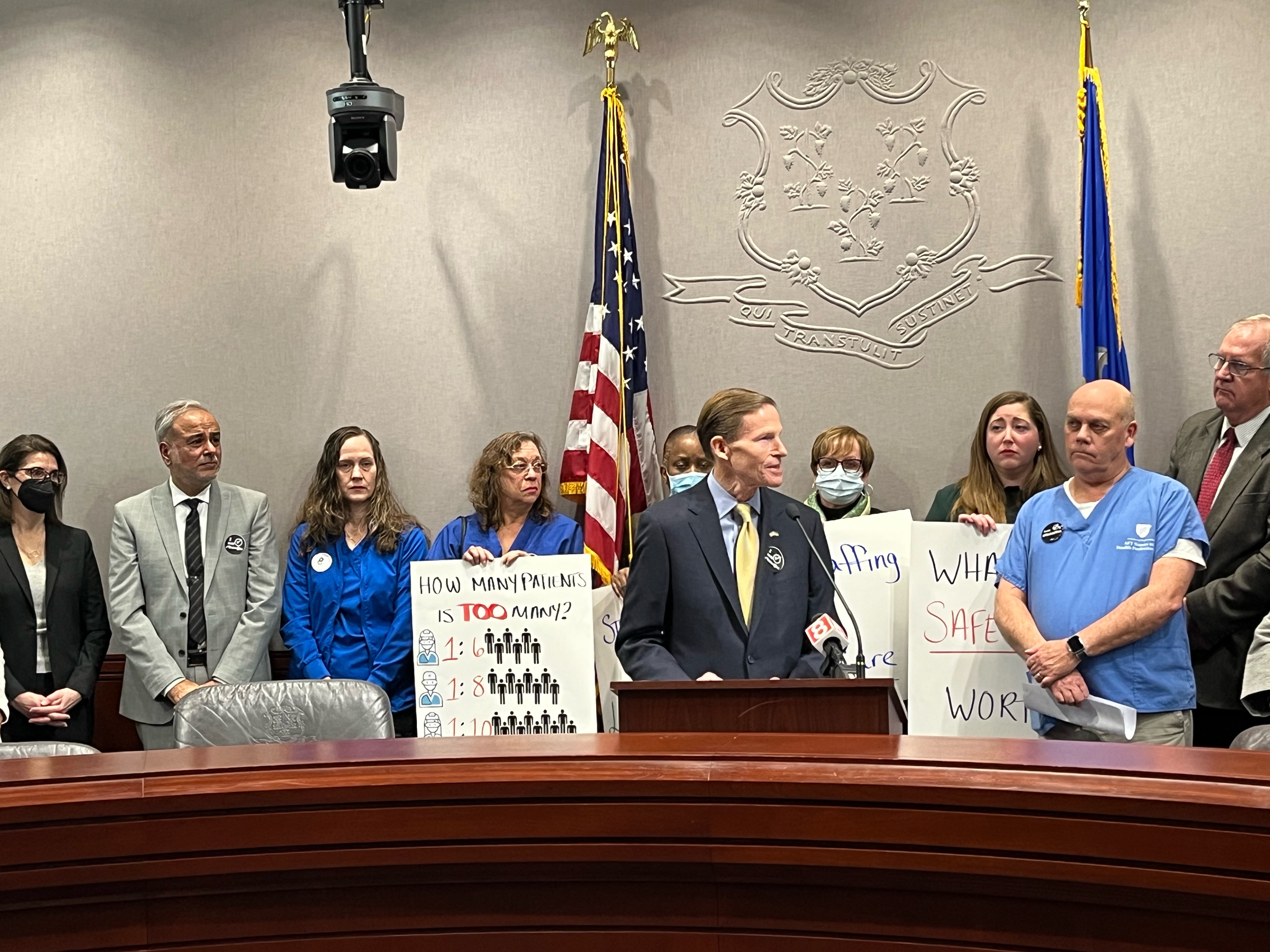 SUPPORTING PEACEFUL PROTESTS IN IRAN
— Blumenthal joined a bipartisan group of senators in reintroducing a bipartisan resolution reaffirming the United States' support for the Iranian citizens who have taken to the streets in peaceful protest and condemning Iranian security forces for human rights abuses. In addition to calling on the international community to continue to publicly highlight and condemn the Iranian regime's crackdown since protests began more than five months ago, the resolution urges the Biden administration to strengthen international efforts to impose additional sanctions on officials and entities responsible for the violent suppression of demonstrations.
INVESTING IN HOME CARE FOR SENIORS AND INDIVIDUALS WITH DISABILITIES
— Blumenthal joined U.S. Senator Bob Casey (D-PA) and U.S. Representative Debbie Dingell (D-MI) in introducing legislation to expand access to home and community-based services for older adults, people with disabilities, and injured workers, while increasing pay and improving benefits for the caregivers who provide this life-sustaining care. The Better Care Better Jobs Act would enhance Medicaid funding for home care, helping many of the over 650,000 people on waiting lists nationally finally receive care in the setting of their choice, allowing them to stay active in their communities, and live independently. This legislation would also strengthen the caregiving workforce, improve quality of life for families, and boost the economy by creating good-paying jobs to make it possible for families and workers alike to thrive economically.
-30-