SUPPORTING OUR UKRAINIAN ALLIES
— U.S. Senator Richard Blumenthal (D-CT) posted the following Twitter thread after visiting Ukraine with U.S. Senators Lindsey Graham (R-SC) and Sheldon Whitehouse (D-RI) and meeting with President Volodymyr Zelenskyy and Ukrainian military officials: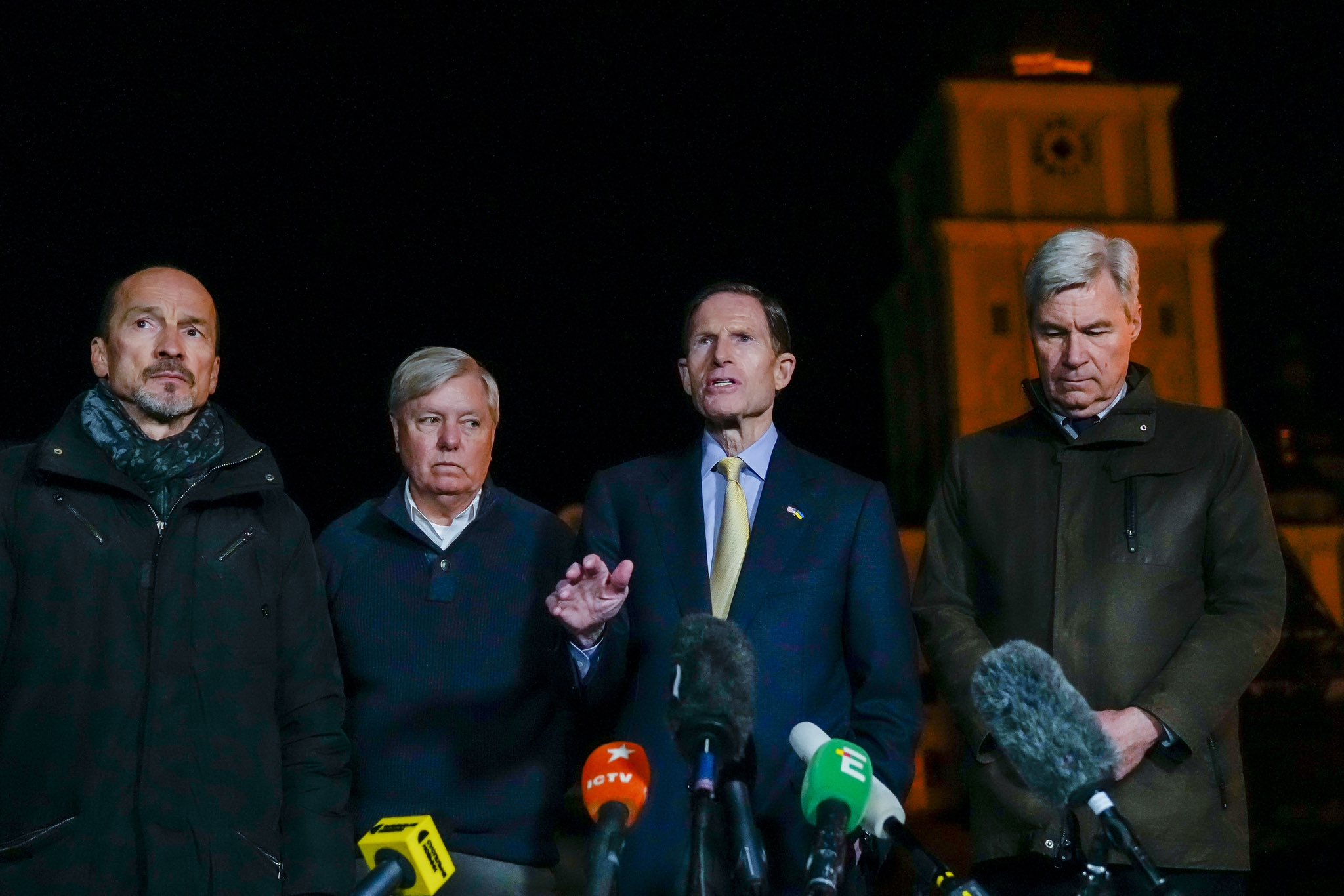 "Senator Graham, Senator Whitehouse, & I have met with President Zelenskyy & his top military team. Our trip to Ukraine shows that Republicans & Democrats are standing strongly together to give our wholehearted, steadfast support to Ukraine."
"My heart soars with hope & confidence. I am deeply inspired by the resolve & resilience of the people of Ukraine, but I am also deeply concerned. We are at a critical turning point in this conflict. A moment of danger & massive opportunity."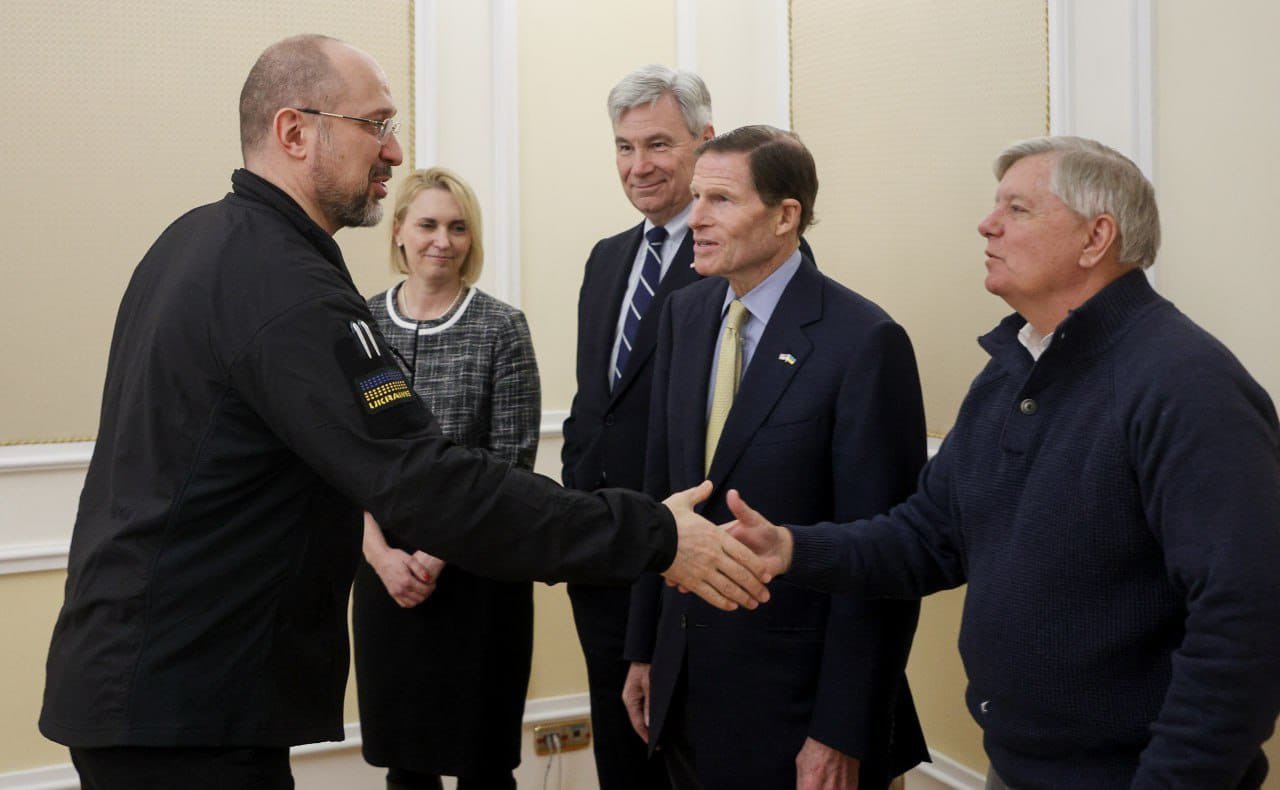 "Time isn't on our side. The Russians are not pausing for debate. They are rearming, reinforcing, resupplying, & preparing for a tremendous counter offensive that will be as barbaric & inhumane."
"America has the historic opportunity to continue to aid Ukraine on its path to victory. The equipment we've provided has been used effectively & powerfully. So ingeniously & inventively in fact that Ukrainians are outperforming every prediction."
"As we approach the anniversary of this war, America must provide Ukraine with the military equipment, tanks, long range artillery, Patriot missiles, & more that they need. Putin – a clear war criminal - and his allies must also be held accountable for their brutal, barbarous cruelty."
UPGRADING WATER & SEWAGE TREATMENT SYSTEMS
— Blumenthal announced $2.24 million in federal funding for two critical wastewater treatment projects in Bethel. The funds will be utilized to construct a water treatment facility that provides safe drinking water for town residents and to install a modern Supervisory Control and Data Acquisition System (SCADA) to improve controls to the water and sewage system.
"Bethel's $2.24 million federal grant for two water treatment system upgrades will bring its water system into the 21st century. Glad to join local leaders to announce this funding & recognize their productive action."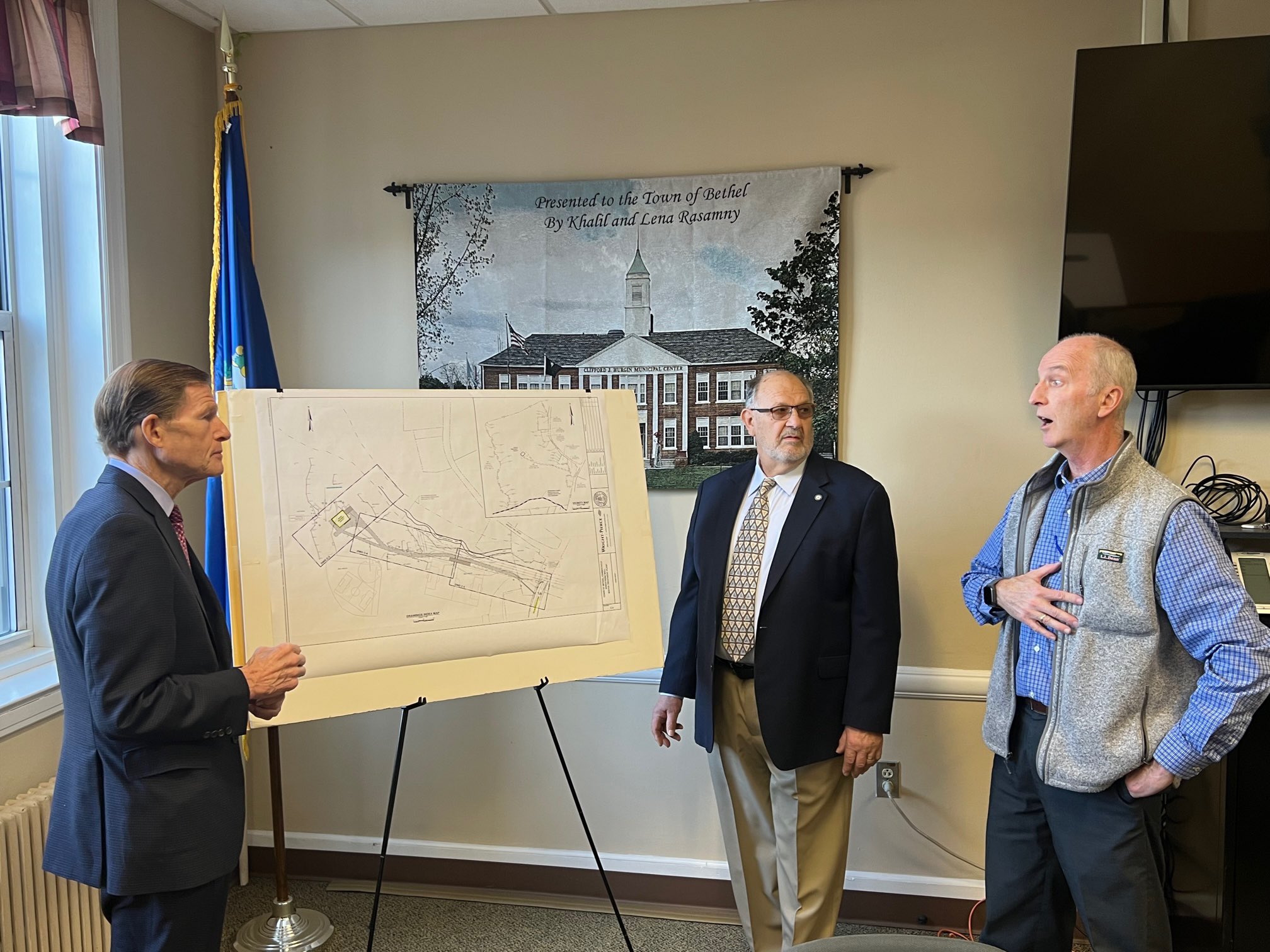 — Blumenthal also announced $720,000 in federal funding to repair two sewage pumps at the River Road pump station, located on the banks of the Pawcatuck River.
"A new water pump for Stonington with $720,000 in federal money will help keep contamination out of the Paucatuck River & Long Island Sound. A strong investment for the entire SE CT region."
The Town of Stonington operates three wastewater treatment facilities and 17 sewage pumping stations. The River Road pump station is the main station for the Pawcatuck Treatment Facility and repairs are needed to avoid sewage bypass.
REINTRODUCING ETHAN'S LAW TO REQUIRE SAFE GUN STORAGE
— Blumenthal joined U.S. Senator Chris Murphy (D-CT), U.S. Representative Rosa DeLauro (D-CT), New Haven Mayor Justin Elicker, and Kristin and Mike Song at a press conference announcing the reintroduction of Ethan's Law.
"Thousands of children live in homes with unsecured guns. These kids are at risk of intentional & unintentional shootings. Ethan's Law—named after Ethan Song who tragically lost his life to an unsafely stored firearm—will help prevent these senseless & unnecessary deaths," Blumenthal said.
"Kristin & Michael Song are the face of courage & resilience. I am in awe of them & their tireless work to turn grief into action. Ethan's Law must be passed."
Named in honor of Ethan Song, a Guilford teen who was killed by an unsecured gun in a neighbor's house in 2018, this legislation would create federal requirements for safe gun storage and strong penalties for any violations. The measure would also give states incentives to create and implement safe gun storage laws.
KEEPING KIDS SAFE FROM CANNABIS
— Blumenthal and Connecticut Attorney General William Tong joined the Connecticut Poison Control Center at UConn Health to warn consumers about the dangers cannabis edibles pose to children now that recreational marijuana sales are underway in Connecticut.
"UConn Health, Attorney General William Tong, CT Poison Control, & I teamed up to raise awareness of the dangers improperly stored cannabis edibles pose to children. Kids, who don't know the difference between these products & popular candies, can be harmed when they ingest them."
"Parents need to be aware of the dangers of edibles & how to protect their children. These poisonings are exploding in numbers—& every one is largely preventable with the right precautions & parental vigilance."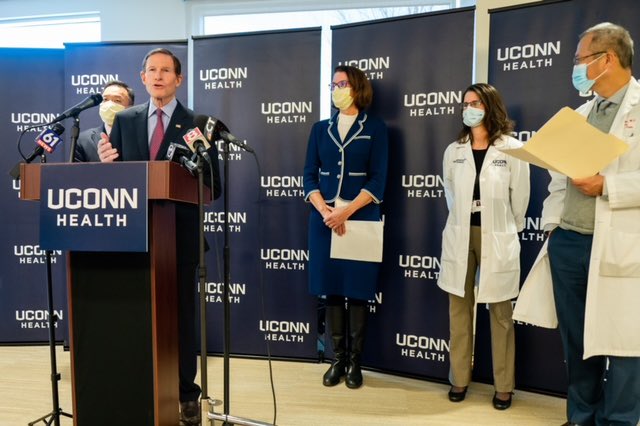 According to a new study published in the journal Pediatrics, the number of children accidentally ingesting cannabis products spiked between 2017 and 2021. In 2017, there were just over 200 cases of accidental consumption by children and in 2021 the number jumped to 3,054—an increase of 1,375%. The study indicates most of the children treated for cannabis consumption found the products in their own home and about 30% required hospitalization, including critical care.
Cannabis edibles sold in the illicit market and some other states can often look like popular candy or other common snack foods, which can lead children to accidentally ingest the products. Blumenthal, Tong and the Connecticut Poison Control Center warned parents of the dangers of these products and advised best practices for keeping children safe.
DEMANDING ANSWERS FROM AMTRAK AFTER HARROWING PASSENGER ACCOUNTS FROM A 37-HOUR DELAYED JOURNEY
— After disturbing Amtrak Auto Train passenger accounts from a delayed 37-hour-long journey, Blumenthal led U.S. Senators Maria Cantwell (D-WA), Ben Cardin (D-MD), and Edward J. Markey (D-MA) in a letter to Amtrak CEO Stephen Gardner demanding answers about the incident and an explanation of the company's policies to ensure adequate customer treatment. 
"While we understand the train was rerouted to avoid an incident on the track and that Amtrak must abide by hours of service laws, it is difficult to imagine a sufficient justification for the distressing conditions passengers described experiencing," wrote the senators.
Hundreds of passengers aboard last week's Amtrak Auto Train from Virginia to Florida faced a long delay in their journey due to another train derailing, with one passenger describing it as the "train ride from hell." During what turned into a 37-hour-long journey, passengers reported limited access to food, bathrooms, and medical care, as well as limited ability for pet owners to disembark, resulting in feces on train floors. Despite Amtrak's claims of regularly updating customers and providing additional meals and beverages, numerous passengers reported bad conditions and confusion, with some dialing 911 to report being held hostage aboard the delayed train.
"It is concerning that this is not the first multi-hour delay impacting the Auto Train during which passengers described dire conditions," continued the senators. "Last January, after a severe winter storm, a northbound Auto Train's journey took about 30 hours – and passengers reported similar experiences on board: poor communication of the train's status and limited food and water. It is alarming that passengers are suffering the same insufficient treatment during a similar situation more than a year later."
The lawmakers called for Amtrak to provide answers about the company's policies and procedures for passenger care and compensation in the event of similar delayed incidents, and "to ensure that Amtrak has robust, humane policies in place to ensure proper passenger treatment during extended delays."
The full text of the letter can be found here.
ANNOUNCING GRANTS FOR OUR PIECE OF THE PIE YOUTH SERVICE CORPS
— Blumenthal and Murphy joined Hartford Mayor Luke Bronin and Our Piece of the Pie (OPP) President & CEO Hector Rivera to announce $2.6 million in federal and state grants to expand and enhance services for Hartford youth.
"A $2 million grant to Our Piece of the Pie means skills, jobs, & careers for 100's more Hartford youth. This investment in justice involved young people provides a positive path forward, away from harm," said Blumenthal.
CELEBRATING THE LIFE & LEGACY OF DR. MARTIN LUTHER KING JR.
— Blumenthal attended events across Connecticut marking the life and legacy of Dr. Martin Luther King Jr.
"Celebrating the iconic life & legacy Martin Luther King Jr., we're inspired by his soaring oratory & unshakable courage in fighting for justice & freedom. His leadership by example has large & lasting lessons for today. The fight is no less urgent & real," Blumenthal said.
"In Norwich, 8th grade MLK scholars spoke eloquently about his life & legacy—proud & powerful. Grateful to be at Norwich Free Academy for this moving testament to freedom & opportunity."
"Stirring service at East End Baptist Tabernacle Church in Bridgeport recalling the courage, conscience, & conviction of Rev. Dr. Martin Luther King. Thank you Rev. Dr. Charles Stallworth for your leadership, & to the congregation for your wonderfully warm welcome."
"In Meriden, the Scholarship Breakfast honoring Dr. King & Albert Owens drew record numbers & tremendous spirit at Francis T. Maloney High School. Thank you once again Rhudean Raye & all who helped organize it."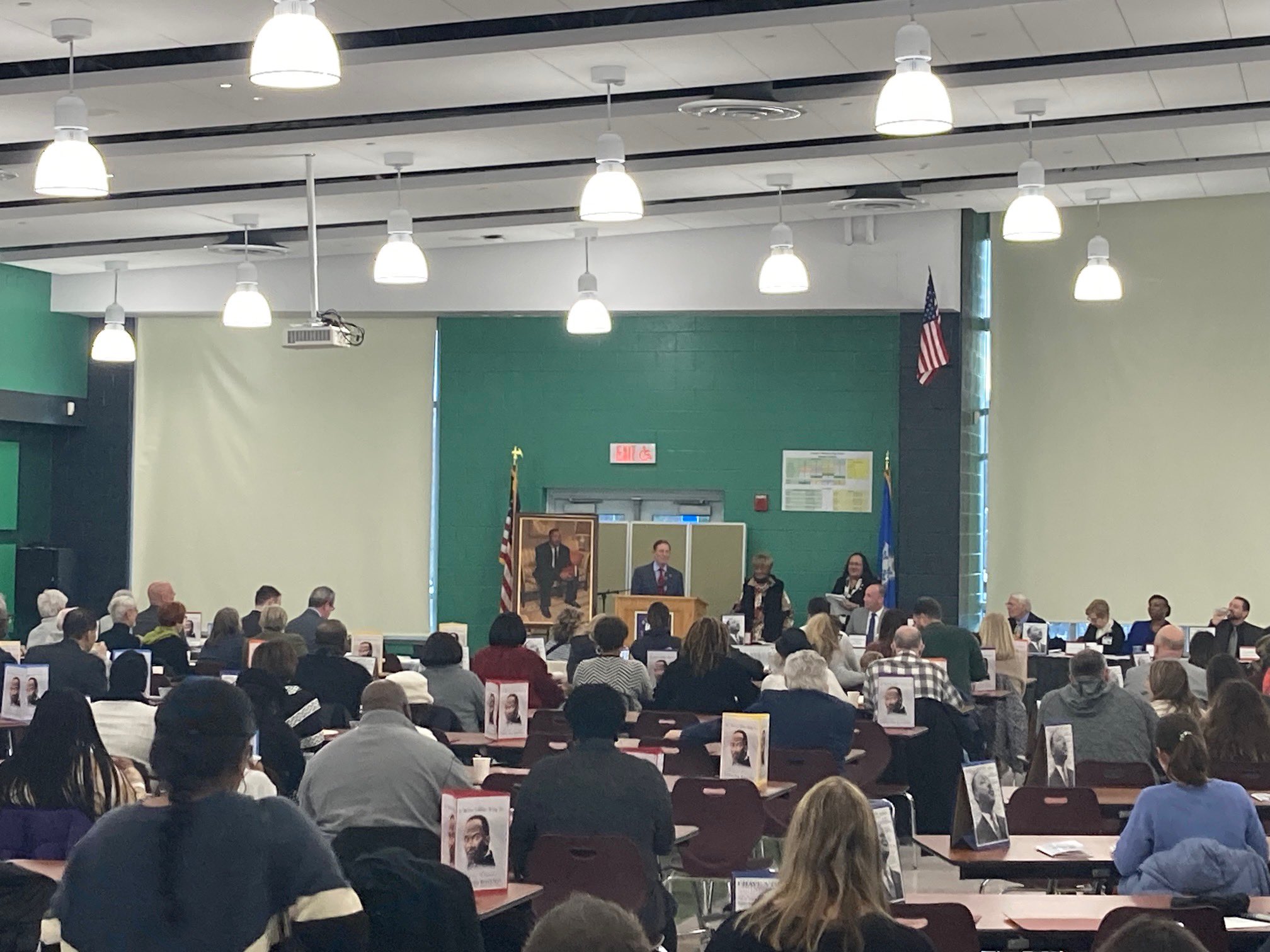 "At the Revival Church in Hamden, powerful messages about action & activism in the fight for social justice from Bishop Daniel Bland & beautiful, eloquent young people. Thanks to Mayor Garrett & her Hamden Black History Committee, as well as clergy & community leaders, honoring MLK."
"In Hartford, Delta Sigma Theta came back after a pandemic hiatus bigger & stronger than ever with its scholarship breakfast—filling the CT Convention Center ballroom. Celebrating MLK with pride & commitment to the ideals he embodied."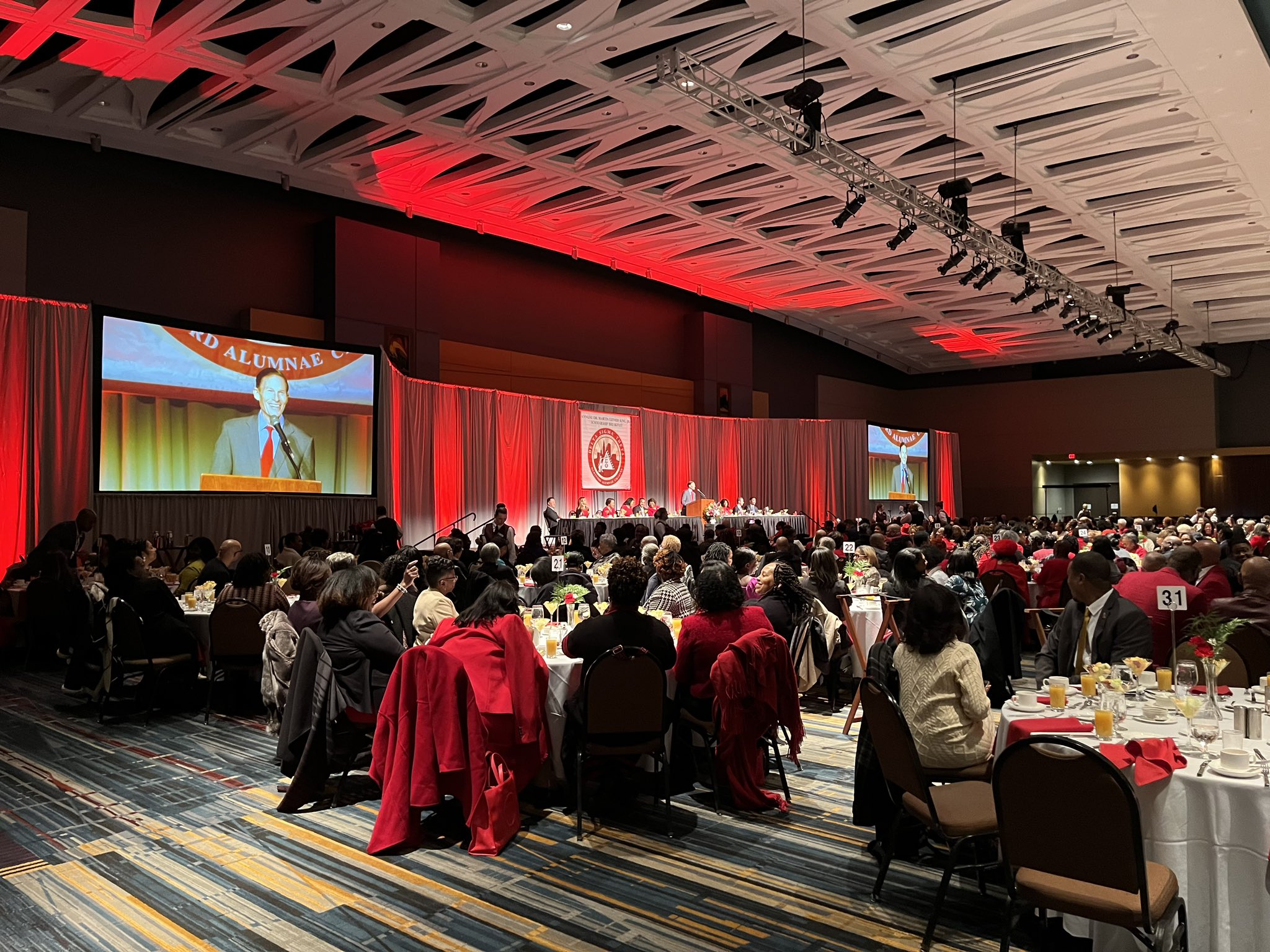 "In West Hartford, student essays & musical performances—capturing the meaning of MLK for America's future—were a highlight. Their dedication to the fight for social justice is unquenchable & galvanizing."
"At the Capitol, I was proud to ring CT's Liberty Bell at noon, an annual reminder of our common obligation to bend the moral arc of the universe toward justice. Thank you to the CT MLK Day Commission for another memorable program with extraordinary honorees."
"In Norwich, the NAACP 38th Annual Freedom March was warm-hearted despite the cold—reflecting MLK's famous remark, "I have decided to stick with love… Hate is too great a burden to bear." Prayers & poetry were powerful."
AROUND CONNECTICUT
— Blumenthal attended a naturalization ceremony at the Richard C. Lee United States Courthouse.
"More than 30 wonderful new citizens take the oath in New Haven's federal courthouse today—another Immigration & Naturalization ceremony marked by joy & pride. We are a nation of immigrants—the greatest nation in the world."
— Blumenthal attended the funeral service honoring State Representative Quentin "Q" Williams.
"Beautiful tributes in music & memories to Quentin "Q" Williams, a Middletown state legislator whose life was cut short tragically just a day after his swearing-in to a new term. The church service eloquently captured his life & legacy, both large & lasting."
-30-