SUPPORTING ADDICTION RECOVERY CENTERS
— U.S. Senator Richard Blumenthal (D-CT) announced $650,000 in federal funding for the Cornell Scott-Hill Health Center's new addiction Recovery & Wellness Center. Expected to open by the end of 2023, the new center will offer comprehensive substance abuse treatment and behavioral health services, providing an opportunity for hope and healing in the Greater New Haven community.
"This new Recovery & Wellness Center at the Cornell Scott Hill Health Center in New Haven will save lives in the midst of a substance use disorder epidemic. I'm proud to announce a $650,000 federal grant supporting it—& look forward to the ribbon cutting."
PROVIDING HOUSING & CRITICAL SERVICES TO HOMELESS YOUNG ADULTS
— Blumenthal visited The Haven at Charter Oak, a young adult transitional living program administered by Mercy Housing and Shelter Corporation in partnership with the Connecticut Department of Mental Health and Addiction Services (DMHAS). The program's new building holds nine single rooms and several communal spaces to give residents privacy and an opportunity to grow their social skills.
According to a report administered by Continuums of Care, Connecticut's homeless population increased by about 13 percent from 2021 to 2022, after nearly a decade of decreasing. Mercy Housing and Shelter Corporation offers support services to help families and individuals in need establish independence and find permanent housing.  
"Deeply impressed by The Haven—Mercy Housing's newest young adult living program in Hartford. Comfortable living, excellent staff, essential supportive services—all make this facility a welcoming, worthwhile transition space as young people find their place in the world."
UPGRADING THE ROUTE 8 CORRIDOR
— Blumenthal announced federal funding to support the Route 8 Design Build project in Shelton, Seymour, Ansonia, and Derby. The Route 8 project will provide necessary improvements to the Naugatuck Valley roadways including paving, LED lighting, guiderails, bridge reinforcements, and safe, convenient exit ramps. The estimated construction cost is $77.3 million, 80 percent of which will be covered by federal funding and 20 percent which will be covered by state funding. Construction is set to get underway in Spring of 2023.
"No better use of federal infrastructure funds than vital upgrades to Rt 8 between Shelton & Seymour—a key heavily traveled artery. In fact, a more than $60 million federal investment, announced today, will enable improved paving, lighting, access, & other improvements."
HELPING FAMILIES WITH HOME HEATING COSTS
— Blumenthal joined Governor Ned Lamont and the Connecticut Department of Energy and Environmental Protection to announce investments in energy assistance programs that will help Connecticut families.
"No family should have to choose between heating & eating. Expanded federal heating assistance funds are more vital than ever—with a 27% increase in LIHEAP applications & rising fuel prices. I announced an additional $5B on the way—with Governor Lamont—as part of the budget package."
IMPROVING PATIENT CARE FOR LONG COVID
— Blumenthal announced $10 million in federal funds to help improve patient care for individuals with Long COVID.
According to the U.S. Department of Health and Human Services, up to 30 percent of Americans who contract COVID develop long-haul symptoms that can last from weeks to years. Symptoms can involve persistent fatigue, difficulty breathing, chronic headaches and brain fog, as well as diabetes, blood clots and neurological conditions. Long COVID is estimated to effect 23 million Americans, but relatively little is known about the disease, including why certain people contract it, how to manage the symptoms and the long-term effects.
"Chronic fatigue, headaches, shortness of breath, blood clots, & worse—all symptoms of Long COVID, suffered by up to 30% of all who test COVID positive. It's costly & deadly, which is why we need more treatment & research money like the federal $10 million I announced today."
SUPPORTING OUR FIREFIGHTERS & FIRST RESPONDERS
— Blumenthal joined Wethersfield Fire Chief Brian Schroll to announce $384,045 in funding to support the purchase of new Self-Contained Breathing Apparatus (SCBA) units. The Wethersfield Volunteer Fire Department's SCBA units are 20 years old and must be replaced to meet National Fire Protection Association (NFPA), Occupational Safety and Health Administration (OSHA), and ISO standards.
The funding is through the Assistance to Firefighter Grants (AFG) program at the Federal Emergency Management Agency (FEMA), which aims to enhance the safety of the public and firefighters with respect to fire-related hazards by providing direct financial assistance to eligible fire departments, nonaffiliated Emergency Medical Services (EMS) organizations, and State Fire Training Academies (SFTA). According to FEMA, the AFG program has helped firefighters and other first responders to obtain critically needed equipment, protective gear, emergency vehicles, training, and other resources needed to protect the public and emergency personnel from fire and related hazards since 2001.
"Wethersfield's firefighters—the oldest volunteer fire service in New England—need more breathing protective units. To buy 68 new ones, I announced a $384,045 federal grant yesterday. Very excited, & very thankful, to be with these heroic first responders."
— Blumenthal also joined local firefighters in New Haven to announce $5.5 million for the Firefighter Cancer Registry, a voluntary registry of firefighters the Centers for Disease Control and Prevention (CDC) is required to develop and maintain to track firefighters' cancer rates to improve workplace safety.
The $5.5 million in funding is a $2.5 million increase for the registry. Blumenthal, an original cosponsor of the Firefighter Cancer Registry Act of 2018 that established the registry, also called on Congress to swiftly reauthorize the registry, which expires at the end of 2023, for another five years. It is critical that the CDC be able to collect the data necessary to complete more precise studies on the occupational risks faced by firefighters. The registry helps researchers, stakeholders, and others advance research into cancer risks for our nation's first responders and provides a more comprehensive picture of the causal links between firefighting and cancer.
"Proud to stand with New Haven firefighters today to announce a near doubling in federal funds for the Firefighter Cancer Registry. Cancer is the number one cause of firefighters' death in the line of duty—because of all the toxic chemicals they ingest or inhale. The Registry will enable better prevention, diagnosis, & care for these heroes. There is no question we must reauthorize the registry & increase resources."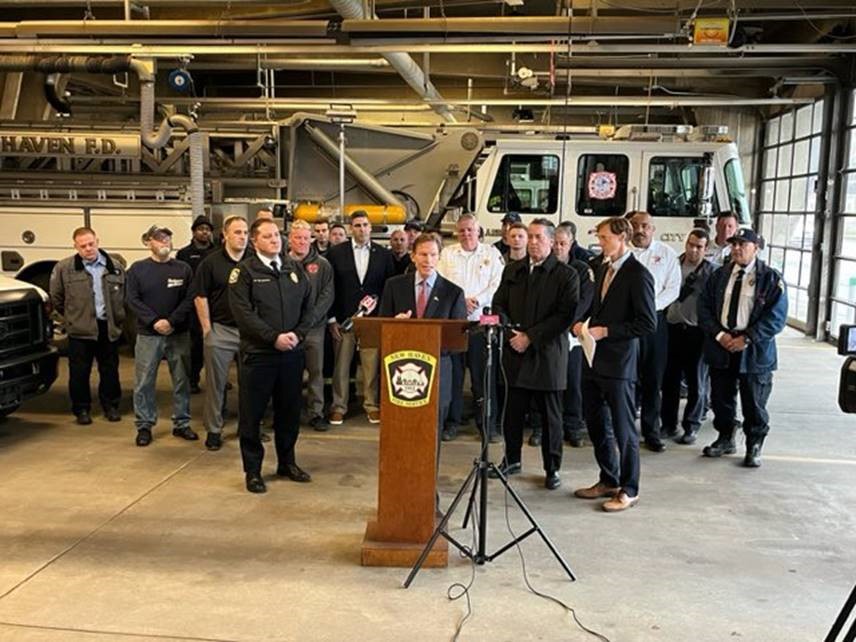 PROTECTING SURVIVORS OF DOMESTIC VIOLENCE
— Blumenthal joined advocates to highlight historic levels of funding for the Office of Violence Against Women to strengthen law enforcement resources, provide support services and enhance the legal safety net for survivors of gender-based violence, including domestic violence.
The federal budget, passed at the end of December, includes $700 million, the highest funding level ever, for grants provided by the Office on Violence Against Women. These grants represent a 22 percent increase over last year's level and will be awarded to state, local, and tribal governments, nonprofit organizations, and universities to address the scourge of gender-based violence.
SUPPORTING CONNECTICUT'S BUSINESSES
— Blumenthal celebrated Foxon Beverages' 100th anniversary by presenting the company with a Certificate of Recognition from the U.S. Senate. Foxon Park Beverages was founded in 1922 in East Haven, by Matteo Naclerio, an immigrant from Italy. The business is still run by the family and is a staple in the greater New Haven area.
"If you haven't tried Foxon Park sodas, you're missing something special. This iconic 100-year-old CT family business, owned & operated by a fourth generation, is an inspiring American success story. White Birch is the best seller, among many flavors. All go great with pizza."
— Blumenthal joined the ribbon cutting to celebrate Tradewinds Aviation announcing 20 new planes being added to their fleet.
"Exciting day at the Waterbury-Oxford Airport as Tradewind Aviation cuts the ribbon for 20 new PC-12 NGX planes, serving charters & scheduled flights around New England & beyond. Their fleet will create high skill jobs & attract new businesses. The Zipkin family knows how to fly."
— Blumenthal joined the Greater Norwalk Chamber's business breakfast at Ed's Garage Doors/Garage Living, a business founded in 1972 that has served thousands of customers in Fairfield County with their garage door installations and repairs.
"Impressive business community at the Norwalk Chamber of Commerce breakfast this morning—hosted by Rich Cunningham head of Ed's Garage Doors, a great & growing business. I'm hoping to be invited to a few garage door openings."
— Blumenthal visited LambdaVision, Inc., a small Connecticut company working to restore sight for patients with end-stage retinal degenerative diseases, such as retinitis pigmentosa (RP) and age-related macular degeneration (AMD). As part of UConn's Technology Incubation Program (TIP), LambdaVision is developing a high-resolution, protein-based retinal implant to restore vision to millions of patients.
REQUESTING U.S. ARMY BRIEFING ON SIKORSKY DECISION
— Blumenthal joined the Connecticut Congressional Delegation in announcing they have requested a detailed briefing by the U.S. Army about why Sikorsky's bid to build long-range assault aircraft was rejected. The delegation has approached U.S. Army leadership on multiple occasions to discuss how the Army came to their original decision on the Future Long-Range Assault Aircraft and to date, the Army has rejected requests for a substantive briefing.
"We believe it is imperative that the Army's procurement process for the FLRAA program is fair, transparent, and most importantly in the best interests of the American taxpayer. We therefore, insist that your Department provide us with a detailed briefing on the Army's evaluation and selection decision for FLRAA as soon as possible. It is simply unacceptable for the Army to continue to thwart our oversight responsibilities as members of Congress that are mandated in the U.S. Constitution," the delegation wrote.
UNITING AGAINST BIG TECH'S ABUSES
— Blumenthal praised President Biden's op-ed calling on Congress to find common ground to protect privacy, competition, and American children from Big Tech's harms.
"The President & I agree the time for tech accountability is now. Big Tech is harming our kids, violating privacy, & undermining competition with no real ramifications or consequences. The Kids Online Safety Act, Open App Markets Act & EARN IT Act will restore accountability & protect consumers & competition. I'm all in, POTUS—Congressional action is overdue."
DEMANDING ANSWERS FROM SOUTHWEST AIRLINES
— Blumenthal joined U.S. Senator Edward J. Markey (D-MA) in leading a letter with 13 of their colleagues calling on Southwest Airlines CEO Robert E. Jordan to answer for the company's mass flight cancellations in the final week of December. As the senators explained in their letter, Southwest canceled more than 7,500 flights between December 27 and 29 – in the wake of winter storm Elliott – even as all other major airlines cancelled 1,077 flights combined during that period. The senators asked Jordan to explain the causes of this holiday debacle, including specific questions around its outdated scheduling software, personnel decisions, ticket refund policies, passenger baggage decisions, and shareholder compensation.
"For consumers across the country, this failure was more than a headache — it was a nightmare. Travelers were stranded across the country for days at a time, forced to spend hours on hold with Southwest customer service representatives or in-line at Southwest service desks at the airport," the senators wrote. "Now that Southwest has returned to a regular travel schedule and has finally begun returning bags to customers, the airline must examine the causes of this disaster and ensure it never happens again."
KEEPING RENTERS IN THEIR HOMES
— In the midst of historically high housing costs, Blumenthal joined U.S. Senators Chris Murphy (D-CT) and Elizabeth Warren (D-MA) and U.S. Representatives Joe Courtney (D-Conn.) and Jamaal Bowman Ed.D (D-NY) in sending a bicameral letter urging President Biden to pursue all possible strategies to address rent inflation, end corporate price gouging in the real estate sector, and ensure that renters and people experiencing homelessness across this country are stably housed this winter.
"In the absence of robust investments in fair and affordable housing, it is clear that additional timely executive action is needed to address the urgent issue of historically high rental costs and housing instability. With this in mind, we urge your Administration to pursue all possible strategies to end corporate price gouging in the real estate sector and ensure that renters and people experiencing homelessness across this country are stably housed this winter," the lawmakers wrote.
The lawmakers continued: "Simply put, the rent is too high and millions of people across this country are struggling to stay stably housed as a result. Housing is the largest monthly expense for most Americans, and skyrocketing rental costs increase the likelihood of evictions, foreclosures, homelessness, and health issues for people across the country. Rent is a major driver of inflation. According to the Consumer Price Index, the cost of shelter rose 0.8% in October alone, which is the highest rate in 40 years. Furthermore, as was highlighted in a recent House Financial Services Committee hearing, over the last few years, median asking rents have increased by 31% and house prices have increased 48%."
SUPPORTING NATIONAL PAID FAMILY & MEDICAL LEAVE
— Blumenthal joined U.S. Senator Kirsten Gillibrand (D-NY) and 14 of their colleagues in a letter calling on the Biden administration to remain firm in its commitment to paid leave by advancing a national paid family and medical leave program in the FY2024 budget. In the letter, the senators call for the inclusion of $547 billion in mandatory spending over 10 years to guarantee up to 12 weeks of paid parental, family caregiving, and personal medical leave to all working people in the United States.
"The United States is the world's only industrialized nation that does not guarantee workers paid leave, even though nearly all workers will need to take time away from work at some point to address a serious illness or to care for a new child," wrote the senators. "It is of the utmost importance that we invest in our nation's workers and families through paid family and medical leave programs to provide much-needed financial security, cost-savings for businesses, reductions in government public assistance expenditures, and stimulation for local economies. We look forward to working together on this important issue to promote the financial well-being of working families and the vibrancy of the economy."
AROUND CONNECTICUT
— Blumenthal presented a high school diploma to Christian Kosovic, a childhood Leukemia survivor, 10 years after helping his family during a shortage of the lifesaving chemotherapy drug methotrexate.
The Kosovic family first contacted Senator Blumenthal in 2012 when the company producing methotrexate, the drug used to treat Children's Leukemia and several other cancers, announced they were closing factories — leading to a severe shortage of the drug that imperiled the treatment and lives of thousands of children with cancer like Christian. Senator Blumenthal pushed for swift solutions to the shortage, which allowed Christian to resume his treatment and eventually beat cancer.
"I presented a high school diploma to Christian Kosovic, whose family came to me 10 yrs ago when he was battling leukemia with Methotrexate treatment—which the manufacturer said it would cease making. We helped get him the drug, & now he's bound for college. Congratulations!"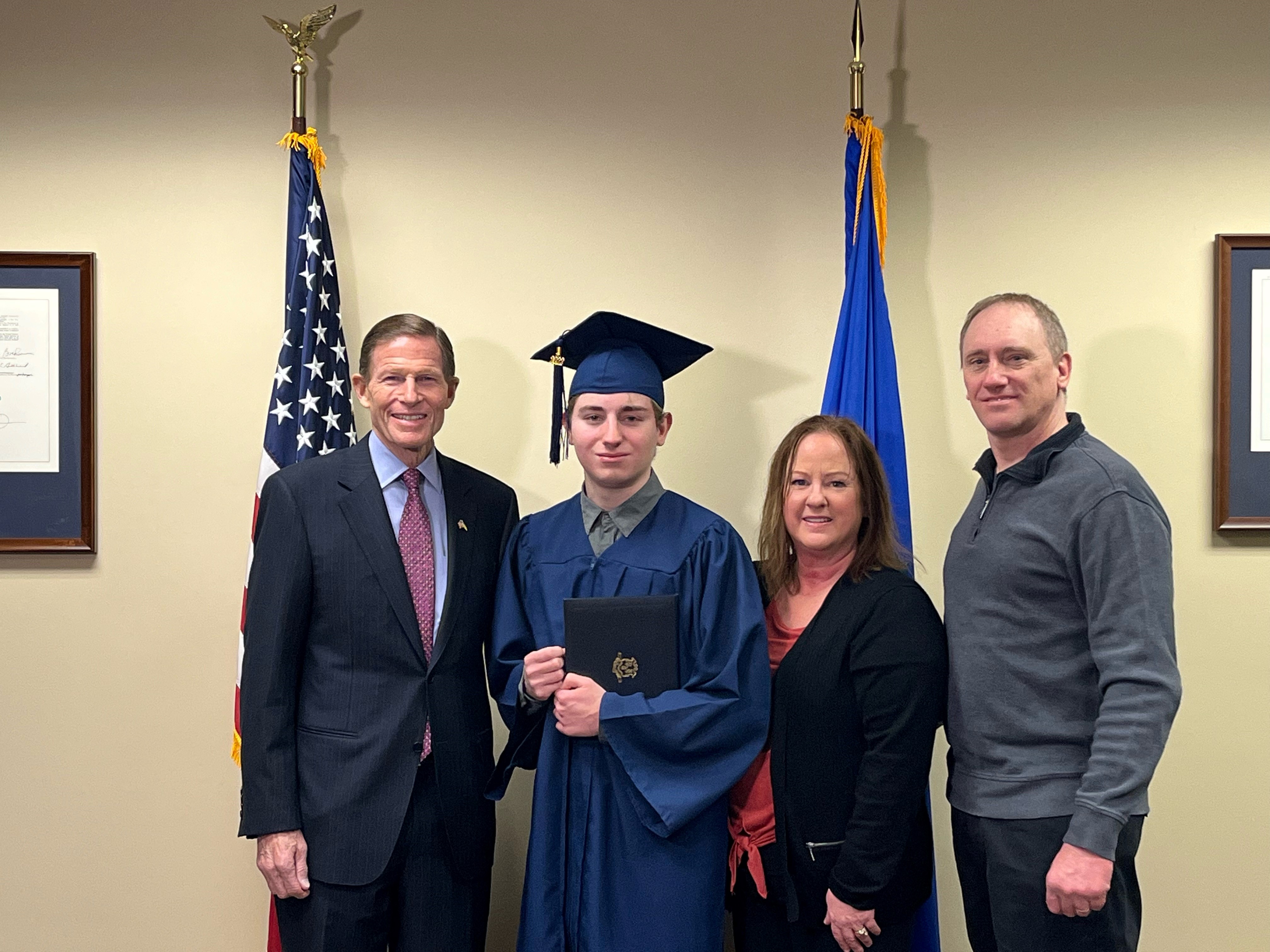 — Blumenthal joined the 3 Kings Celebration in New Haven.
"Joyous 3 Kings celebration at Casa Otonal in New Haven sponsored by wonderful Puerto Rican community groups, including the Ricardo Torres Jr. Memorial Scholarship Fund led by his widow Erica and mom Cathy. Proud to stand with them, remembering this heroic firefighter's sacrifice."
— Blumenthal partnered with the Connecticut Passport Agency in hosting a Passport Day to assist individuals with passport renewals and first-time applications.
— Blumenthal joined the West Haven Black Coalition at an event celebrating the life of Dr. Martin Luther King, Jr.
"Powerful celebration of Martin Luther King Jr.'s life & legacy thanks to Carroll E. Brown & the West Haven Black Coalition. Music, tribute, & prayer to honor Dr. King & the fight for social justice we must carry on."
— Blumenthal attended a tribute and procession to honor the late State Representative Quentin "Q" Williams.
"Stirring tribute by Pastor & State Senator Herron Gaston to his fraternity brother & legislative colleague Quentin "Q" Williams at the Summerfield Congregational Church yesterday. A life tragically cut short."
"A solemn, deeply sad procession at the state Capitol to salute state Rep Quentin "Q" Williams, a beautiful life cut short, a brilliant light extinguished. Thank you to his wonderful family for sharing him."
-30-