[WASHINGTON, D.C.] — Today, U.S. Senator Richard Blumenthal (D-CT) chaired a hearing of the Senate Commerce, Science, and Transportation Subcommittee on Consumer Protection, Product Safety, and Data Security on the harmful impacts of Juul and other tobacco companies' deceptive marketing claims and practices. In recent years, use of e-cigarettes, vaporizers, and other unsafe products by young people and current smokers spiked dramatically, with companies replicating Big Tobacco's marketing strategies and tactics to appeal to a new generation of audiences.
"When I think of toxic marketing, nothing comes to mind more readily than Big Tobacco and the simple fact is that Juul has taken a page from Big Tobacco's playbook," said Blumenthal at the hearing, comparing Big Tobacco and Juul advertising.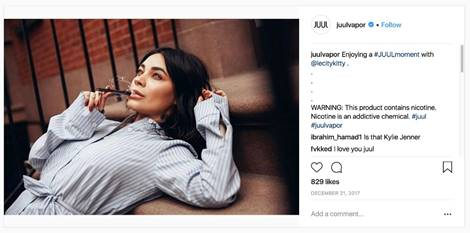 Blumenthal outlined how Juul's strategy of using paid influencers and hashtags on Instagram to deliberately target young people resulted in a dramatic 78 percent uptick in the number of high-schoolers using e-cigarettes, stating: "The unfettered use of social media marketing, and we have examples of it, shows these products to be not only cool and hip, but also the effort is to show them to be safe."
Questioning Dr. Robert Jackler, Stanford University Professor and Founder of the Stanford Research into the Impact of Tobacco Advertising, Blumenthal outlined Juul's social media strategy and its ongoing impacts, saying: "Juul began tagging their own images and those of their influencers on social media with a multitude of hashtags related to Juul like #Juullife #Juulvapor #vaporized #Juuling, and they tagged their posts with those seemingly innocuous hashtags, #technology #art to expand their brand's reach." Blumenthal quoted Juul's social media consultant, who said: "We created ridiculous enthusiasm for the #vaporized and deployed rich experiential activations and brand of sponsorship strategy that aligned perfectly with those we knew would be our best customers," and asked Dr. Jackler about the effects of this strategy.
"They created their own channels, they created their own identities, and they wanted what they termed digital domination," said Jackler. "Juul became a huge fad, the must-do thing amongst teenagers in America and that after a while, Juul could turn off its social media when it was under intense regulatory scrutiny…Juul accomplished it and it was by engineering and by design. It was not an accident and they succeeded beyond their wildest dreams but once they saw what was happening in the social media sphere, and the huge interest in Juul by teens, they took no action to inhibit it."
Blumenthal called out Juul's work to deceive consumers and the federal government, highlighting the company's $51,000 buy of an entire issue of the Journal of American Health Behavior to publish eleven studies paid for by the company to tout unsupported claims that Juul is a safe smoking alternative, and Juul's plans to use this research "in support of" its product review at the FDA.
Blumenthal called on the federal government to act to stop e-cigarette makers like Juul from addicting more people, saying: "The FTC as well as the FDA has a responsibility here. And I call on the FTC to investigate unfair and deceptive marketing practices of Juul and other e-cigarette manufacturers and conduct enforcement where appropriate." Blumenthal also urged the FDA to deny Juul access to the market.
-30-