National Defense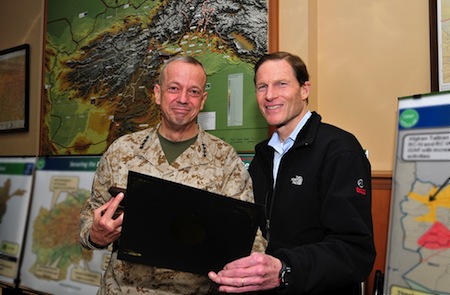 I am honored to serve on the Senate Armed Services Committee, which oversees our nation's military and all matters of our national defense. I am dedicated to protecting the hard-working men and women at the New London Naval Submarine Base, as well as the high-tech manufacturing workers across Connecticut who provide cutting-edge equipment to our military.
As a proud member of the Senate National Guard Caucus, I am committed to ensuring that the men and women who serve in our Nation's military have the equipment and resources they need to keep our communities and our country safe.
Legislation
The annual National Defense Authorized Act for Fiscal Year 2014 contains multiple provisions that I championed.
I also championed efforts in the Senate to deliver comprehensive reform to the Uniformed Code of Military Justice to combat military sexual assault and courage victims to report such crimes.
I also successfully fought to end the acquisition of Russian helicopters for Afghanistan with three provisions to reduce the Department of Defense budget by $345 million authorized for Russian helicopters, prohibiting doing business with Russia's defense export agency and requiring a report on how the Afghan military can transition to using American helicopters and equipment.
The U.S. Navy Submarine Base in New London, is the oldest submarine base in the nation. When the Department of Defense recommended it be closed, I (then Attorney General) worked with Connecticut's state and federal elected officials to make the key arguments that challenged the recommendation and kept the base open. I have successfully opposed any subsequent round of military base closings.