Energy & the Environment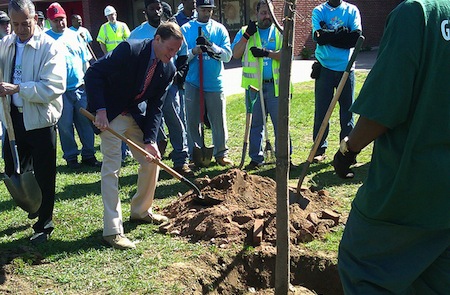 America needs a long-term energy solution that includes a wide range of alternative energy sources to help reduce our dependence on foreign oil. As we transition to new alternative energy sources, we must ensure our traditional sources of energy – particularly oil, natural gas, coal, and nuclear power – are used in as clean and efficient a manner as possible. Connecticut is the fuel cell capital of the United States, and I am a strong supporter of efforts to develop green alternative power sources that make use of cutting-edge fuel cell technology created right here in Connecticut.

I support efforts to end wasteful and unnecessary tax subsidies for oil and gas companies and agree we should redirect that money to support the development of clean, renewable sources of energy. I also believe the federal government needs to investigate the actions of oil speculators to determine whether potentially illegal practices are artificially inflating energy prices, driving up gas prices for families and businesses in Connecticut and across the country.

Protecting the environment and addressing climate change will always remain a top priority. Anyone who questions whether Congress must act on these issues needs not look beyond the recent rash of unprecedented severe weather events that have devastated communities across the country. From Superstorm Sandy, which wrought havoc in New Jersey, New York and Connecticut, to other recent destructive storms, severe, large-scale weather is the new normal. Our federal government needs to take common sense measures such as increasing energy efficiency standards and working with local communities in Connecticut to mitigate the adverse impacts of climate change. Without our immediate attention the United States – and the world -- will continue to suffer the effects of inaction.

Finally, I believe Congress should repeal an existing law requiring the General Services Administration (GSA) to sell Plum Island to the highest bidder. Because of the environmental significance of this island, I introduced legislation that would give the GSA the flexibility it needs to transfer the facility to another federal agency or other entity that has an impeccable environmental record.