Veterans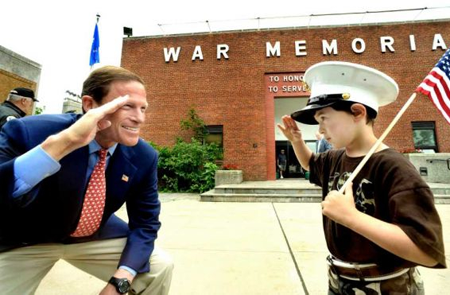 It is of critical importance that we ensure that the men and women who wear our country's uniform receive the benefits and respect they have earned. There are over 250,000 veterans in Connecticut and Senator Blumenthal's goal is for none of them to be left behind.
During his time as Connecticut's Attorney General, Senator Blumenthal fought for veterans when they needed help cutting through bureaucratic red tape. He forced the Department of Defense to release information about veterans who may have been improperly separated from military service, and pressed the Department of Veterans Affairs to update obsolete database systems that prevented tens of thousands of disabled veterans from obtaining the tax benefits they had earned.
The very first piece of legislation Senator Blumenthal introduced when he came to the United States Senate was the Honoring All Veterans Act, a comprehensive approach to addressing serious injustices within the veterans' community, including unemployment, homelessness, and inadequate healthcare. Senator Blumenthal has also pushed for important federal legislation that focuses on elderly veterans, education benefits, and resources for veterans suffering from mental injuries like traumatic brain injury and post-traumatic stress. As a member of the Senate Armed Services Committee, Senator Blumenthal is committed to ensuring an effective transition process between the Department of Defense and Department of Veterans Affairs, to provide veterans with timely benefits and the medical care they deserve.
Senator Blumenthal's goal has always been and will remain the same as it is today: to keep faith with our veterans and to honor our promises to them.