Health Care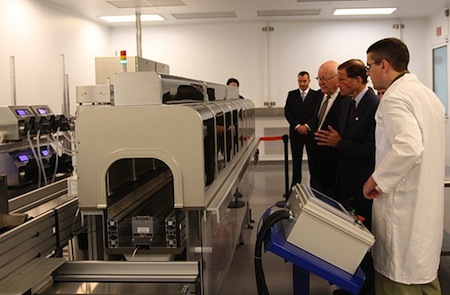 Senator Blumenthal is committed to ensuring access to quality, affordable health care for all of Connecticut's residents. Lowering the cost of health care delivery and increasing access to preventative services are key to reining in the spiraling costs of health care.
Mental Health
Millions of Americans struggle with mental illness, and access to treatment is a key component to a healthy and productive life. As Attorney General, Senator Blumenthal fought to preserve mental health coverage for children who were deprived of necessary treatment and he will continue to work hard to make prompt and quality treatment for mental health issues accessible to those in need.
Preserving Access to Women's Healthcare
As a lifelong advocate for women's health, Senator Blumenthal believes that access to reproductive services is crucial to the health of women and their families. Senator Blumenthal has worked to make sure that women's health is a top priority and he fought against ideological efforts to curb women's access to preventive health services that save lives. As Connecticut's Attorney General, he fought vigorously to protect a woman's right to choose, and to preserve access to critical family planning services.
Preserving Access to Prescription Drugs
Prescription drug treatment is a key component of any individual's health care plan, and Senator Blumenthal is committed to increasing access to safe and affordable prescription drugs.
It is unacceptable that Americans pay inflated prices for vital medications. As Connecticut's Attorney General, Senator Blumenthal fought the pharmaceutical companies when they overcharged for prescription drugs, and he will continue these efforts in the Senate to reduce costs for consumers.
Currently, hospitals in Connecticut and across the country are sometimes unable to provide the care patients need because of constant shortages of common prescription drugs. In order to treat patients effectively, it is necessary to fix our nation's critical drug shortage. Senator Blumenthal has joined with his colleagues to investigate this issue and supports legislation that would require drug manufacturers to notify providers before discontinuing critical production lines.
Tobacco
Tobacco addiction is a serious public health problem for Americans of all ages, including children. Prevention programs and investments in research are essential to combatting the use of tobacco and it is critically important that tobacco companies be stopped from using marketing tactics that target children.
As Connecticut's Attorney General, Senator Blumenthal led the fight against Big Tobacco and helped secure a landmark settlement in which tobacco companies provided tens of billions of dollars to the states. This money was used, in part, to fund important new smoking cessation programs.
Seniors
Senator Blumenthal is honored to serve on the Senate Special Committee on Aging that is uniquely tasked with issues that affect our seniors. Promises that we've made to our seniors, like Medicare and Social Security, are sacred, and Senator Blumenthal is committed to protecting the benefits that our seniors have earned. Waste, fraud and abuse remain too common in the Medicare program and it is fundamentally important that these issues are addressed to strengthen Medicare for current and future generations.
Elder abuse is unacceptable in any form and Senator Blumenthal is committed to supporting states in their efforts to end these crimes against seniors. All seniors must have access to the right services, from the right people, at the right time.
As Connecticut's Attorney General, Senator Blumenthal fought against elder abuse and protected seniors from inflated prescription drug costs and skyrocketing health insurance premiums.