Energy & the Environment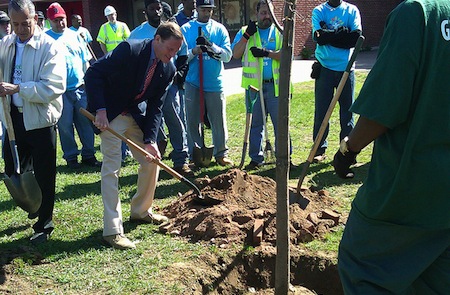 America needs a long-term energy solution that includes a wide range of alternative energy sources to help reduce our dependence on foreign oil. As we transition to new alternative energy sources, we must ensure our traditional sources of energy – particularly oil, natural gas, coal, and nuclear power – are used in as clean and efficient a manner as possible. Connecticut is the fuel cell capital of the United States, and Senator Blumenthal is a strong supporter of efforts to develop green alternative power sources that make use of cutting-edge fuel cell technology created right here in Connecticut.
Because it's important to use our limited tax dollars responsibly, Senator Blumenthal supports efforts to end wasteful and unnecessary tax subsidies for oil and gas companies and redirect that money to support the development of clean, renewable sources of energy. He also believes the federal government needs to investigate vigorously the actions of oil speculators to determine whether potentially illegal practices are artificially inflating energy prices, driving up gas prices for families and businesses in Connecticut and across the country.
Protecting the environment has always been one of Senator Blumenthal's top priorities. As Connecticut's Attorney General, he led a group of nine state attorneys general in a lawsuit against the Bush Administration for its attempts to weaken the Clean Air Act. And when Broadwater wanted to build a floating natural gas plant in the middle of the Long Island Sound, he successfully fought back and stopped their plans.