Civil Rights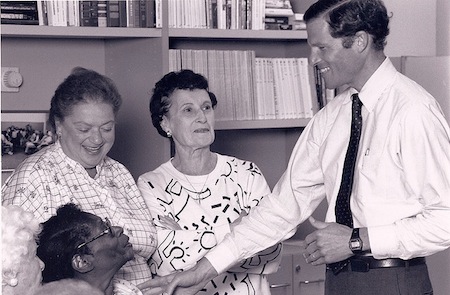 The principle of equality for all is a fundamental American value. Our nation has made great strides toward protecting the civil rights of our citizens, but we must remain vigilant in the fight to rid society of all forms of discrimination. Senator Blumenthal has fought his entire career to ensure that all Americans enjoy equal treatment under the law, regardless of race, gender, sexual orientation and gender identity, national origin, and religion.
Many Americans still face discrimination based on their sexual orientation and gender identity. The Defense of Marriage Act unconstitutionally prevents same-sex couples from accessing federal benefits even when they have been legally married as residents of states, like Connecticut, that recognize such marriages. Senator Blumenthal is an original cosponsor of the Respect for Marriage Act, which would repeal this unfair and discriminatory law. He is also committed to combating discrimination against Americans based on their sexual orientation or gender identification and is a supporter of the Employment Non-Discrimination Act and the Student Non-Discrimination Act, which will help address discrimination in the workplace and in schools.
Senator Blumenthal has also worked to guarantee that women continue to have access to vital health services, receive equal pay for equal work, and can live and work free from discrimination and harassment.
Senator Blumenthal will continue to ensure that all our citizens have a voice in their government, and to fulfill the solemn promises of equality, liberty, and justice for all of the people of Connecticut, and the United States.