Consumer Caucus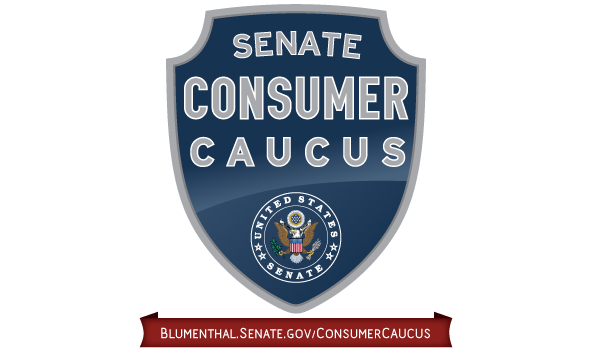 BLUMENTHAL, PRYOR LAUNCH CONSUMER CAUCUS

(Washington) – Today, Senator Richard Blumenthal (D-Conn.) and Senator Mark Pryor (D-Ark.) launched the Senate Consumer Caucus, intended to increase awareness of and facilitate cooperation on consumer protection issues. The caucus will focus on issues like making sure unsafe products that harm families do not enter the marketplace, ensuring that consumers have the tools and information they need to make decisions about their online privacy, and preventing and combating identity theft and fraud.

Since Blumenthal's days as Connecticut's Attorney General, he has earned a reputation for fighting on behalf of consumers. For example, he has led efforts in the U.S. Senate to protect consumers' personal and financial information from unauthorized disclosure, which included introducing the Personal Data Protection and Breach Accountability Act and the Password Protection Act. He has also led efforts to crack down on predators who use the Internet to traffic in child pornography and prostitution, which included introducing the Child Protection Act. In addition, he has fought to preserve access to the court system for cell phone users and other customers who have been taken advantage of by unscrupulous companies and to ensure that sports blackouts do not prevent sports fans from watching their favorite teams. Finally, he has been active in making sure that consumers are well-informed about the latest deceptive practices and championed full disclosure on issues such as GMO labeling, 4G wireless service, and data breaches.

Since Pryor's days as Arkansas's Attorney General, he has earned a reputation for fighting on behalf of consumers as well. As Chairman of the Senate's Subcommittee on Consumer Affairs, Pryor championed sweeping reforms to keep toxic toys and dangerous products off store shelves. For these efforts, Parents magazine named him one of its three "movers and shakers" in Washington who are having a "profound effect on kids' safety." Pryor has also led successful efforts to improve highway safety, identify gas price gouging, keep the Do Not Call List free for consumers, protect children from inappropriate programming on TV and online, and prevent drowning accidents. He continues to advocate for better tools to help individuals protect themselves from identity theft and online scams.

"Every day the American consumer is under attack by abusive practices – data breaches that leave their personal and financial information vulnerable to misuse, credit and debit card companies that slap them with hidden fees, predatory lenders who pitch them high interest loans, and marketers who make deceptive promises," said Blumenthal. "This caucus will focus on these consumer protection issues and others as well as foster dialogues between policymakers and industry, and develop legislative remedies to loopholes in the law that leave consumers vulnerable. As Attorney General of Connecticut, I fought for consumers who were victimized by predatory businesses and business practices and I continue fighting for them as Senator."

"Consumers could use more tools to combat the efforts of unscrupulous businesses or individuals out to do them harm," Pryor said. "Since many consumer-related issues cross jurisdictional lines, this caucus can help forge relationships so we can better advance policies that protect children, families and seniors."

The Caucus will provide Members and staff with the opportunity to hear from relevant experts, federal agencies, consumer advocates, and stakeholders from inside and outside the industry through briefings, roundtables, and other events. Since consumer protection issues span many Senate committee jurisdictions, the Caucus will be a forum for all members to work together, regardless of committee membership, to generate policy solutions that protect consumers.

Last year, the Consumer Sentinel Network (CSN) – a secure online database that collects and stores consumer complaint data for the Federal Trade Commission and a host of federal agencies and state organizations – received 1.8 million complaints from consumers. Of those complaints, 55 percent were categorized as "Fraud," 15 percent were categorized as "Identity Theft," and 30 percent were categorized as "Other." The number of complaints received by CSN is one of many examples of why the Caucus is needed. For more information about the data, go to the following link: http://www.ftc.gov/sentinel/reports/sentinel-annual-reports/sentinel-cy2011.pdf#3.