Ensuring Access to Women's Health Services in the Age of the iPhone
One of the most trumpeted features of Apple's new iPhone 4S is Siri, the voice-activated personal assistant that helps users with searches and other questions. Users can ask Siri to find them a good Italian restaurant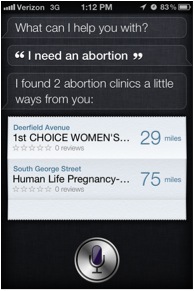 nearby, for example, or how the weather will be tomorrow.
However, my office is receiving complaints that Siri appears to be censoring or even manipulating search results for women's health services from contraception to abortion. In Washington, DC for example, asking Siri for help finding a clinic that provides abortion services does not return results for clinics that provide abortions and instead directs users to so-called "crisis pregnancy centers" that are well known for counseling women against abortion and for giving out false and misleading medical information.
Asking Siri for help finding emergency contraception returns nothing; asking it for Viagra or other prescription drugs returns the addresses for numerous drug stores.
In Connecticut, asking Siri for the location of abortion services in Hartford returns no results, even though there are at least four women's health clinics in the Hartford area that provide abortion services.
These troubling practices threaten the net neutrality and fair search principles of the Internet. Consumers who search for information expect unbiased, unfiltered results without censorship. Just as search results should not be based on who paid the most money for placement, they should not be based on a set of beliefs.
My office has spoken with Apple, who has assured us that this is unintentional and that they are working to fix it. I will continue to monitor this and work to ensure that Internet searches provides neutral, organic results.