Workforce & Labor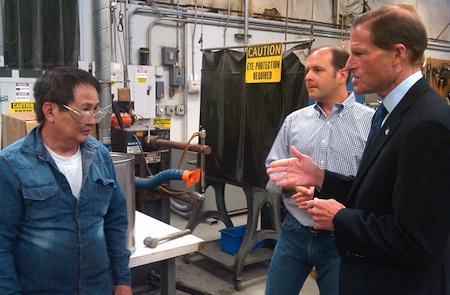 Working men and women are the backbone of America's economy. To ensure that our country remains a leader in the 21st Century economy, we need a vibrant and strong workforce. We must prepare individuals for new and different types of employment, strive to ensure that our workplaces are safe for all individuals, and create and retain high-quality, high-paying American jobs.
In the United States, those who work hard should expect fair wages, safety in the workplace, and the right to organize and collectively bargain. The best workplaces are those where respect and cooperation exist between employers and employees, and Senator Blumenthal believes that the federal government should promote and foster an educated, engaged, and empowered workforce.
As we adapt to global economic changes, focusing on job preparedness is critical. New jobs require new skills, and federal investments in job training programs and career-transition assistance are necessary to ensure that our workforce is versatile and adaptive. Making sure that individuals whose jobs have been lost can re-train and prepare themselves to be re-employed is vital to maintaining our economic recovery.