Hurricane Sandy

Dear Friends,

Over the past few weeks, I have toured Connecticut and seen the devastation caused by Hurricane Sandy. I have also witnessed acts of kindness and aid, people coming together to help others in need. Even at the storm's worst moments, Connecticut has shown its best — including grit, courage, and generosity. To assess the damage and support recovery efforts, I have visited Greenwich, Stamford, Darien, Norwalk, Bridgeport, Milford, Fairfield, New Haven, Guilford, Clinton, Madison, New London, and Stonington. Over the coming weeks, I will continue to travel the state as we combine our efforts at every level.

Please be aware that recovery details and cleanup efforts are constantly changing. My hope is that you and your family are safe, but I want to ensure that you have access to important resources available to help you deal with this natural disaster. Please consult the list below and my website for the most up-to-date information here.

As always, if you encounter problems, have questions, or need assistance, please do not hesitate to contact my office.

Hartford (860) 258-6940

Washington, D.C. (202) 224-2823

Sincerely,



U.S. Senator for Connecticut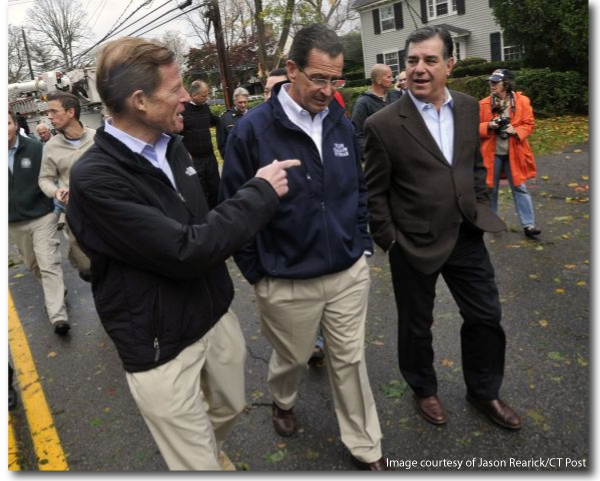 Disaster Recovery Center to Open In Norwalk
WINDSOR, Conn. – A Disaster Recovery Center operated by the State of Connecticut and the Federal Emergency Management Agency will open at noon, Tuesday, Nov. 27, at Norwalk City Hall, 125 East Ave., Norwalk, CT 06851.
The center will be open from 8 a.m. to 8 p.m., Wednesday, Nov. 28, through Saturday, Dec.1.
Specialists from FEMA and the U.S. Small Business Administration will be on hand at the center to answer questions and provide information on the types of assistance available to survivors.
People who suffered losses can get person-to-person assistance at the centers from specialists skilled in many disaster-related subjects. Specialists at the center can help with registration; check an individual's case; answer questions about their claim; or review information needed to process their claim.
Survivors can register online anytime day or night at www.DisasterAssistance.gov, or with a smartphone or other web-enabled device at m.fema.gov. Survivors can also register by phone anytime by calling FEMA at 800-621-3362. The TTY number is 800-462-7585. Multilingual operators are available 24 hours a day, seven days a week. The deadline to register is Dec. 31, 2012.
Disaster recovery assistance is available without regard to race, color, religion, nationality, sex, age, disability, English proficiency or economic status. If you or someone you know has been discriminated against, call FEMA toll-free at 800-621- 3362. For TTY call 800-462-7585.
The U.S. Small Business Administration (SBA) is the federal government's primary source of money for the long-term rebuilding of disaster-damaged private property. SBA helps homeowners, renters, businesses of all sizes, and private nonprofit organizations fund repairs or rebuilding efforts and covers the cost of replacing lost or disaster-damaged personal property. These disaster loans cover losses not fully compensated by insurance or other recoveries and do not duplicate benefits of other agencies or organizations.
FEMA's mission is to support our citizens and first responders to ensure that as a nation we work together to build, sustain, and improve our capability to prepare for, protect against, respond to, recover from, and mitigate all hazards.
Below are important resources for you and your neighbors as our state recovers from this natural disaster.
Contents:
Post-storm Tips
Hurricane Sandy Disaster Relief Tools
Small Business Administration (SBA) Disaster Relief
U.S. Department of Labor (DOL) Disaster Unemployment Assistance (DUA)
Volunteering for the Red Cross
FEMA Resources
Internal Revenue Service (IRS) Special Disaster Tax Relief
Flood Insurance Policy Holders Tool Kit
Consumer Alerts
After Hurricane Sandy
FEMA has a number of post-hurricane resources. Please make sure to go to Ready.gov for a full disaster checklist. A couple important items to consider:
NEVER use a generator inside homes, garages, crawlspaces, sheds, or similar areas, even when using fans or opening doors and windows for ventilation. Deadly levels of carbon monoxide can quickly build up in these areas and can linger for hours, even after the generator has shut off.
Take extra care during cleanup. With dangerous debris, damaged and downed trees, and tired, stressed victims, cleanup accidents are frequent. Take extra care while cleaning up and using power tools. If you are not sure whether it is safe to remove debris, please contact your local emergency officials for their assistance.
Hurricane Sandy Disaster Relief
Individuals and business owners who sustained losses in the designated counties – Fairfield, Middlesex, New Haven and New London - can begin applying for assistance by registering online at http://www.DisasterAssistance.gov, calling 1-800-621-FEMA(3362), or by web enabled mobile device at: m.fema.gov. Disaster assistance applicants, who have a speech disability or hearing loss and use TTY, should call 1-800-462-7585 directly; for those who use 711 or Video Relay Service (VRS), call 1-800-621-3362. The toll-free telephone numbers will operate from 7 a.m. to 10 p.m. (local time) seven days a week until further notice.
FEMA has provided some 1-pagers for disaster survivors: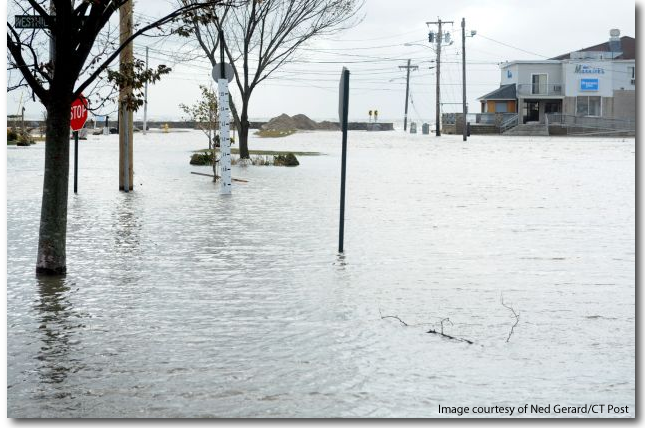 Small Business Administration (SBA) Disaster Relief
Whether you rent or own your own home, own your own business, or own a small agricultural cooperative located in a declared disaster area, and are the victim of a disaster, you may be eligible for financial assistance from the U. S. Small Business Administration (SBA).
View the full SBA fact sheet here.
U.S. Department of Labor (DOL) Disaster Unemployment Assistance (DUA)
Residents of the Connecticut counties – New Haven, Fairfield, Middlesex, New London,
and the Mashantucket Pequot Indian Reservation – are eligible for individual assistance. The Disaster Unemployment Assistance (DUA) is available for persons, including self?employed
individuals, who are unemployed as a direct result of damages caused by Hurricane Sandy. If you are unable to reach your workplace, your workplace is closed, are a new head of household due to death in the family, or cannot work due to an injury casued by the diaster, you may be eligible for DOL assistance.
Learn more about the program here.
Volunteering for the Red Cross
If you live in an unaffected area and would like to volunteer your time or resources, email ctvol@ctredcross.org and a Red Cross team member will get back to you with information.
Donate blood If you live in an unaffected area, please also consider donating blood. Numerous blood drives have been canceled as a result of the storm. To schedule a blood donation or for more information about giving blood or platelets, visit: http://www.redcrossblood.org or call 1-800-RED CROSS (1-800-733-2767).
Resources
Sign up for the Connecticut State Emergency Notification System (ENS) to receive alerts to your email, PDAs, and cell phones.

Information on emergency and hurricane preparedness can be found on the FEMA website.

Call 2-1-1 if you need non-emergency information. This is a free information service that will connect callers in Connecticut with knowledgeable staff to get information or referrals. Assistance is available through them 24 hours a day, 7 days a week with multilingual operators and TDD access.

You can also get instant updates from emergency management and response agencies on Twitter:
Connecticut Dept. of Emergency Management and Homeland Security: @CTDEMHS
FEMA Region 1, which includes Connecticut: @femaregion1
Ready.gov: @readydotgov
Connecticut Red Cross: @CTRedCross
Connecticut Light & Power: @CTLightandPower
Northeast Utilities: @NEUtilities
United Illuminating: @UnitedIllum
Special Disaster Tax Relief
Special tax law provisions may help taxpayers and businesses recover financially from the impact of a disaster, especially when the federal government declares their location to be a major disaster area. Depending on the circumstances, the IRS may grant additional time to file returns and pay taxes. Both individuals and businesses in a federally declared disaster area can get a faster refund by claiming losses related to the disaster on the tax return for the previous year, usually by filing an amended return.
More information can be found here.
Flood Insurance & National Flood Insurance Program (NFIP) Policy Holders Resources
The FEMA Call Center at 1-800-621-FEMA (3362) is currently operating seven days a week from 7 a.m. to 10 p.m. (local time) until further notice. The Call Center can provide answers to general questions about the NFIP and can direct callers to other NFIP areas according to their needs.
NFIP policy holders who have experienced a flood can file a flood insurance claim by following three steps:
STEP ONE:
After experiencing a flood, NFIP policy holders should contact their agent or insurance company to file a claim. An adjuster should contact the policy holder within a few days of filing your claim. If policy holders do not hear from an adjuster, they can contact their insurance agent or company again. Make sure you have the following information handy:
•The name of your insurance company
•Your policy number
•A telephone and/or email address where you can be reached at all times
STEP TWO:
Separate damaged from undamaged property. Your adjuster will need evidence of the damage to your home and possessions to prepare your repair estimate.
•Take photographs of all of the damaged property, including discarded objects, structural damage, and standing floodwater levels.
•Make a list of damaged or lost items and include their date of purchase, value, and receipts, if possible.
•Officials may require disposal of damaged items so, if possible, place flooded items outside of the home.
STEP THREE:
Your adjuster will provide you a Proof of Loss form for your official claim for damages. You'll need to file this claim with your insurance company within 60 days of the flood. This document substantiates the insurance claim and is required before the National Flood Insurance Program (NFIP) or insurance company can make payment.
You'll receive your claim payment after you and the insurer agree on the amount of damages and the insurer has your complete, accurate, and signed Proof of Loss form. If major catastrophic flooding occurs, it may take longer to process claims and make payments because of the sheer number of claims submitted.
Additional NFIP Resources (the hyperlinks below may take less time to access than the links in the attachment)
FEMA is providing below the links to National Flood Insurance Program outreach materials for three different audiences (consumers, officials talking to consumers, and insurance agents.) Spanish language materials for consumers are included. Please share these outreach materials with constituents, local officials, and insurance agents in your districts and states.
After a flood (English): http://www.floodsmart.gov/floodsmart/pages/preparation_recovery/after_a_flood.jsp
After a flood (Spanish): http://www.floodsmart.gov/toolkits/spanish/downloads/spanish/despues-de-la-inundacion.pdf
How to file a flood insurance claim (English): http://www.floodsmart.gov/floodsmart/pages/preparation_recovery/file_your_claim.jsp
How to file a flood insurance claim (Spanish): http://www.floodsmart.gov/toolkits/spanish/downloads/spanish/consejos-para-presentar-un-reclamo.pdf
Summary of Coverage (English): http://www.floodsmart.gov/floodsmart/pdfs/NFIP_Summary_of_Coverage.pdf
Summary of Coverage (Spanish): http://www.floodsmart.gov/toolkits/spanish/downloads/spanish/programa-nacional.pdf
Claims Handbook: https://agents.floodsmart.gov/manageagent/claims-and-services/filing-process
Managing Your Flood Insurance Claim (English): http://www.floodsmart.gov/toolkits/flood/downloads/ManagingYourFloodInsuranceClaim08-2008.pdf
Managing Your Flood Insurance Claim (Spanish): http://www.floodsmart.gov/toolkits/spanish/downloads/spanish/manejando-reclamacion-de-inundacion.pdf
Flood Insurance Requirements for Recipients of Federal Disaster Assistance: http://www.fema.gov/library/viewRecord.do?id=3323
Consumer Alerts
WARNING: FEMA is reporting that scammers are offering assistance in FEMA & disaster aid registration. FEMA disaster registration is FREE and easy. If you need assistance with registration or paperwork, contact FEMA at http://www.DisasterAssistance.gov, 1-800-621-FEMA(3362), or by web enabled mobile device at: m.fema.gov.
FTC Warns Consumers: Charity & Home Repair Scams May Appear After a Disaster

In the wake of Hurricane Sandy, the Federal Trade Commission (FTC), the nation's consumer protection agency, reminds consumers that scams often follow disasters. The FTC warns people about urgent appeals for charitable donations, and cautions residents in stricken areas about fraudulent home repair offers. If you are asked to make a charitable donation to help people in disaster-affected areas, consider whether you know and trust the charity, ask if the caller is a paid fundraiser, who they work for, and what percentage of your donation goes to the charity, do not give out personal or financial information, and never send cash.
Fraudsters target disaster-affected areas, hoping to cash in on property owners' insurance settlements and financial relief from the federal government. Home and business owners who need to hire a contractor should check a contractor's ID and references, avoid large advanced payments, and deal with reputable local businesses.
The full checklist can be found here.
For more disaster consumer tips and information, see:
Disaster Recovery, Charity Fraud, Charity Checklist, & Charitable Donations: Give or Take.